Guadalajara is one of the most underrated tourist destinations in Mexico. This guide will tell you exactly how to spend three days in Guadalajara Mexico.
If you're wondering why 3 days in Guadalajara, the answer is simple: this is a great time frame to see the main tourist attractions in the area! It is perfect for a weekend in Guadalajara if you are coming from another part of Mexico.
If you have recently moved to Guadalajara, you may be wondering about the main tourist attractions in Guadalajara, and this is a great way to explore the highlights of this city.
And a tip before we get started: 2 days in Guadalajara is also perfect, as you can add the various day trips as separate adventures! Read on for all the details on this itinerary for three days in Guadalajara (written by an ex-local)!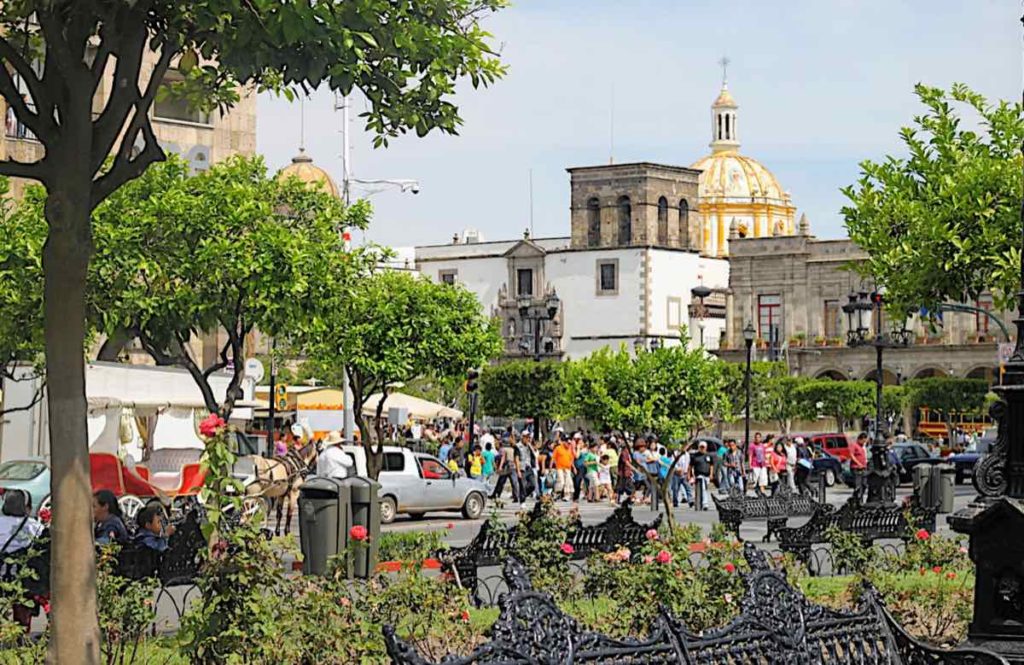 Itinerary for 3 Days in Guadalajara
As always the days of my itineraries are interchangeable! Move them around, split them up, spend just one day in Guadalajara (why so little?), or two days and enjoy.
Here is an overview of your three day itinerary for Guadalajara:
Day 1: Explore the Centro Historico
Day 2: Explore the Markets
Day 3: Day Trip to Tequila
More Options to Extend your trip!
Where to Stay in Guadalajara
It may surprise you to discover that Guadalajara is a modern Mexican city, with all the amenities you could want. However, unlike Mexico City, Guadalajara is smaller and definitely less overwhelming.
You can choose to stay at one of the international chain hotels, or choose one of the unique local hotels. Either way you can't go wrong. Generally speaking you will find a lot of accommodations near the historic center, the convention center and the business center on the north west side of the city.
Because the city is not that big, there is no problem staying farther away from the center. For example, you can stay in Providencia, which is a hip areas to the north and has a cluster of newer hotels. Taking a cab to the downtown will take only 20 minutes.
Use the map below to check out some options: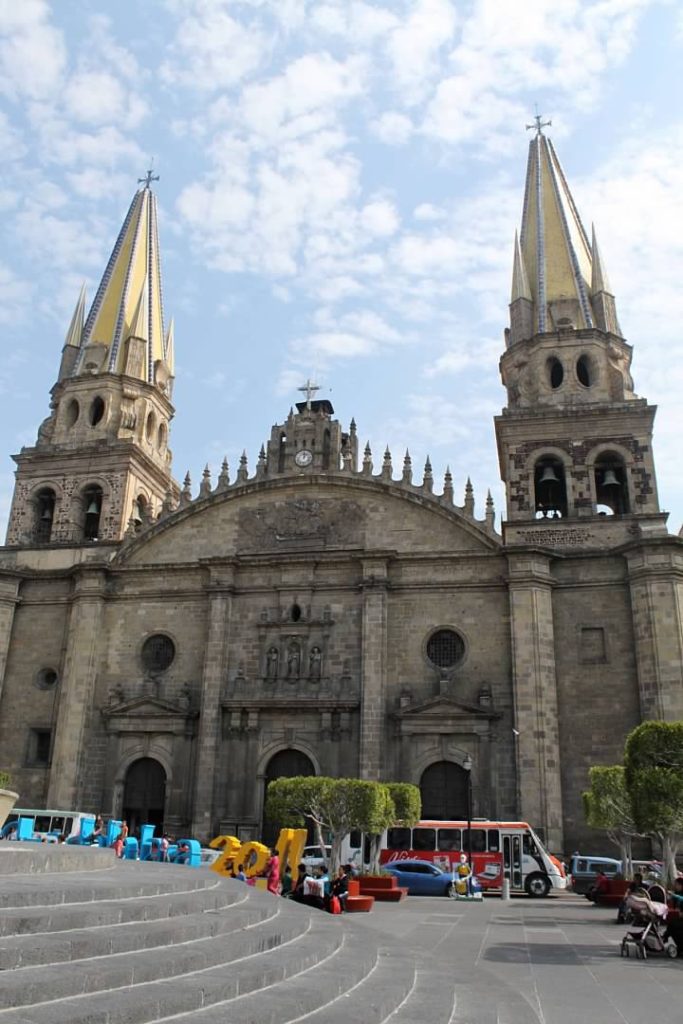 Day 1: Centro Historico Guadalajara
If you only have one day to spend in Guadlajara, then of course you should head straight to downtown to the historic center.
Begin near the Guadalajara Cathedral as your main focal point. Remember that it is a place of worship, so enter respectfully. The Cathedral is surrounded by four plazas:
Plaza Guadalajara
In front of the Cathedral is main plaza, with a fountain in the middle. This is a great photo opportunity.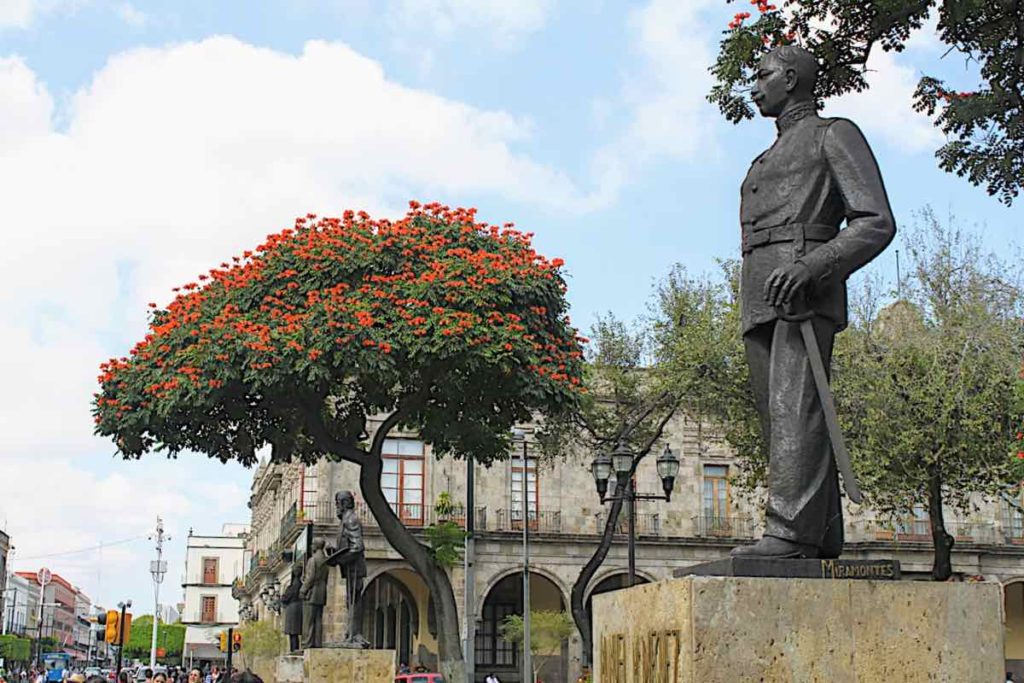 Rotonda de los Jaliscienses Ilustres
To the left of the Cathedral (due north) is the Rotunda honoring famous people from Jalisco. You will see the round monument in the center with statues of different people around it.
On the back side of this plaza is the Guadalajara Regional Museum. (Not a must see, but you can pop in if you have the time).
Pro Tip: To avoid back tracking, I suggest you start a walking tour here, then move on to the Plaza Guadalajara and the Cathedral, and then continue in the order I have listed below!
Plaza de Armas
To the right of the Cathedral is the Plaza de Armas. This plaza always has pigeons which people like to feed, and is surrounded by benches. It is good if you need a break from touring as it is a great place to people-watch.
Palacio de Gobierno del Estado de Jalisco
The Jalisco Government Palace, is a must see. There are exhibitions inside, but the best part is just exploring the building itself.
Plaza Liberacion
The plaza that is behind the Cathedral, is large and spacious. When there are various festivals, this is where they are usually set up. Often times you will happen upon concerts etc.
Teatro Degollado
Walk to the far end of Plaza Liberacion to visit the Teatro Degollado. If you need a coffee, grab one right there, in front of the theater. Then continue your walk down the pedestrian Paseo Hospicio to get to the next spot!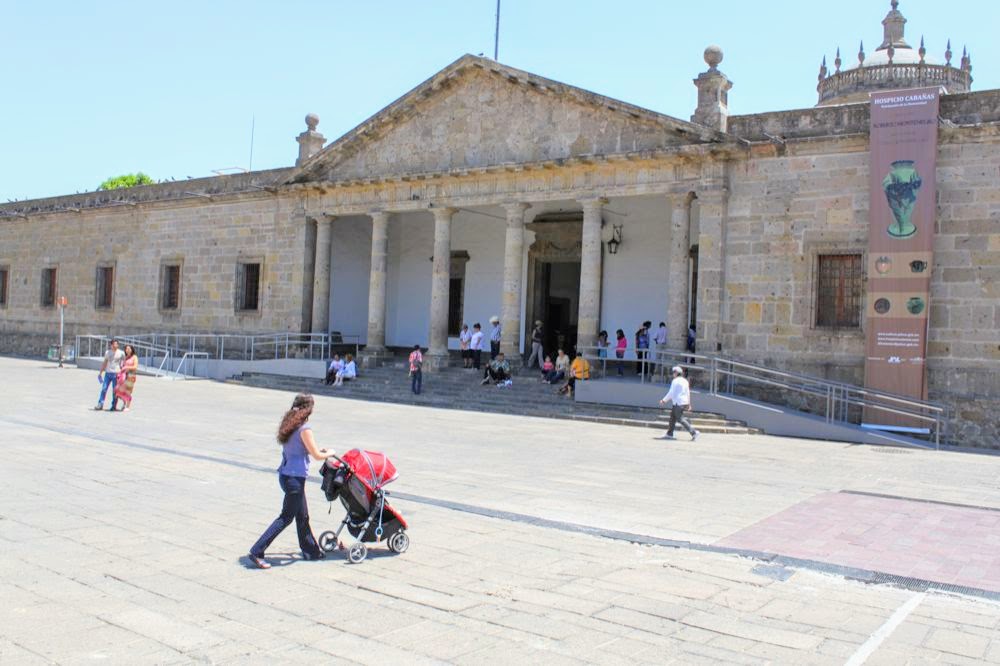 Hospicio Cabañas
Keep walking to visit the unique museum of the Hospicio Cabanas. Housed in this former hospice, the building has impressive murals by Orozco.
By this time, you should be sufficiently hot and tired, that it's time for lunch! Mexican comida time is around 3 p.m. and you have plenty of excellent options in the Centro. Here's a guide of where to eat in Guadalajara! Our favorite in the Centro is La Chata.
More Things to do in Guadalajara Centro
For the end of your day, you can check out some of the other minor churches, take a carriage ride, check out the small museum at the University of Guadalajara, or take it easy!
In the evening you could go to the Mariachi Plaza, check out more amazing restaurants or go clubbing! (Clubs are called "antros").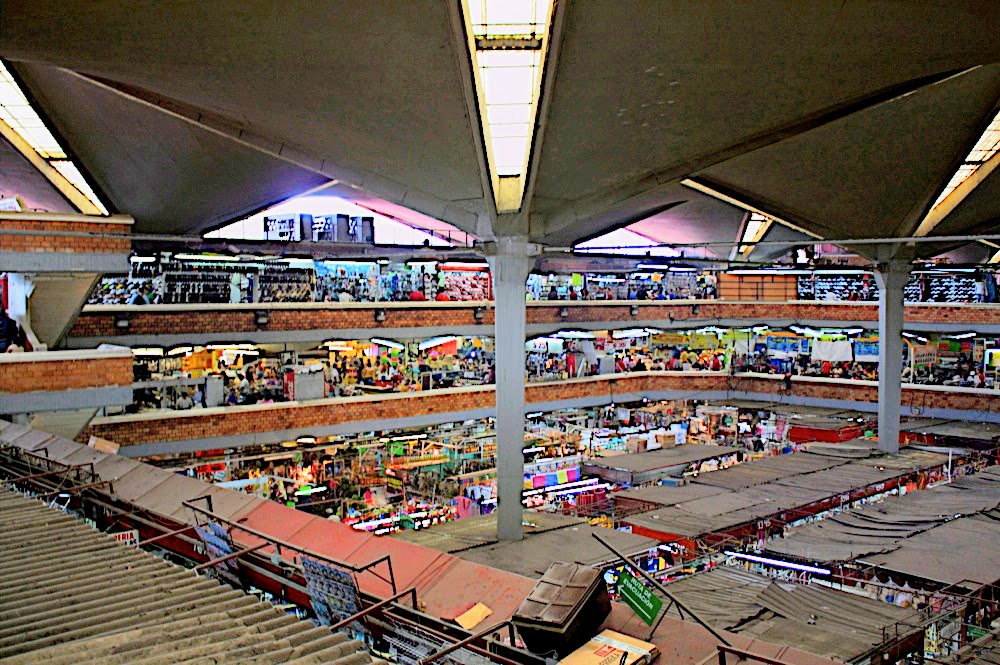 Day 2: Guadalajara Markets
Guadalajara, the capital of the State of Jalisco, and Mexico's second largest city, is also a cultural and shopping hub.
Mercado Libertad San Juan de Dios
The most famous of the markets in Guadalajara, Mercado San Juan de Dios, is also the largest indoor market in Latin America! You can easily spend half a day here.
You can find literally anything and everything. Everything from artisanal goods from all different areas of Mexico, to everything plastic made in China, to ripped off DVDS, just everything! Haggling is expected.
There is also a fruit and vegetable market and lots of stalls selling prepared food, some with restaurant seating areas. This is the place to get really cheap meals, just try to choose a vendor that is busy!
Note that it does get crowded and loud, and is not the most kid friendly location if you're trying to get around with a stroller.
If you find this market too overwhelming, an alternative small market that is nearby, is the Mercado Corona. Of course it is much, much smaller, but if you just want to grab a few souvenirs and something to eat, then it will do.
Tlaquepaque
Tlaquepaque is a suburb of Guadalajara and a major artisanal center. The shops here are gorgeous, and buyers come from all over Mexico to shop here. In addition to all the galleries, there is also a museum you can check out.
The pedestrian streets in the center of Tlaquepaque are really quaint. If you're a big shopper, you could easily spend the entire day here.
Alternatively, if you are a budget shopper, you may prefer to head to Tonala. Many of the goods in Tonala are similar style to the ones you find in Tlaqupaque, but the finishings are geared to the general population and the prices are much more affordable.
If you are in Tonala, you may recognize styles from shops in the United States. For example, glassware you find in some of the big chains come from here.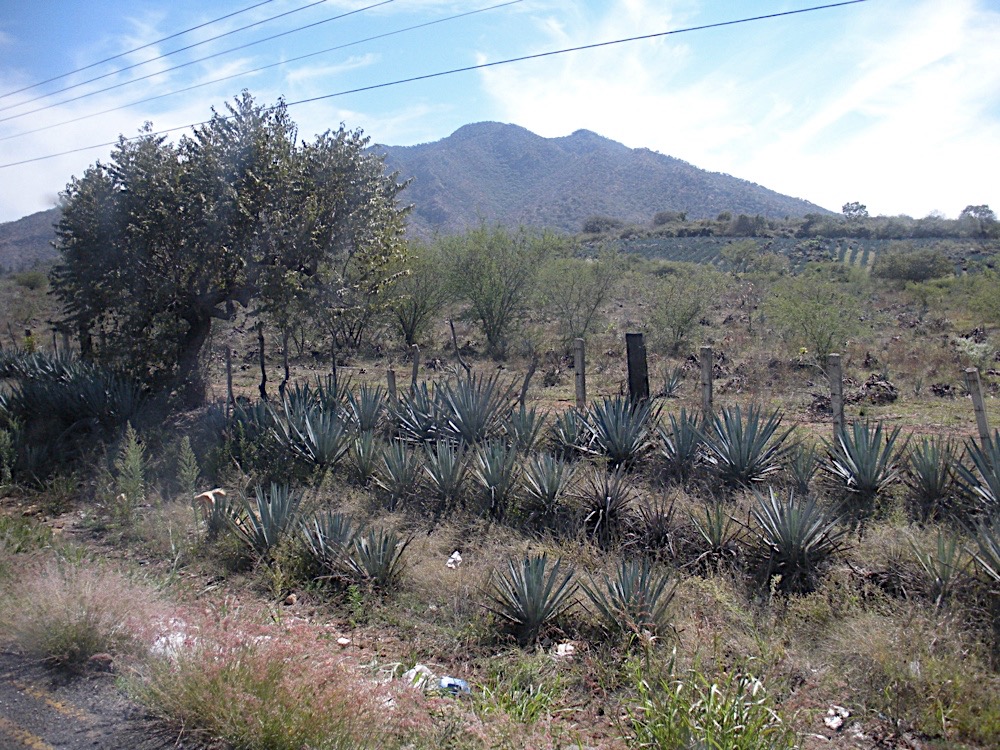 Day 3: Day Trip to Tequila
For your third day in Guadalajara, one of the most fun activities you can do is take a day trip to Tequila. Seeing as Tequila is one of Mexico's most famous products, and the town of Tequila is just an hour away from Guadalajara you really can't go wrong with this option.
Here's the full guide on taking a day trip to Tequila from Guadalajara. As an overview you can do this independently or take an organized tour, or the Tequila "party train".
More Day Trip Options Near Guadalajara
Here are a few more options of things to do near and in Guadalajara. If you want to extend your trip to four or five days in Guadalajara, then definitely take the time to explore some of these locations.
Lake Chapala
If you're not into drinking or touring distilleries, you can have a low key day by checking out Lake Chapala. There are plenty of things to do in Lake Chapala and the surrounding area, and it's always a bit cooler out there.
Guachimontones Archaeological Ruins
If you are a history buff, then a nearby option I will suggest is visiting Guachimontones. This is the main pre-Columbian site that you can see in this area.
Zapopan
Zapopan is Guadalajara's suburb to the north, and a large city in its own right. It is most well known for it's Basilica which you can see on a Zapopan walking tour.
Guadalajara Neighborhoods
You can also spend several days just relaxing in Guadalajara and enjoying the modern shopping malls, restaurants (with play areas for the kids), and parks.
Here's where to spend several days relaxing in Guadalajara. Some of our favorite include Bosque Colomos, (Colomos Forest), and the cute neighborhood of Santa Teresita!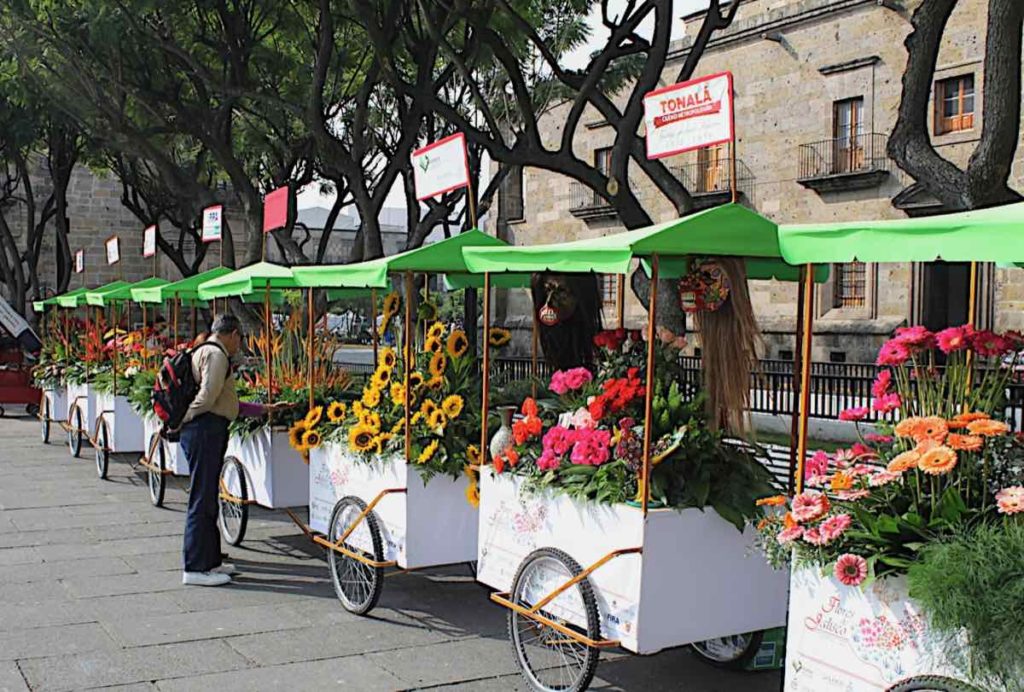 Final Thoughts on a Perfect Guadalajara Itinerary
When should you visit Guadalajara?
Honestly, now! In all seriousness, the weather in Guadalajara is pretty perfect year round. Expect highs in the 70s and 80s.
It is generally cool in the mornings and evenings and gets hot during the day. The vast majority of days are sunny. Guadalajara lies at about a mile high in elevation.
Rainy season starts around the second week of June and lasts for three months, however is almost always rains only in the evenings! So even during rainy season you can plan your tours for any and every day. The best temperate days are usually October to February, with March to May tending to be hot.
How do you get to Guadalajara?
Guadalajara has an international airport which has plenty of direct flights to the United States! There are also regional flights in Mexico.
The flight from Mexico City to Guadalajara is only an hour, but you can also drive. The drive to Mexico city is about 5 hours.
Other nearby expat hubs are Puerto Vallarta on the coast of Jalisco- 4.5 hours drive; and San Miguel de Allende, about 5 hours.
What should I bring to Guadalajara?
Generally speaking, dress in Guadalajara is a little less casual, meaning people are well dressed! Short sleeves are great with some type of light blazer or shall for the mornings and evenings that get cool. You can definitely get dressed up to go out!
Other than that you can bring your normal travel gear! Cameras, sunglasses, etc! Here is a family packing list you can use as inspiration.
Have you even heard of Guadalajara before??? What do you think about all of the amazing things to do in Guadalajara? Would you add it to your Mexico trip itinerary?