So let's say you want to visit Zapopan, a (less than) half day trip when you're in Guadalajara. Whether you live in Guadalajara, or the surrounding areas like those near Lake Chapala, Zapopan Centro can be a fun day trip.
Zapopan is a suburb of Guadalajara, but really it is quite big and the the cities bleed into each other and are part of the Guadalajara metropolitan district. If you've tired of going to the Guadalajara Centro, then how about going to the Zapopan Centro.
The Zapopan Centro Historico is not large at all! It has it's own highlight attractions, and is a fun place to spend a morning in Mexico. Click through for an easy to follow walking tour of Zapopan Centro Historico!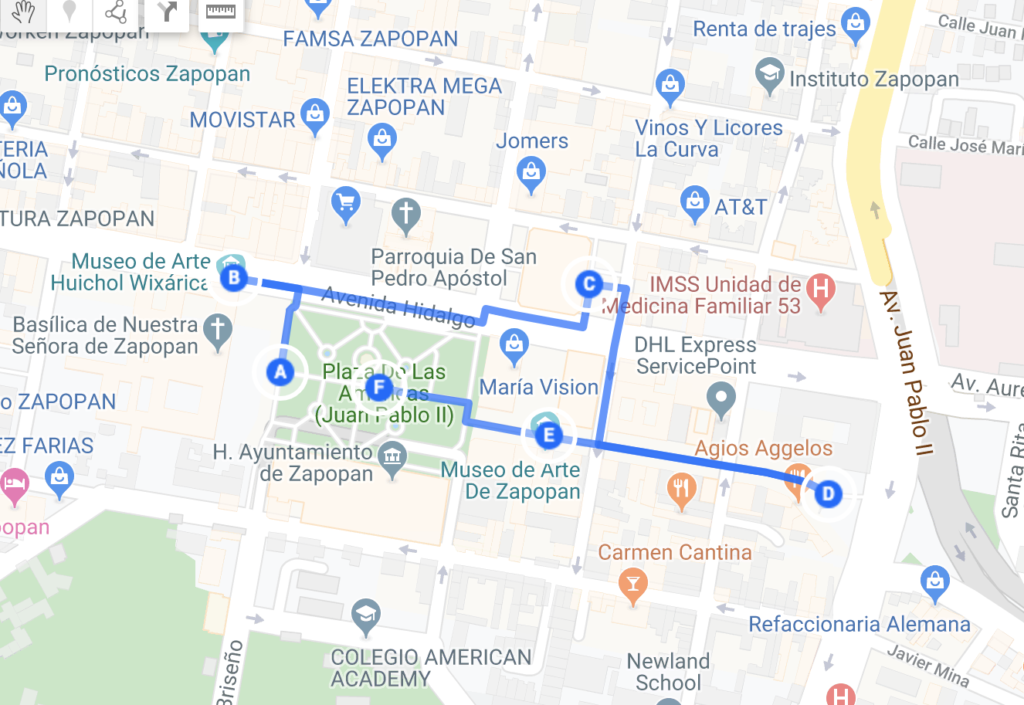 Click on the MAP to view dynamic map.
Zapopan Walking Tour
1- The Basilica
Start at the Basilica de Nuestra Señora de Zapopan which sits right above the main plaza.
2- Huichol Art Museum
The Huichol Museum in Zapopan Centro is right beside the basilica. The museum is small but really nice and interesting. (Unfortunately no pictures inside).
3- The Government Palace
Then head to the Government Palace. Go inside for murals, and enjoy gardens on either side. Cross the big plaza in front of you, to get to the main tourist street.
4- Arches of Zapopan Monument
Walk down to see the arches (many restaurants on this pedestrian street). Stop for a rest, take some pictures at the Arches of Zapopan Monument.
5- Zapopan Art Museum
On the way there or back, you may or may not want to stop at the Art Museum (not super recommended).
6- Plaza de las Americas
Return to enjoy the plaza in front of the Basilica before heading out of town.
The main parking lot is located underground, underneath the main plaza area, therefore we started and ended our tour there.
Enjoy!
For more pictures of Zapopan head here. We even came back to Zapopan with a baby!
Explore More of Zapopan and Guadalajara
Ready to head to the big city? Here's your guide to Guadalajara!