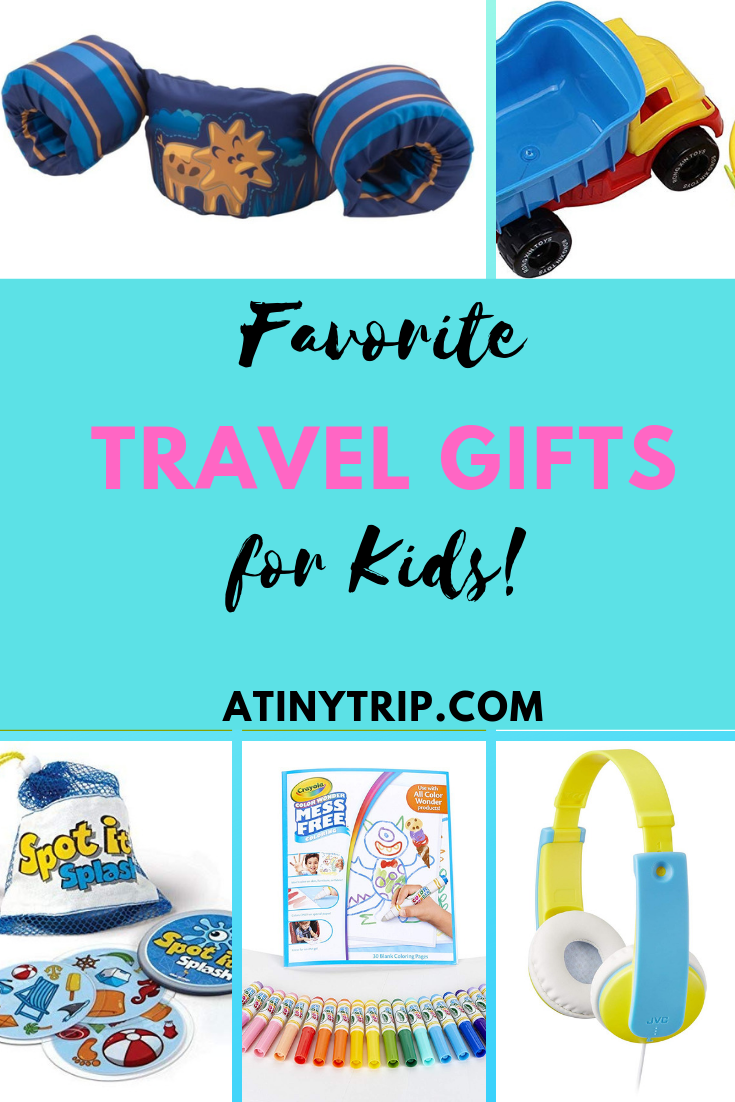 This post may contain affiliate links. Thank you for supporting our work.
We travel early and often with our kids. We believe travel is essential for exposing them to a wide variety of cultures and beliefs. BUT, travel with kids is not always easy. It is ALWAYS WORTH IT, but not always easy. So along with our favorite gear, that makes our lives easier, we utilize a plethora of smaller tools to keep them entertained in between visiting destinations.
These are some of our favorite toys and games for kids on the road. In addition to taking a small selection of books, we take at least some of these items on every trip. We use them primarily in airports, airplanes and hotel rooms. They are portable, and multifaceted.
Drawing Gifts for Kids
Magnetic Doodle board (or Magnadoodle)- this one is my personal favorite. From age one, kids can already draw using a magnadoodle. It is lightweight, the pen is attached so it doesn't get lost, and the possibilities are endless. Quick tip- I like to have this by the door, so when one child is ready to go and needs to wait for everyone else, they can draw and not disturb those still getting ready.
LCD Boogie Board– I guess this one is a small upgrade to the simple magnadoodle. The kids get a kick out of pressing the button to have the drawing disappear. Also, it is very thin, so it takes up no room!
Color Wonder– I have no problem taking a small notebook and colored pencils for the kids, but markers are a different story (walls beware!). Enter: color wonder. These markers only work on the specialty paper they come with. We have had our original set for 5 years and the markers still work. I do from time to time buy new paper to refill. The kids especially like these little coloring sheets.
Electronic Gifts for kids
Headphones– These headphones are amazing! They are kid-sized and they have a maximum volume so that they can't get out of control. The kids like their music loud!
Now that we have school at home, the elementary kids prefer this version, and I like that they are wired and not wireless to minimize bluetooth EMF. Bonus that they fold up for space saving!
iPad– Alright, I'd be remiss to leave out the mother of all screens (or would it be the father?). Anyway, we let the kids play on an old iPad, ONLY while traveling. It definitely deteriorates their behavior so we save it for when we most need them to keep quiet, like on a long flight.
Camera– We love taking pictures while we travel, and they really do make the best souvenirs. Our kids love taking pictures, but handing over our DSLR can get a bit dicey. If you have an old point-and-shoot camera, let the kids have a try at it. Or you could buy a camera just for them (we haven't tried this one, but hear it's good).
Beach Gifts for Kids
Floats– I think of flotation devices as essential for kids! For babies, our favorite floatie is this one. We have used ours for both beach and pool through multiple kids and it is still in great condition. For toddlers and preschoolers, we recommend puddle jumpers. Some people argue they give kids a false sense of security, but for us, it is peace of mind. While we are always nearby in the water, with multiple kids, this feels like a good solution until the kids can swim independently.
Goggles– It might not seem like a "gifty" gift, but there's just something about goggles our kids love. Our favorite are the Speedo brand, and if you look in the Spring you can usually find 3 packs at Costco for a great price.
Beach toys– This seems really obvious. Buckets, and pails, and molds are the quintessential toys for traveling to the beach. But, we use these toys in the bathtub year round. We also take them on urban park "adventures" to collect dirt, rocks, sticks, etc. So this is really a great, inexpensive gift for any age!
Travel Games for Kids
Spot it splash– This is a laminated form of one of our favorite family games, Spot it. It comes in a handy mesh pouch and takes up almost no room in our luggage. I like especially like it for down time.
Playing Cards– Again a really obvious choice, but as soon as the kids are old enough to play "War", say around age 4 or 5, it is great to have a deck of cards. The possibilities are endless. And they do double duty for the adults as well.
Water Wow!– For the younger set, ages 2-4 roughly, these little books are great, mess-free and can be used independently by them.
So that's my round up of our favorite travel gifts for kids.
What are your favorites? We love to bring a small selection of travel toys with us. Are you in the camp of packing everything but the kitchen sink or nothing at all?