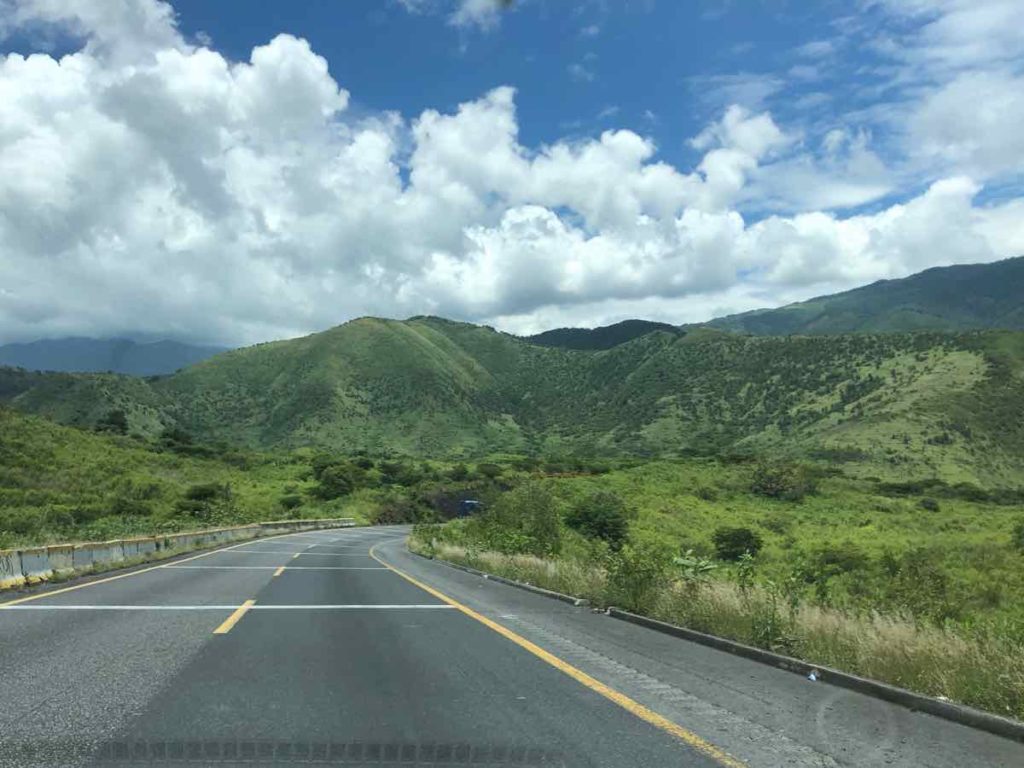 This post is going to be a little bit different than my usual travel guides. I'm going old-school blogging and I'll tell you about driving from Puebla to San Cristobal de las Casas. Because when we were researching getting from Central Mexico down to Chiapas it was hard to find much information on a good route to take.
The overview of our drive in Mexico goes like this: from Puebla we drove to Orizaba, Veracruz. From there to Cordoba, then to Acayucan. The next section was to Tuxtla Gutierrez in Chiapas and from there to San Cristobal de las Casas.
If you use a navigation app like Google Maps, this is the route it will recommend, more or less, as the shortest. That said…for the driving time estimates you need to add extra time!
Read on for all the details on driving from Puebla to Chiapas!
Driving from Puebla to San Cristobal
Puebla (City) in the State of Puebla is located just south east of Mexico City. So if you are looking for a route from Mexico City to San Cristobal de las Casas, this should work perfectly for you.
This is going to be both the most direct route to Chiapas, plus will stay on mostly toll roads for ease of driving. This is the driving route to take if you are planning on bypassing Oaxaca. So without further ado, here we go!
Puebla to Orizaba
Puebla, Puebla to Orizaba, Veracruz, was a two hour drive, on the 150D toll road. The first part fairly easy, and the second half had us winding though the mountains.
The "hardest" part of the drive is the area around Maltrata because you are winding down the mountains, through tunnels, and there are lots of trucks driving very fast! Thankfully, the toll road was in decent condition.
This drive is gorgeous, and the mountains are lush and green, so there's that. We ended up spending several days in Orizaba (and loved it)! Full post coming soon.
Orizaba to Cordoba
The next leg of our journey was from Orizaba to Cordoba, Veracruz. This is a quick 30 minute drive on the toll road. It was easy.
Cordoba (with Kids)
Cordoba is not a tourist town, but more of a business center. You can find everything you might need but in full disclosure despite a gorgeous church and nice government building on the main plaza, the Centro felt a bit grungy.
In terms of things to do, Cordoba is best known for being a coffee hub. There are tons of cafés where you can sit and enjoy pastries and cakes with local Veracruz coffee.
The one attraction we had planned to visit was the Coffee Museum in Cordoba. The Museo del Cafe was excellent and they were really patient with us (with the kids…) and the tour was great. Note that the guided tours runs a few times a day. Check their facebook page for details. They also have a wonderful coffee shop and store with local single origin coffee beans.
Where to Stay in Cordoba
Our reason for staying in Cordoba was to shorten the drive the next day. So we chose a hotel right near the Centro Historico, so that we could visit the Coffee Museum and then head out on the road.
Hotel Pastoral- We were very happy with the choice of this hotel. They had a room with a King Bed and a Queen Bed, called the "Premium", which is perfect for our family of 5 + baby.
The room was large enough to accommodate our PacknPlay. This hotel is renovated and everything felt clean, the shower was good, and the flat screen TV had several channels. The room price also included coffee and pastries which were brought to our room in the morning.
I was wondering why we felt drawn to stop here…I mean it was only shortening the next day's drive by 30 minutes, so possibly not worth it. But in the morning, we woke up to the most perfect view of Pico de Orizaba, the volcano that had eluded us during our entire stay in Orizaba. Take a look:
Cordoba to Acayucan
Cordoba sits at about 860 meters altitude above sea level, whereas Acayucan had us practically back at sea level (at around 100 meters). The drive from Cordoba to Acayucan was about 3 hours. We didn't really stop on the way, and the toll road was decent. We took the 150D to the 145D.
We were hit with some rain on the last stretch which made things a little dicey, but that's not something you need to worry about unless you are driving during rainy season. (Rainy season being July to September more or less; the rains usually hit in the late afternoon to early evening, but this storm showed up early at around 3 pm).
Acayucan
Acayucan, Veracruz, is a town with nothing special. It is a business center for its region, and is one of the larger towns in the area. It seems like it became a stop when the toll road was built nearby. There just aren't too many options for where to stop in this part of Mexico.
We walked around a tiny bit in the center of Acayucan, and honestly didn't feel very comfortable. I'm not sure about actual safety statistics…it's probably fine…but we just didn't feel good being out. We also stick out like a sore thumb everywhere we go (gringos with 4 kids), so if we're not feeling it, we lay low.
Where to Stay in Acayucan
Acayucan does have several hotels that are pretty basic. We found two options with decent reviews:
Hotel Arcos del Parque – We chose this hotel based on a recommendation in one of our facebook groups. It is a very basic hotel (2 star maybe). Our room had 3 double beds (matrimonial=full size), a tv, and a basic bathroom. Again we had enough room for the travel crib here.
Here's the deal with our stay: the beds were not very comfortable. There was a pool, but it looked super dirty. The room was inexpensive (850 pesos) but the attached restaurant was expensive. We spent more than the room price on one meal for us. But the food itself was fine.
Hotel Joalicia- We didn't stay here so I don't have details, but this is the other hotel we were considering if you want to check it out.
Acayucan to Tuxtla Gutierrez
This was the part of the drive we were most concerned about…and for good reason. It was rough. We left Acayucan first thing in the morning after breakfast. We made sure we had a full tank of gas, and I highly suggest you do too if you are driving this route.
The first section of the drive on the 145D toll road was fine. We then went on the 180D, and a short section on the regular 180; both were full of pot holes. Shortly after we got on the 145D heading south we lost cell service.
The majority of this road while in Veracruz State and then Tobasco was just one lane in either direction, and not divided with little shoulder. There were a ton of pot holes (could be because of rainy season, or that's just the way it is, I'm not sure). Again, no cell service, and no gas stations along the way.
There was also a fair bit of construction along this road. Meaning we had to stop as the road went down to one lane multiple times. This added about half an hour to the driving time.
Once we crossed into Chiapas from Tabasco around the town of Malpasito, there was a toll station and then road got significantly better! Then right around Reforma la Union we got cell service back. While the remainder of the drive to Tuxtla was still super hilly, it was a little easier.
Full disclosure, one of our kids got very motion sick on this drive, the road was just winding around the hills the whole time. There were lots of little shacks labeled "Comedor" in the last section, so presumably we could have stopped for a break but we just needed the drive to be over.
Where to stay in Tuxtla Gutierrez
Tuxtla Gutierrez, the capital of Chiapas, is a big city, with an airport and everything you might need. Not surprisingly there are many hotels to choose from for all price levels. But also, in American terms…even the expensive places are cheap.
Marriott Tuxtla– We chose to stay at the Marriott because we needed a late check out, and we have status with Marriott so that makes it easier. They have an M Club Level room that has to Queen beds and a sofa bed, which worked perfectly for our family.
The M Club level rooms also include breakfast and an evening snack, so even though the room was technically "over budget", with the food it evened out. The Marriott also had a nice outdoor pool, a spa, gym and business center.
Tuxtla Gutierrez to San Cristobal de las Casas
The toll road from Tuxtla to San Cristobal was obviously winding up the hills since you are going from 500 meters to 2200 meters above sea level. That said, the road itself was in decent condition. But the trucks and buses drive fast!
They are also actively working on widening this road. All said, it is about a one hour drive, and the mountains are both scary tall and absolutely gorgeous.
I'm going to wrap this post up right here. San Cristobal will get a full post of its own.
Do you have any more questions about driving to SanCris?
Want to catch up on the first part of our road trip? We started by crossing from Texas through Eagle Pass. Then stopped in Saltillo for two days. We had a one night stay at Las Palmas in Matehuala. We spent one day in Dolores Hidalgo. From there we stayed in San Miguel de Allende. Then we stayed in (3 different places in) Queretaro. From there we split a week between Bernal and Tequisquiapan. Next we spent two weeks in Puebla and Cholula. And there you are all caught up!