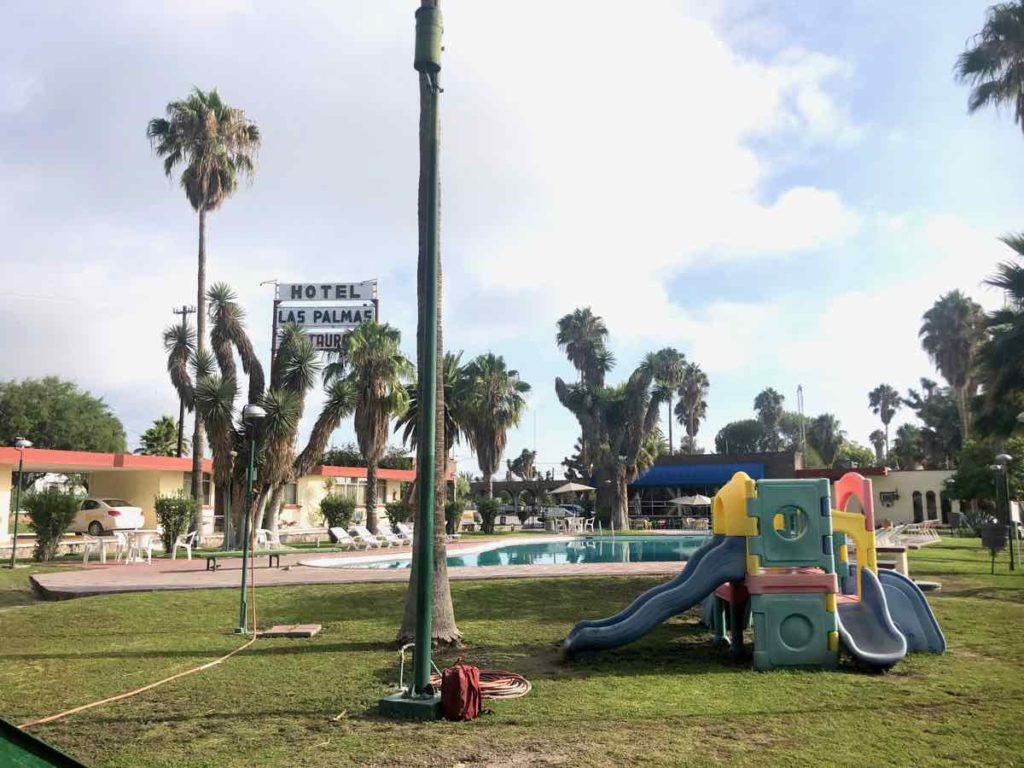 If you're driving from Canada or the USA to Mexico, and trying to stop for the night, one of the most highly recommended places to stay is Las Palmas Midway Inn in Matehuala.
Matehuala, in the Mexican State of San Luis Potosi, is located 7.5 hours driving time from Piedras Negras and Eagle Pass, and roughly 6 hours from Laredo. This means that even if you spend a few hours crossing the border, it is likely you can reach Matehuala on the first day driving into Mexico.
There are many hotels in Matehuala, and specifically many road side hotels. These offer an excellent place to stop off of the 57 highway in Mexico. Specifically the Midway Inn Matehuala is excellent if you are dragging a trailer, driving an RV or just want your car by your room.
We have had this hotel saved in our places to stop for years! After our recent stay, the day has finally come for a Las Palmas Midway Inn Review! Read all the details below!
This post may contain affiliate links. Thank you for supporting our work.
Las Palmas Midway Inn Review
Las Palamas Midway Inn is located in Matehuala, San Luis Potosi. This roadside hotel is set up as a resort and has unexpected amenities. It is an excellent place to stop and rest while driving through Mexico, and enjoy this retro hotel.
Directions to Las Palmas Midway Inn
If you are coming south on the Mexico 57 highway you will see the Las Palmas hotel on the left side. You must pass the hotel and exit to the lateral (feeder), then u-turn under the highway. Stay on the feeder on the other side and it's an easy exit to the hotel.
Rooms in Las Palmas
Las Palmas has a variety of room sizes available. Some have one bed, two beds, or sofa bed combinations. The hotel is set up as a motel and an RV park, so that you can park right outside of your room.
We found the room with two queen beds incredibly roomy. In particular we appreciated the extra space which allowed us to unpack and organize a lot of our bags! In addition to the beds, there was a small sitting area with two arm chairs and a coffee table.
The bathroom with walk-in shower was particularly large.
Some of the rooms, near the front of the resort, closer the the highway, have outdoor patio areas with tables and chairs outside the room.
Amenities in Las Palmas rooms include a small refrigerator (bigger than the usual hotel mini-fridge), and a television. The entire Las Palmas resort has wifi coverage. It was certainly suitable for minimal browsing, but I wouldn't try to work from here.
The TV had about 5 channels. This was certainly good enough for our purposes. We did try to connect our Roku but the internet wasn't strong enough for streaming.
Amenities in Las Palamas
Besides the retro look of the hotel, one of the best features of Las Palmas Midway Inn is all of the outdoor amenities. This resort is perfect for stopping on a road trip with kids in Mexico.
Between the first and second row of rooms is the pool area. There are actually two large pools, a big deep one, and a smaller more shallow pool. There is plenty of seating all around.
There are actually three playground structures: a large wooden play ground with climbing wall, swings, monkey bars and more. There is a small plastic playground perfect for a toddler, and an old-school Mexican metal structure with a very tall slide! (Kids thought it was scary but fun).
Surprisingly, Las Palmas also has a mini-golf course! It is a small 15 hole course, but our kids loved it. Rental of a club and a ball ran 25 pesos/hour (as of July 2021).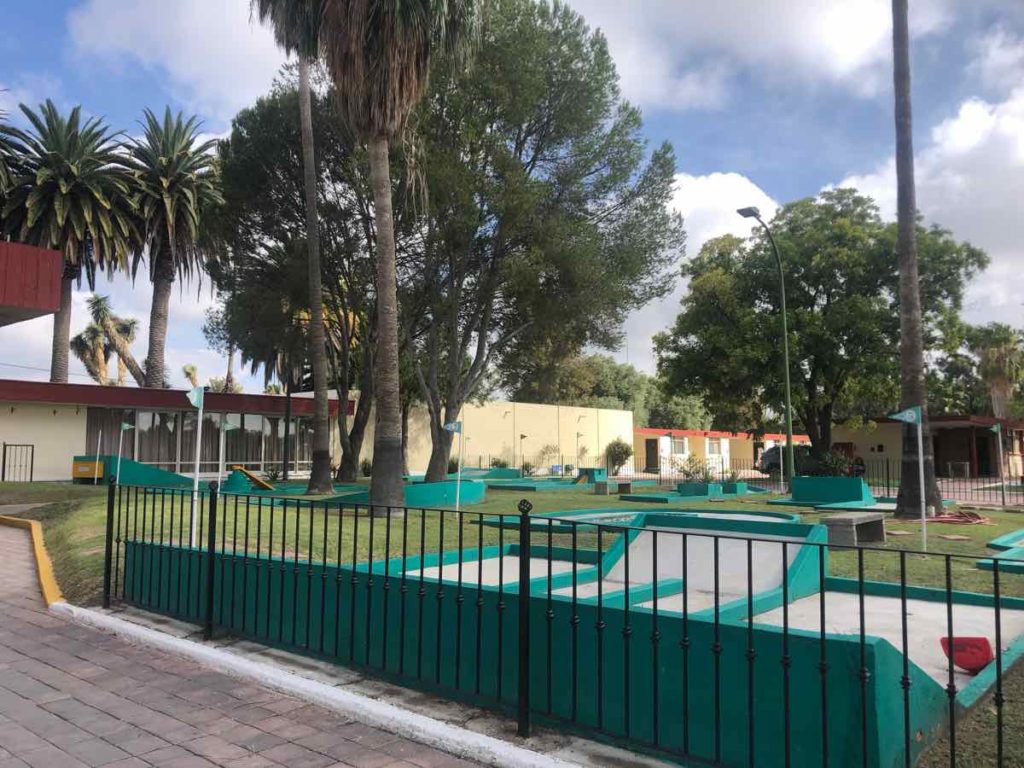 Las Palmas Restaurant
As a full service resort in Matehuala, Las Palmas also has a restaurant on site. As with many large hotel restaurants, the food here leaves a lot to be desired. Our final rating of it was "passable" but nothing more.
The menu had the usual Mexican fare, which makes it easy to compare to the many other restaurants we have dined at.
The plates were not very big and not very flavorful. Several dishes arrived downright cold. It could be that we just had a bit of bad luck with comida and breakfast but it felt like this was "how it is". To their credit, the coffee at breakfast was not bad.
All things considered, while we don't recommend the restaurant as a stop, if you're staying for the night, it's ok.
Las Palmas Matehuala RV Park
Wrapping it up, I have to conclude that Las Palamas Midway Inn in Matehuala is a great place to stop on the road in Mexico.
The landscaping is absolutely gorgeous and relaxing! And if you read all the way through this review, then know this: checkout time at Las Palamas is 1 p.m (13:00). Unheard of! The reason for this late check out: so you can rest. What a wonderful way to start a trip in Mexico! Check prices here!
If you found this review helpful, please leave a comment below! Follow the rest of our travels in Mexico with kids on the blog and on Instagram @atinytrip.