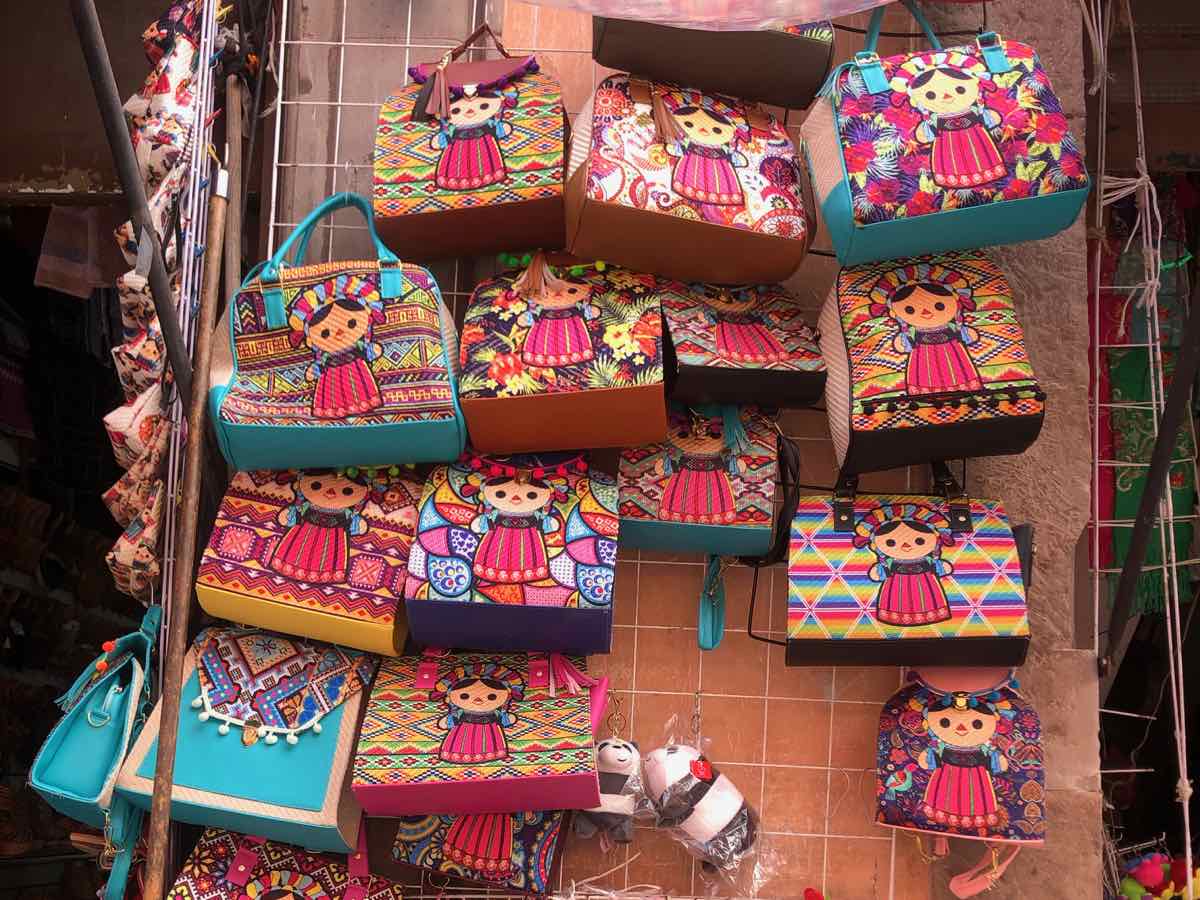 Are you considering going to Queretaro with kids? Then this is the guide for you! Here are all the things you wanted to know about the best things to do in Queretaro (with kids)! Because while the city of Queretaro has a lot to offer, it is not a center for worldschoolers or even family travel in Mexico (yet).
That said, these top things to do in Queretaro are relevant for all types of travelers, from backpacking to business travel to Queretaro. The city has a lot to offer for digital nomads in Mexico and its location in Central Mexico, makes it easily accessible.
Santiago de Queretaro in the Mexican State of Queretaro is slowly becoming more popular on the expat tour of Mexico. This large city of one million people is a business hub, located just three hours from Mexico City, DF. Situated on the edge of the Sierra Gorda mountain range, Queretaro sits at 1800 meters above sea level. This makes for warm sunny days and crisp and cool evenings and mornings.
Here's your guide to the top things to do in Queretaro (with kids or without)!
This post may contain affiliate links. Thank you for supporting our work.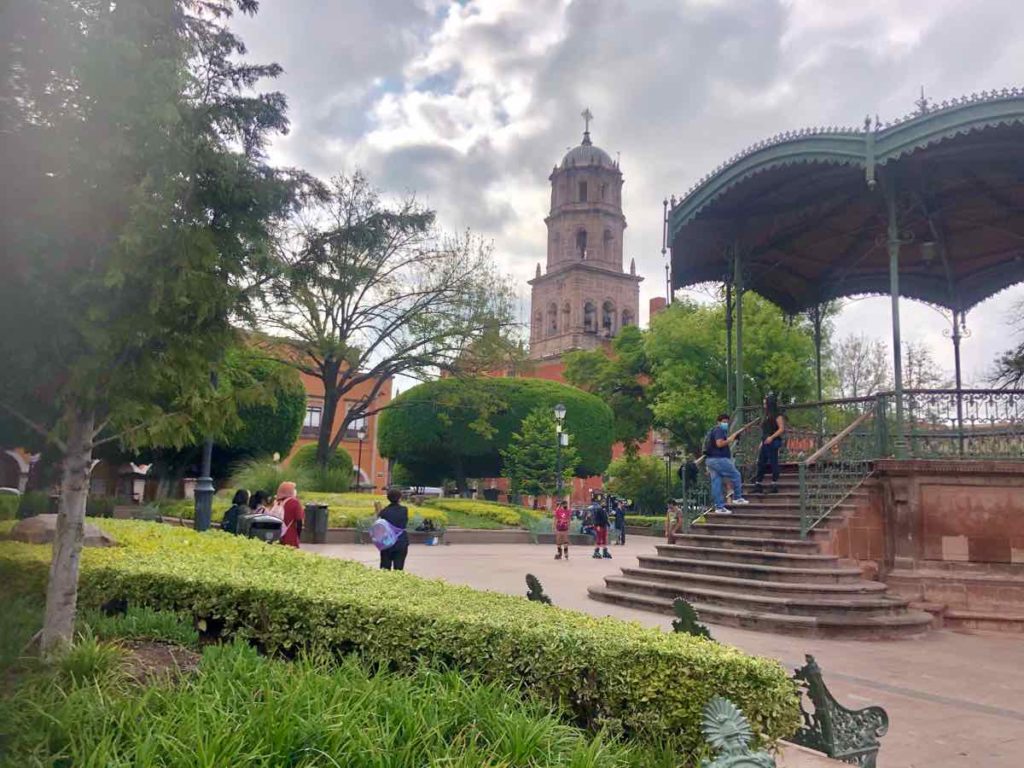 The Best Things to Do in Queretaro (with Kids)
Queretaro skirts the line between a big city and a smaller downtown. The Centro Historico is quite compact and can easily be seen in one day.
However the city itself is big and spread out. The 57 highway which runs straight through the city and continues to Mexico City, gives a sense that people are always rushing.
Generally speaking, a weekend in Queretaro should be the perfect amount of time to see the main tourist attractions. If you have a week in Queretaro, consider adding day trips to the Pueblos Magicos.
There are two small towns that are each a one hour drive from the city: Bernal and Tequisquiapan.
Queretaro Centro Historico
Some of the places you may want visit include the main Jardin Zenea, the small Plaza de Armas, Plaza Constitucion, and Jardin Guerrero, all within a few blocks of each other.
You will also find many small museums including: the Queretaro Regional Museum, the Queretaro Art Museum, the Museo Casa de la Zacatecana, and MUCAL Museo del Calendario. This is not an exhaustive list, but our group was less interested in the many small museums downtown.
Across the Main Street Calle Ignacio Zaragoza, you will find the largest green space: Alameda Hidalgo. There is a model of the City of Queretaro in front of the main entrance. The park itself has many shady benches, and a large playground on the southeast corner.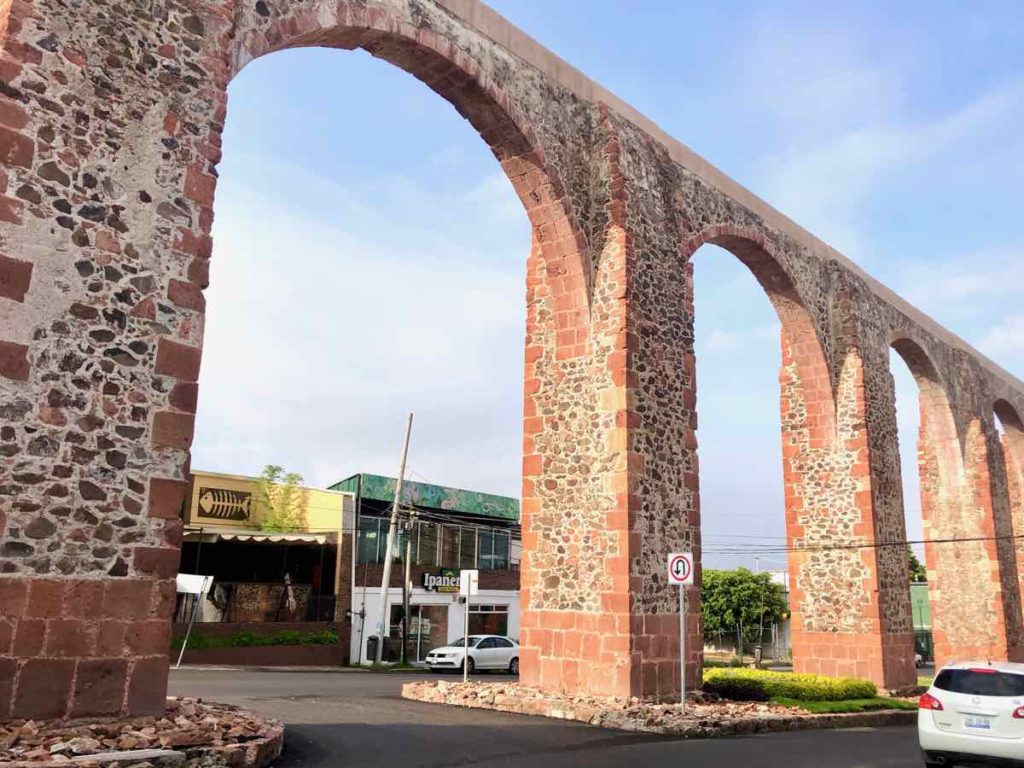 Queretaro Aqueduct
There are two main options for seeing the Acueducto de Queretaro. You can either drive right up to it, and walk along the main street. There are some nice states along the way, but the street is busy with traffic. Alternatively, head to the Mirador de los Arcos.
The Mirador is what most visitors choose! Beautiful in the daytime and sparkly at night. You can walk here from the Centro, passing by the Plaza de los Fundadores.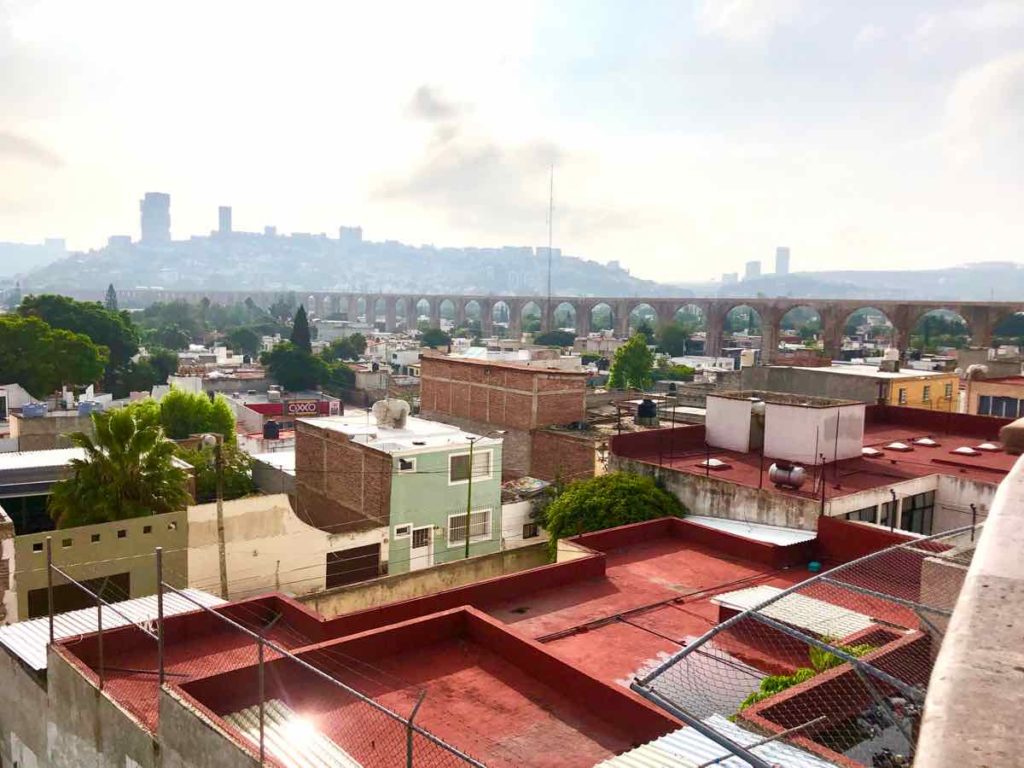 El Cerrito
Visit the small pyramid in El Pueblito. This southern neighborhood really does feel like a small village.
You cannot climb the pyramid in the Zona Arqueological El Cerrito, but there is a trail takes you around the site. You can walk it in 30-45 minutes.
Parque Nacional El Cimatario
The large national park, El Cimatario is a place to spend the day on the outskirts of Queretaro. Prepare for a windy drive up the mountains!
Unfortunately it was reservation only during our visit, but it seemed like a great place to take a short hike, go mountain biking or enjoy a picnic out in nature.
Where to Stay in Queretaro
Areas with Accommodations in Queretaro
Queretaro felt like a safe city for us. Your options for accommodations in Queretaro break down as follows:
Small hotels and hostels in the Centro Historico.
Business hotels from international chains along the 57 Highway.
Airbnbs in various neighborhoods.
Recommended Areas for Families in Queretaro
Because we spent over a week in Queretaro and had time to drive around and explore, I made this handy graphic for you! The small red circle is the Centro Historico. The purple circled areas are the neighborhoods I liked the most.
We actually ended up staying in three different places because we booked last minute and it was during the summer holidays. The majority of time, we were in the northern neighborhood of Juriquilla.
This neighborhood is safe, family friendly, and has a ton of restaurants nearby. There are a couple of university campuses and lots of business parks plus some fancy malls. You do need a car to get around easily, but Ubers are very cheap.
However, if I had to do it again, I would look for a place to stay around the purple circle just outside the Centro Historico! It is an area that is close to lots of great restaurants and Costco!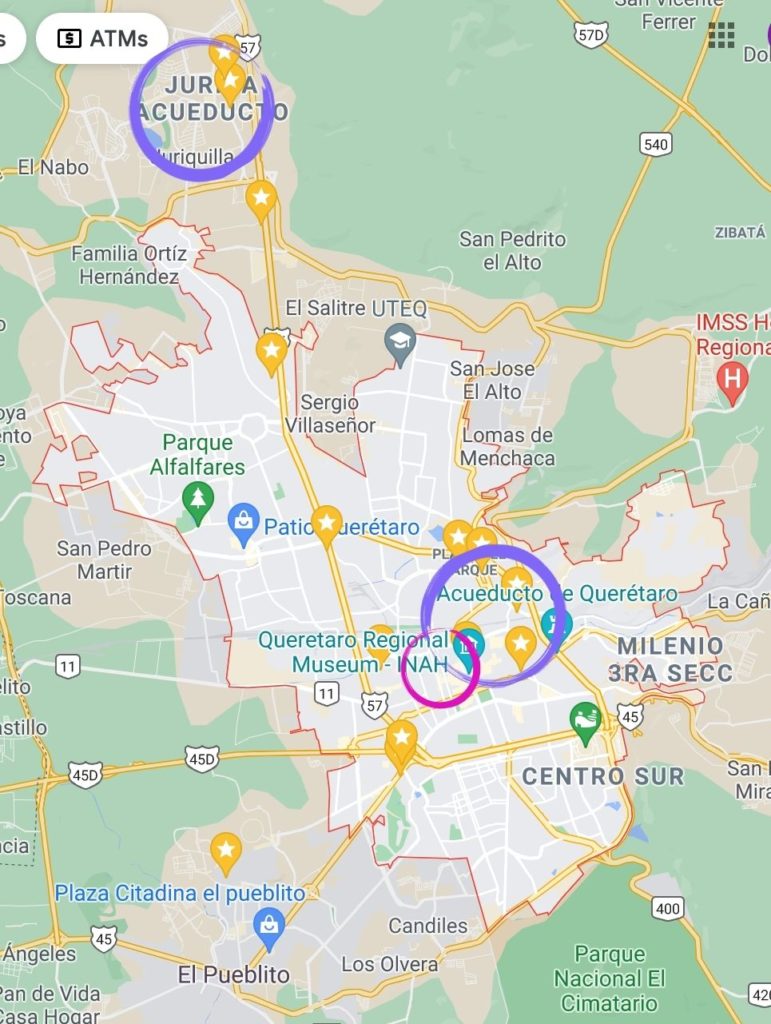 We also stayed at two chain hotels. If you travel with points, this is a very inexpensive option.
Four Points Queretaro
Marriott Category 1 Hotel in Queretaro
This standard Four Points was nothing to write home about, but it did the trick. We chose it because they have a room with a King bed and double sofa bed, which means we all fit in one room.
The room was not very big, but it was just what we needed to crash for a night. The hotel also has ample parking, a small outdoor swimming pool, a gym and an a la carte breakfast included. All in all, we recommend it.
Courtyard by Marriott Queretaro
Marriott Category 1 Hotel in Queretaro
This is the business hotel that is closest to the Centro Historico, and is right near a business park. If you have a car, it is very quick to get everywhere you need to go, but be ready to get on and off the highway multiple times.
Parking was a little dicey in the underground lot, so try to get a spot outside.
The majority of rooms here are standards 2 queens, however we were able to book a junior suite for less than 100 dollars a night.
The suite had a king bed, a single sofa bed, room for a rollaway bed, a kitchenette and just a lot of space. It was basically as big as our Brooklyn apartment!
Aloft Queretaro
Marriott Category 1 Hotel in Queretaro
I almost don't want to write about the Aloft hotel, because this is most definitely a hidden gem! Located in the northern business area of Jurica, the Aloft has convenient underground parking, and easy access to the highway and luxury malls. For the time being, it even has a great view, since there is not too much built up behind it!
The Aloft Queretaro is a pet friendly hotel. It has a lovely courtyard with a huge pool, lots of loungers and a small grassy area. The lobby area has a bar and a pool table!
The rooms are typical Aloft rooms with modern, if basic, amenities. You can request a blow up mattress (rather than a roll-away bed) which is what we did.
It is really rare that Aloft hotels include a breakfast, but this one did. Not only that, it was really good and fresh! We found the staff here very helpful. All in all, this is one of our favorite hotels from our recent road trip in Mexico.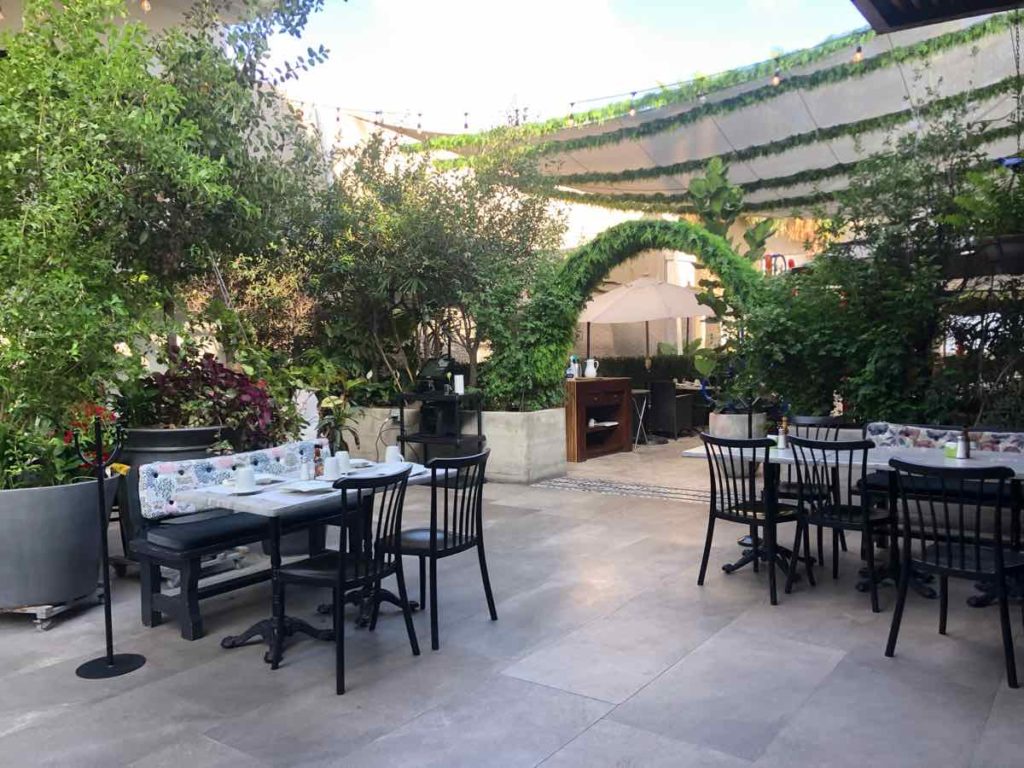 Restaurants in Queretaro with Kids
One of the best features in a restaurant when you have kids, is a designated play area, a terrace ,or some other activity to keep the kids busy while waiting for your food.
Queretaro has a huge variety of restaurants. Some of these large ones have delicious menus and are especially good for families. Here are a few that we recommend:
La Casa Verde– This restaurants has a typical Mexican menu, but the seating area is gorgeous. It is actually an outdoor terrace full of trees inside. There is a small play area with kiddie rides that have been hard wired! So rather than having to feed them coins, there is an on and off switch. Our kids loved them!
La Hoja Cafe– This is a Mexican breakfast only restaurant, so it closes early, but man do they know what they are doing! Try the clorofil water, and get a full breakfast with juice and any of the specials for a delicious meal. There is a play structure right in the middle of the restaurant!
Emilia– This is an Italian restaurant, with a large menu of pastas, salads and entrees. The best part is the huge outdoor area with grass and playground equipment. This outdoor area is shared with the adjacent Irish pub, if that's more your style.
Hacienda La Laborcilla– This is a fancy restaurant! Meaning the food is great but the portions are small. But, it is absolutely gorgeous inside and I would recommend it for a date night! The seating on the terrace surrounds a pool, and there are fresh flowers everywhere. Two reasons why it is great for kids as well: a giant chess board, and live music on the weekends!
Final words on Queretaro
Wrapping it up, there are pros and cons to Queretaro with kids. All things considered, if this was our first time in Mexico, it would be a pass for me personally. We didn't love the vibe: it was a little too "city" for us these days.
On the other hand, it is very modern and offers all the conveniences of home, including supermarkets such as Costco and H-E-B. We also had an intense case of gastro and the medical care we received was top notch.
We had a good time checking out this part of Mexico, but the best part was yet to come, because those pueblos magicos I mentioned above were totally worth the visit to Queretaro (State)! Stay tuned!
Other nearby towns to visit include: San Miguel de Allende, and suburbs (Queretaro was less than an hour away from here); Guanajuato, and Dolores Hidalgo.