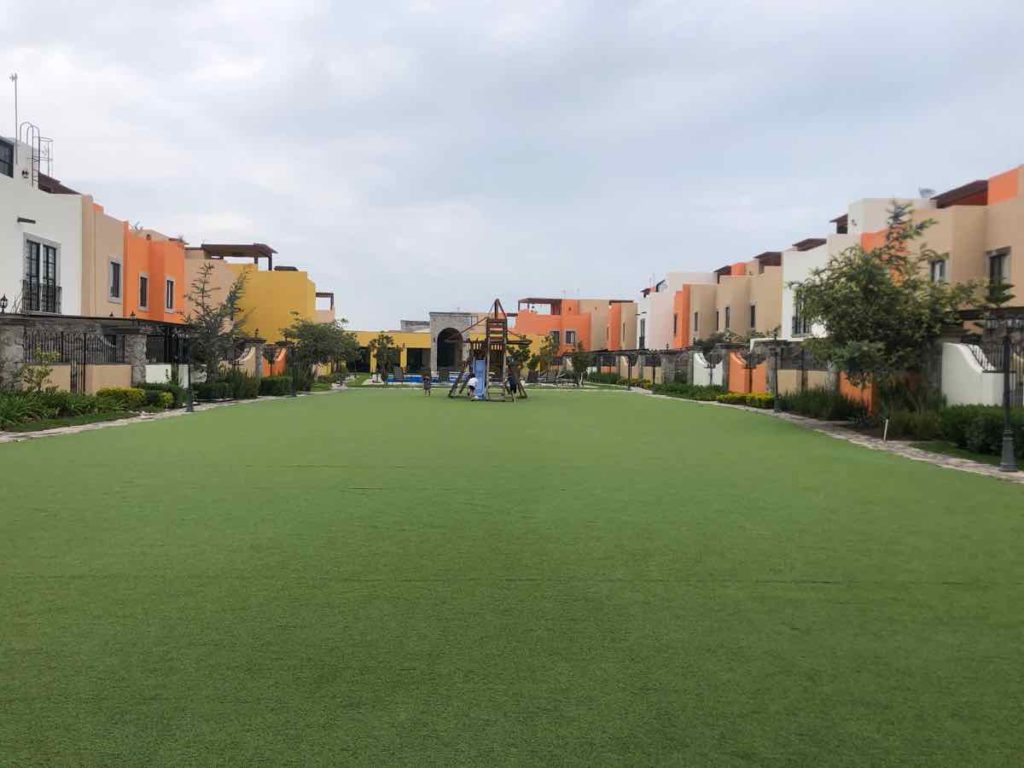 What happens when you're searching for new things to do in a place you've already been to….and your blog comes up on google? Then you know it's time to really dig deep on the best things to do in San Miguel de Allende with kids!
Rather than re-hash everything that's been said before, today I'll introduce you to the San Miguel de Allende Zirandaro development. As there are many vacation homes there for rent on Airbnb and VRBO, I'll go over what you can expect to find, and whether it's the right place for you to stay in San Miguel.
In this post you'll find everything you need to know about San Miguel de Allende Zirándaro development. I'll go through the pros and cons so you can decide whether it's the right place for you to stay when visiting San Miguel de Allende with kids. Plus, a quick recap of things to do in SMA, when to visit and general things to know for your trip to Mexico with kids.
This post may contain affiliate links. Thank you for supporting our work.
San Miguel de Allende Zirándaro
San Miguel de Allende in the state of Guanajuato, Mexico is an artsy tourist town. I believe the Lonely Planet described it as "Disneyland for American retirees" or something to that effect. And well, even almost ten years later, with four kids in tow, this description resonates.
This time around, we actually stayed outside of town. Rather than staying in SMA (San Miguel de Allende), we stayed in a suburban development about 10 minutes outside the downtown, called Zirandaro.
Here's a screen shot from Google Maps, so you can see where it is.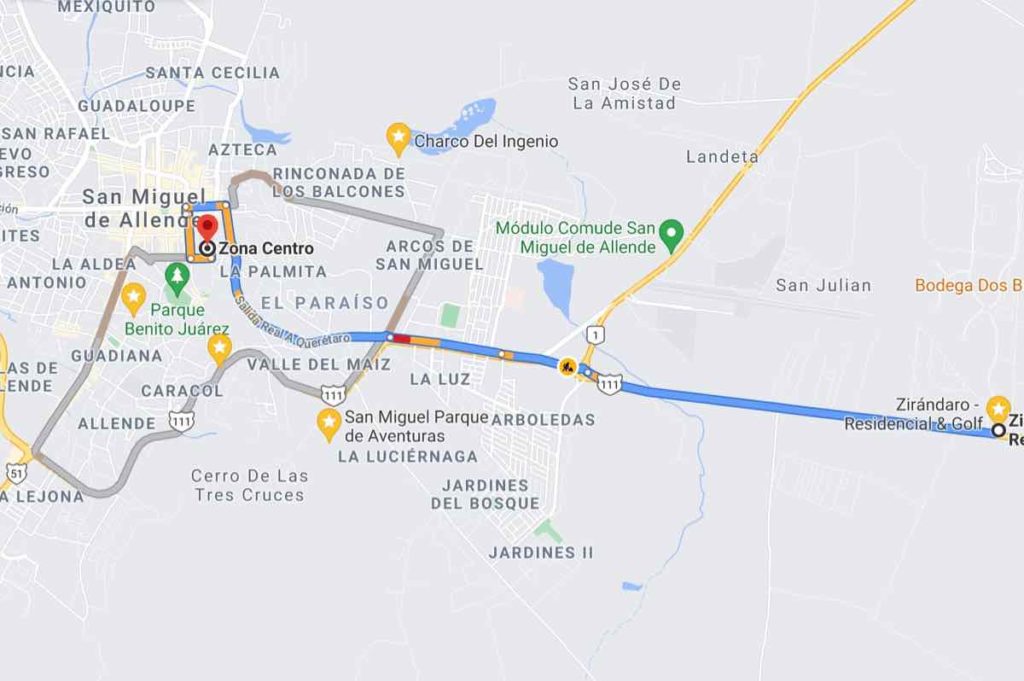 Where is Fraccionamiento Zirandaro?
The San Miguel de Allende Zirandaro development is located about 10 minutes outside of San Miguel proper. This huge residential complex is actually a conglomeration of many different gated communities. Many of the communities are still being built.
To get to San Miguel de Allende Centro Historico from Zirandaro, please consult my map! We had to learn the hard way, that driving two minutes longer and parking at the "bottom" of the Centro Historico is really the best bet.
San Miguel is extremely walkable (though I don't recommend a stroller). Even though we were able to find some street parking, we found that parking in a lot just before the cobblestone mayhem starts was the easiest way to get around. It is a quick 10 minute walk (uphill) to get to all of the tourist attractions and restaurants.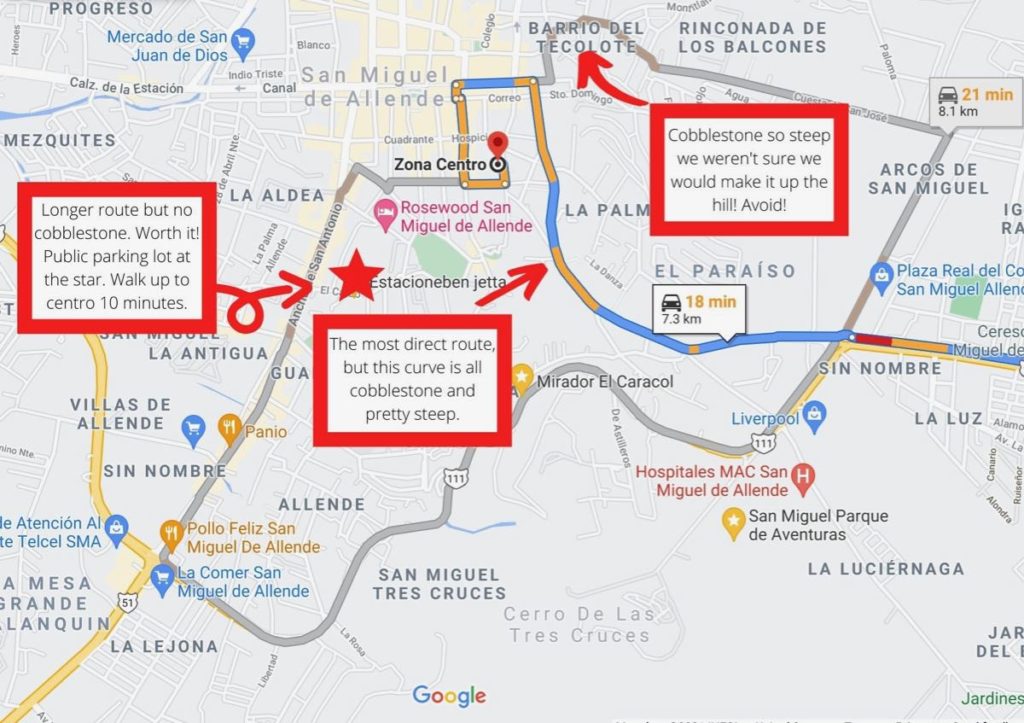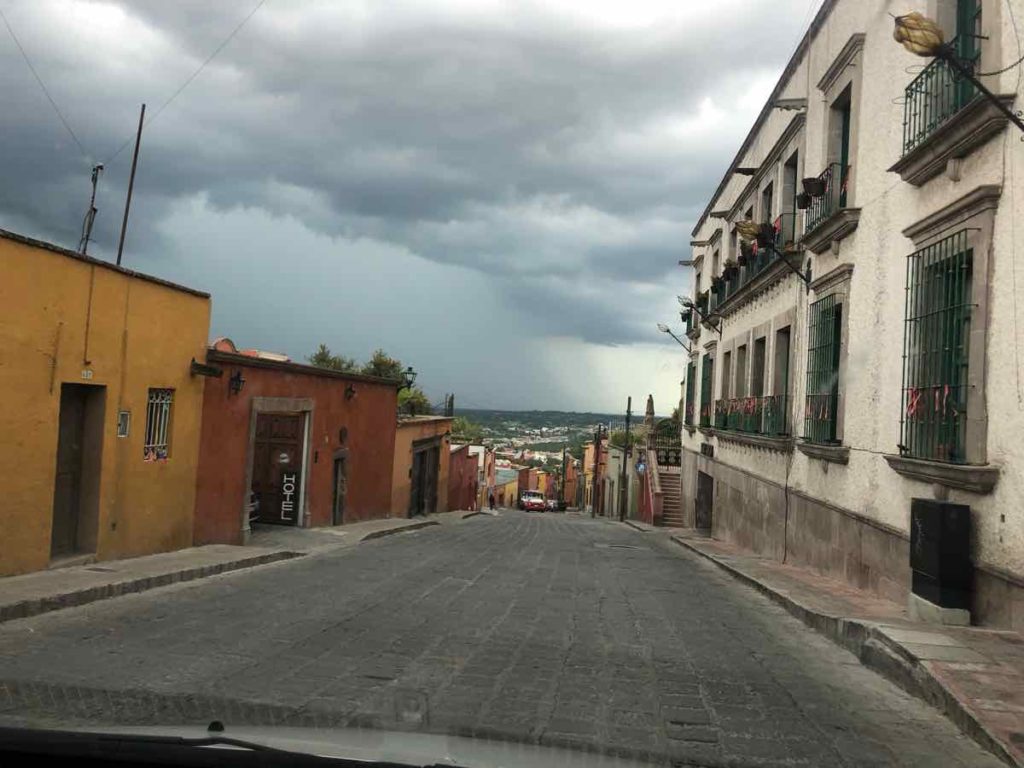 Zirandaro Amenities
Each "privada", has its own amenities for its residents. However, the complex as a whole also has amenities. First and foremost, the golf course.
Compared to other areas of Mexico, the golf course inside the Zirandaro complex is actually pretty affordable. There is a small range, and the course itself is not huge. There is also a restaurant there with an outdoor terrace, and it is quite beautiful in the evenings.
There are two main shared parks inside the Zirandaro development. The Parque los Olivos, seems to be the older one. This one has exercise equipment, a small playground, grass with soccer goals, and some walking trails.
There is also a newer playground near the entrance of the complex. This playground is excellent with a climbing structure as well as swings. All of the parks and the golf courses are walkable from inside the complex, and there is sidewalk (most of the way).
Pros of Staying in Zirandaro
No cobblestone
San Miguel de Allende is famous for its quaint cobblestone streets. However, driving on the cobblestone is another story. If you are driving your own car, staying in Zirandaro is pretty convenient. Its location outside of town means that you can easily drive around and avoid most of the cobblestone streets.
Quiet location
Because most of this residence is surrounded by undeveloped land, staying at Zirandaro offers a peaceful escape from the bustle of downtown. We really enjoyed the quiet for working during the day and sleeping at night!
Security
If you stay in Zirandaro, there is a vigilancia (security guard) both at the main entrance, and then another one in the entrance to each privada. This made us feel very safe letting the kids run around in the internal common areas.
Amenities
The amenities mentioned above are obviously a huge draw. Each privada also seems to have a pool and some type of club house or playground. This made for a very relaxing stay for us.
Proximity to Consulate, Mall, Schools
For those considering staying in San Miguel de Allende longer term, the Zirandaro development is very close to the Plaza La Luciernaga. This is a small shopping plaza that has a larger grocery store, and is also the location of the US consulate. We also noticed a few privates schools nearby, making it a good choice for families.
Cons of Staying in Zirandaro
Isolated Location
The Zirandaro development is quite isolated. In terms of accessibility to shopping, grocery stores and restaurants, everything will require a drive into town. There really is nothing close by.
The closest location to buy food is at the Luciernaga Mall mentioned above, which is a 10 minute drive. There you will find a large Soriana grocery store.
There is a bus to go into town, but you need to walk out of the main development (fraccionamiento), which could be anything from 10 to 30 minutes, depending on how far in you are situated.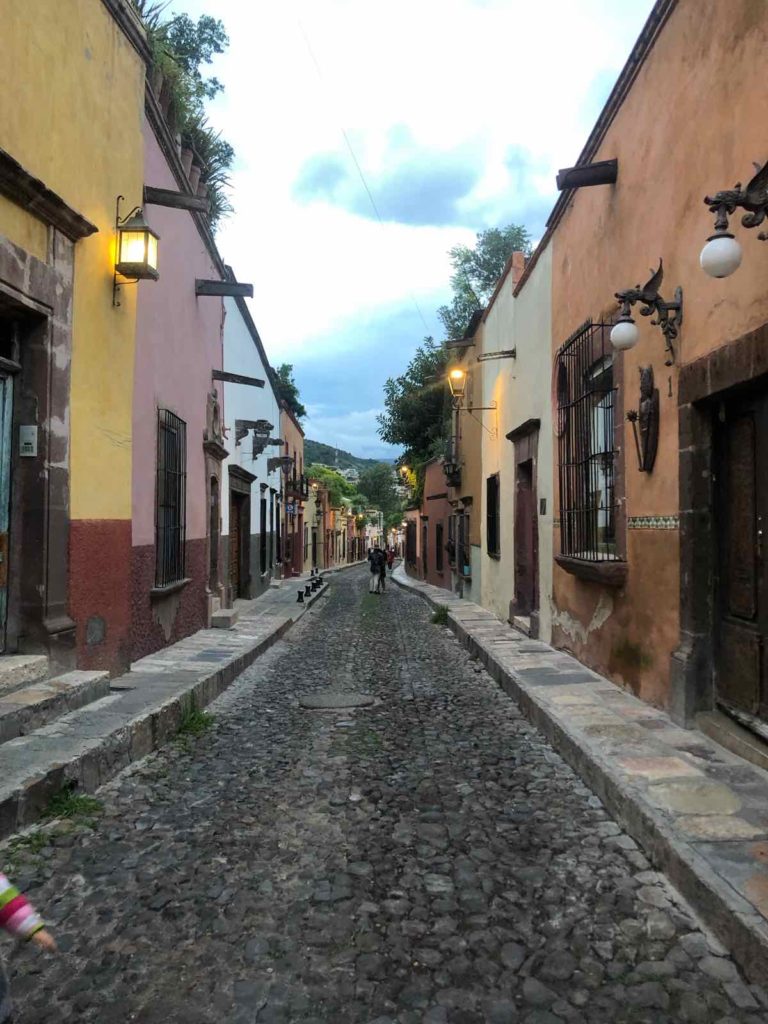 Properties in San Miguel de Allende Zirandaro
Here are some properties that I found in San Miguel Zirandaro that you could book online:
La Casa de Los Milagros – This one is in the privada (Monjas) next to the one that we stayed in, but not the exact property. (TBH this one looks better).
Delaguti House– This one is in another privada (Luna) near where we stayed. That terrace looks fabulous.
Appartment in SMA Zirandaro– Here is another option in the Luna development. This one also looks great, and again with a terrace!
Lindo Depat in SMA Zirandaro– Here's one more apartment in La Reloj. Looks very similar to the one we stayed in, but bigger.
Casalvento by Andiani Travel– It looks like these people have a couple of different properties in the Casalvento privada. This looked to us like one of the newer ones (even though really the whole complex is relatively new).
I'll add more properties as I find them.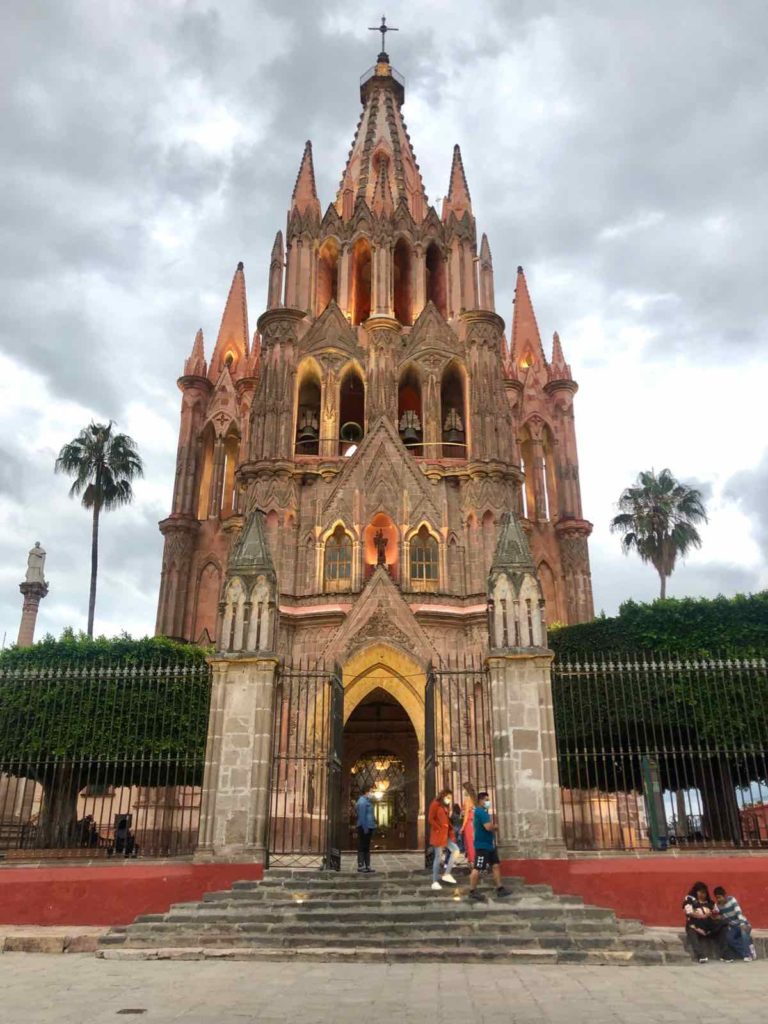 Where to Stay in San Miguel de Allende?
Hopefully, this post has helped you decide where to stay in San Miguel de Allende. For a weekend trip (which is plenty of time to see the highlights), I would say it is most convenient to stay in the Centro Historico.
Highlights of the Centro Historico include:
Parroquia de San Miguel Arcangel (the main cathedral)
El Jardin (the main plaza in front of the cathedral)
Parque Benito Juarez
El Mirador (for a view), there is another mirador on the highway which is farther but also great
Mercado de Artesanias (shopping)
Casa de Ignacio Allende (Allende's house, famous for role in Mexican Revolution)
El Charco del Ingenio (botanic garden outside the Centro and definitely the best place for kids in SMA)
and a few more small museums, galleries and churches…
However, if you are Worldschooling, planning a longer stay in San Miguel, visiting for a few weeks or months, or in SMA over the winter, then I think it's definitely worth considering staying outside of town!
Let me know in the comments: Would you stay in a nondescript suburban development outside of a charming city? Why or why not?