Are you getting ready for a family road trip? Packing list, here we come! Because when you're traveling with a family, you need to take ALL the stuff. Amiright?
The best way to keep track of all the gear you need for your road trip, is with a packing list. So here is a downloadable packing list for your family road trip.
Click through for the list, and notes on the most useful items for a road trip with kids!
This post may contain affiliate links. Thank you for supporting our work.
Making a Family Road Trip Packing List
When traveling with kids, it is so much easier to do some planning for your road trip ahead of time. To minimize stress about forgetting items, put together a checklist for your road trip!
A road trip with kids can be such an adventure (as we well know>>>see NYC to TX road trip)! But kids need so much "stuff". Or rather having the right gear makes traveling as a family so much easier.
Whether you are minimalists or maximalists, getting the list of items you need out of your head and onto paper (or a device) is one of my top tips for preparing to travel with kids.
Family Road Trip Checklist + Road Trip Printable
Here is the complete list of items we are taking on our family worldschooling road trip! I have everything in a checklist form, or click on the image below to be taken to a pdf of our family road trip packing list printable.
As we've now been on the road for over a month, I have added notes on the items that have been most helpful, and those that are just nice to have.
Road Trip Packing Basics (Clothes, Shoes, Toiletries Etc)
Clothes and Shoes
For a road trip we recommend 1-2 weeks worth of clothes. Adjust according to your destination and expected weather or dressing needs.
For example, we each have a week of casual summer clothes, but also a small selection of long sleeves for our time up in the mountains, and beachwear for when we get down to the beach.
Could we get by with less? Yes, but it is easier to have at least a full week's worth to not worry about having to do laundry more than once a week.
Each kids has one pair of barefoot shoes, and one pair of sandals. Our daughter has a couple extra pairs since that makes her happy.
Here's our list:
7-10 t-shirts
7-10 shorts / skirts
2 long sleeve shirts
2 long pants
4-5 dresses (for the ladies)
1-2 dress shirts (for the men)
7-14 underwear
5+ socks
bras
5-10 pajamas
1 light sweater
1 fleece jacket
1 rain coat
sun hats
shoes
sandals/flip-flops
Toiletries
You can get by with pretty minimal toiletries if you are ok with using those provided by hotels and vacation rentals. But if you have brand preferences, bring your own!
Also, do bring at least one bar of soap with you! We have arrived at airbnbs that haven't had any soap at all! Having one bar to wash your hands until you can get more will go a long way.
Same note on toilet paper: Have one roll with you at all times, because you never know when you will arrive in a place that decided to be stingy on the TP. Also super helpful for roadside stops and gas station restrooms.
Here's what we brought:
Bar soap
Dr. Bronners liquid soap
Baby soap
Shampoo/Conditioner
Hair cream
Hair brush/ hair ties, bows etc
Toothpaste
Toothbrushes
Lotion
Hand sanitizer (we keep it in the car)
Contacts/glasses
Beach items
If you're heading to the beach, add these to your list. We like to keep all of our beach stuff together so that it's easy to find when we need it.
Bathing suit/ rash guard
Swim diaper, if you have a baby
Goggles, 1 per person
Thin microfiber towels (just good to have in general)
Floaties, if you have little ones that can't swim yet
A wetbag (to store wet bathing suits in transit)
Baby Gear
If you're traveling with a little one, consider some or all of these items. Our 1 year old has been sleeping in our pack n play and it's so nice that he always know what to expect and feels safe in his own bed!
PacknPlay or Travel Crib + sheets
(Cloth diapers, if you'll be in a place you can wash.)
Cold Weather Gear
We didn't bring any of these items, since our road trip is in the summer time, but if you will be traveling long term, consider adding these.
Warm jacket
Scarf
Gloves
Hats
Boots
Road Trip Electronics (for the Digital Nomad)
Having all of our electronics with us is essential. We couldn't work without laptops, phones and charging cables. But what has surprisingly been really nice to have is our Roku! We connect it to the tv, and have access to our US based subscriptions.
To make sure it works well, it is best to use a VPN which blocks your actual location and replaces it with your desired location. This way you can see content that is unavailable in your geographic location.
A flashlight is surprisingly handy and you never know when you're going to need it. Like digging through the car in a dark garage, or looking to see if a water tank is filling. Adventures on the road!
Here's our list of road trip electronics and photography equipment:
Laptops + chargers
Laptop accessories: SD card slots, adaptors etc
Hard drives
Phones + chargers
Power banks
Airpods
Headphones (1 per person, essential!)
Camera + charger
extra SD cards
Lens(es)
Tripod
Camera remote
Tablets for kids (optional but useful for travel times)
Roku + remote
Headlamp and/or flashlight
Dash Camera (optional)
Car battery booster
Kids Packing List
Depending on the length of your road trip, you may or may not need to bring some activities for the kids. On a short trip I would bring close to nothing, but for an extended trip like ours, it's been nice to have things to do "at home", during rain or quiet time.
Here are the kid specific items we are including in our kids' packing lists. We have had some input from the older kids, and sorted through to find our favorite games for each age. When we make our packing list for kids, we prioritize toys that are small and/or are good for open ended play.
Even though these are in the kids category, some of the most fun things to bring on a road trip are card games, for enjoying in the evenings after a long day on the road. Here are the toys we are bringing for four kids ages 1-10.
Legos (age 5+) – I always suggest buying directly from Lego.com because you can get small bonus sets for free with your order. We brought one quart ziplock full and it has been the perfect amount.
Card games:
Dolls and stuffies (just a few small favorites)
Cars (age 1+) – small matchbox cars or pull back cars are favorites for all ages from toddler up to tween.
Stacking cups – for a toddler. These double as a bath toy!
Shape sorter – for the toddler. We have had so many different types…I've linked our favorite. Even though it is bulky it has gotten lots of play, so worth it!
Stacking rings– This classic toy is so incredibly useful, not only for the toddler! The big kids use the rings for imaginary play ("powers") or as hoops in an obstacle course.
Board games- we brought the first two, but I'm adding a few other suggestions as well:

Sequence
Ticket to Ride
Rummikub
Twister
Qwirkle

Books- we have 5-10 each (yikes!)
Workbooks, notebooks, writing and drawing supplies (the best, and they're flat so don't take up much space).
Collapsable storage cube! A cube, like the one you would put in a bookcase, is an amazing item to have for keep toys tidy while in a vacation rental. These fold flat for packing up and moving to your next destination.
Kitchen Items for Vacation Rentals
If you're going on a short road trip, feel free to skip this section. However from those embarking on a longer trip, consider taking some kitchen items with you. We are staying primarily in vacation rentals or suite type hotels, so that we can do the majority of cooking "at home" while traveling.
We heard from other roadschooling / worldschooling families, that we should take our absolute must-have kitchen items with us, because many rentals only have the basics: plate, mugs, silverware and minimal cooking gear. This has turned out to be very true and essential advice.
Here are kitchen items we have with us, the small items at the top have been especially important!
Spatula (most commonly missing item apparently…?!)
Wooden cooking spoon
Tongs
Can opener
Bottle opener
One good pot
One good pan (We didn't bring, but should have…)
Hand blender- this one is the best hand blender for the money. We have used it from blending soups and smoothies, to chopping fresh ginger and even grinding up cloves!) Because it is so small, it's an item that I recommend even though we could technically do without.
Measuring spoons, if you like to bake
Salt (!)
Spices
Snack cups for the toddler. These cups have handles for the toddler to hold and the cap has flaps that open easily. This way your toddler can stick their hand in the cup to get the snack. However if they knock it over, the snack won't spill. They double as small bowls, which we never seem to find.
Toddler cup + baby utensils, if you have a little one
Reusable Water bottles (a travel basic always worth mentioning)
Coffee thermos or insulated water bottle. We LOVE ours.
Bottle cleaning brush….for your bottles and thermos.
Small dish soap and sponge (good to have for hotels)
French press (optional but nice to have; most places have had coffee makers but not all).
Electric kettle (We didn't bring one, but wish we did!)
Chip clips
Stainless storage containers (for leftovers, picnic lunches, etc.)
Kitchen towels (2, you'd be surprised how many places don't have them!)
Soft sided coolers (to hold the above + actual food)
Reusable shopping bags…for shopping, collecting last minute items and more!
Click the image to go to the printable PDF packing list.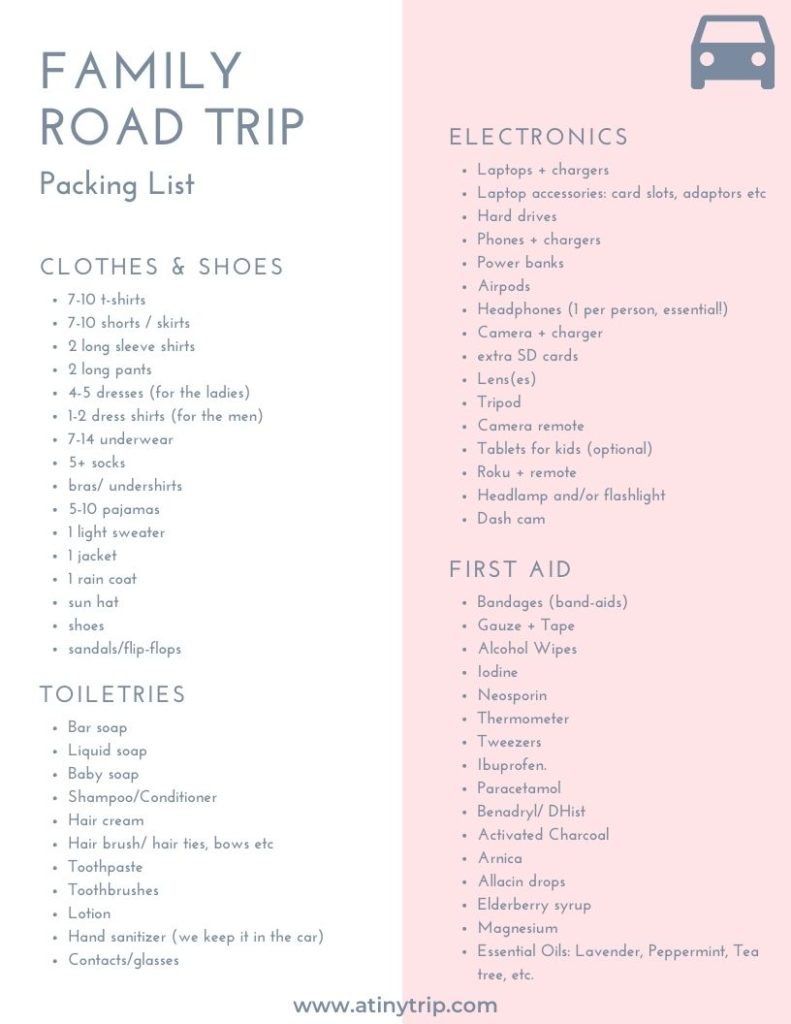 Road Trip Food List
I've written a lot about how to find healthy food on the road. To start off a cross-country road trip (or in our case an international road trip), we will take some pantry items with us. Of course after the first few weeks, we will need to buy food to cook in our vacation rentals.
Here are the foods I am packing to start us off. (Note the absence of fresh produce and meat because we are crossing a border).
Almond Flour (for paleo baking)
Honey (whatever we have left)
Avocado oil, Olive oil and Ghee for cooking (whatever we have left)
Healthy ketchup/mustard
Pasta
Dry lentils
Canned fish (whatever we have left)
Tea/coffee
And then there are some snacks, a category of their own. We all know that having something to snack on while you are driving, can help distract from long driving times. It is also essential so you don't need to stop to eat as often. Here are a few ideas:
Larabars (Cherry Pie, Pecan Pie, Cashew Cookie are our favorites)
Dried fruit: mangoes, dates, figs, raisins etc.
Nuts: almonds, pecans, walnuts, pistachios, etc.
Chocolate
How to Pack for a Family Road Trip
There are many ways to pack for a family road trip. Depending on the length of the trip, the amount of bags you are taking and the type of car you have, here are two main methods:
Each Person has a bag
This is a pretty straight forward method, and the default for most people that are planning a family road trip. Each person packs a bag with their own personal items. Then communal items like kitchen gear can go in a cooler.
This method works best when kids are older and can carry their own bags. It is also best if you are not moving around too often.
Shared bags
In this method, you use packing cubes or ziplock bags to pack 1 day's worth of items for each person. Then rather than bring all the bags inside to your accommodation, you can bring a shared bag that has items for every person in the family.
The remaining bags can stay in the car overnight, making both getting settled and checking out much easier!
Our Experience
For our road trip so far, we have used both methods. For one week stays, we bring in all the bags. This keeps our car empty for exploring and leaving in parking lots in various places. It also means that it takes us a solid 3-4 hours to repack everything before we check out of our rental.
However if we will have some short hotel stays, we pack some packing cubes to make for a quick in and out. This is definitely the way to go if you are moving around every day.
Do you have any more questions about packing for a family road trip? Any other lessons from the road you would like me to share?