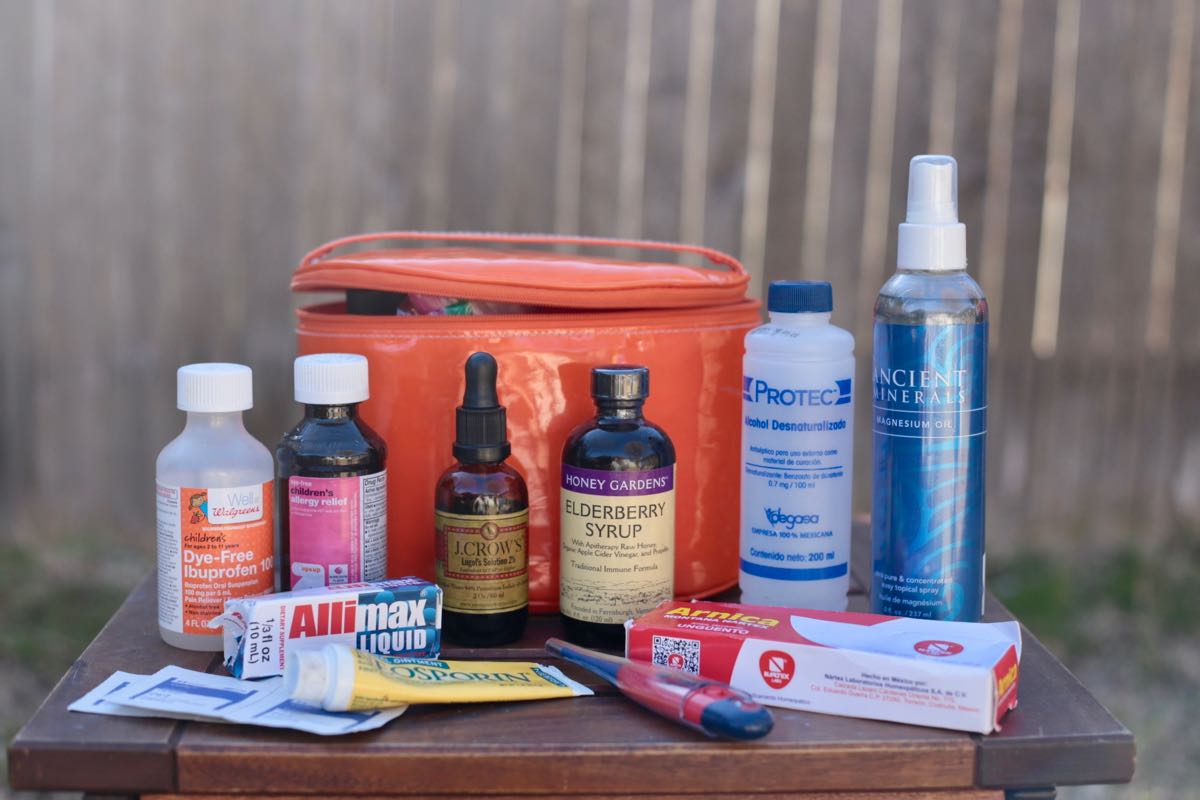 Are you looking to put together a natural first aid kit for travel? For any traveler looking to go places near and far it is a good idea to carry a first aid medical kit. It is especially nice to have natural medicine options when you travel.
If you have children, in particular, a first aid kit for toddlers that includes natural remedies in addition to traditional first aid kit components can be a good way to have peace of mind. The more they play and explore outside, it is likely you will need to deal with scrapes and bruises.
If you are considering, making a DIY first aid kit, then be sure to read on for things to include in your first aid kit, how to easily DIY a travel medicine kit, and specific products to include in your family first aid kit!
This post may contain affiliate links. Thank you for supporting our work.
Why Make a Natural First Aid Kit for Travel
Many store bought first aid kits, include products that may be controversial if you lead a natural lifestyle. While, all should include medical grade products that have been verified for safety, some products may be lower quality or include synthetic additives that can irritate your skin.
To put together our natural first aid kit for kids and parents, we have looked through a typical first aid kit list, and made some adjustments. We hope you find this helpful!
As you all know, Michael and I have been on a wellness journey for several years now (see: dietary changes, healing allergies, outdoor time). So it's only natural, that as our lifestyle has evolved to embrace more eco-friendly and natural practices, so has our choice in products to create a first aid kit.
For those that are new to the blog, Michael has an MD but as always, this post is for informational purposes only and is not meant to be medical advice. That said, I was happy to have his input!
Things to Include in a Natural First Aid Kit DIY
Basic First Aid Kit (for Kids)
If you have kids, then most likely scrapes, cuts and bruises are a typical injury when playing outdoors, camping, or even traveling to cities. Start your first aid kit with the basics.
Do note, that conventional band-aid bandages can cause skin irritation from the glue. I've linked to a natural brand you can try!
Bandages (band-aids)
Gauze + Tape
A thermometer- to check if they really have a fever. A simple digital works great though you may want to invest in a temporal thermometer in a first aid kit for babies.
Tweezers- super useful for splinters!
Medications for your Medical Kit for Travel
If you're traveling with kids, it's nice to have some basic medications on hand so that you don't need to go looking for a pharmacy. For little colds and minor ailments that don't require a doctor visit, here are some remedies we include in our travel medical kit.
The Non-Natural Essentials
Ibuprofen- A basic fever reducer is always good to have.
Paracetamol- Tylenol…not natural but good to have just in case. Choose one that is dye-free.
Benadryl- choose a dye free version for treatment of allergy.
Natural Remedies for a Travel First Aid Kit
Activated charcoal– this can be used for diarrhea or other stomach virus.
D-Hist– A natural antihistamine for allergies. If you feel them coming on you should begin taking, as it takes some time to start working.
Arnica – This homeopathic treatment comes in a cream or pill and is useful for minor pain. For example, when I broke a toe.
Allicin drops– Garlic drop are useful for treating minor ear infections. For example if you get water in the ears swimming in the pool.
Elderberry Syrup– while some people use elderberry as a preventative treatment during cold and flu season, it actually works really well when coming on with the first inklings of sickness.
Magnesium– I will sing the praises of topical magnesium forever. A spray on the bottom of your feet before bed will have you falling asleep in 15 minutes. This is such a good natural sleep aid for children, start off with just a tiny bit. Also great for morning sickness! We also like to have magnesium pills as a good natural remedy for headaches.
Essential Oils for Travel
We are far from essential oil groupies, but some oils do have incredible medicinal uses and can be useful to travel with. Here are the oils, we take on the road with us:
Tea Tree Oil- an amazing antiseptic
Lavender- for use in clearing those mild ear infections (details on how to use in this post); also good for travel induced anxiety!
Peppermint- for headaches, rub a drop on your temples and/or forehead
Digestzen- for a mildly upset tummy, you can rub a drop above your belly button!
Please note that I do not recommend using any of these oils on children, as this is considered controversial.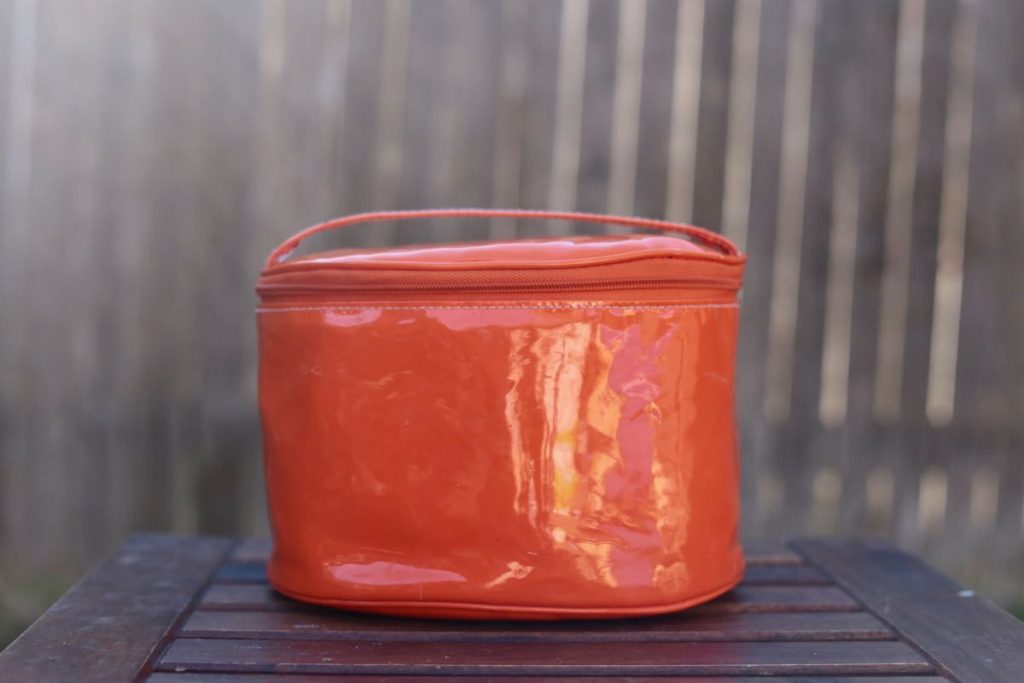 Putting together your Medical Kit for Travel
One of the best features of putting together a DIY travel medical kit, is that you really only have to do it once! Assemble your components, and any other medications you take regularly and leave your kit packed. This way, any time you are getting ready to take a trip, you can just grab the pre-made bag.
Do note that from everything listed, we keep it all together except for the magnesium spray. The magnesium sleep aid goes in our toiletry bag for easy access in the evenings. The other items we keep together in our travel first aid kit, and hope that we don't need to use them!
This kit is perfect to take with you when camping, or traveling with kids near or far.
For more tips on staying healthy during travel, check out this old post! And while you're at it, don't forget to look into travel insurance before your next trip!
Wishing you Happy, Healthy Travels!
Do you keep your first aid kit packed and ready to go? Is there anything else that you include that is not on our list?
*The information contained on this website is for informational purposes only. No material on this site is intended to be a substitute for professional medical advice, diagnosis or treatment. Always seek the advice of your physician or other qualified health care provider with any questions you may have regarding a medical condition or treatment and before undertaking a new health care regimen.