Are you gearing up for your Want to take your kids camping but not sure how to prepare? Worried about what things you need to take with you? What you can do to set yourself up for the best outcome?
Will this be your first family camping trip? These were certainly our worries before taking our kids camping for the first time! If any of this sounds familiar, read on for how to plan your first camping trip with kids!
Intimidated by Camping with Kids
We have been planning our first camping trip for two years! Well, not exactly planning, but it has been on our mind that long!
Two summers ago, when our oldest turned 6 we started thinking about finally taking the kids camping….the issues we had were multiple though:
Our youngest was only a year old and a very poor sleeper
We owned none of the right gear
We had lots of other summer plans, including two trips requiring flights with three kids!
So what we started doing was slowly researching some gear, watching out for summer sales, and overall hoping to get prepared for our first family camping trip the following summer. Here's where we started:
This post may contain affiliate links. Thank you for supporting our work.
Steps for Planning Your First Family Camping Trip
Find a Camping Spot
Making a packing list
Collect or buy necessary gear
Practice setting up your tent at home
Pack and go!
Well, summer 2018 came around, and by then we owned a tent and the kids had gotten sleeping bags for their birthdays. So my first step was researching good camping spots in close distance to New York City.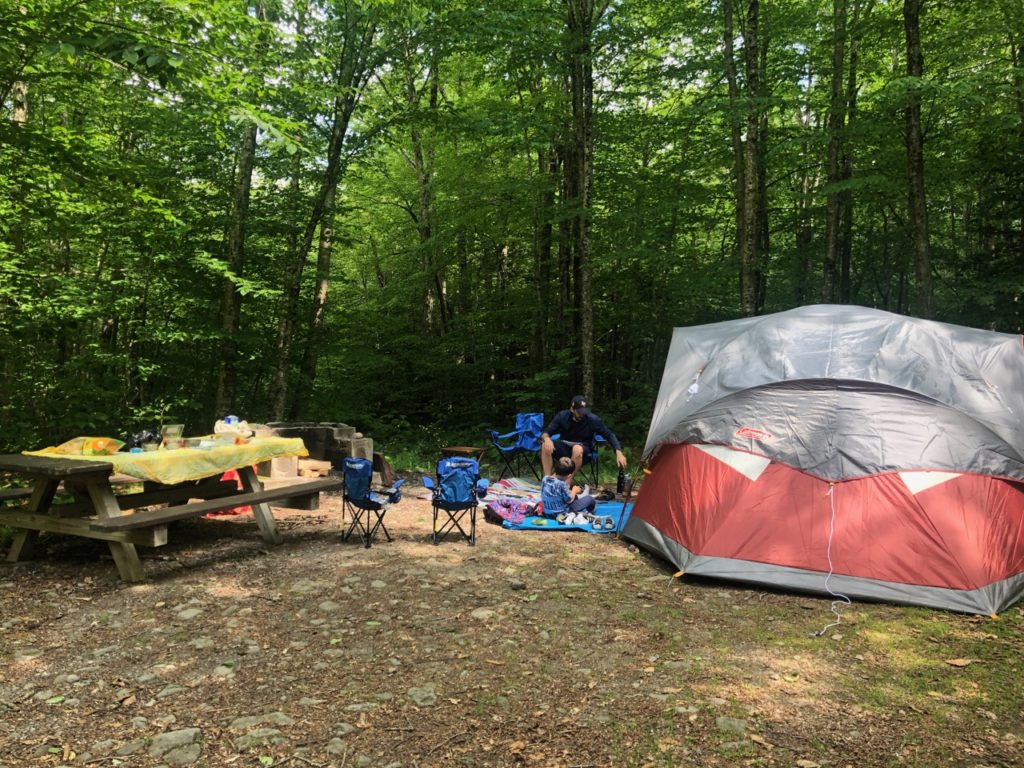 Choosing a Campground and Campsite
Generally speaking, you will want to choose a campground ahead of time during the summer camping season, as sites book up quickly. This is especially true if you are looking to camp on the weekend.
For your first family camping trip, I suggest choosing a campground that is not too far from home. You know your driving stamina with kids.
For your first trip I suggest somewhere not too far so you can arrive earlier in the day and have plenty of time to get set up! You do not want to stress of a setting sun while trying to get your tent up for the first time!
Find a Campground
Search for camp grounds on your state park websites, or try these:
Consider which amenities you need to feel comfortable: flush toilets, picnic seating for meals, potable water, trash collection, grilling stations, etc. Not all campground will have all of these available.
Choose a Campsite
Once you have chosen your campground, then it's time to reserve a specific site. If your campground has a map, take a look and try to choose a spot that will best serve your family.
We prefer not to be too close to the restrooms or trash containers, both for the smell factor, but also because of the foot traffic.
Double check that you are booking a drive-in site, or a campsite that has parking nearby, or else you may have to carry in your gear. This doesn't have to be a big deal, but can be tricky with little kids!
Camping In and Around New York City
There are actually many camping options around New York City. You can even camp within city parks at certain times. There are glamping tents on Governors Island, and camping options in Gateway National Recreation Area in Brooklyn and Staten Island.
We were ready to travel further out of the city, up to two hours drive, so our next step was checking out the New York State Parks. There are so many camping options in New York! We consulted with some friends that are experienced campers and narrowed down our options to two:
Where will we go? Check back in a couple of weeks for the recap! Hint: it wasn't either of these! (womp, womp)
Family Camping Packing List
Having a packing list is essential when you have little kids around. The easiest way to ensure you have everything you need for your first family camping trip is to print out a list and check things off.
For this next task, I did some internet research and read up on tips for what gear to take. I roughly divided our list into sleeping gear, and cooking gear to make it easier to pack.
This is the packing list we use for our camping trips. Click to print a copy!
Family Camping Essentials List
If you prefer a typed up list, here you go. Links are to products we own or similar versions! Where we have multiples, I've referred to my camping gear guides so that you can choose the best version for your family!
Tent kit (stakes/mallet)
Flash lights/Lantern (<this lantern is amazing!)
Extra Batteries for flash lights
Camping pads
Extra blankets
Pillows (inflatable pillows)
Towels (microfiber quick dry!)
Raincoats
Clothes- use a Ziplock bag, with appx. 2 outfits each/per day
Bathing suits
Flip flops/crocs (for showering)
Toiletries (toothbrush, paste, soap, hair products)
Baby wipes (must have!!!)
Insect repellant (<this one is the best!)
Sunscreen (<the absolute best one for kids and parents!)
Toilet paper
Hand soap
Hand sanitizer
Camping Chairs
Firewood
Fire starters (newspaper)
Roasting sticks (surprised by how much we loved these cheap ones)
Coffee pot (how cute is this one? or bring your French press or Turkish coffee pot)
Water bottles
Knives
Cutting boards
Plates
Mugs
Bowl
Utensils
Aluminum foil
Ziplock bags
Paper towels
Sponge
Dish soap
Cleaning wipes
Trash bags
Can opener
Bottle opener
Pot holder
Tongs
Tablecloth
Mini broom (comes with tent kit)
Shovel (for putting out fire)
Glow sticks
Citronella candle
Deck of cards
Rope for hanging towels
Bucket (for water near fire)
Whistle- we use the ones attached to the kids' backpacks!
Meat thermometer
For the New Campers: How to Choose Family Camping Gear
The Best Tip for Family Camping
An easy tip I read was to pack your cooking gear in a clear bin, to make things easier to find. This serves double duty, helping keep things clean while you are camping. If you have the space for it, you can leave this bin always packed away so that you don't have to pack and repack throughout the camping season.
Related: The Best Paleo Camping Meals!
This has been great advice! We keep our bin packed in the garage, and it's easy to pull out when we want to go camping. I also love, that I can see from the outside what is inside without having to rummage through!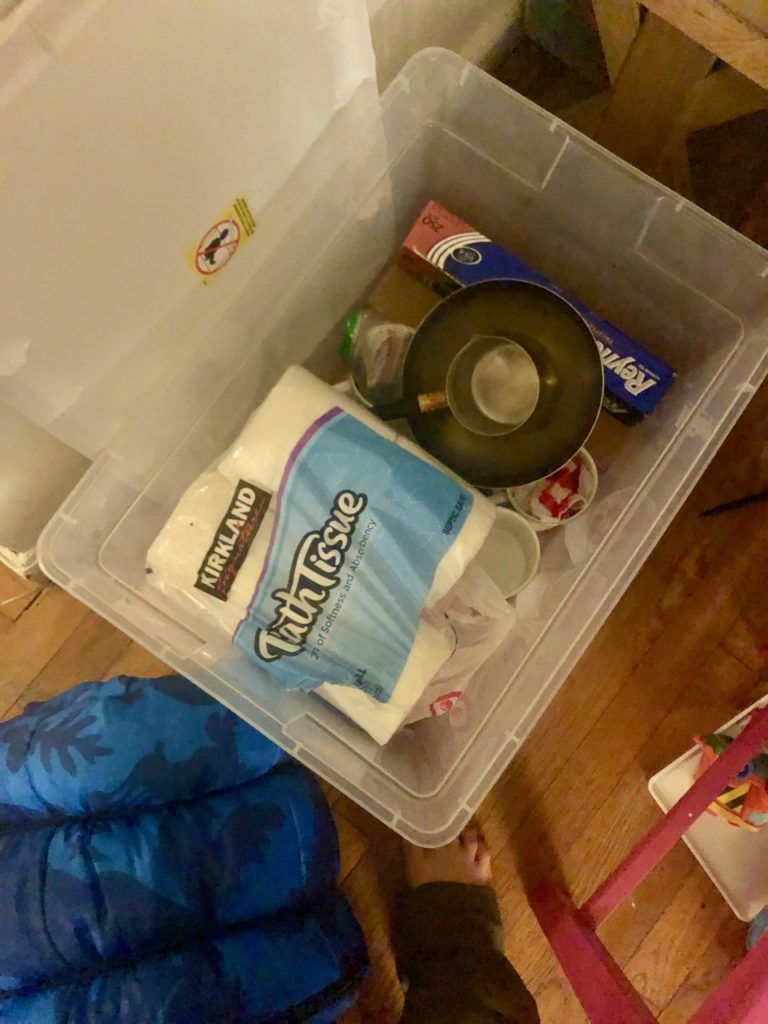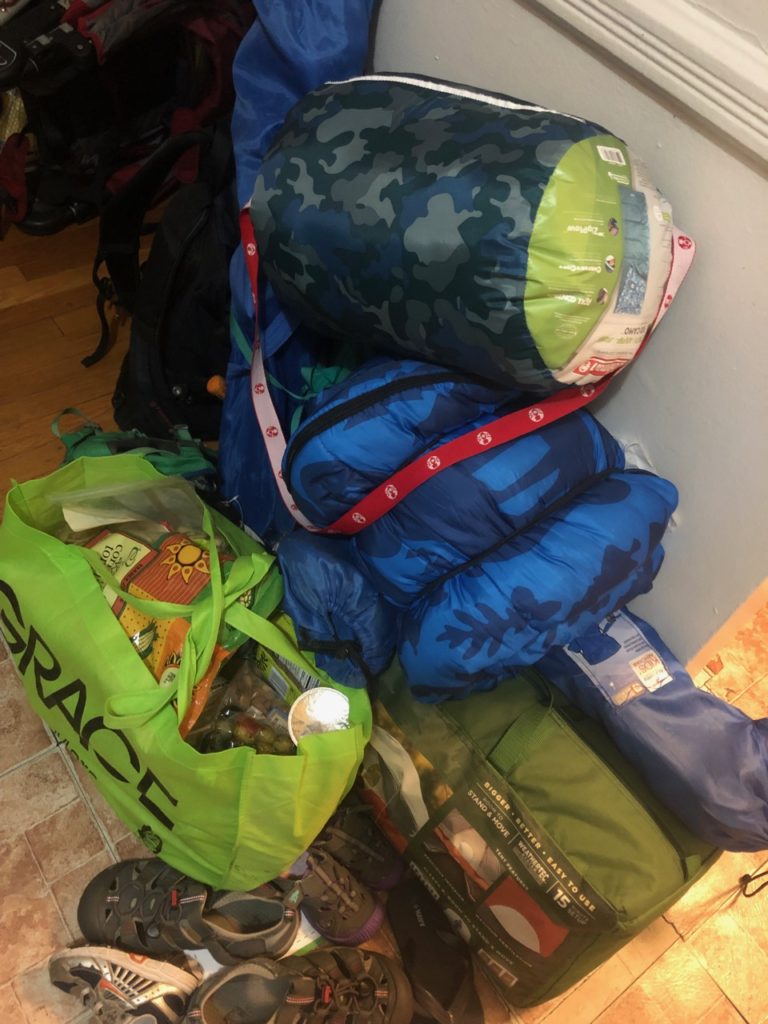 Practice Setting up a Tent
Let's say we already have all of our camping gear, the one non-negotiable tip I read was to practice setting up your tent! The last thing you want to happen on your first camping trip with kids, is that you get there and then can't figure out the tent.
We actually went so far as to having completed this step last year!!! Except, then the weather turned to fall and seeing as we are not cold weather fans, we decided to put it off, yet again.
Preparing for Your First Family Camping Trip
So let's review:
Find a place to camp and make a reservation!
Make a packing list.
Buy or borrow camping gear.
Practice setting up the tent.
Pack up cooking gear in a clear bin.
There's only one thing left to do- go camping! This is the year! We are too excited for our first family camping trip. How about you?
For reference, the kids were 3, 6, and 8 years old when we went camping for the first time. We were not expecting them to be much help, but on the other hand, they should (hopefully) be cooperative. (Update: they were great!) The excitement is building! Wish us luck!
Have you been camping with your kids? Do you have any more tips for me?
Not yet ready to go camping? Save this post for later!