Last we left off, we were planning our first camping trip with the kids…and of course, things didn't go exactly as planned! We ended up camping at Mongaup Pond with kids!
If you've ever wanted to take your family camping in the Catskills we have a full review of camping at Mongaup Pond. This should be helpful for anyone interested in going camping in the area.
The bottom line is that despite everything, we had a great time. Read on for some camping tips at Mongaup Pond!
This post may contain affiliate links. Thank you for supporting our work.
Let's start with the obvious. Last I was writing, we were planning on camping at Taconic State Park or Kenneth Wilson…well that didn't go as planned.
How we ended up Camping at Mongaup Pond
We were waiting to get closer to our camping date, so that the weather forecast would be more reliable. New York has been so rainy for the past month, that we just didn't want to camp in the rain for our first trip.
We got on the New York State camping reservation system, to see if we even needed a reservation. It looked like we did since several campsites were reserved. On Monday, there was still plenty of availability, but by the time we got around to sitting on the computer on Wednesday, our top two choices were fully booked!
We were left with two options that were around 2 and half hours drive from New York City: Little Pond and Mongaup Pond. We decided to go with the larger Mongaup Pond, just based on campsite availability, and hope for the best.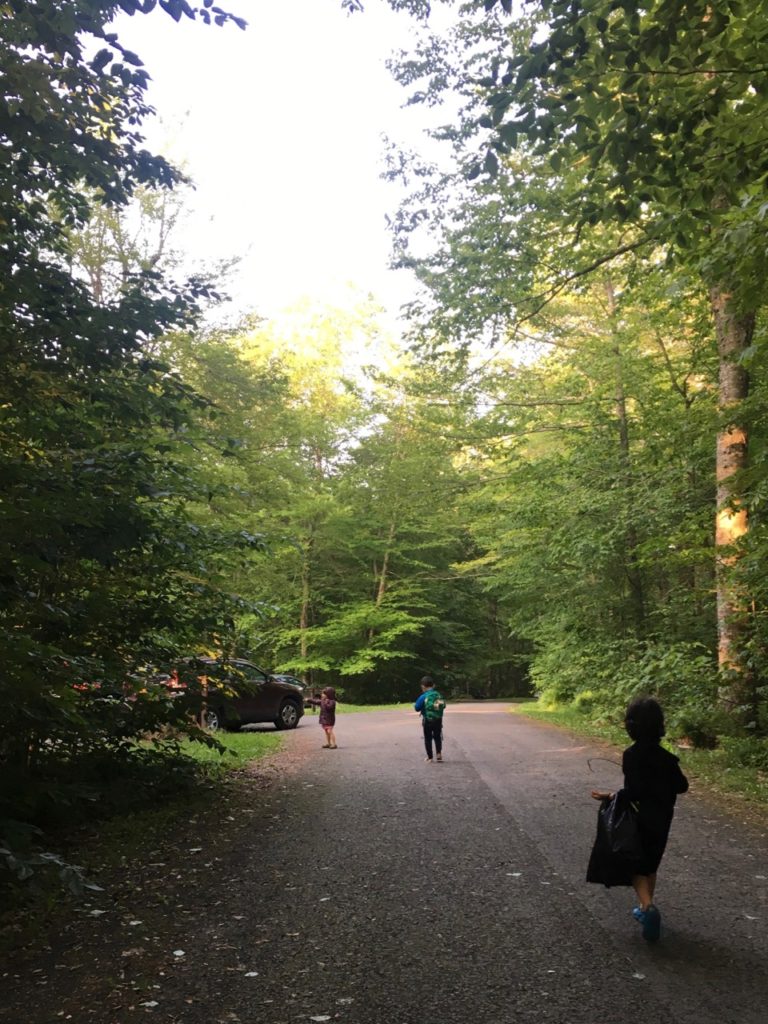 Driving to Mongaup Pond from New York City
For this camping trip, we decided to keep things as low stress as possible. That meant foregoing the Friday evening traffic that plagues the New York metro area, and leaving on Saturday morning.
We took our time loading up the car with everything from my packing list, and hit the road mid-morning. The worst of the traffic was just leaving the city. Once we were in New Jersey, it was pretty easy. We made one "rest stop" at Trader Joe's in Paramus since it was right off the highway, and we wanted to grab a few more snacks!
Arriving at Mongaup Pond
Pretty much as soon as we came off the main highway 17, we lost cellphone service. This was fine as we enjoyed having a disconnected weekend, but it's something to keep in mind.
There is a firewood transportation restriction of 50 miles, in order to prevent transfer of invasive species. Therefore, the first thing we did upon registration at the campsite, was buy some firewood.
Our next step was setting up our campsite, and having lunch. This went very smoothly. Our older boys were somewhat helpful in setting up our tent with Michael, while I put some food together. We had a light lunch (think: canned tuna and vegetables) so that we could head out for a nature walk with the kids.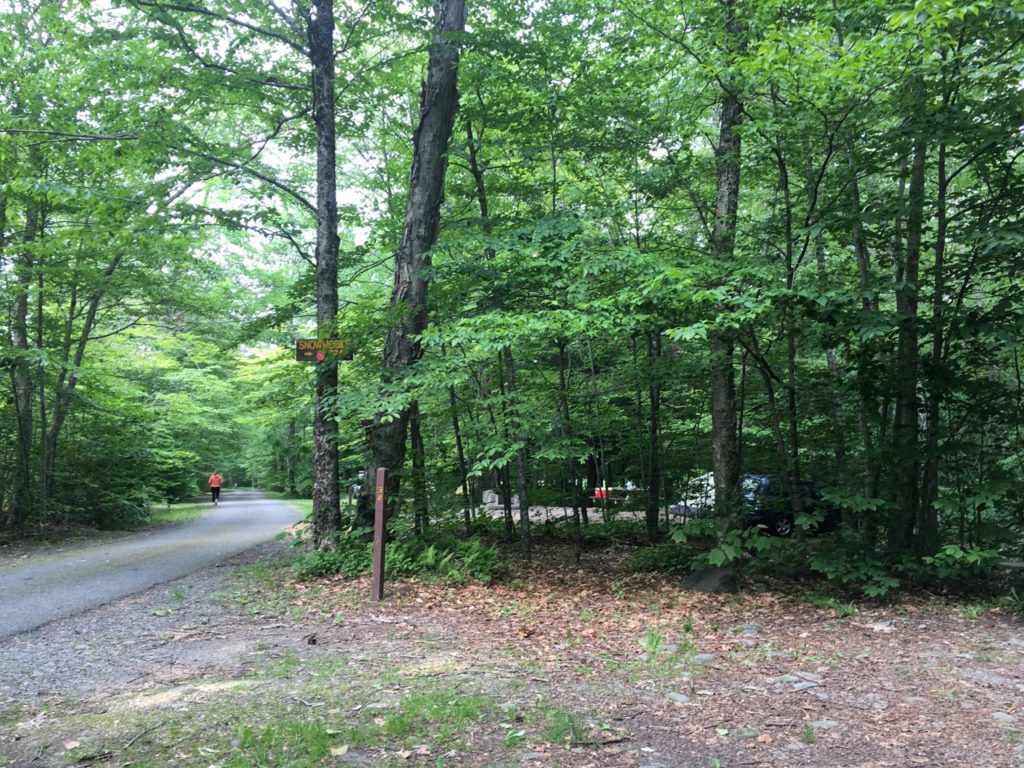 Hiking at Mongaup Pond
As soon as our campsite was set up, we headed out to build up our appetite. The main hiking trail that goes around about half of Mongaup Pond, is marked as the "Snowmobile Trail". Our campsite was right by the southern end of it, on Loop B, so we took a few steps and were on the trail.
As you walk on the trail, that has orange markers, there are a few signs along the way pointing you to other trails. These trails go away from the lake. The signs were barely legible, and as we didn't have a local trail map, we decided to stay on the main trail.
Near the northern end of it, you reach two bridges, crossing rivers, and the trail ends at the campsites in Loop G. To go back you can retrace your steps or follow the paved roads back around the other side of the lake.
The trail was extremely muddy after all the rains, and we got sufficiently dirty and tired by the first bridge and turned around from there.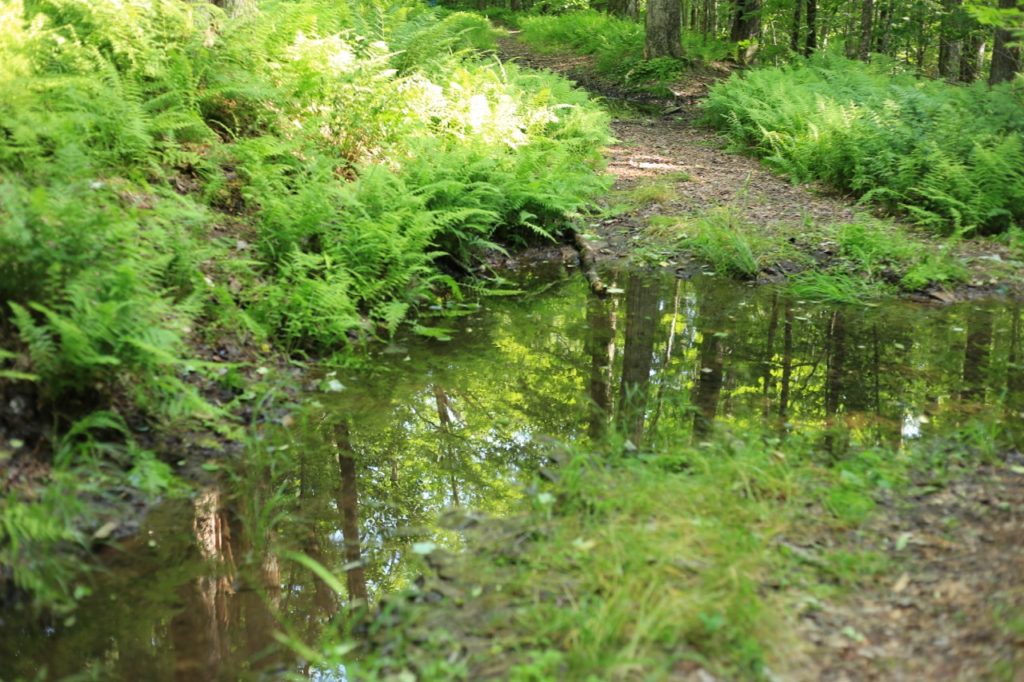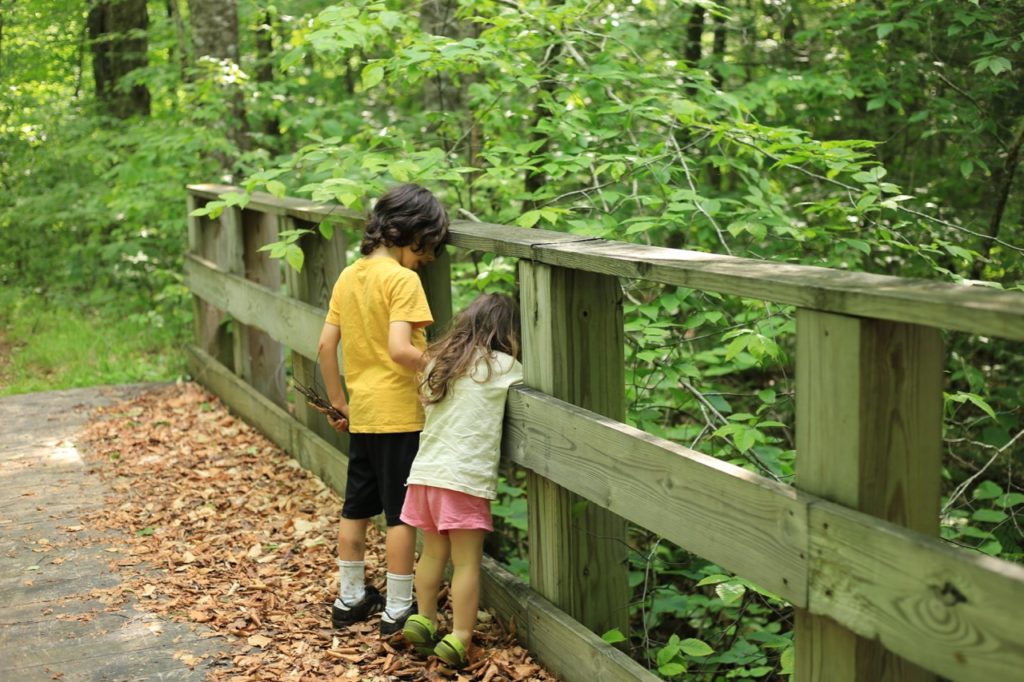 Evening at the campsite
By the time we made it back to the campsite, it was dinnertime! The kids were so excited to build a fire, and get cooking. We kept things simple- hotdogs, guacamole and salad made from our farm share (CSA) ingredients. For sure, the kids were most excited about using the extendable grill sticks I had recently bought!
The temperature, which was significantly cooler than in the city, was dropping…we huddled around the campfire. (And ran over to get one more bag of firewood, so that we would have enough for the morning, before the office opened.)
The one downer I should mention, is that there was quite loud music playing from our neighbors. Apparently this is "known" about the Mongaup Pond campground, but as this was our first time camping I didn't anticipate it would be quite that loud.
We went on a post dinner sunset walk to the lake shore, for some homemade brownies (GAPS legal!). It was serene yet buggy.
I had purposely not brought marshmallows (mean mom), since we were trying to stay on plan with our food choices. However, a spur of the moment idea, sparked a delicious alternative. We roasted dried baby bananas- they are starchy enough that the outside will burn like a marshmallow, and dipped them into peanut butter! Delicious!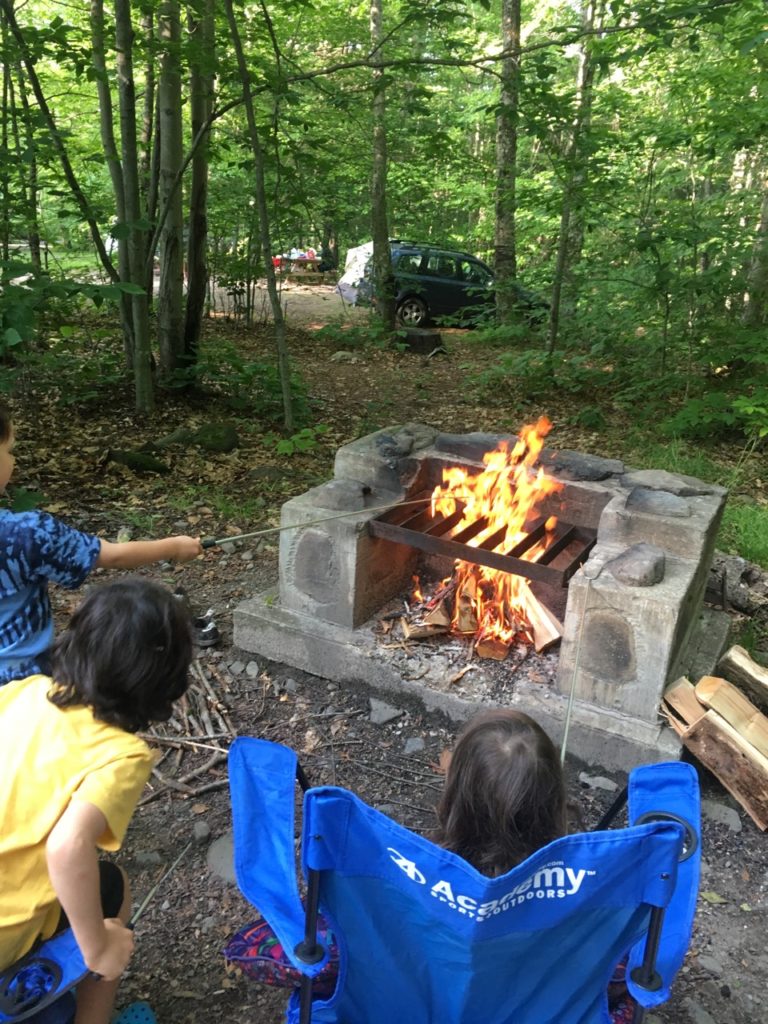 Sleeping at Mongaup Pond
After all the excitement, it was already pitch black outside. The kids again got really excited about being able to use headlamps for their true purpose. We took a quick walk to the bath house (which was surprisingly clean and stocked with toilet paper), and then settled everyone into the tent.
Sleeping was, how shall I say, pretty uncomfortable for me personally…I must be getting old LOL! For myself, Michael and Little A, we had set up yoga mats padded with several towels and blanket from home. It was doable, but I will definitely get us air pads for the next time.
Little A woke up many times at night- not sure if she was cold, uncomfortable, or just fussy because of the unfamiliar situation. Our boys had these air pads, and were very comfortable and slept well!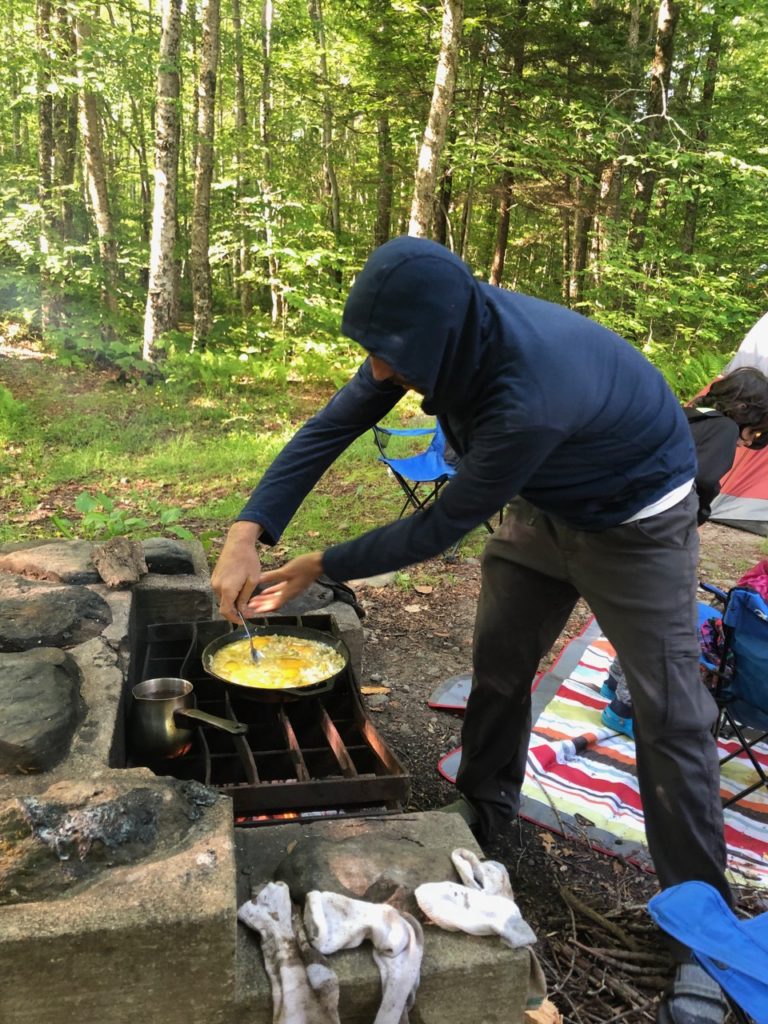 My personal favorite part of the trip was waking up in the morning….so quiet and still. It was so nice being outside already without having to go anywhere.
We got a campfire going to warm us up, and our first order of business was a Turkish coffee. Breakfast was eggs with onions and greens, cooked in our cast iron pan, and then navy beans with salsa, so good!
Michael ran down to the office, to reserve a row boat for us. The office opens at 8 a.m. and by the time he went at 8:45 there was only one boat left! So go early if that's your plan! Apparently many people camping at Mongaup Pond reserve just in case because the people at the boathouse told us that several boats don't end up getting picked up (everyday)!
Check out from the campsite is at 11 a.m. So after breakfast we broke down our campsite and got everything packed into the car, moving it to the day use area parking lot, right by the lake.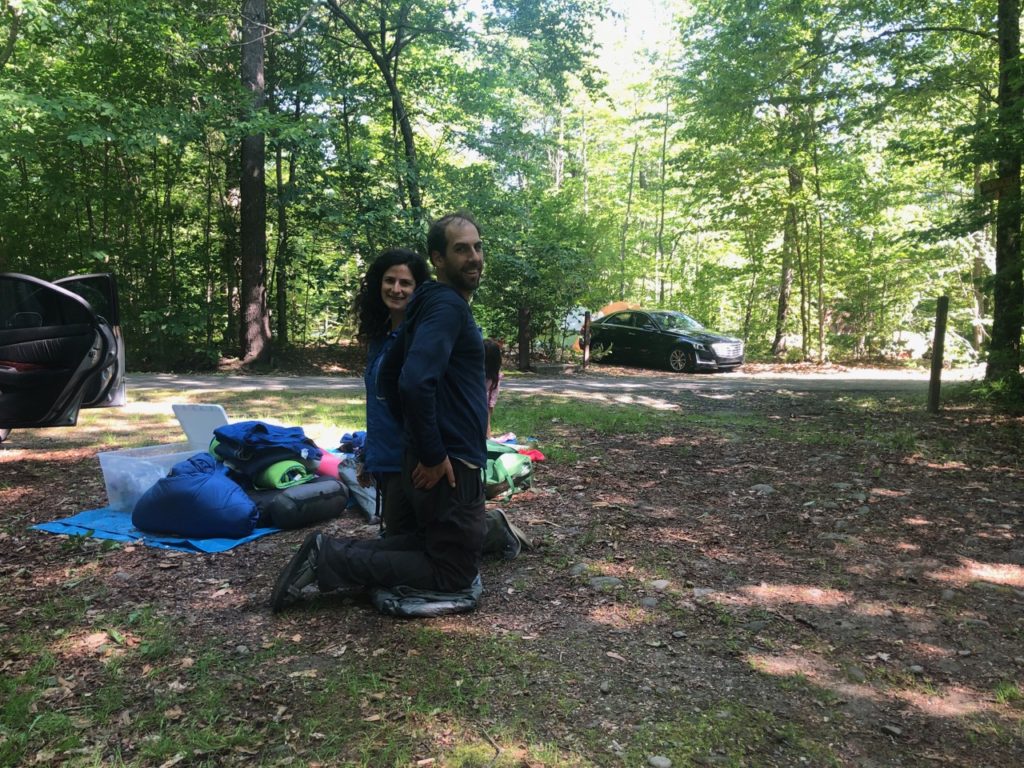 Boating on Mongaup Pond
There are kayaks, canoes and row boats at Mongaup Pond. Our boat of choice was a row boat…the only one that could fit our whole family.
This was by far, the boys' favorite part of the trip. We spent the vast majority of the day on the lake, rowing all the way to the northern end. The lifeguard we spoke to suggested going up along the eastern shore. That's what we did, docking in two places.
First, sometime between 11 a.m. and 12 p.m. we docked at one of the empty campsites in Loop G. Next we kept going all the way to the northern tip, and docked again. We walked to that second bridge along the Snowmobile Trail that we never made it to the day before.
After our big exploration, the boys went out a couple more times to keep practicing their rowing skills. It was much easier rowing with the weight of the three of them than rowing with all of us in the boat. Lunch was snacky food on the boat…beef jerky, trail mix, fruit, etc.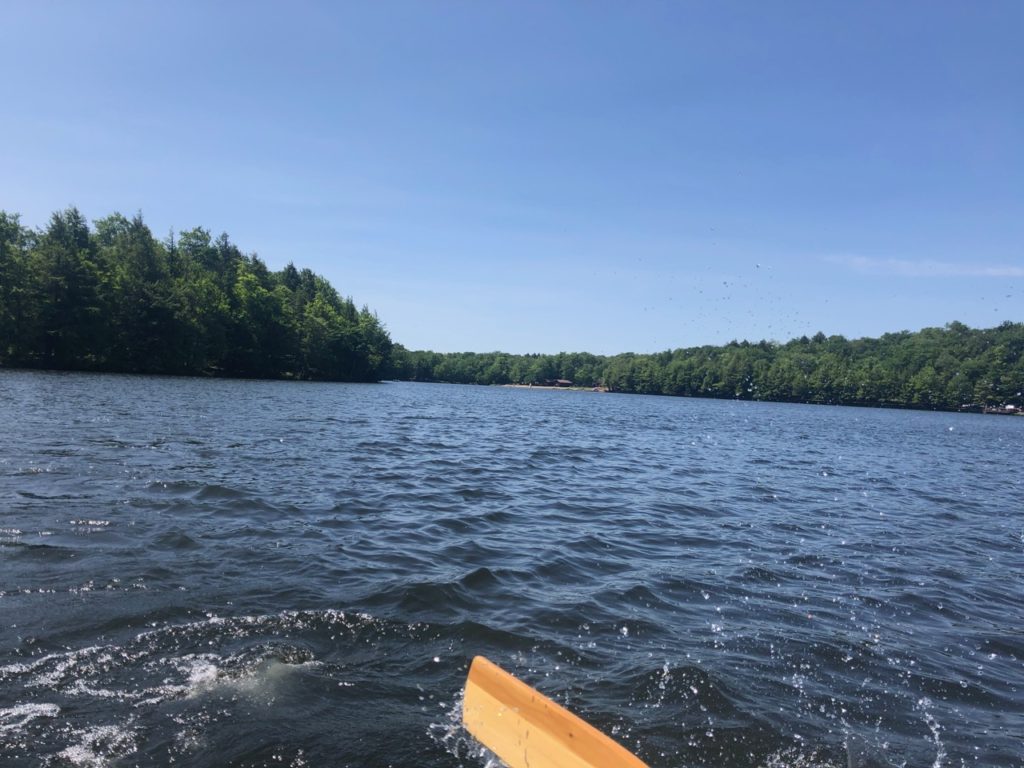 Wrapping it up
Mongaup Pond also has a small beach area with a lifeguard. It has a volleyball net set up, several grilling stations, picnic tables and plenty of shady trees on the grass. There were several groups there settled for the day and it is a great destination for a "dia del campo" if you're in the area and can't stay for camping at Mongaup Pond.
After one last dip in the water, it was time to head home. The drive back went very smoothly other than massive traffic getting on the George Washington Bridge. We arrived home tired, dirty and happy!
Have you been camping with your kids? How did it go?
Interested in more local parks? Check out Minnewaska State Park, near New Paltz, and Harriman State Park.