It all started with our burning desire to get out of the freezing New York winter, and it ended up with an amazing two week trip to the gorgeous and warm Yucatan peninsula in Mexico.
One of the most frequent questions I am asked is how I go about planning our family trips. So I'm going to lay out my method from start to finish, beginning with choosing a destination (it's not as straightforward as you might imagine) and ending with hammering out the nitty gritty details.
Learn how to plan a "zero budget" vacation for your next family trip! All the details below!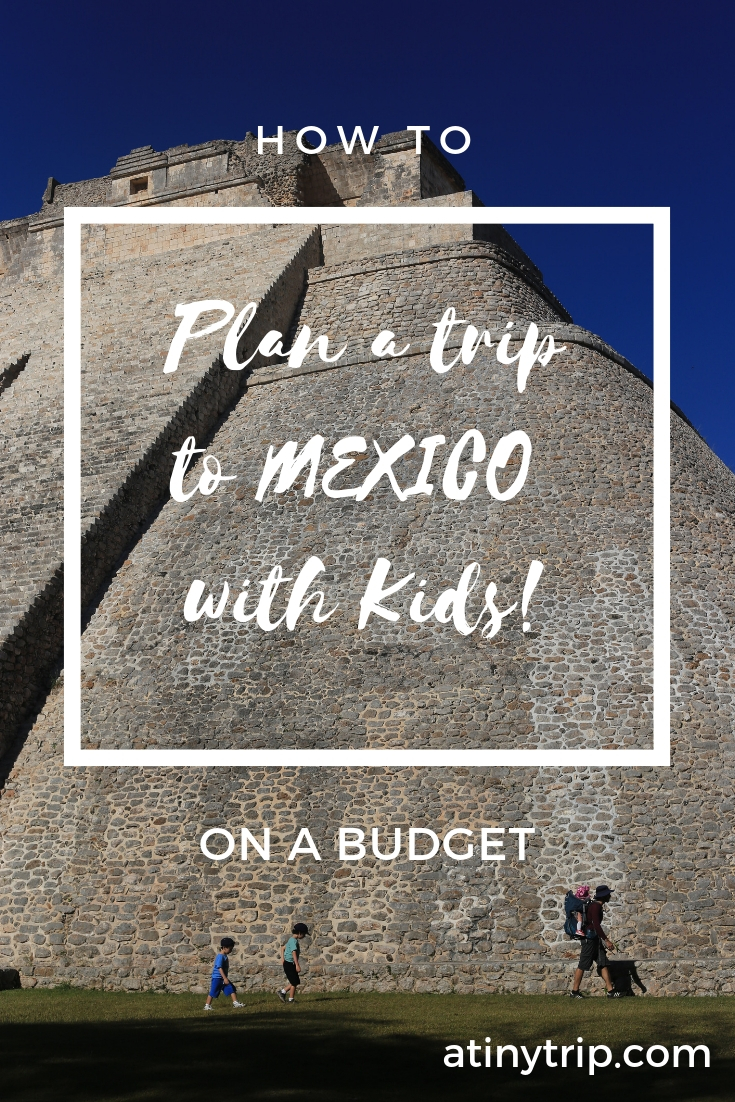 Plan a Zero Budget Family Vacation
The idea was to make this trip happen on pretty much "no budget". What I mean by that, is that we wanted the cost to be the same as if we were spending that time at home. Granted, we live in New York City so our day to day expenses are not super low, but nevertheless, this was going to require us to get creative.
So first things first, we figured out how many points and miles we had with various accounts. We looked at our rewards accounts to see what we had to spend. Next we looked to see where we could fly inexpensively, either using Southwest or Delta miles, or alternatively, cheap cash flights.
Determine the Destination
We knew we wanted someplace warm but were totally open to any destination. Realistically, flying out of NYC in February we were looking at the American Southwest, Florida, or Mexico.
We quickly narrowed down again to Mexico because the US options were going to be a) costly in terms of accommodations and b) not that warm considering the cold that was sweeping the country.
From there we knew the cheapest flights were going to be either to Mexico City (and then a second flight paid for in cash to another area we wanted to visit), Guadalajara, or Cancun.
The reason we ultimately decided on Cancun was because we found direct flights, that we could pay for with Delta miles and the simplicity of no connections was incredibly appealing with three young kids.
Create an Itinerary
The next step was figuring out where we wanted to go, and what we wanted to do. Since we had been to Yucatan four years earlier, we did have some sense of where we wanted to go, but we had to determine how much we could realistically fit in.
My main priority was spending time in nature, be it at the beach, or just in parks, or nature reserves. Here's how I did it:
1. MAP OUT THE DESTINATIONS
Map out the destinations we were most interested in visiting. I like to get ideas from travel forums, and printed travel guides and even tour company websites. Collect a mixture of tried and true locations with some sites that are off the beaten path.
By the time I had finished adding all of our ideas to the map, there was no way we would have time to see them all (and enjoy our time) in two weeks!
2. CALCULATE DRIVING TIMES
Calculating driving time between destinations was easy enough, using Google Maps to get an idea. Our preferred maximum driving time with the kids is 3 hours in one day, but we actually try to keep it under an hour whenever possible! Here I put in a selection of our destinations to see how much time it would take to get around.
3. MAKE ALTERNATIVE ITINERARIES
I knew we couldn't fit in all the destinations we were interested in in one trip, so we made several different options to see which one felt right. Since I had an idea of how long it would take to get from one place to another, I started plugging in options into our dates.
This exercise is useful because it gets you thinking how much time you would like to spend in each place. Our pace tends to be relaxed, so I will rarely plan more than one main activity per day. I think that without kids, you can definitely plan two daily activities (one in the morning and one in the afternoon), but with the little ones the extra time is important for naps, meal times, and random stops.
4. DRIVING TIME VS. MOVING HOTELS
It was time to make some real decisions about where we wanted to go. In order to minimize driving time we would have to move hotels more often. Alternatively we could stay in each place for a longer time and take day trips, which would involve more driving.
We decided that it was more important to us to limit driving time, even if it meant we had to move hotels several days in a row. If your kids don't mind being in the car you might make a different choice and that's ok too!
5. SIMPLIFY!
Once we had the main attractions in order, we mentally went through each day to make sure we had enough down time built in, to relax and/or to improvise plans. Consequently we knew that we might not get to visit all the locations on our route.
Book Hotels
The next step was booking hotels. We knew we wanted to use SPG points wherever we could, which was in Cancun, and at the hacienda. Then in the other locations we looked at Tripadvisor, Despegar.com and Booking.com to find the rest of our accommodation.
We take reviews from these sites with a grain of salt because sometimes the temperament of the customer, and the reason for the trip are major factors in the review.
One thing I like to do in particular is look at customer images. There's a reason they say a picture is worth a thousand words!
Advanced tip: You can often get a cheaper rate by booking through the hotel directly. Give them a call or see if they have their own website!
In full disclosure, I ran out of time to finish all the bookings before we left, so a couple hotels we booked while on the road by calling them directly.
And here is our final itinerary as it looked before we left for our trip:
Figuring out the Details
Once we had the bones of our itinerary figured out, I added some logistical details like when we would go grocery shopping, when we would pick up the rental car, and when we might do laundry.
I also checked a couple websites to see if there were any events going on while we were there. Obviously, if your trip is planned around an event or a holiday this part should figure in your initial itinerary planning.
Make a Packing List
The final part of planning the trip was making a list of everything we needed to pack. With three kids it is hard to keep track of what you have already packed.
The list keeps things simple, and we just check things off as they get packed. I usually start working on the packing list a couple of weeks before our trip. Anytime an idea comes to mind I just quickly add it, and then before we start packing I go through and make sure everything I ideally want to take is on that list. But that is a whole post for another day!
Download my packing list template below!
Alright, coming up I'll tell you about how our trip to the Yucatan went down and my best tried and true tips for travel in Mexico!
But first, tell me, do you also go through a whole planning process? Or do you wing it?