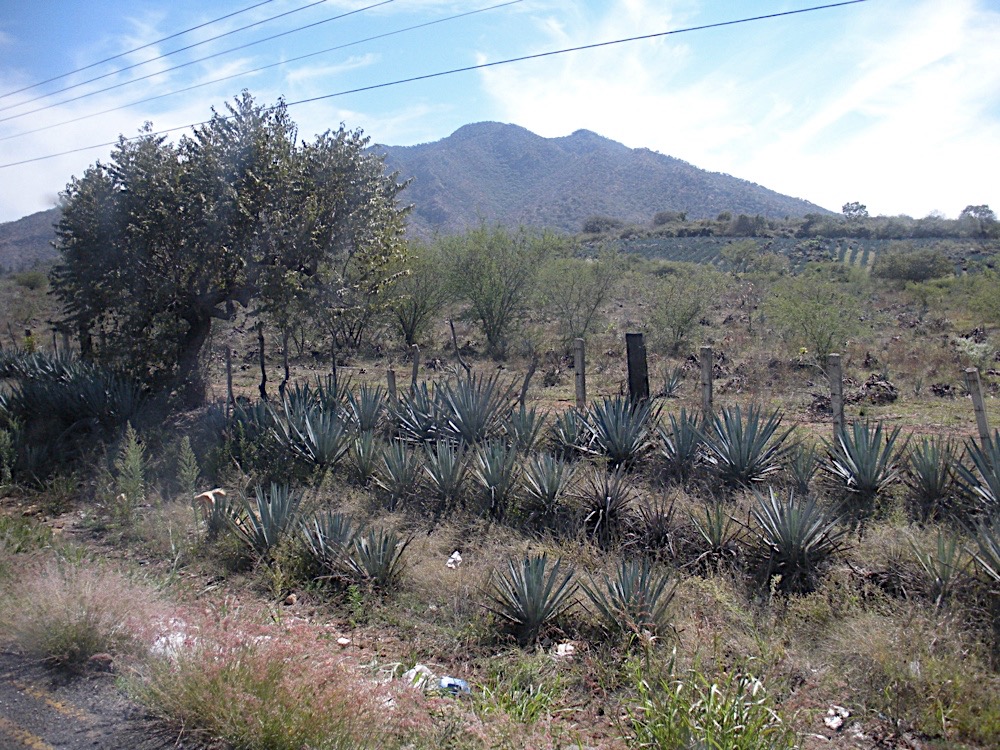 Thinking about taking a day trip to Tequila? The adorable Mexican town of Tequila is home to the beverage by the same name. It is surrounded by fields of gorgeous blue agave.
Take a day trip from Guadalajara to Tequila, or even from Puerto Vallarta to Tequila to see how this local alcoholic beverage is made. There are several options for tour to Tequila, including the Tequila express party train. But it is just as easy to take an independent trip to Tequila and tour one of the many factories.
Take in the town scene and even explore the natural surroundings of Jalisco, Mexico! All the details on making tequila, and buying tequila at your fingertips.
Taking a Day Trip to Tequila
It is incredibly easy to take a day trip to Tequila from Guadalajara, particularly if you have your own transportation! Driving from Guadalajara to Tequila takes only about an hour on the road.
There are two routes available from Guadalajara to Tequila:
The cuota highway, that is a toll road, 15D towards Tepic.
The libre highway, that is free, 15 via Amatitan.
There is not much difference time-wise between the two routes, but the toll road tends to be in better condition. On the libre you will often find lots of trucks.
That said, the scenery in the area is beautiful. As soon as you get close to Tequila, you will start to see the blue agave fields.
How Tequila is Made
If the idea of visiting Tequila in person is not piquing your interest, here's a run down of how tequila is made. Also, take note that there are some non-tequila things to do in the area, so don't miss those at the end of the post.
Start with blue agave, grown for 10-20 years, and pull it out of the ground.
Find a dude with a machete to whip the guy into shape.
With lots of piñas (bulbs) you can make lots of Tequila.
Cook for a day, let ferment for many more…
Types of Tequila
Roughly speaking there are three main types of Tequila. I think aficionados of tequila would say there are five, but generally speaking it has to do with how long the tequila is aged.
Silver Tequila
Silver tequila is aged the least and is essentially clear. In my experience it is most commonly sipped from a small shot glass in Mexico. If you do go on a factory tour, this is the type to buy as it is far less accessible outside of Mexico.
Tip: You can buy good tequila at the Guadalajara airport for not that much more than you can get it at the stores. It's a good option if you don't want to carry it around with you on your trip! This brand is amazing.
Reposado Tequila
Reposado tequila is aged and is a light brown color. This is the most popular tequila in export and the one most commonly used for drinks like a margarita. The Jose Cuervo Especial which we know from the US is a reposado.
Añejo Tequila
Then there is the anejo tequila, which is very aged and a dark brown color. People drink it like whiskey, basically. And yes I'm aware that this is a very rudimentary explanation, but I'm no expert.
What to See in Tequila Mexico
The obvious thing to do in Tequila is to take a factory tour. There are several to choose from, but most only operate in the morning to early afternoon. You can really just drive into town and choose one. There are many, many options. I'll talk about two of the bigger ones (Cuervo and Sauza) below.
The National Tequila Museum (Museo Nacional del Tequila) is another mildly interesting destination. A little bit of history, and a lot of types of bottles displayed, along with some art. Good for a short visit.
Tequila town square– as in small towns all over Mexico, visiting the main town square is where it's at. You can people watch, enter the church, and just enjoy a typical Mexican downtown.
Tequila Factory Tour at Jose Cuervo
Living an hour from the town of Tequila, you didn't think we would deprive ourselves of visiting the namesake of one of the most popular drinks around, did ya?
Anyway, the first time D went on a school trip there, taking a factory tour at La Rojena Jose Cuervo distillery. It was fun but kind of a dud; taking a tour at 10 am on a weekday doesn't really spread the party atmosphere.
The second time 'round we both went on a Tequila excursion with some of M's classmates on our first day of spring break. Needless to say, everyone had a good time. We did the Cuervo tour (because they are the only distillery open in the afternoon) and had margaritas for lunch.
This is a great tour and really geared for the first time tourist. You get to learn a little bit of history, and a lot about the tequila making process. Of course there is a fair bit of marketing as well, but that's to be expected.
Tequila Factory Tour at Sauza
When M's parents were in town for a visit, we made the rounds, to some of the Guadalajara must-sees.
Dispelling the myth of Mexico
First up was Andares. I think this is a great first place to visit, because you realize you're in a civilized country. It sort of throws away a lot of the illusions that people have about "Mexico".
It was the first place that we were taken, and it really is so pleasant to walk around, you can't not be impressed. After a little of that, and seeing our home neighborhood, our visitors were ready for some real Mexico.
Tequila in the Mexican countryside
So our first full day, we went out of the city to Tequila. This time we got to switch it up and we toured the Sauza factory, makers of Hornitos tequila. It was very, very similar to the Cuervo tour. Perhaps a little less refined, but you saw more of the actual process so it's hard to compare.
We had a little stroll around town, and a great lunch at La Cholula. Yes, the same cholula as the hot sauce. And it was excellent!
And so the busy day ended with the scenic drive back to town on the "libre" highway, which was surprisingly in great condition.
On Sauza Factory Tour
In Tequila main plaza, outside La Cholula
Riding the Tequila Express: Tequila Train from Guadalajara
If you don't want to drive to Tequila because you want to enjoy tequila, then the party train is your choice. (There is a third option of taking public transportation there, but it takes quite a long time on local buses).
The Tequila Express runs weekly, every Saturday. Lasting roughly from 10 am to 6 pm, this is a full day excursion. You can check current prices on the website; in our time it was roughly 90 USD.
The Tequila train picks you up in downtown Guadalajara at the Chamber or Commerce. It then takes you to see agave fields, tequila factories, and "cultural shows" (mariachi etc.). This is a full day experience that includes lunch and tequila, of course.
It is well suited for a tourist, but many locals also take the train for a good time!
Hiking and Swimming Near Tequila
If the party atmosphere is not your style then, this next section is for you.
With some extra time on your day trip, definitely make a day out of it by bringing your hiking shoes and swimming gear!
Cascada Los Azules– This is a waterfall you can hike to right outside of Tequila. We had every intention of ending up here, but instead made it to the following option…
Balneario La Toma– This swimming facility is an adapted natural feature. They took a small water fall and swimming hole and built it up making it easy to access. (Reminds me of Hierve el Agua in Oaxaca).
The Mexican countryside is an amazing place to explore. Many of Mexico's cultural treasures are found in small towns like Tequila. So if you have some extra time in Guadalajara, or even Puerto Vallarta, don't miss out on a trip to Tequila!
Have you been to any Mexican small town? What would you recommend we see there?