Winter break with kids can feel like a doozy. So many days off of school, family commitments, and cold dreary weather can mean the "vacation" drags on and on. If you have kids in the New York City area and need some ideas for FUN ways to pass winter break, here's your easy to follow guide.
I've already written extensively about ideas for things to do with kids when you can't or don't want to travel. But sometimes it's hard to make a plan out of the ideas out there on the internet. So today I'm back with a full week plan (let's call it an at-home itinerary) to give you ideas that are practical and easy for New York City kids and their families.
This post may contain affiliate links. Thank you for supporting our work.
Planning Winter Break in New York City
If you live in New York City, seeing the holiday lights is something of the ordinary. You walk by department stores on the way to work, and truth be told, not that much changes from one year to the next (in my opinion, of course).
To plan your winter break with kids, I suggest a combination of indoor and outdoor activities. Low key neighborhood days, and bigger inter-borough days.
The following are three complete weeks of activities, that's 20 different things to do in New York City with kids during the winter. Feel free to mix and match from the various activities to make your own week of fun with kids.
Note that, while winter break is usually more than 7 days, leave a few days for family time and prior commitments.
Winter Break with a 7 year old, 5 year old and 2 year old
1. Hike in the South Mountain Reservation (New Jersey)
Head over to New Jersey to hike in the South Mountain Reservation. There are plenty of short walking trails and it's just far enough outside the city to feel like you're getting away.
2. Indoor Mini Golf
Indoor Mini Golf is a seriously genius invention. We had the best time at this location with fun theming.
3. Library
Wherever you live, a library visit is a must on those cold winter days. Take your time reading and choosing books to take home for the remaining vacation days.
4. Neighborhood Play
Playing in the neighborhood is a must, even if you don't leave the city. Enjoy the quiet streets when the school buses are out of commission. We took the scooters out. Despite the cold, it was fun!
5. Crafting
Any vacation rife with indoor time, has us pulling out the craft kits: Rock Painting Kit has been a favorite! Kids are most excited as long as you pull out something "special" like clay, glitter glue, stamps, etc.
6. Visit Prospect Park
For those in Brooklyn, it's always a good time to visit Prospect Park. You can easily exchange for Central Park, Flushing Meadows, etc.
7. Hike in the Salt Marsh
Hike in the Salt Marsh in Brooklyn. The grassy marsh is perfect for an easy hike, even when it's cold and snowy.
Winter Break with a 6 year old, 4 year old and 1 year old
1. Ride the Roosevelt Island Tram
Manhattan is incredibly quiet on Christmas Day and many of the days immediately before and after it. Take advantage and ride the Roosevelt Island Tram to get great city views with very few crowds.
2. Play in an indoor gym
There are no shortage of play gyms that are ready for the kiddos on a wintry day!
3. Indoor play a.k.a. Destroy the house day
I think this one speaks for itself. Our kids love having a day when they can just play non-stop in the house and pull out as many toys as they want. They especially love building forts, and pulling out the dress up clothes on these types of days. Bonus: clean up time is a whole other activity. 😉
4. Play with Snap Circuits
By ages 6 and 4, our kids were both interested in playing with Snap circuits. This was a great wintry activity to do as a family, as they still needed some help and it took quite a while to build different contraptions. It goes without saying that Legos are a must, but this was a great alternative.
5. Ikea
Ikea is actually a great little indoor activity, especially if you actually need to shop. Otherwise, browse around and the kids can enjoy the playroom, explore the children's section and eat at the café.
6. Visit the New York Hall of Science
New York Hall of Science in Queens is an excellent science museum. There are areas appropriate for kids of all age. What's nice is that the lower level always has different activities and design challenges, so that every visit is new and exciting for the kids.
7. Family Puzzle
Building a puzzle together as a family was so great, that we decided to repeat. We work on 1000 piece puzzle together, and it takes a couple of days.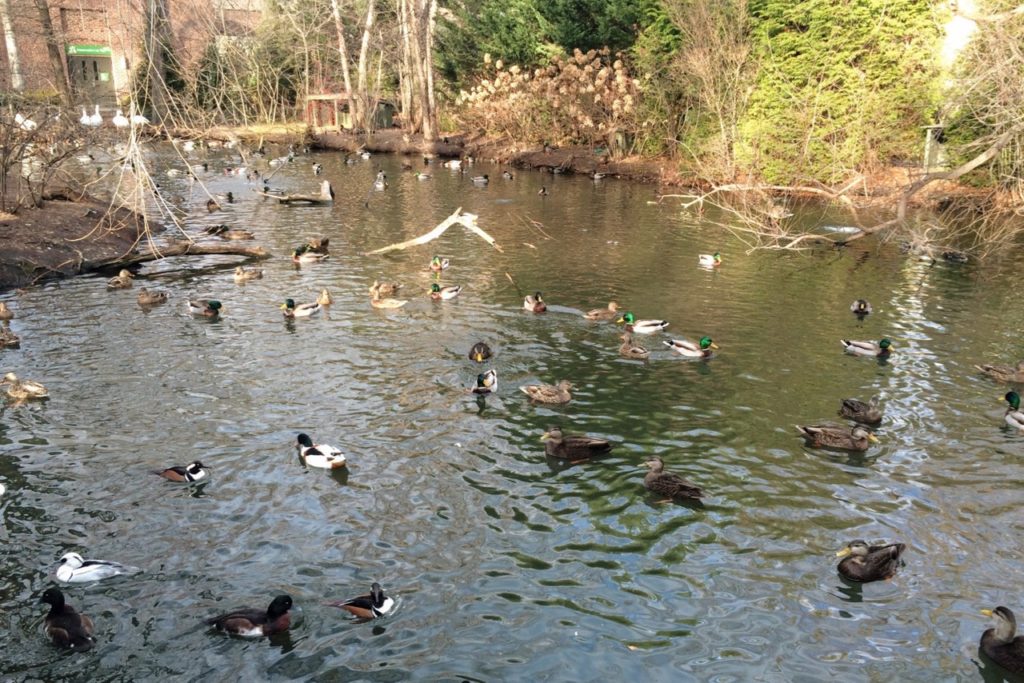 Winter Break with a 5 year old and 3 year old
1. Prospect Park Zoo (or another muddy nature trail)
Even in the midst of a cold, wet winter the Prospect Park Zoo is a great destination. Bonus- there are several indoor pavilions where you can warm up and see more animals!
2. Make hot cocoa together (first snow)
Here's a recipe for a healthy Hot Cocoa with no refined sugar, GAPS legal, and dairy free to boot.
3. Play in the snow!
The equivalent of the fair weather nature walk, playing in the snow is a must. Bonus: most of the time, the kids don't mind the cold, at least while they are playing!
4. Paint ceramics
The ceramics we painted were actually still from Mexico. We had bought a large variety in Tonalá before we left! If you don't have little ceramics at home you can also go to a dedicated craft studio for this relatively inexpensive activity.
5. Costco
Costco is not a fun activity if you do it on a weekend when everyone else is trying to shop. But mid-week, the kids enjoyed this random activity. There's room for two kids in the cart! Between the tastings and browsing it was a good use of time. Plus, bonus, we got groceries.
6. American Museum of Natural History
This is obviously one of the best museums for kids in New York City. At the American Museum of Natural History with a 5 year old and a 3 year old, we spent most of our time in the dinosaur section. But there's so much for kids of all ages to enjoy here.
7. Family puzzle
Our first foray into the 1000 piece puzzle was when our eldest was 5 years old. Believe it or not, we all worked together on a few small tables. Even the three year old was able to join a little bit (or at least not destroy what we had built)!
Winter Activities for Kids
To wrap things up, here's the generic list of great activities to do indoors when you're home for winter break. Even without New York City as your backdrop, these activities can be found in and around most US cities.
Winter hike or nature trail
Hot cocoa or baking
Play in the snow
Warehouse store
Museums
Build Puzzles
IKEA
Stem Toys: Legos, blocks, Snap Circuits
Indoor Play Gym
Indoor Pool
Build a fort
Dress up
Crafting
Neighborhood walk
Library!
What do you like to do over winter break with the kids? Any more ideas for us?