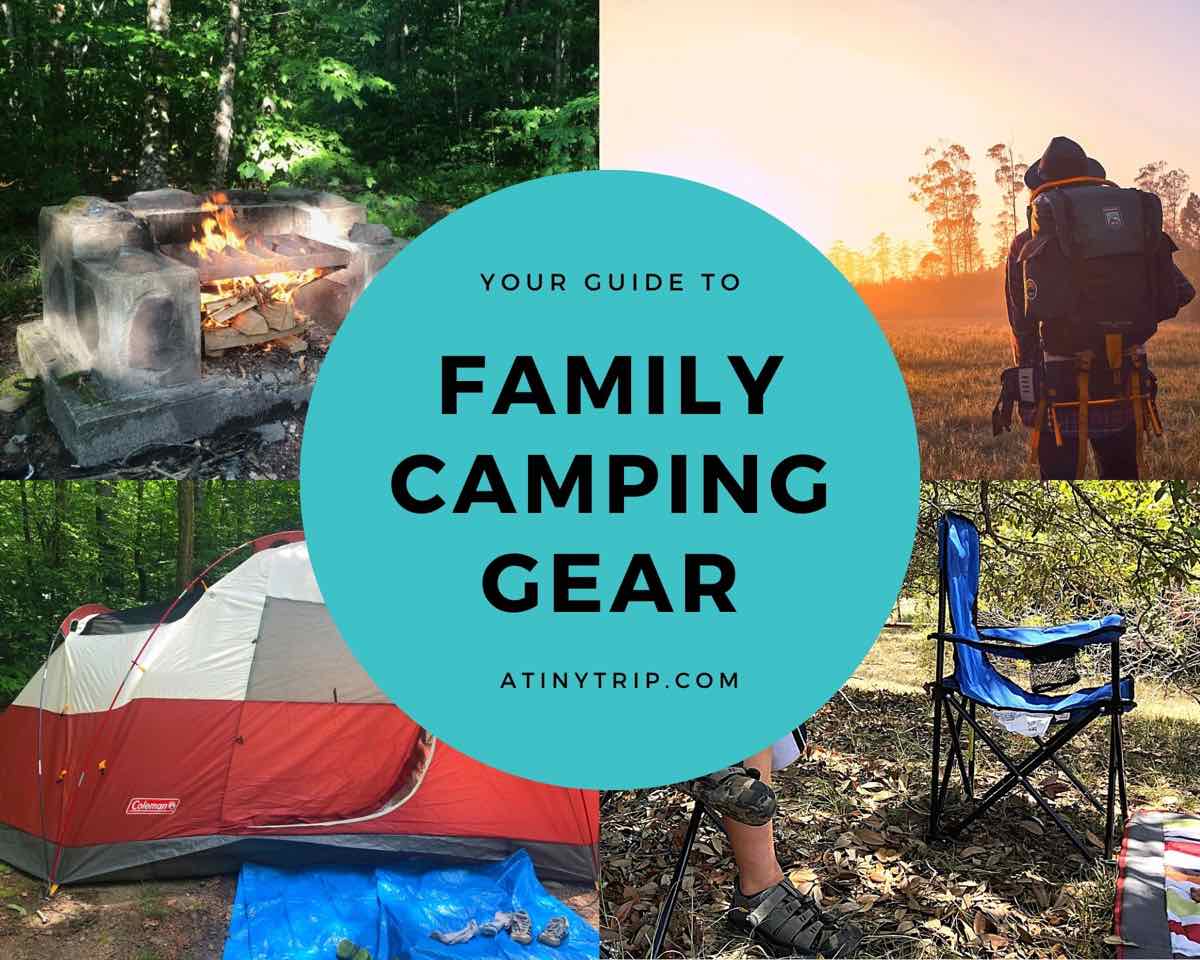 Camping can be one of the best ways to have a fun family excursion without a lot of cost. There are, however, start up costs before camping your first time.
In order to go camping you need to buy some basic camping equipment. I've already put together a full camping essentials list of gear to take but today I'm here to talk about some of the gear you may need to purchase if you haven't been camping before.
Read on for the details on family camping gear to buy! Including the best tent for families, the best sleeping bags for families, and what you really need and don't need to go camping!
This post may contain affiliate links. Thank you for supporting our work.
Essential Camping Gear for Families
The barrier to entry for camping is not so high as there are state campgrounds that are very low cost. I'm talking under $20 a night.
While camping can be a great long-term bargain as you use your camping gear over and over again, the initial cost can be a bit off-putting. If you are a family like us, then you don't go camping very often.
That means that we didn't really want to invest in the most high end camping gear or the absolute best camping gear. We just wanted gear that would serve the purpose of going camping a couple times a year as a family.
Of course we didn't want to get the cheapest of the cheap, but reasonably priced camping gear that would serve our family over the course of the next few years.
That said, your biggest piece of equipment that you will need to buy is of course a camping tent. There may be a few extras to make your stay more comfortable, which I will go through as well.
Budget Camping Gear
It goes without saying that the cheapest way to get camping gear is if you can get it used or maybe even for free on a buy nothing group.
However, when we were looking for camping gear before our first trip there wasn't too much out there that was in good condition and so I watched the sales and tried to get a good deal on basic camping gear that was sturdy.
So let's get down to it! I'll talk about camping gear options for families looking for a good deal!
Best Camping Gear for Families : The Tent
The largest piece of equipment that you need for camping is of course a tent. I did a good amount of research and I found out these things that you need to know before choosing your first tent:
Two Types of Tents
There are two different categories of tents roughly speaking: one are the lightweight tents that you could carry on your back if you were backpacking or trekking for several days and camping along the way.
The second type is not lightweight and is meant for car camping. This is the gear that you can usually find in big box stores pretty much all around the country.
How to Choose Tent Size
The next thing you need to know is that tents are rated in terms of how many people they fit. However, when they are counting these people, they just mean if you were lying side-by-side next to each other how many people would fit in the tent.
This does not account for any extra room that you might like in the tent for your gear or anything like that.
The advice I came upon over and over again was to choose the tent that is at least for one or two people more than you actually intend to have in the tent. Of course it does speak to how many adults fit in the tent, so potentially if you are two adults and two younger children than maybe a four person tent could work.
However, in my experience, even when it was just Michael and I, we would get a three person tent, just to be a little bit more comfortable. And since we're not going to be carrying the tent but just unloading it from the car to the campground then a little bit bigger can be better.
On the flip side, you don't want to get a tent that is too too big because the tent won't be as efficient in keeping you warm at night. You don't want to have too much excess volume because then your body heat is distributed amongst all that space and you will not be as cozy.
Choosing a Tent for a Family
When I was initially looking for a tent there were only five of us and I was really looking for a six person tent thinking that would be fine. But ultimately I decided to go with an eight person tent and don't regret it at all!
We had maybe a little bit of excess space camping as the five of us but it was really nice to have all our bags in there and all the kids excess junk that they decided to bring for lack of a better description.
Now that we are a family of six I certainly think this was the right choice. Then again, if your children are older you may actually prefer to have two smaller tents instead of one big one. This can provide for more privacy and account for multiple bedtimes. I can see us eventually getting another small tent but for now having one large tent for all of us is great and great for the budget.
You can't go wrong with a basic Coleman brand tent. There's a reason why they are carried everywhere- not too expensive and pretty easy to set up.
Best Sleeping Bags for a Family
The next piece of equipment that you will need to get before you go camping is sleeping bags. This does require a little bit of thinking in regards to what climate you're planning to be camping on in. Sleeping bags are rated to what degree Fahrenheit or Celsius they will keep you warm.
For families that are going to be camping just a couple times a year probably in the summertime you don't need to get super low degree rating sleeping bags. If you are just an occasional camper then you're only getting your gear out a few times a year and probably during the summer so sleeping bags that go to about 40° should be plenty.
Then again I don't claim to speak for all families and if you live up north or plan to go camping in the winter then by all means consider warmer sleeping bags.
You do need a sleeping bag for every member of your family however if your budget is really super duper tight then you can always go with a mattress pad and then just bring a ton of blankets from home.
Michael and I both have REI sleeping bags. These are awesome, and have been all over the world with us. The kids have Wenzel and Coleman sleeping bags, and they are great. Again, if you will use them often, you may want to invest in better sleeping bags for kids, like the Kelty.
Don't Skip the Sleeping Pads
Now let's talk about the extras, which are not really extras. Ha! I believe that if you have not been camping before then, a really important way to make camping more comfortable is to have some sort of pad under your sleeping bag.
There are all types of sleeping pads available. Some inflate, others that roll up and then other people will just bring a straight up air mattress to go camping. If you do go the route of buying a mattress then do yourself a favor and get an electric pump because those things are not meant to be blown up manually!
Here's a tip that we've done before: you can bring some foam tiles from the playroom and put those in the bottom of the tent to cushion the ground even more. Our daughter who has a very firm mattress was comfortable just sleeping straight up on the foam mats without any pad!
Here are some of the more well know brands in this field, but there are tons of other options depending on your budget.
More Family Camping Essentials (Top Picks)
Here here are some suggestions for things to make your camping trip more comfortable. There are definitely worth their weight. We own these exact items!
Lantern or Headlight (or Both!)
A lantern is essential for being able to see inside the tent. You can carry it around, but we love having one stationary lantern. This particular lantern is so awesome because it has a hand crank so you can recharge it. It also has a USB port, so you could potentially charge your phone! #winning
Headlamps are the best for using the restroom at night, and just generally if you need to walk around after dark. Of course you can use a regular flashlight but it's really nice to be hands-free and not worry about putting down the flashlight etc.
A Tarp
Do you really need to bring a tarp? Yes. Bringing a tarp with you just in case is a good idea and it can be really useful to have for different purposes.
For example, we used ours underneath our tent to help keep the bottom of the tent clean. This is great because when you roll up the tent it isn't so dusty. It's easier to shake out a tarp than it is to shake out the whole giant tent.
Most tents will will come with a rain cover of sorts but if yours did not you could also use the tarp to protect yourself from the elements a little bit better. Another use for a tarp, could be as a shade. Considering it takes up almost no space folded up, take a tarp!
A Tent Kit
The basic tent kit, has a mallet which is helpful for getting your stakes firmly into the ground. We also appreciate the extra stakes, and the mini broom for keeping the campsite clean!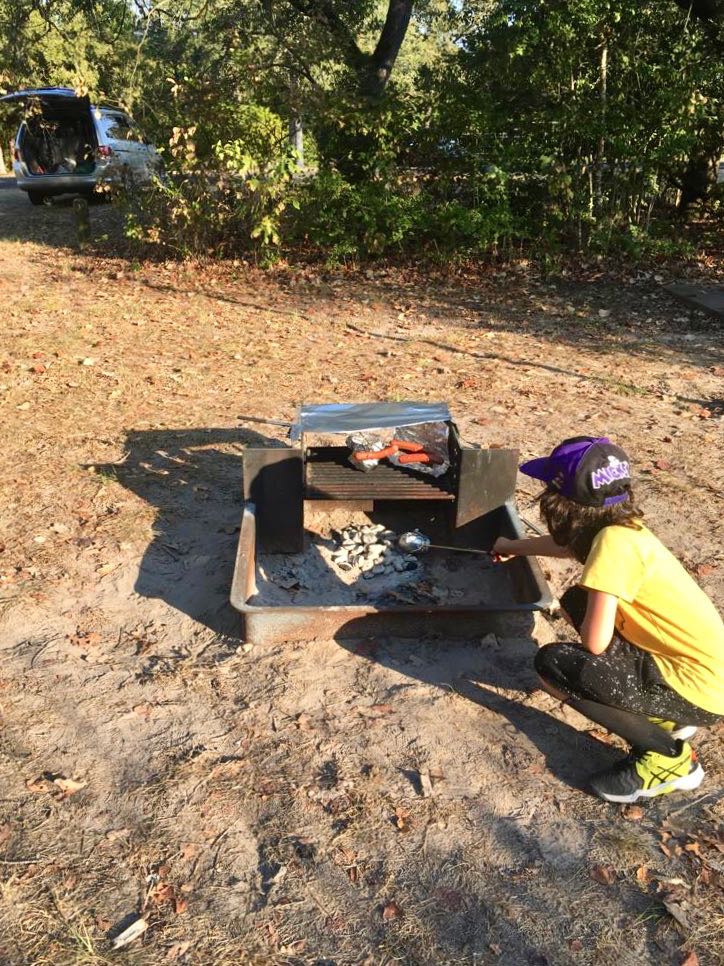 Cooking Tools for Camping
One of the best parts of going camping, is being able to cook on a campfire! Having a few tools in your arsenal makes things a lot easier!
In term of cooking tools for camping, you can really just bring whatever you have at home. If you are an occasional camper, there is no need to buy a full set of camping dishes.
You can go ahead and bring some disposable paper plates and paper cups and that'll definitely do. Just make sure to throw all that out, where it supposed to go. Trek in, trek out.
Tableware
If you have a little bit more of a budget or think you're going to be camping more often than once or twice a year, go ahead and invest in a set of stainless or enamel camping mugs and plates. This is the set that I had planned to buy but then we were gifted some other mugs so we didn't end up getting them.
Same thing in terms of silverware for camping. It's really not a big deal. Just bring silverware that you use at home! We bring some of our extra mismatched utensils, that we don't regularly use.
Cast Iron pan
In terms of cooking gear we always just bring our cast-iron pan. This works for cooking pretty much anything on the campfire as long as you have some fat to cook in!
Turkish coffee pot or small pot
For morning coffee, bring a small Turkish coffee pot because seriously there is nothing quite like a Turkish coffee first thing in the morning when you wake up in the middle of nature.
The best thing about having a Turkish coffee pot is that it's really easy to wash and you don't have to mess around too much, even less than you would with the French press or something like that. Also works great for boiling water!
Specialty Camping Cooking Gear
Here are a few more specialized camping cooking gear pieces that that are in the nice to have a category. They are by no means extravagant purchases, but if it makes you happy to have some special new gear then go right ahead! These are a few items that we really like and that have worked out well for us.
Roasting Sticks
Roasting sticks are not 100% necessary, but a big part of making camping fun is just being around the bonfire and cooking your food together in the outdoors. These roasting sticks are awesome and inexpensive. They are easy to use, easy to clean and I really like them for a little kids because the kids can stay far away from the fire.
Spork and Containers
This is such a cute set…if you've always wanted a spoon-fork, otherwise known as a spork, then check out this set, that comes with a few containers. We have also used this set for work lunches!
Spice Container
If you use a lot of spices when cooking, this cute little container has room for three spices in one. Fill your favorites at home and leave them in your camping box, so your food will always be flavorful!
Where to Shop for Camping Gear
Our favorite place to shop for gear is REI. Quite frankly I find that their range of offerings is usually pretty well curated and even the things that aren't as good are still pretty good compared to what you can get in other places.
The bonus is that it is a cooperative and if you join then you get back a percentage of what you spend there as a yearly dividend. It's not a large amount of money usually, but you know it's nice and better than nothing. 🙂
The next place I have had success in getting good quality gear is Backcountry.com. They are a smaller store and again the products are better curated, so you can actually talk to an employee and get recommendations. I love their customer service. Certainly it's better than walking around aimlessly in a store up and down aisles and not being sure exactly how to compare the different products.
Another store to mention because quite frankly their gear is super cheap is Academy. Now the quality, to be honest, is totally hit or miss and often times you get what you pay for. But if you're on a budget and you really just need a few pieces of gear then then this certainly works.
Our camping chairs are from Academy and while they are nothing special and not particularly comfortable they were super duper cheap. For the few times we have used them they work and if we start to go camping more often then maybe we will upgrade our chairs to something better.
If you're going to go with some of the basic brands I suggested, you can have a look online. Most of the time the price will be similar across these types of stores.
A Final Word on Camping Gear for Families
Don't be pressured to get anything that you don't feel is absolutely essential! When you're camping the most important thing really is just being together, and being outside, and enjoying nature.
Definitely go take a look at my post with a list of all the camping essentials, and tips for your first time camping as a family. That post will prepare you for actually going on your first camping trip and you can just download the list.
One last thing: I try to usually account for children of all different ages in my guides and so you may have noticed that I haven't talked about camping with the baby.
This is quite frankly because we haven't taken our baby camping and it's not something that I am very interested in doing. But the big kids are lobbying hard for all of us to go camping this summer so maybe we will make that happen. If that's the case I will update this post with some camping for baby gear recommendations!
Have you been camping? Where did you buy your camping gear?