Are you considering visiting the Grand Canyon with kids? Grand Canyon National Park is one of the most iconic parks in the United States! Not only that, it is one one of the most famous natural attractions the world over.
Grand Canyon National Park in Arizona, is a must see for any American, and the classic way to see it is on a road trip incorporating other national parks! If you are looking for an overview for planning a trip to the Grand Canyon, then this post is for you.
I included everything I was looking for when I was planning our trip (which was surprisingly hard to find, all on one page!). Here are all the details you want to know about taking a family trip to the Grand Canyon!
This post may contain affiliate links. Thank you for supporting our work.
Areas to Visit in the Grand Canyon with Kids
There are three major areas to visit in the Grand Canyon. Each one is separate, and requires driving a different way to visit. This post will focus on the South Rim, the most popular part of the Grand Canyon.
The less touristed North Rim, is a four and a half hour drive from the South Rim. It has less tourist infrastructure, but you are more likely to find spots of quiet.
Grand Canyon West, is privately run by the Hualapai American Indians. It features the Skywalk, a clear walkway over the canyon. If you have more money than time, there are helicopter tours from Las Vegas to Grand Canyon West!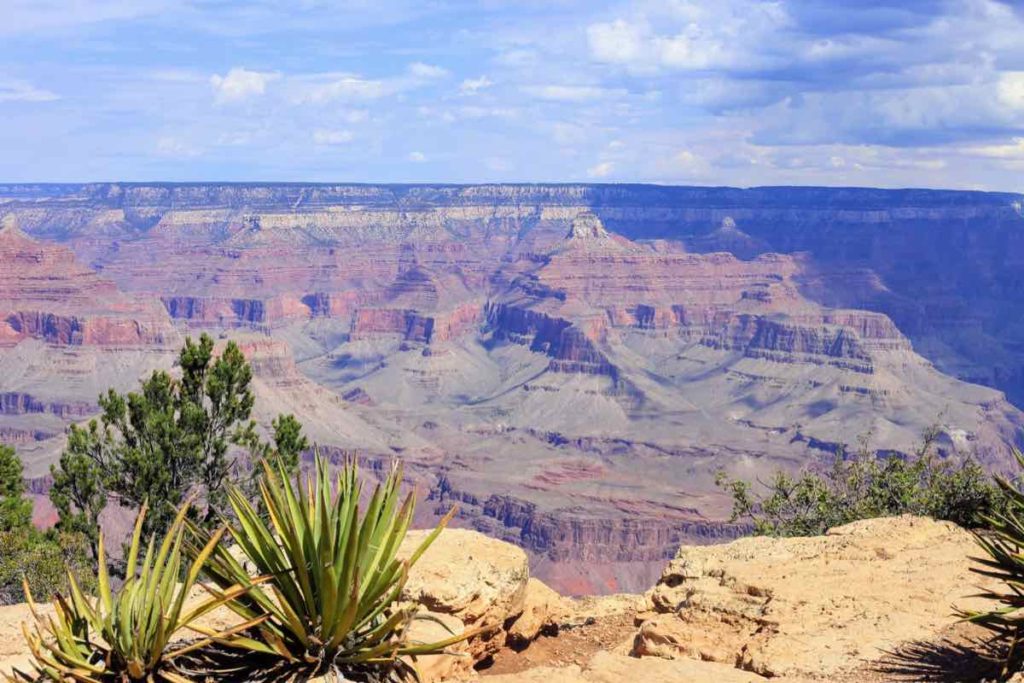 Getting to the South Rim of the Grand Canyon
The Grand Canyon is far removed from major population centers. Therefore, visiting this National Park, will require a good amount of effort. Here are your main options:
Fly into Phoenix, Arizona, followed by a 3 1/2 hour drive.
Fly into Las Vegas, Nevada, a 4 hour drive.
Fly into the very small airport in Flagstaff, Arizona, only a one hour drive!
Public Transportation from Las Vegas: there is a tourist train that goes to Grand Canyon Village, or you can take a couple of buses.
Road Trip!!! Come from wherever you are, but be aware that Grand Canyon National Park is quite far away from major amenities. You already know, we visited as part of the small loop road trip from Las Vegas!
Where to Stay at the Grand Canyon South Rim
Visitors to the South Rim can camp or stay in lodges at Grand Canyon Village, or in hotels in the small nearby town of Tusayan.
Camping at the Grand Canyon
If you are up for camping with the kids, you have two campgrounds at the Grand Canyon South Rim:
Mather Campground – This campground requires reservations. There are 327 campsites and each comes with a campfire ring for cooking, a picnic table, and room for up to three tents and parking your car. There are flush toilets and drinking water filling stations however, there are no hookups for RVs at this campground. (There is an RV park at Trailer Village nearby).
Desert View Campground – This campground in on the far East entrance of the South Rim and it is first come, first served. There are only 50 campsites here, and the campground does close during the winter, so check its status ahead of time.
Grand Canyon Village
There are six lodges inside of Grand Canyon National Park. They are run by private operators. Here are the direct links for booking. Note that many get reserved a year in advance, but you can call and ask about cancellations.
Tusayan
The small town of Tusayan, Arizona is essentially a strip of hotels and some restaurants catering to visitors to the Grand Canyon.
The one unique experience in town, is the National Geographic Grand Canyon IMAX movie theater, which is best for older kids and adults. My parents went and enjoyed it!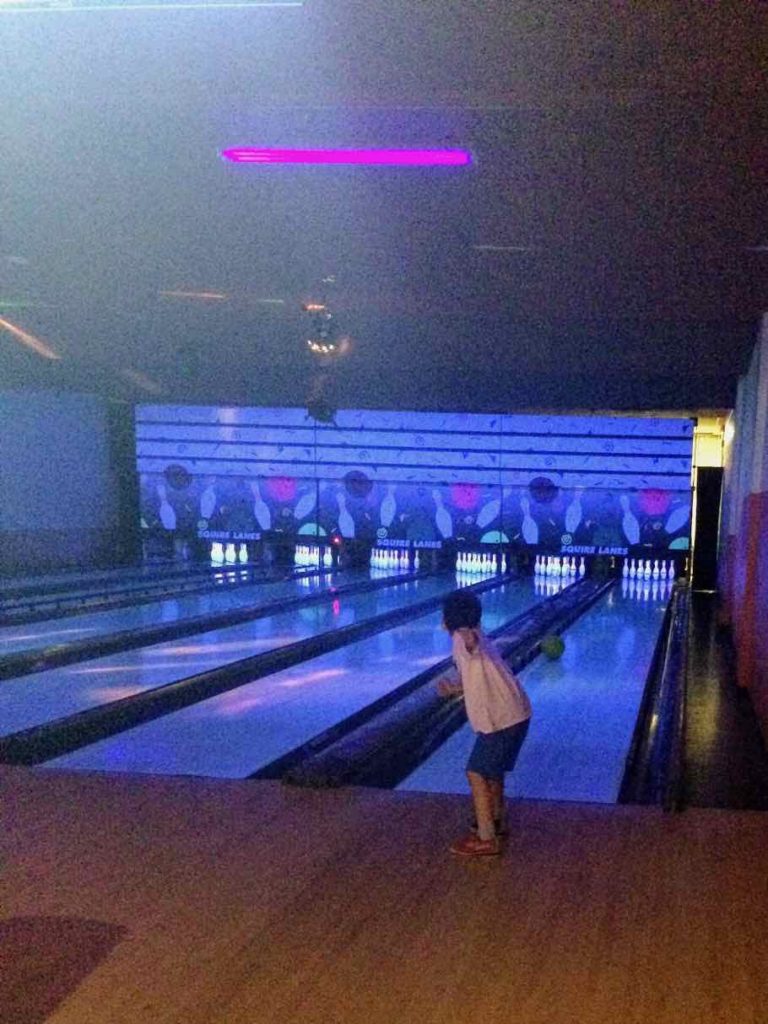 Review of the Best Western Grand Canyon Squire Inn
On our family trip we stayed at the Best Western Grand Canyon Squire Inn in Tusayan. Since we were on a multigenerational trip, everyone was comfortable at this hotel. The hotel has been around for a while, so the rooms were standard, not super updated but definitely ok. The lobby was nice and we enjoyed the artwork in the common areas of the hotel.
We were able to secure an accessible room which came with a king bed and a sofa bed. This was a good option for our family of five to sleep all together near the Grand Canyon.
The hotel also offers a bowling lane and a game room. I have to say that our kids loved this option at the end of the day! After lots of hiking in the sun, they really enjoyed playing in the hotel. Click to check current price!
There are also restaurants on site, which is convenient because there are not too many dining options in Tusayan. Overall standard American fare, nothing to write home about but you won't starve. We were eating paleo at the time and mostly managed to find healthy food.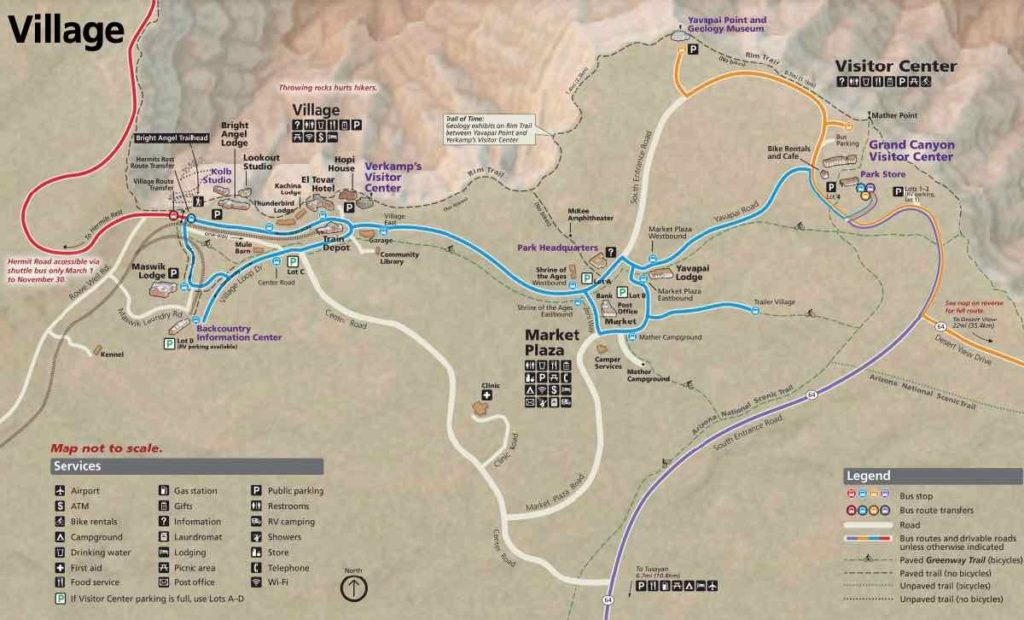 Hiking the Rim Trail with Kids
There are multiple view points all along the South Rim. Between them runs the South Rim Trail which is an easy, mostly flat trail. This trail is suitable for all abilities and even younger children. Truthfully, this is the only trail that I would recommend for little kids. (Ours were 6, 4, and 1 years old at the time of our visit).
Here is the link to the PDF for the Rim Trail. Most of the rim trail is paved. However, we used the access trail to get from the rim to Market Plaza, and that trail is not paved.
Briefly, we drove to Grand Canyon Visitors Center. Then "hiked" from Mather Point to Park Headquarters Junction, stopping to take lots of pictures and checking out the Yavapai Point Geological Museum on the way. Then took the access trail back to Market Plaza. We had lunch at Yavapai Lodge (decent), and used the shuttle bus to get back to our car. Here is the PDF with Shuttle Bus details.
More Fun Activities at the Grand Canyon
Here are some options for family friendly ways to see the Grand Canyon if you're less into hiking.
Other Hiking Trails in the Grand Canyon
For older children, teens and adventurous adults, the ultimate experience is hiking into the Grand Canyon. There are several short trails to hike partially down, such as to Ooh Ah Point.
Do not attempt to reach the river and back out in one day, as the terrain is rough and requires experience and planning! If you are going all the way into the canyon, you can stay at Phantom Ranch.
Viewpoints of the Grand Canyon
Before I wrap up this overview of the Grand Canyon, I need to point out some of the best viewpoints of the Grand Canyon. Whether you are hiking, and spending a week at the Grand Canyon, or just visiting on a daytrip from Las Vegas, here are some of the incredible views at the South Rim.
Desert View Watchtower
The very first viewpoint if you are entering from the East, is the Watchtower! We made it in the afternoon, after leaving Bryce Canyon in the morning, and it was just an amazing first view. Note that in the summer it is very busy with tour buses in addition to cars.
Lipan Point
Similar to Desert View, but you can see more expanse of the desert and the river snaking through the canyon.
Mather Point (Grand Canyon Visitor Center)
One of the most famous viewpoints, because of its accessibility. You can park and walk down to the fenced view points. It really feels like you can get closer to the canyon at this one, as it juts out.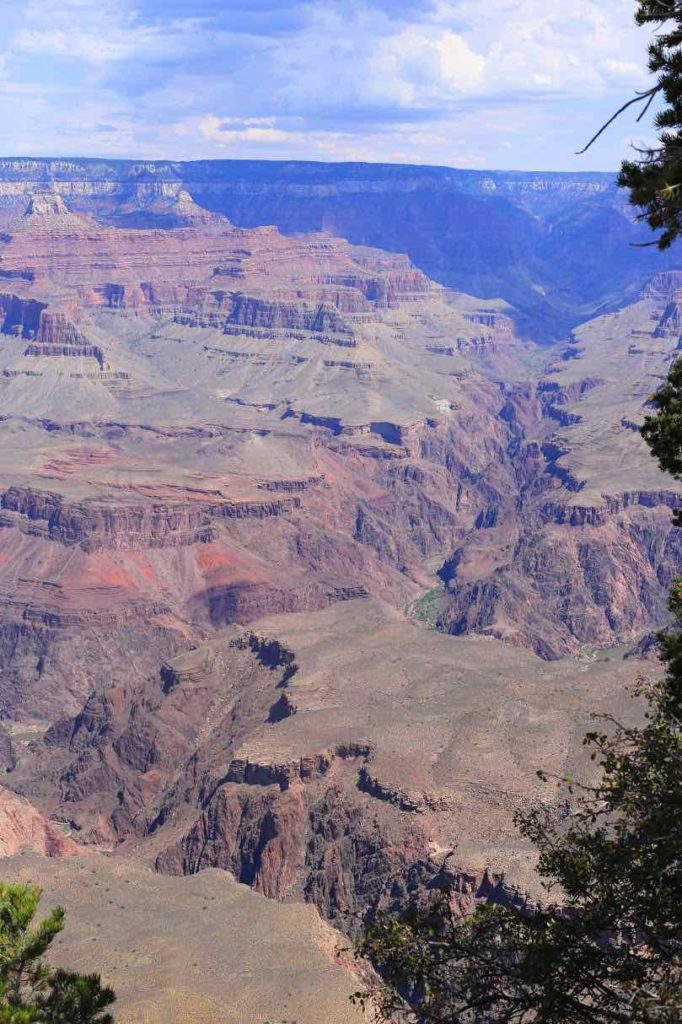 Yavapai Point
If you catch a clear day, you can see for miles and miles, from this part. It's incredible and you can pop into the museum and view from the air conditioned interior as well. Also there were lots of informative signs in this section.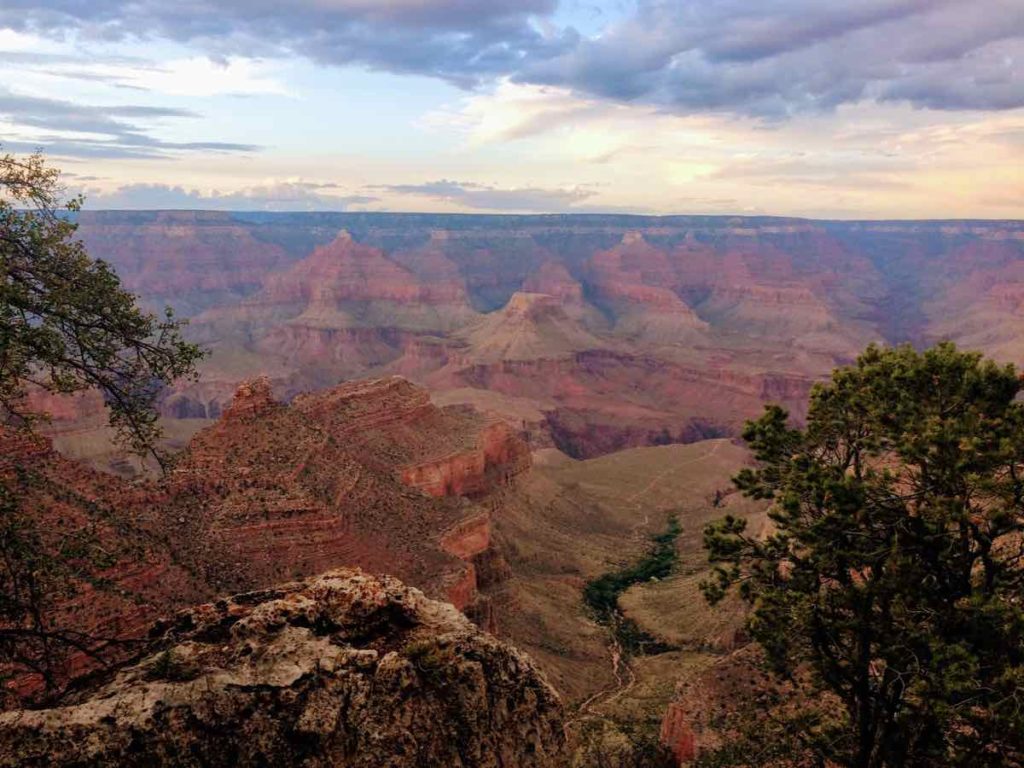 Verkamp's Visitors Center / Grand Canyon Village
The views along Grand Canyon Village are the ones you have seen over and over, since most of the lodges are located here. Nevertheless, the sunset outside of El Tovar was amazing! You can make reservations to eat at the lodge, but as with the hotel rooms, do it well ahead of time.
Bright Angel to Hermits Rest
The viewpoints along this stretch are only accessible via the shuttle bus, so we did not make it there. Nevertheless, if you have more time, take a look!
We found the majestic views of the Grand Canyon absolutely incredible. The temperature changes between day and night were stunning and refreshing. We will definitely consider coming back to do some more hiking in the Grand Canyon when our kids are older!
Have you been to the Grand Canyon? Is it on your bucket list? Would you visit with kids?