Are you confused about the essential oil hoopla? Wondering if essential oils are something you should use? Are essential oils actually helpful for wellness? Call me a skeptic, but I was the same!
Essential oils are useful for a variety of purposes, and we have found they are a great natural remedy for various minor ailments (think: headaches, low level stress, etc). We now even include them in our first aid kit for travel!
As the topic of the post implies, our foray into essential oils has been slow! It has been about three years now, that I have slowly but surely been learning about using essential oils, and applying them in my everyday life. If you're curious about how to use essential oils, then here goes!
This post may contain affiliate links. Thank you for supporting our work.
Why Essential oils and Why now?
Remember when I proclaimed I would talk about wellness on the blog? Well this will be my first foray into what is actually a huge part of our daily lives. (Wellness, that is.) So I'm extending my break from the Mexico recaps.
When we are traveling, but especially when we are at home, M and I put a focus on health and wellness and cultivating that in our kids. I actually have a lot to say about this topic! I'll come back another day(s) to talk about food, physical activity, sunlight, and detoxification, while traveling and at home. But for today, we're going to start with essential oils.
I have to give the disclaimer that I am not a doctor, so please don't take this as medical advice. I am just sharing my experiences!
Diffusing Lavender for Relaxation
Three years ago, when my friend sent me an essential oil kit I had really no idea what to do with essential oils! I had vaguely heard of people using them for various things, and more than that, selling them to other people. But I had no sense of how great of a natural alternative they would be for me.
During this time I was pregnant with Baby Girl and I had read that one of the things I could do to get a more restful night's sleep would be to diffuse lavender. So that's what I did on and off for several months.
It's hard to attest to how well it really works but I do feel that it has a relaxing property and I love the scent, so just that made it worthwhile! It became a part of my night time routine, to turn on our little diffuser in the bedroom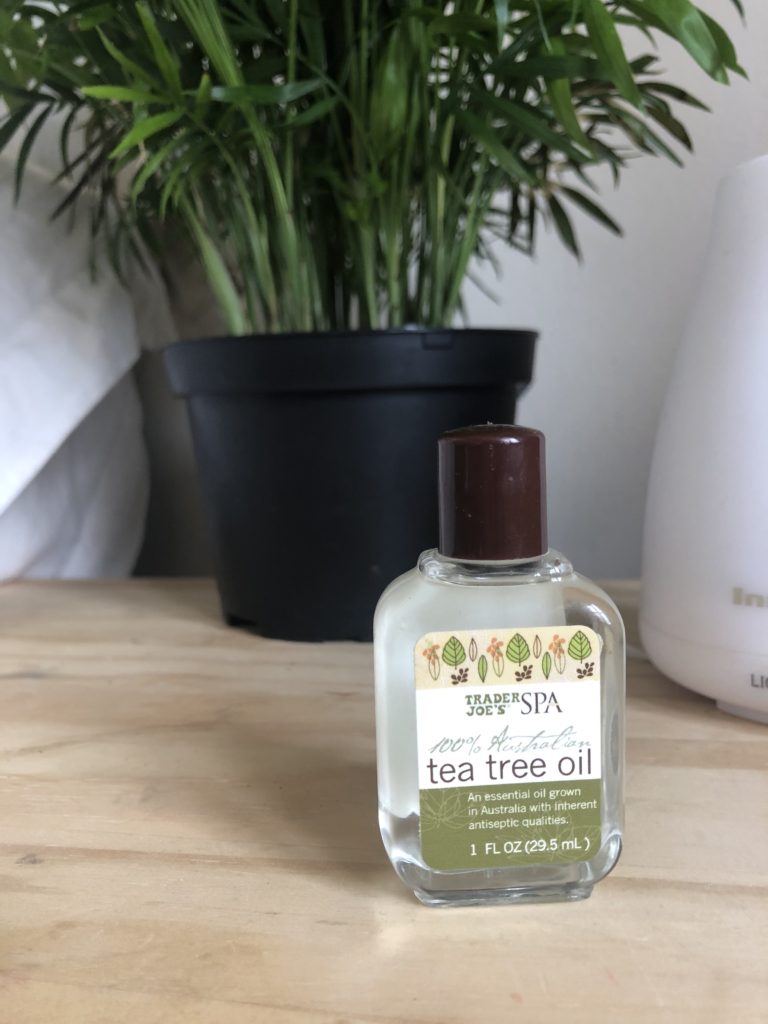 Treating Lice with Tea Tree Oil (Melaluca)
Our next encounter with essential oils was for not such a great reason. Most people would be loathe to even admit dealing with this problem but in my kids' preschool at the time, there was an outbreak of lice.
I had found through my research that none of the chemical solutions available for this problem really work very effectively and all of them are extremely toxic. Since we are very careful about increasing the toxic load of our children unnecessarily, using a natural tea tree oil was an excellent solution. I even found some research had been done about its effectiveness.
To get rid of lice I used a mixture of coconut oil with several drops of Melaluca (Teatree) oil that I put on their hair and then I used a fine tooth nit comb to get out all the nits.
I was able to treat them fairly quickly this way and did a repeat comb through a few days later just to make sure that there wasn't anything else still in there. For a few weeks afterward, I continued applying the Tea tree oil to their heads to prevent them being reinfected from other children.
Frankincense for Energy
I have yet to write the birth story of our Baby Girl A, but I can quickly say that her birth was fast and furious. I had amassed a toolbox of coping measures when preparing for the birth of Little Brother B. But the timeline of A's birth meant that I really didn't use any of those techniques.
One of the only things I did to distract myself was smell a little washcloth with a few drops of Frankincense.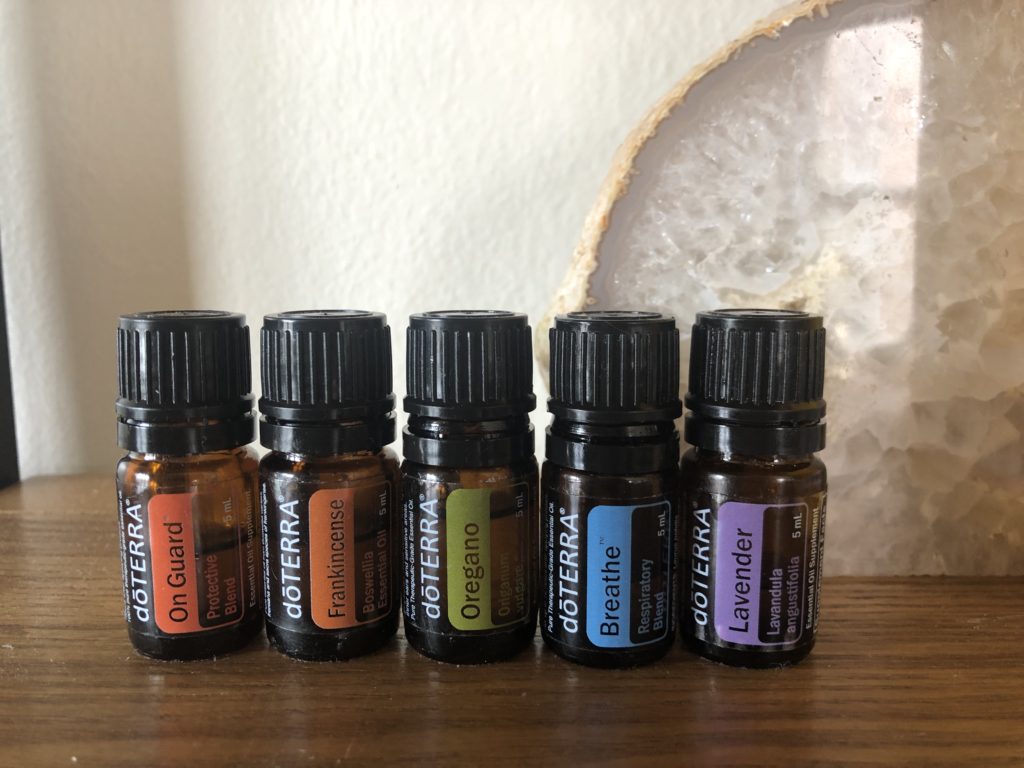 Treating Sinus Pain with Oregano Oil
Our next exploration with essential oils brings us to last winter, 2018. I personally had a cold that would not.go.away. My sinuses were all clogged up and it felt like I was heading down the path of a sinus infection. I decided I needed to kill the germs as quickly as possible. So I found that I could try to inhale oregano essential oil.
This consisted of putting very hot, almost boiling, water into a large bowl and putting just a couple of drops of oregano oil in it. Then just putting my face right on top of the bowl and inhaling the steam of oregano. I could feel a slight burning sensation in my nose. I did this twice a day and within a couple days my sinuses were cleared out!
Natural remedy for Ear Infection
Next let's talk about ear infections. I've always been prone to infections whenever I go swimming in pools and I have usually done fine by putting just a drop of rubbing alcohol in my ear to help dry it out if I feel like anything is still wet in there after bathing.
Last winter again I had some ear ache that wasn't going away. In addition to the rubbing alcohol trick, that for some reason was just not working, I rubbed some essential oils on the outside of my ear to help drain the fluid.
I rubbed the oils from the outside of my ear, down across my jaw and down my throat. It's very important never to put anything in your ear so it was just rubbing oils on the outside of the ear. I used lavender, peppermint and Teatree oil. I do feel like this helped to drain the fluid from the ear, within a couple of days.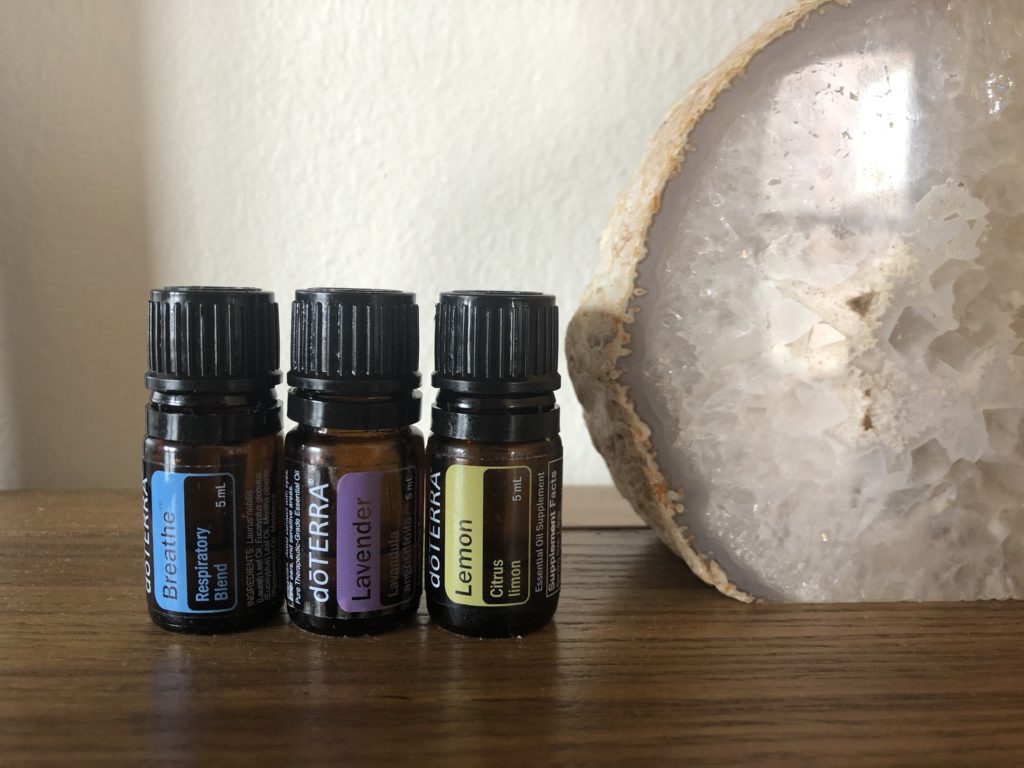 Improving our Indoor Air Quality
And now back to the last couple of months. Our indoor air quality in the winter is just awful. So in addition to plants, and an air purifier, we started using the diffuser again to clean the air in our room.
Initially I used the OnGuard blend (similar to Thieves blend) because I heard that it was a good blend for detoxifying and getting rid of mold spores. However now that I've been using it more regularly for a while we rotate a few scents.
My favorite is Breathe which is a blend of laurel, and a bunch of other stuff. We are also rotating lavender (still my favorite) and lemon.
So that's a wrap. Oils have been a good natural addition to our growing medical toolbox, and something we include in our natural first aid kit. We are still discovering how to use them and are always interested in learning more. Coming up…back to the travel posts!
Have you used essential oils? Are you in the camp of using them for everything? nothing? somewhere in between?