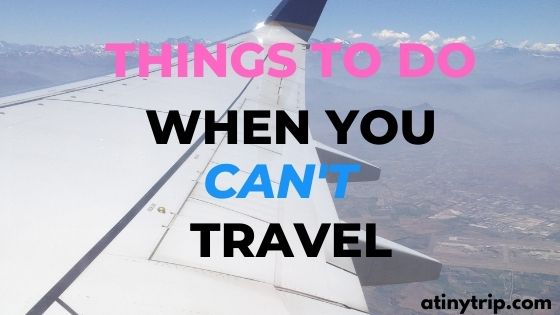 What can you do when you can't travel? Lot's! Take it from someone that gets incredibly frustrated when I have time off and can't travel, and use my years of coping suggestions to make the best of it! There are good and exciting things to do when you can't travel!
Sometimes it's just not possible to travel. I get it. You can't get vacation time. You have family commitments. The kids are in school. Or it's just not in the budget right now.
Of course if you can't travel for whatever reason you're probably feeling a little down. Take a break from social media, and feed your wanderlust at home.
Discover the best distractions for when travel isn't in the cards. Here's your ultimate guide to things to do when you can't travel!
It's 2021! And We're Still Not Traveling
Guys, I get it! Everyone said that 2020 was going to be it. That once it was 2021 we would get to travel again. And now…we're still not traveling.
Whether it's because of lockdown, quarantine, travel restrictions, or your own personal choice, not many people are traveling now.
Just for you, I've updated this post with new information. There are definitely benefits of a staycation, so even if we're not traveling let's make the best of it. Say it with me: we will get through 2021 with an attitude of gratitude.
Other reasons you can't travel
If you live in the Northeastern United States, then you know that there are three main school vacation periods: Christmas to New Year, February mid-winter (Presidents week) break, and April Spring (Easter/Passover) break. That's a lot of vacation time in a few short months, and at least for the first two the weather is quite bleak.
All that time off means that families can not necessarily travel during that time. More often than not, some of the time will look like a winter staycation.
But there are lots of options for things to do, to lift your mood, and to feed your desire to travel.
Things to do when you can't travel:
1.Visit somewhere new in town
The quintessential "Staycation". This is the very first thing I recommend to do if you can't actually leave town! Embrace your child eyes, and find someplace to explore.
If you live in a city you can check out a new museum or even a new exhibit in a museum you have already been to. You can check out a new park or playground. Or you can even just explore and walk around a new neighborhood you haven't been to before.
If you live somewhere more rural, try finding a spot you haven't seen before, or that you haven't been to in several months. As the seasons change, so does the view!
2. Go to the library
Many libraries have story time for little kids, but even if they don't, I have yet to meet a child that doesn't like being read to. I like to call this "traveling with our mind". Our older kids love checking out books from the library. Best of all- it's free!
[Covid era alternative: I've been devoting some of our travel budget savings to buying books. A recent online shop I like is bookoutlet.com! They have some pretty cheap bargain books, which are perfect for elementary chapter books my kids read ridiculously fast.]
3. Plan your next vacation
This is a personal favorite of mine. Especially when it's cold and dreary outside, I love to research new locations. If I'm really motivated, I will even set up flight price alerts, or start planning a rough itinerary. Click here to learn my exact planning strategies for travel.
Or how about camping? Consider planning now for next summer! There is lots of gear and preparations to make, so you can take your time. Plan your first camping trip here!
There's a lot of reasons for why travel is so great. Then again you probably know that if you're reading a post on things to do when you can't travel. But if you need a reminder on why you should start planning your next trip, consider this list of short travel quotes to get in the mood!
4. Look back at pictures from previous trips
There is something that makes me SO HAPPY looking back at old pictures. A little bit of nostalgia, remembering the sights, sounds and smells of another world. If you haven't yet printed pictures to display or made photo books, I guarantee a sense of accomplishment if you tackle that task.
5. Create Something
Humans love to create, to use their hands, to accomplish a task. We may spend many hours on our computers, but when we make something physical there is enjoyment at least in the product if not in the process.
Use this as an opportunity to "travel in the kitchen" by trying out a new recipe. Or bring your kids around the table for crafting or science experiments. These are real world skills that can then be applied when you DO travel and see how the world works.
6. Watch travel shows on tv
This is one I save for the very coldest, most miserable days. Tapping into escapism, there is nothing like imagining your own "House Hunters International" adventure. Cozy up under a warm blanket and daydream of warmer days.
7. Read Books
After your field trip to the library, you should have plenty of options! The books you read can be about travel or something completely different.
Getting lost in a story is a wonderful form of escapism. When I'm missing New York, I can check out these historical fiction books set in New York.
There are also new age travel books to check out. If you're wanting to travel vicariously through books, there are plenty of options.
8. What if you had just gotten back from a trip?
What would you feel like if you had just gotten back from a trip? What would you do? Would you begin decluttering? scrolling through pictures? moving furniture? Huh, confused? No worries!
Read all about what to do when you get back from a trip, why moving furniture is a good idea, and get more ideas of things to do at home!
Now tell me, what things do you like to do when you can't travel?
P.S. If you have younger kids, babies and toddlers, here are some ideas for surviving the winter. For my local, New York folks, here is a bucket list of things to do in town.