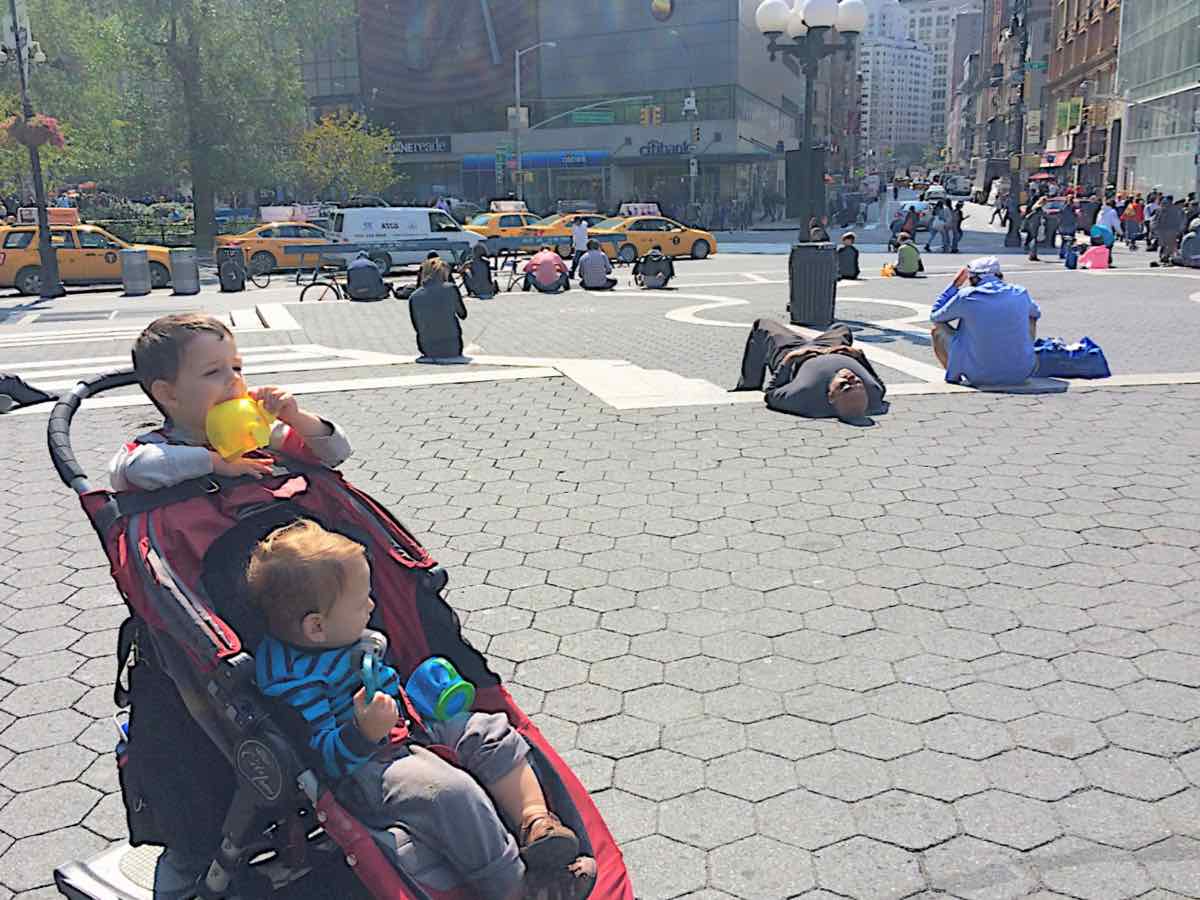 The best all purpose stroller is the unicorn of strollers. It is a stroller that will last from birth to toddlerhood, to the end of preschool days. It's good for traveling, good for taking around the city, works well for suburban neighborhood walks and can even off-road a bit.
This stroller is not too heavy, or too wide, or too flimsy. It has a canopy that blows all the other strollers out of the water. In the realm of stroller prices it is also not too expensive.
Today is the day I answer for you: what stroller should I get? Because for the past ten (10!!!) years I have been pushing a stroller. Up the curb, down the curb, bump it up, bump it down. One handed push, leaning back as a wagon, swiveling it around. Rinse and repeat. So today's the day to share my opinionated opinion on the matter.
You don't need to look up stroller comparison reviews, or the ultimate stroller buying guide. Just find a mom that actually uses a stroller regularly. Preferably ask someone you trust and that has researched the best options. But unless you're lusting over some popular model, you can spend way less than you think for a really awesome stroller.
So without further ado, I am about to tell you what the very best stroller I recommend to get it. From a mom that has personally used over a dozen stroller at different times with four kids. This is it: the complete Baby Jogger City Mini review. The review all new parents need to be reading right now! Read, save and share!
This post may contain affiliate links. Thank you for supporting our work.
The Best All Purpose Stroller: Baby Jogger City Mini
Scroll down to see how I determined that the Baby Jogger City Mini Stroller is the best all purpose stroller on the market. I will show you why it wins best overall, finding the perfect compromise between travel, full size, and luxury strollers.
We will go through the factors that went into this determination, pros and cons of the City Mini, and why this is the down to earth stroller review you should actually take seriously.
Factors to Consider when Choosing a Stroller
First, I need to put the caveat out there: there is no perfect stroller for all situations. Once you've made peace with that, let's see how we can find the best stroller for you.
If you are using your "stroller as a car" this is an expression you will hear often in New York City, you will probably be prioritizing having a really big basket underneath to carry all your groceries.
On the other hand, if you are driving constantly it's a lot easier to have a stroller like the Doona where the car seat is actually the stroller.
If your priority is being able to take your stroller on an airplane, you want atrifold (fold in three) stroller. Try the Babyzen Yo-Yo or BabyJogger Tour, or the Mountain Buggy Nano. But they will not be better if when you arrive at your destination you are trying to use them on cobblestone streets. (womp, womp)
All that to say, there are many factors to take into consideration and that is without even noting the price or the aesthetic design. So here are the top things to consider when choosing the perfect stroller:
Things to Consider
Wheel size and suspension (most important for maneuverability)
Compact vs. Full size – depends on the size of your kid
How it folds (Umbrella folds the long way, square folds in half horizontally, tri-fold fold in 3 so it is most compact)
Handlebars: 1 or 2 handed push
How Tall you are/the stroller is
Basket size/accessibility
Aesthetics
Price
Now, if you want to know the stroller that is the best compromise so that you can get only one stroller that will serve most situations pretty darn well, here it is: the one and only Baby Jogger City Mini.
The Best Stroller for Most Situations: Baby Jogger City Mini Review
This stroller is the best bang for your buck in terms of working in most situations really damn well. Let me explain:
The most important factor in having an easy to push stroller is having big wheels. The City Mini has 8″ wheels which is the perfect compromise between the behemouth 11 or 12″ wheels of luxury strollers, and the small 5-6″ wheels of most travel strollers!
The most important factor in making a smooth ride for the baby is suspension and material of wheels. The wheels of the City Mini are made of EVA foam, which means you do not need to pump them with air. Maintenance wise this is great, on the down side the ride is not as smooth as air filled tires like in jogging strollers, and doesn't have amazing suspension like the Bugaboo or Babyzen.
The most important factor in keeping a stroller easy to maneuver is its weight. Here again, the Baby Jogger City Mini beats the competition out of the water. It only weighs 17.5 lbs but is a full-size stroller! Obviously travel strollers are lighter, but again, small wheels, less features and harder to push. The wheels are actually big enough that with an older child you could bump it down the stairs.
And the most important factor in being able to move the stroller around into and out of a car is how easily you can fold it. Many parents totally underestimate how important it is to have an easy fold. Unless you only use your stroller in your own neighborhood, you will constantly be folding the stroller. The one-handed fold of the City Mini is by far the easiest of any strollers I have used.
Are you a warm weather fan? If you are going anywhere with sunny weather, a big stroller canopy is super important. There is no canopy that shades better than the massive canopy on the City Mini. It is just the best. This canopy extended to make a perfect shady spot while baby is napping, but also has 2 viewing windows for the parents.
Now once you're at your destination its really nice to have a full-size stroller and if you're traveling and out all day, you want baby to be able to nap in the stroller. The recline on the City Mini is nearly flat which means it makes a great place for your baby to comfortably sleep. This also means that you can use the stroller with a newborn baby, without a car seat!
The New 2019 City Mini
(Unexpectedly) the City Mini is an Excellent Travel Stroller
1. It has an easy one handed push
Let's do another example let's say you're at an airport and you need a stroller for your baby: would you rather be pushing around something with teeny tiny wheels, which will cause you to feel every pound that you are pushing or would you prefer a stroller that can seamlessly glide in the terminal with a one-handed hold?
2. It can carry your diaper bag
If you are also carrying all of your baby stuff, otherwise known as a diaper bag, where would you like to put that bag? on your back because you have a tiny travel stroller or hanging on the stroller? I believe that your back would prefer your diaper bag was hanging on your stroller. Even though it clearly says not to do this (because the stroller could tip backwards), if your bag is not too heavy, it works! (If you do this, it is at your own risk.) Also, use the basket underneath first!
3. It can carry your hand luggage/personal items
Now let's say you don't plan to put your baby in the stroller. Let's say you plan to put your baby in a baby carrier in the airport. (Great idea! I highly recommend it!). Now that your baby is in the baby carrier front or back, what would you like to do with your carry-on bags?
Would you like those also on your body or perhaps you would like to have them roll around in a stroller? If you answered have the stroller carry your bags, you are obviously a parent with experience. And guess which stroller can carry a lot more of your bags than that dinky little umbrella stroller with tiny wheels? Yup, we are back to the City Mini.
4. Folds flat
Now it's saying you are in the summer and you don't need your stroller every day you just want it for walking around the neighborhood or to throw into your car so you can pull it out at the mall. Well I think that at this point you need to balance your convenience and your cost.
The City Mini is really convenient to fold up. Just pull on the bar with one hand. We have never had a problem getting it into any trunk as it folds very flat.
You could definitely get away with a cheaper stroller if you are not using it every day. However, when you have little kids and babies sometimes most of the time, it's worth it to pony up a little more money to make your life easier. I think parents especially once they have more than one child put a lot of value upon making things easy.
Also let's be real: if you're reading this review, you are a researcher type parent and looking to get the best bang for your buck. This is it.
Pros and Cons of the Baby Jogger City Mini
So let's do a little pros and cons of the City Mini.
Pros:
Easy to maneuver "jogger" shape
One handed fold
Huge canopy
Folds down flat
Reclines nearly flat and can use with a newborn
Under carriage basket
Accessories available but not necessary.
Good size wheel for bumps
Wheels that you never have to inflate (foam)
Cons:
You cannot carry-on an airplane
The basket is not huge and not easily accessible
You need an adapter to use it with the car seat (new models have included)
It doesn't go completely 90 degrees upright
How we managed the cons:
We gate checked in the stroller. If you have a baby or especially a toddler it takes so much time to get all your stuff and get off the plane that it doesn't matter even if you have to wait a couple minutes for your gate check to arrive. More times than not your stroller will already be waiting for you.
During the newborn phase, there were very few times where we had a sleeping baby and actually wanted to take the car seat. So we either got the baby out and put him in the stroller in the flat mode using a Snuzzler. Alternatively, we carried the baby in a baby carrier. This is, frankly, often times easier if you don't need to carry too many other things. If you're going grocery shopping you can also put the whole infant car seat in the cart (not on top mind you) but IN the main basket.
In terms of the basket: it was big enough for the diaper bag. If I really needed to carry a lot of groceries, I would put baby in a carrier or make them walk. 😉
Once baby is a toddler, they like to sit upright. We added a belly bar to the stroller, loosened the straps, and they would hoist themselves up. Speaking of which…
Accessories for the City Mini
The City Mini works great out of the box. In time, you may want to invest in some accessories to make it even better. Here are some of the best Baby Jogger City Mini accessories:
The Belly Bar– We loved this bar that attaches to the front. It is amazing once you have a toddler that tries to shimmy out when you are getting them strapped in. We also use rings to attach toys, or even tie up a snack cup.
The Snack Tray– This is for when your kids are older, as the snack tray sits pretty high up on the stroller. Snacks are the best distraction ever, and this tray also has the perfect spot for a water bottle.
The Glider Board– If you have two kids that are close in age, but not too close where you need a double stroller, the glider board is the best! We find it works really well for 3-4 year old older siblings, that can walk or scoot most of the time, but get tired after a while. That said, if you littles are really close together, you will need a double stroller, or two singles.
The Rain Cover– The rain cover is a piece of clear plastic, but it's actually great! It fits the stroller perfectly and attaches and removes easily. The cover also works really well for freezing cold days for blocking the wind.
Parent Console– I have to break with the manufacturer on this one, because our you can choose any universal parent console. We went through a few over the years.
Stroller Muff– for the winter, this stroller muff with a place for your phone is the best!
Reasons why you should take this review seriously
Pretty much everyone on the internet has gotten on the best stroller reviews bandwagon. Some people really do go out of their way to try a lot of different strollers. Others just comb Amazon for tidbits to include in their stroller comparisons.
This is a different type of stroller review, and here's why:
I have four kids. Over the course of the last 10 years I have used many, many different strollers. I am still using a stroller with my one year-old every single day. I have essentially used a stroller just about every day of the past 10 years.
I have lived in four different places over the past 10 years: A Mexican City (Guadalajara), Jersey City, Brooklyn, New York, and Austin, Texas. In this mix I have used the stroller in both urban and suburban environments.
I have traveled to even more places and used strollers in all of them. This includes everything from Mexican beach towns to colonial centers with cobblestone streets. I have been to South America, Israel and many, many places all over the United States in that time: National Parks included.
I have tried many different strollers over the years. Some of them I have owned and a few of them I have borrowed from friends. So I have a good amount of experience using different strollers at different ages.
Here are some of the strollers I have owned or borrowed:
Any more questions I can answer for you? Are you convinced that the City Mini is the best stroller to buy for the money?