The absolute first thing I started researching when we found out about Baby Boy 2 was double strollers. Let me preface the discussion with this: I use my stroller every.single.day for at least an hour a day.
We are lucky enough to live in a neighborhood where I can do most of my errands, lots of exercise and a huge variety of park visits within a short walking distance.
This means that I don't really need to drive much other than for larger grocery trips, visiting friends that are a bit farther, or some of Baby Boy's classes.
Criteria for a Double Stroller
With that being said, my main criteria for a stroller:
1- Can easily go up curbs and handle bumpy Mexican sidewalks
2- Huge sunshade because it's sunny all year round
3- Can fit through doorways pretty easily
Additional features I would love:
4- Not too heavy (for lifting up staircases or into the car by myself)
5- Easy fold (because this has proven invaluable when Baby Boy couldn't yet stand)
6- Works for an infant (because I don't really want to deal with a car seat contraption)
With those features in mind, I started looking for a side by side stroller. This preference over a tandem has to do with no.1 going more easily up curbs, no.6 working for an infant, and just my general impression that it will be easier to use for two kiddos that are pretty close in age.
Double Stroller Finalists
My finalists (they all work with a newborn, so here are the other 5 criteria broken down):
Baby Jogger City Mini Double GT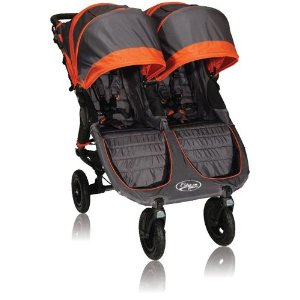 Pros:
One handed fold!
Lighter at 32 lbs
Excellent sunshade
Also, we love our City Mini and there's something to be said for brand loyalty!

Cons:
Smallest wheels at 8.5″
Neutral:
29.5″ wide
Mountain Buggy Duet
Pros:
Only 25″ wide!
10″ wheels should help with the bumps

Cons:
34 lbs!
Two handed fold
Sunshade just ok
It's a newer stroller and I feel like they haven't gotten the kinks out yet.
Bugaboo Indie Twin
Pros:
Good sunshade
Seems really well made.

Cons:
34 lbs!
Two handed fold
Neutral:
29″ width
12″ tires- can definitely handle bumps but might be too big for our city purposes?
We haven't made any decision yet, but hopefully we'll be able to check them out in person before we have to make our final decision!