Would you ever take a road trip with a 2 month old baby? If you asked me that anytime in the last 9 years, my answer would be a resounding no! We took a road trip with a newborn years ago. While the trip was "worth it", the driving part was less than pleasant.
And yet, 2020 being what it is, the coronavirus lockdown in New York City, forced us into a cross country road trip during a pandemic.
We took all of our ideas about moving, threw half out the window, and spent over a week of driving for relocation. If you are considering relocating during the pandemic for the short term, or making a long distance move in 2020, this is the post for you.
Here's your road trip guide, complete with hotel recommendations, places to stop between New York and Texas, and tips for road tripping with a baby.
Road trip between Texas and New York City
Before we delve into our trip from New York City to Texas, let's check out the route options. For simplicity's sake, these are all organized from South to North.
There are several way to get from Texas to New York and vice versa. If you put in a quick driving directions search you will come upon three main routes:
Mostly on the I-81: Up through Mississippi, across Tennessee and up
Mostly on the I-85: Through Atlanta and diagonally to New York (technically the shortest option)
Mostly on the I-95: East to Florida and up the East Coast on the I-95.
Believe it or not we have actually driven all three routes! Time-wise any trip from Texas to the Northeast will take at least 24 hours driving time. The longer options will take roughly 26 hours driving time, not including traffic and stops! Here's a quick rundown of each option.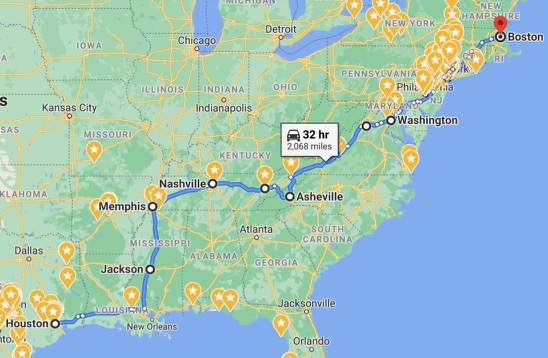 I-81: The Tennessee option
Our first road trip from Houston to Boston (just a few months before we started the blog) went something like this. We took our time and chose some scenic routes, over the most direct highways.
Natchez Trace Parkway and Vicksburg, Mississippi
Memphis- Graceland
Nashville- Opryland
Knoxville- Great Smoky Mountains
Asheville, North Carolina
Blue Ridge Parkway
Shenandoah National Park
Washington, D.C. (skipped NYC)
Boston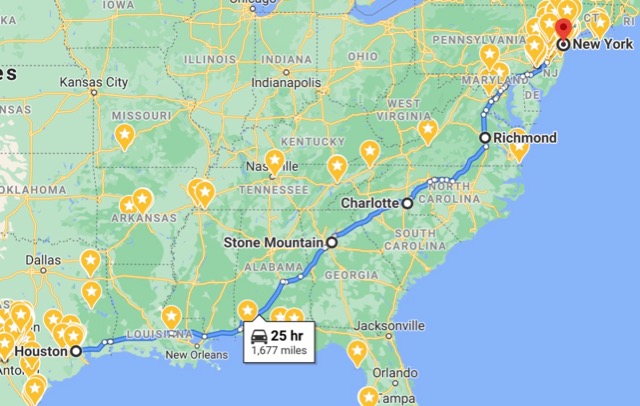 I-85: The Atlanta Option
The shortest route from Texas to New York is via Atlanta. This is the route we took when moving back from Mexico to New Jersey. After an extended stop in Houston, we had to drive ourselves and our car to meet the moving pod.
Our priority was minimizing driving time, and also taking in account we had two toddlers in the car. Each day was planned with an activity in the morning, followed by 4-6 hours of driving time.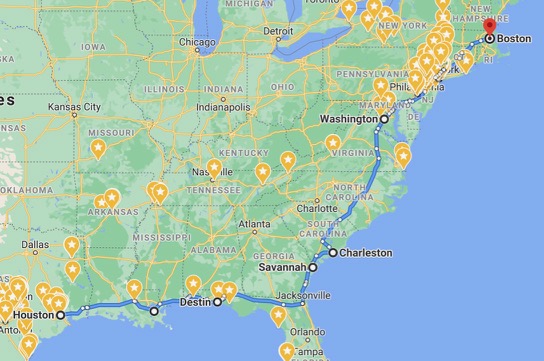 I-95: The East Coast Option
This is actually the route we took going back from Boston to Texas, before we moved to Mexico! For simplicity's sake, I have it written going in the same direction from the South to the Northeast.
Houston to New Orleans (or Baton Rouge)
Columbia, Maryland (bypassing Washington D.C.)
Skip New York City, arrive in Boston, Massachusetts
Deciding on the Best Route for a Relocation Road Trip
If you're trying to decide which route to take for a family road trip in the USA, here are some more details and things to consider.
Best for Beaches
The East Coast option is the best for beaches. With little kids in tow, beaches are just about the easiest vacation to be had. The kids can play in the sand and get nice and tired in the morning, which gives way to calmer driving in the afternoon.
If you're lucky, an afternoon nap is the best way to make some serious driving headway. However, this is not the shortest route. With a newborn, keeping the driving to a minimum is key. So moving on…
The Least Amount of Driving/ Big Cities
The "Short Option" driving on the I-85 is for those that are in a rush and want the quickest route from Texas to New York. When Michael drove our new car over a brisk two and a half days, (coming back from our Mexico baby moon) this was the route he chose.
However, this route is much less scenic. It has you going through several big cities. On our trip with toddlers we were able to make the best of it with stops in museums and fun destinations. However, with so many cities shut down for the pandemic, this was a poor choice.
Parks and Landscapes
So by now, you must already understand that we chose the Tennessee option. This route took us through smaller cities, on highways that were quite pleasant, most of the time.
We had to alter our activities, to focus on being outdoors and we had to take our time!
With four kids in the car, one of whom was a newborn, we were limited to about 4 hours driving time per day. This amount of time actually took about 6 hours with numerous stops for feedings and diaper changes!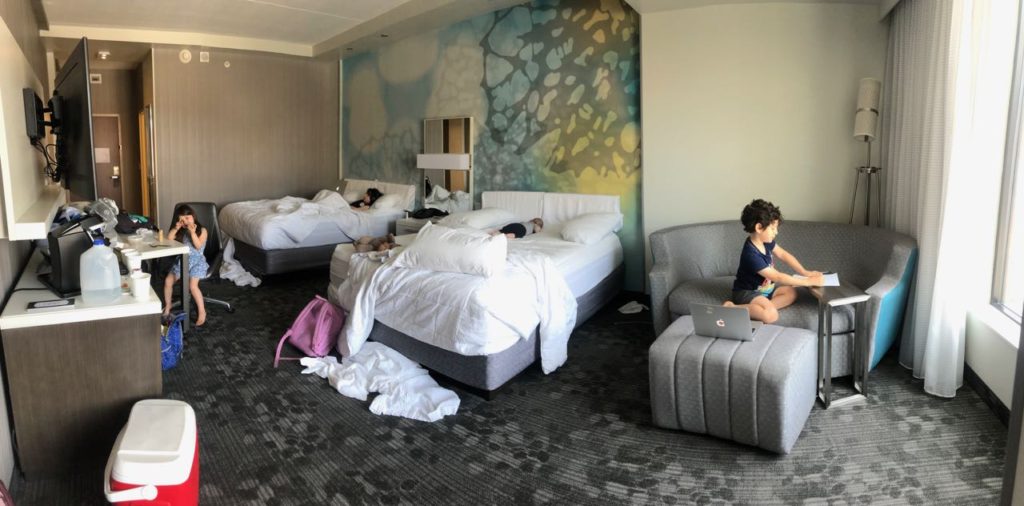 Details of our Route from New York to Texas
The first time we drove this route, we chose to drive the winding roads of many parkways: Natchez Trace Parkway in Mississippi, the Blue Ridge Parkway in North Carolina and Virginia, and driving through Shenandoah National Park.
Trying to minimize our driving time, we chose to stay on the main highways. These were our main stops:
Chambersburg, Pennsylvania
Roanoke, Virginia
Knoxville, Tennessee
Nashville, Tennessee
Memphis, Tennessee
Little Rock, Arkansas
Longview, Texas
Houston, Texas
Let's break down each of these spots and the things we did along the way!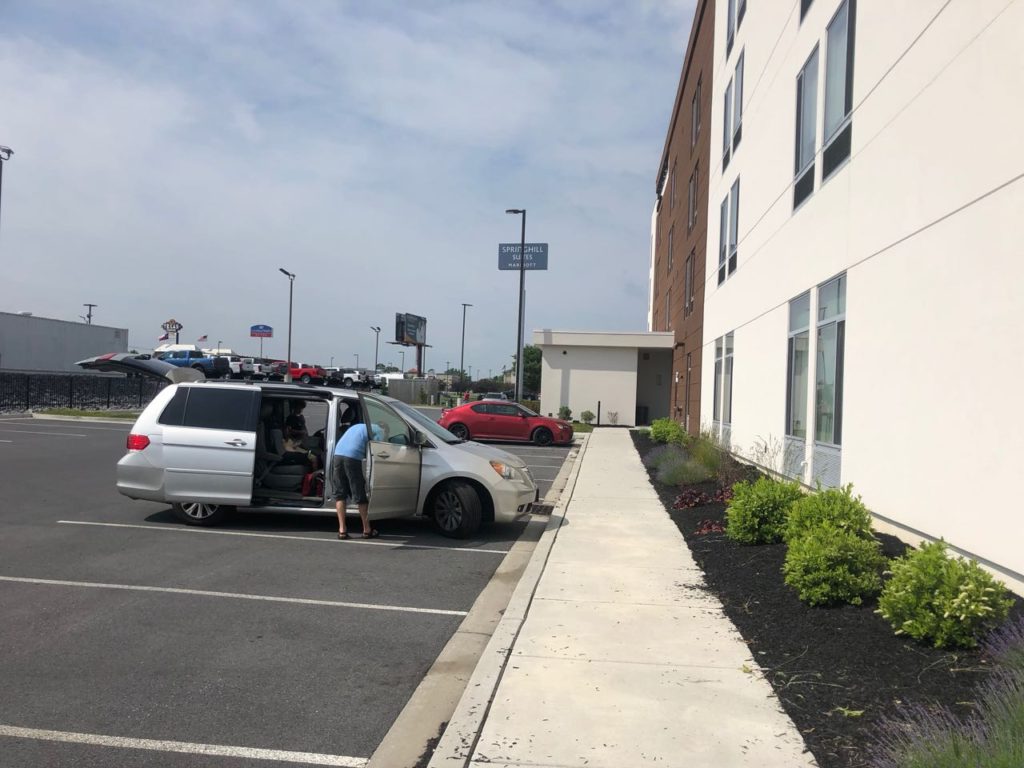 Day 1: New York to Pennsylvania
Our first leg actually took a more than one day, because we stayed in New Jersey with friends to wrap up a couple of things before we hit the road. Needless to say, it was still one day's drive when we did finally leave.
We drove on the I-81 from New Jersey to Pennsylvania. Our inital plan had us stopping in Harrisburg, the capital of Pennsylvania. However, due to the pandemic and pretty much everything of note shut down, we continued on to Chambersburg, where we were able to book a room using points.
Where to Stay in Chambersburg Pennsylvania
We stayed at the Spring Hill Suites in Chambersburg, PA. We have nothing but good things to say: it was relatively new and everything was perfectly clean. Two queen beds plus a sofa bed, was perfect for our family of six. The indoor pool was available to be reserved for swimming.
Tip: Our experience is that when staying at mid-range hotels, you want to make sure they are as new as possible! Otherwise the mattresses will have a sink hole, and maintenance is rarely great.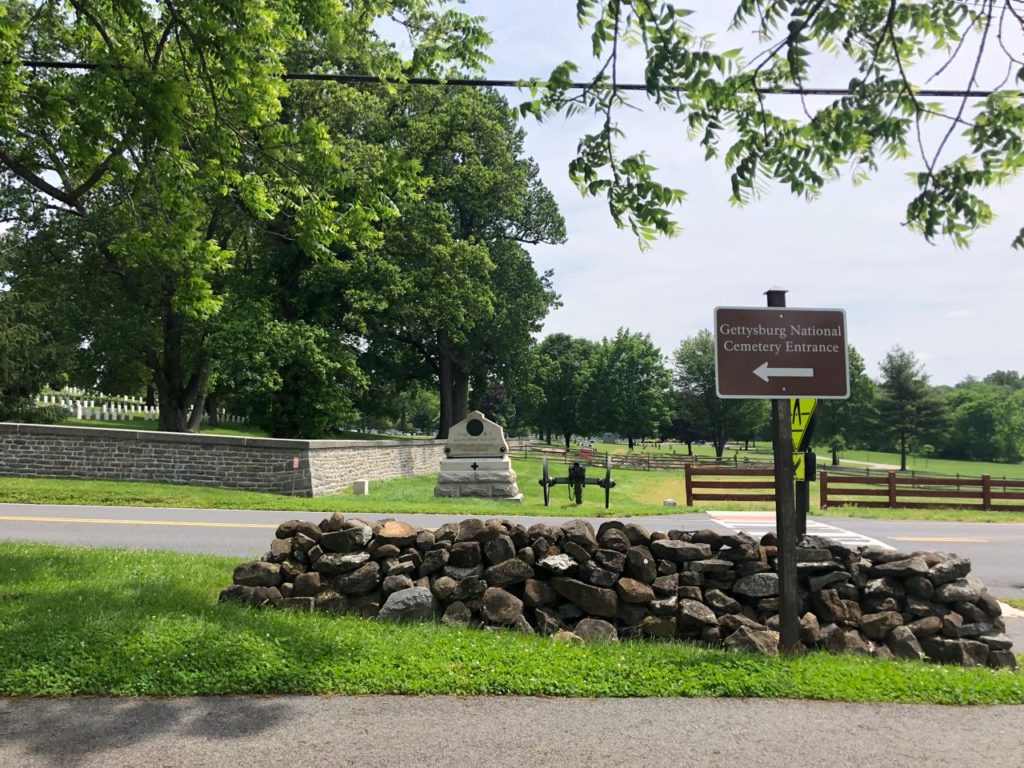 Day 2: Gettysburg, Pennsylvania to Roanoke, Virginia
When we realized just how close it was between Chambersburg to Gettysburg, it seemed like we had no choice but to detour. This detour added about an hour to our total driving time for the day.
However, with Black Lives Matter protests going on around the country, bringing the kids to Gettysburg seemed incredibly important. Our kids are on the young side to understand some of the more abstract concepts of systemic racism. But we are doing them no service by ignoring the matter.
So starting with getting to know a piece of the puzzle of American History was a great place to start, as part of the ongoing conversations we have about these issues.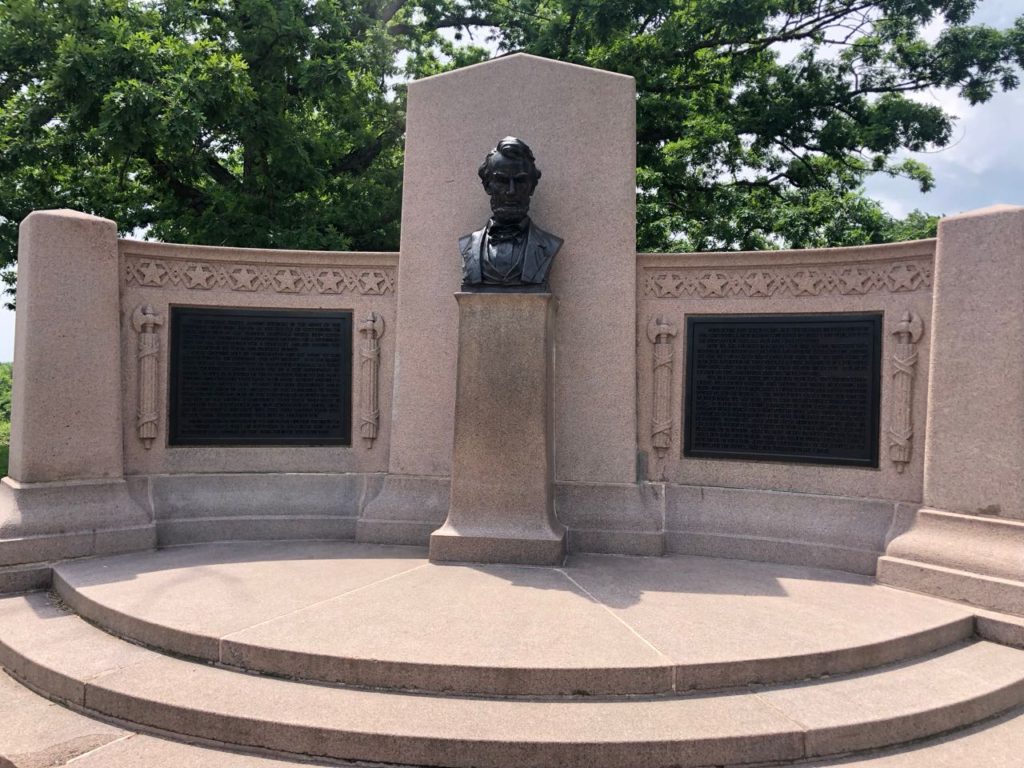 We walked through Soldiers' National Cemetery. We spent some time going to see the place where President Lincoln delivered the Gettysburg Address. We read it together and talked about what it meant. (Our nine year old was definitely interested and could connect some concepts to things he had learned in school; the others were less interested).
We picked up a quick lunch in town, and hit the road towards Virginia. (Skipping a lodging recommendation since we did not have a good experience.)
Tip: Entering Virginia there is an awesome, clean Welcome Center with child sized restrooms! So appreciated!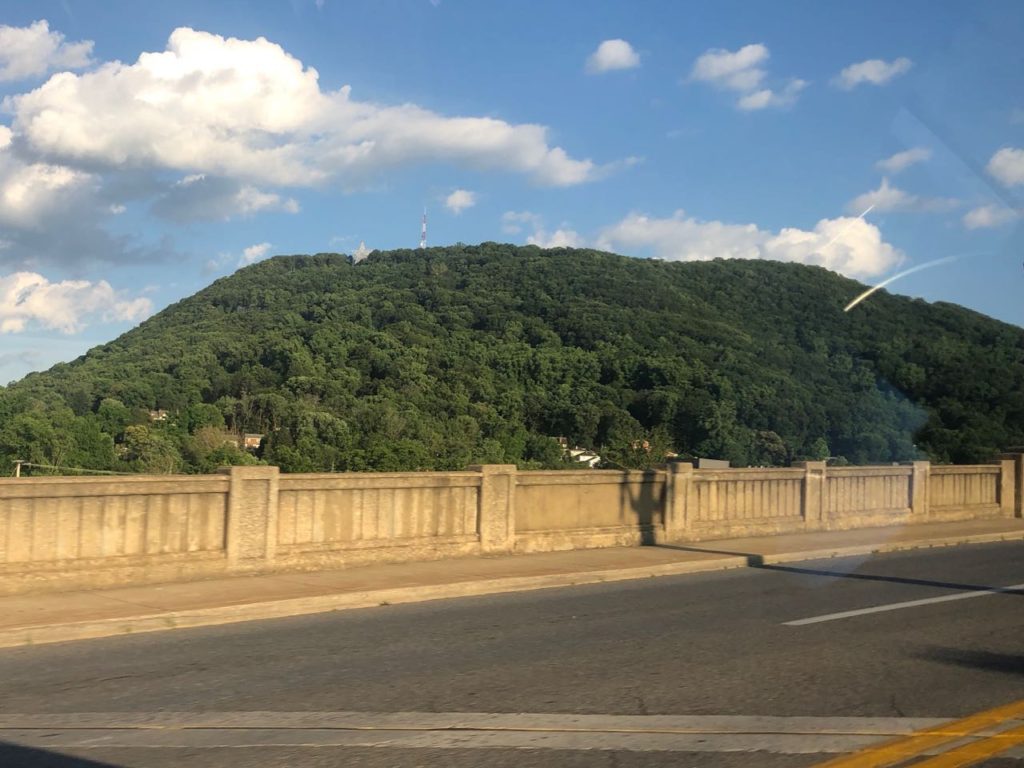 Day 3: Roanoke, Virginia to Knoxville, Tennessee
For our morning in Roanoke, Viginia we were planning to visit the Roanoke Star at Mill Mountain Park. It was fun to see it lit up the night before and we had every intention of checking out the trails on the mountain. However, tired kids, zoom, school and more had us skipping this attraction. So we just had a look from afar and got on the road.
Our drive into Tennessee was uneventful. However, I must note that the scenery by the highway is gorgeous in this part of the country.
Since we hadn't yet spent much time outside, it was the perfect day for a picnic. After a quick run into a grocery store (Ingles Market in Kingsport had a decent organic selection), we headed to Warriors' Path State Park in Tennessee.
I highly recommend this park as a stop because it is not a very far detour off the highway! We could have easily spent the whole day at the park. But alas, we had to get to our next stop: Knoxville, TN.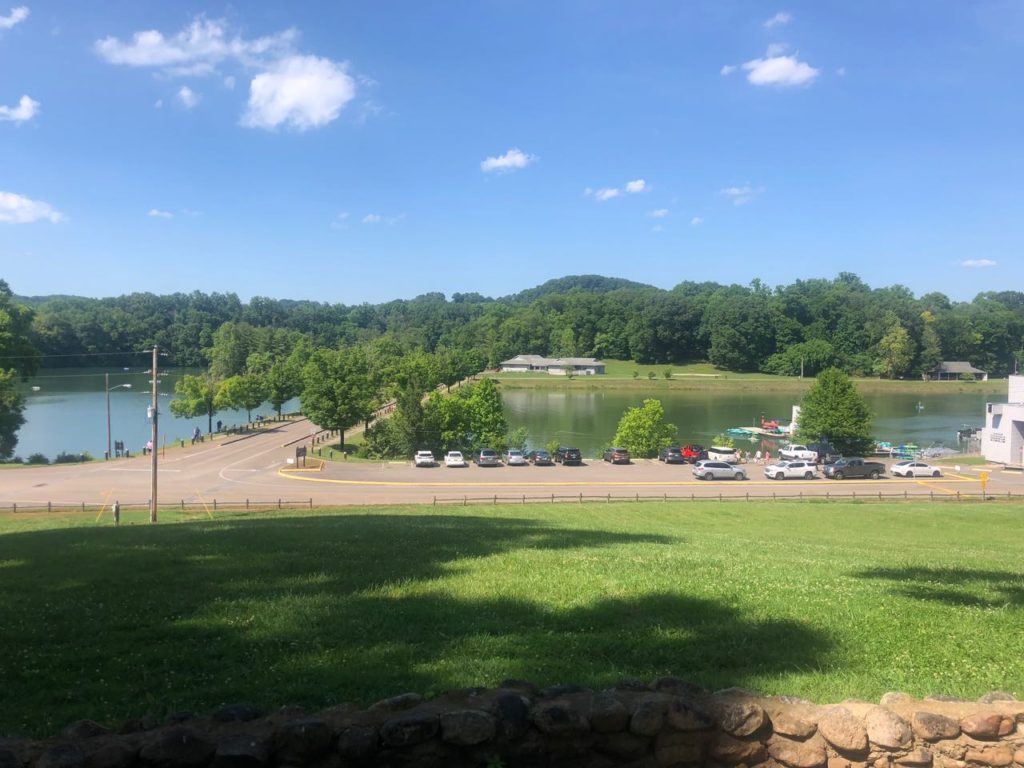 Where to Stay in Knoxville
For this stop we chose to stay in downtown Knoxville. The Courtyard by Marriott Knoxville Downtown was in great shape. They had a large room with two queen beds and a sofa bed for us.
Everything was clean, social distancing was well marked, and overall it was a great stay! Michael was able to work from their outside patio that had lots of seating.
Where to Eat in Knoxville
Sweet P's Barbecue and Downtown Dive– Such good barbecue! Probably the best we had on this trip!
Cafe 4 in Market Square- Southern food with a modern twist. Everything was good!
Day 4: Knoxville, Tennesse to Nashville, Tennessee
The best part of staying downtown in Knoxville, is that we were able to walk around. This being summer time, and so many people staying at home, meant that the main streets were eerily quiet.
We especially enjoyed Charles Krutch Park with some cool sculptures and a water feature. Market Square, which was the site of a 19th farm market, but now is a plaza lined with restaurants, is a perfect spot to hang out. Despite the quiet there was just enough activity for it to be very pleasant!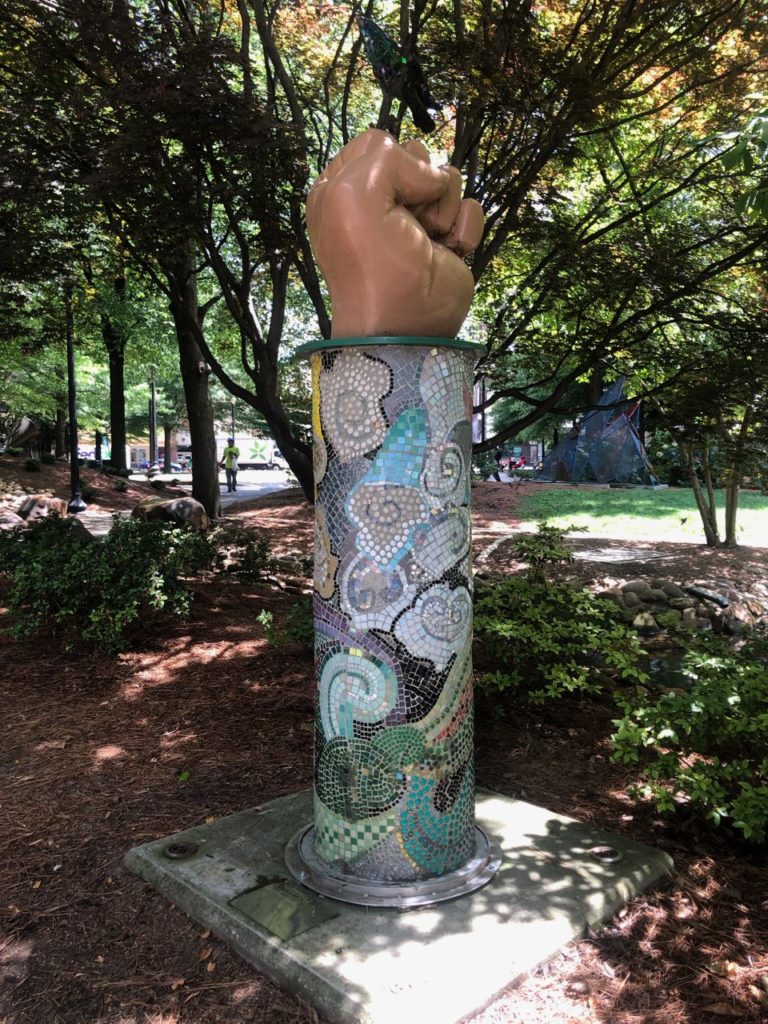 The drive from Knoxville to Nashville is less than three hours, making it one of our shortest driving days. That said, there aren't too many options for splitting up the drive, (unless you go to Memphis, which is six hours away from Knoxville and was too far for us).
So after some basic highway driving, we made it to our next stop: Nashville. Here we again opted to stay outside of downtown in order to a) avoid some traffic going in and coming out the next day, b) we found a new hotel by the airport that was exactly what we needed.
Where to Stay in Nashville Tennessee
The Element Nashville Airport has suites that were perfect for our family. We stayed in a room that had two queen beds with sofa bed. More importantly, however the room had a fully equipped kitchenette, including a large fridge, dishwasher and stove!
We were able to run to the grocery store and cook our own meals for a day. This was great because there weren't too many restaurant options nearby and it was so much easier than figuring out what to order.
The common areas of this hotel were also great! The lobby was nicely appointed with plenty of seating. The outdoor lounge area had grills available for guest use, and the pool was amazing!
We actually ended up deciding to stay an extra night here, just so the kids could spend an extra day at the pool!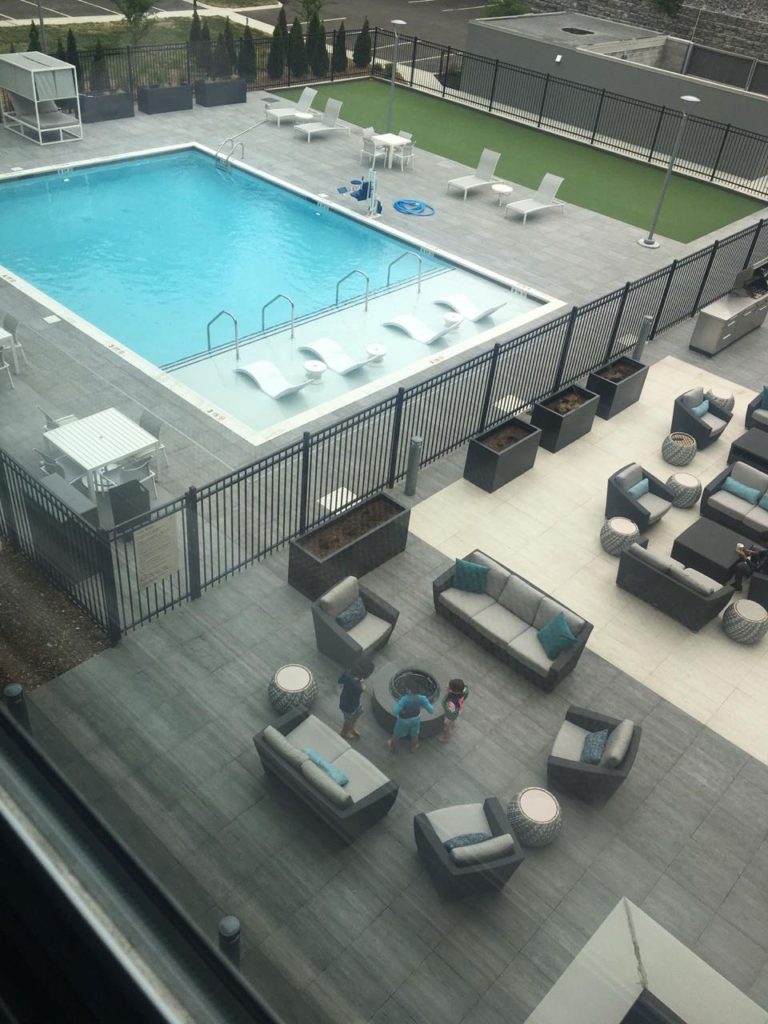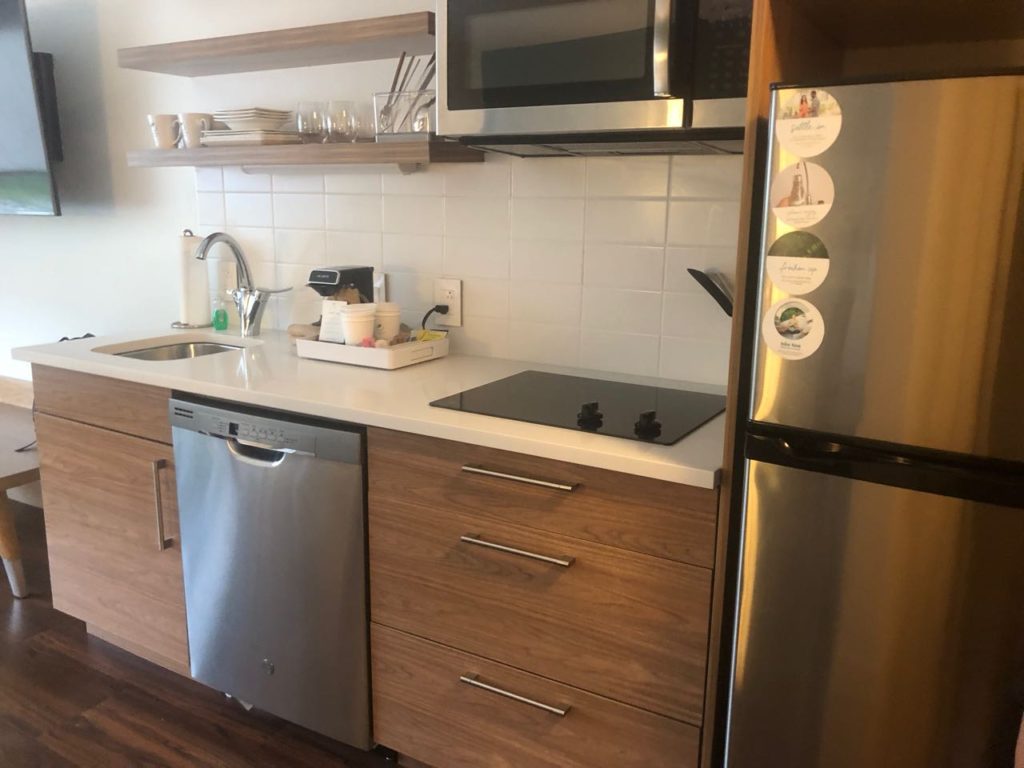 Day 5: Nashville, Tennessee to Memphis, Tennessee
Nashville Tennessee has a lot to do: Country Music Hall of Fame and Museum and the Grand Ole Opry, come to mind. We, however, did none of that! We spent the morning playing in the pool before hitting the road.
Nashville to Memphis is a short drive, straight down the highway again. By this time we had hit a good routine of searching for hotels (Daphna) while driving (Michael).
Where to Stay in Memphis
We decided to stay at the Fairfield Inn and Suites Collierville. This brand new hotel on the outskirts of Memphis was great for a family. Again we had a room with two queen beds and a sofa bed. I really enjoyed the layout of this room, where the sofa was almost in a separate office area. It felt very roomy, which is important when traveling with 4 little kids.
The ONLY reason we didn't stay an extra night was because the pool was closed. 🙁 Whomp, whomp. Otherwise the indoor breakfast area was good for sitting and working. Breakfast itself was non-existent so I can't comment on that.
Conveniently, there is an outdoor shopping mall right across the street from the hotel. We were able to walk over easily to have a look around. We grabbed a dinner at Firebirds which worked out well.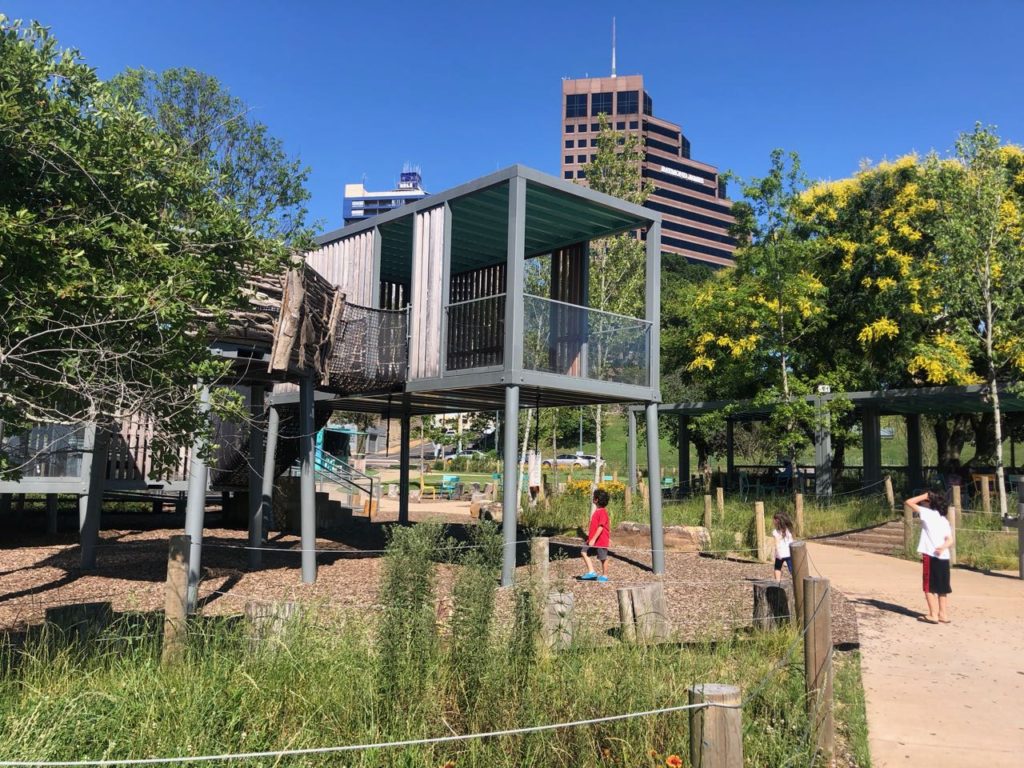 Day 6: Memphis, Tennessee to Little Rock, Arkansas
Since the highway goes right through the downtown of Memphis, we couldn't resist stopping with the kids to have a look.
Memphis with Kids
Our first stop in Memphis with kids, was the National Civil Rights Museum. This museum is located at the Lorraine Motel where Martin Luther King Jr was assassinated. The museum itself was closed, but we have great memories of it from our previous road trip to Memphis.
We were still able to read the signs together and continue our discussions on race with the kids. We grabbed a quick BBQ lunch and went to eat it outside the Tennessee Welcome Center, right on the Mississippi River!
The River Garden at the Mississippi River Park is the perfect place to run around before hitting the road. The playground has a fabulous climbing structure, grassy areas, and plenty of outdoor seating to enjoy the river.
The drive from Memphis to Little Rock, Arkansas was a quick two hours. Nevertheless it felt like a long day of activities, and we were happy to arrive in Little Rock!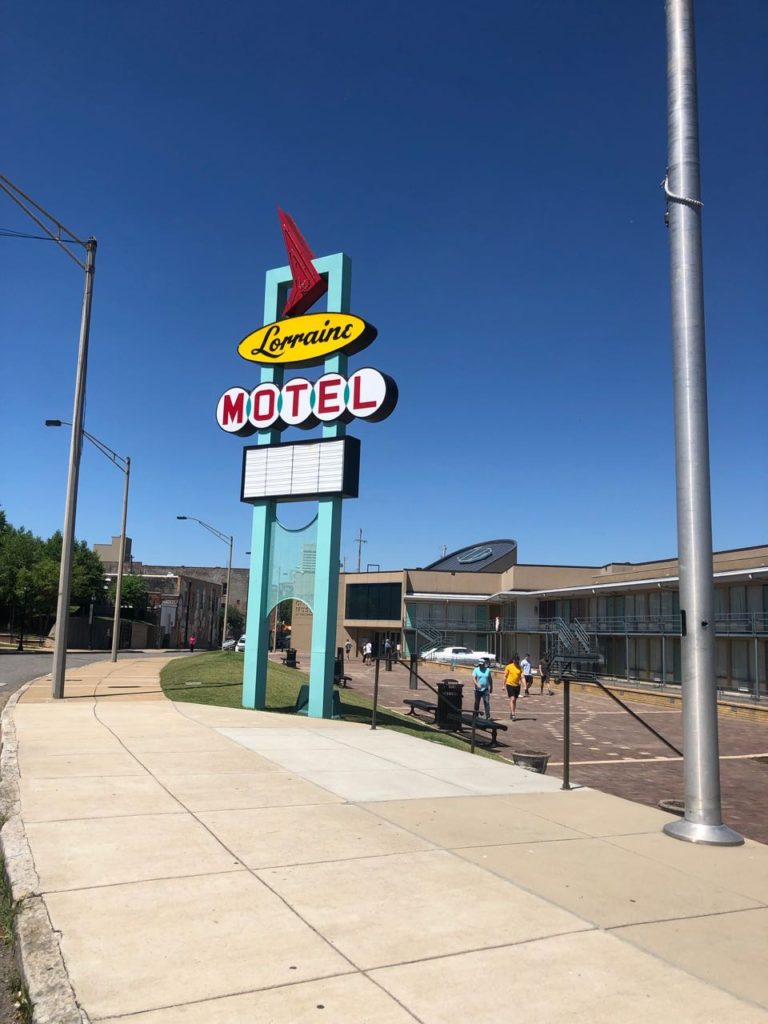 Where to Stay in Little Rock
Little Rock looked nothing like I expected. I'm not sure what I expected, but I was pleasantly surprised. We decided to try another brand new hotel the Aloft Little Rock West!
We generally like the slightly edgy vibe of the Aloft brand, (loved this one in Long Island City) and find the beds more comfortable in this former SPG brand, than other Marriott affiliated hotels. Therefore, even though the room only had two beds, they were able to supply an extra blow up mattress and we were happy with the choice!
There were some hiccups, it being a new hotel, but overall the stay was good. The supplied little tent for the kids, and games in the lobby were a hit! The fenced pool area was a little quirky, (you have to go through the building to access it), so we didn't get to use it much.
Where to Eat in Little Rock
I'm sure there are other options downtown, but we were able to find a couple good places to eat near the hotel on the west side of Little Rock.
Star of India– This Indian restaurant was exactly what we wanted! After mostly American fare during our road trip, we were excited for some chicken tikka masala!. Everything was good and curbside pickup was easy!
Big Orange Burger– This is a local chain, and the burgers were on point!
Day 7: Little Rock, Arkansas to Longview, Texas
As I mentioned above, we were surprised at how beautiful Arkansas is! No wonder it is called the Natural State!
We had a wonderful evening nature walk at Conner Park! It was a perfect little short walk around the pond, and was really great to take a break from all the Zoom calls!
Before leaving Little Rock, we attempted to visit Pinnacle Mountain State Park. However, we grossly underestimated how many people would be there and there was not a parking spot to be found! After many circles we gave up and went to pack up our things for the next leg of the journey.
Driving from Arkansas to Texas
After several days of short drives, we were back to a longer driving day. Little Rock to Houston is a 7 hour drive! So we decided to break it up by staying a night in Longview, Texas, which was 3.5 hours away.
On the way from Little Rock to Longview, you bypass Hot Springs National Park. We originally were very excited about the possibility of checking out the bath houses. However, they are not for children! So we decided to skip the detour, and stay on the highway.
In Longview, Texas we weren't too happy with the lodging options. We ended up settling on a room that was good enough for sleeping.
Day 8: Longview, Texas to Houston, Texas
This day we were ready to push to get to Houston. The drive from Longview to Houston is 3.5 hours. This part of the drive was probably our least scenic day.
Along the way, we grabbed some lunch in Henderson, Texas where there are several restaurants along the highway.
Our longest stop for running around was at Kit McConnico Park in Lufkin, Texas. It is a huge park, with tons of room, and not far off the highway. Our daughter checked out the playground while the boys played an intense game of soccer!
In Houston, we stayed with family, so I don't have specific recommendations from this trip. However, here are things to do with kids in Houston, and perhaps I'll be back with food and lodging recommendations on another day! (Or ask me in the comments!)
Day 9: Houston, Texas to Austin, Texas
We ended up having to stay several days in Houston, as the moving truck from New York left behind schedule.
When we finally got the call that our moving truck would be arriving the following day, we hit the road from Houston to Austin. Since we just recently did this drive in early January, I'll direct you to that post with all the details of driving from Houston to Austin!
Tips for a Road Trip Right Now
What good would a post about a road trip for relocation if it didn't include some practical tips? So here goes:
Call hotels you plan on staying at and ask about their current protocols: many are leaving time between cleaning the room and new occupancy. Pools and exercise rooms may be closed or need a reservation.
Most hotels are not serving breakfast even if it is included in the room rate. Some will give you a granola bar, piece of fruit or water bottle. Ask about this as well if it is something you are banking on.
Many rest stops are closed or not staffed. Some are open and are being cleaned but there is no one to speak to about travel.
Many gas stations and mini markets require masks, so keep those handy if you are going indoors.
The side of the road is a great place to stop, just sayin'.
Eating out is not what it used to be and varies highly from place to place. Some places are open for indoor dining, others only for patio dining, and still others only for curbside pickup. Call ahead and plan to eat at a park!
Would you take a road trip right now? Are you considering relocating to a better for now location? Will you be working while on the road?