When we moved to New York City in 2015, we were a family of four, moving into a sublet for four months. Five years later, we were a family of six, still living in the same apartment. This is the post that will detail, why we moved into a one bedroom, why we stayed and how we made it work!
If you are considering moving to New York with kids, then start with my first post on What it's really like to live in NYC with kids. Then come back for the details of our exact living arrangement.
This article will be all about how you can accommodate just about any living situation to fit your growing family. You don't have to move just because your family is growing, here's how to make it work!
This post may contain affiliate links. Thank you for supporting our work.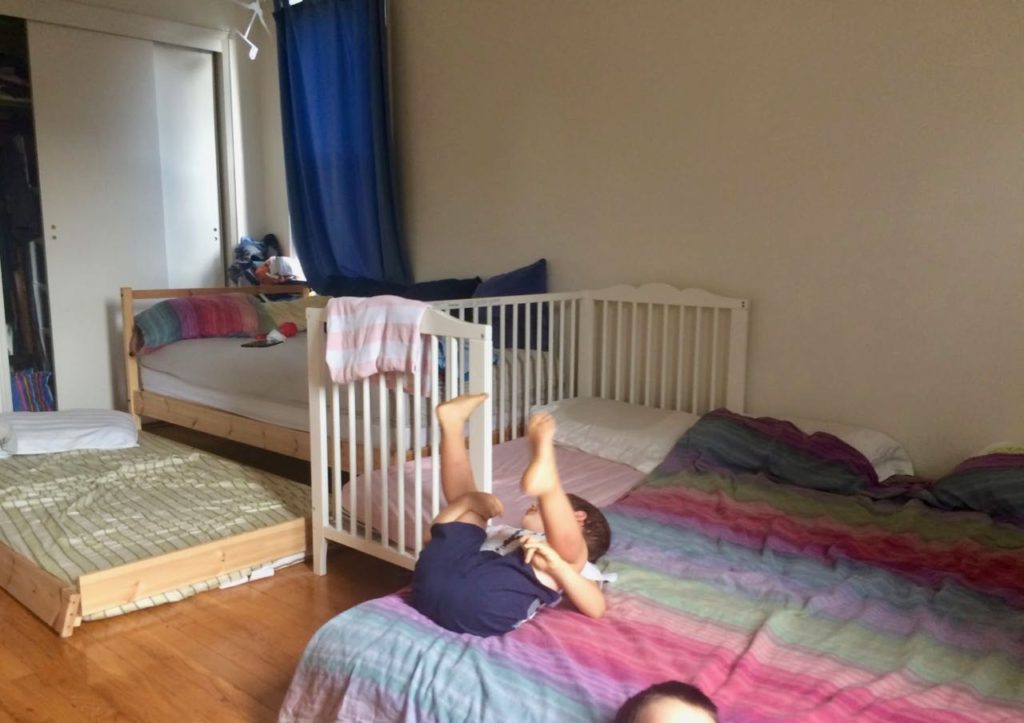 Why We Moved into a One Bedroom Apartment
When our lease was up in Jersey City, New Jersey, we took a two week "vacation" to Boston to figure out next steps. Our best employment leads were in New York City, so it only made sense to stay in the area.
That said, we were "over" the exorbitant rents in Jersey City. So we headed to Craigslist, Zillow and Street Easy to check out apartments in New York City.
With minimal research, we focused in on Brooklyn and Queens where rents were less than Manhattan, and we knew some people. (Isn't that often the reason we move places- because we know someone that lives there?)
On a quick weekend tour, Michael was able to find a four month sublet in South Brooklyn. Even though it was a one bedroom apartment, the square footage was around the same as we had been living in Jersey City (900 sq ft) and it was only for four months, so we would make it work. Famous last words.
Here are the incremental changes we made to accommodate a family living in a small apartment…more or less in order of importance and not necessarily in the order we made them.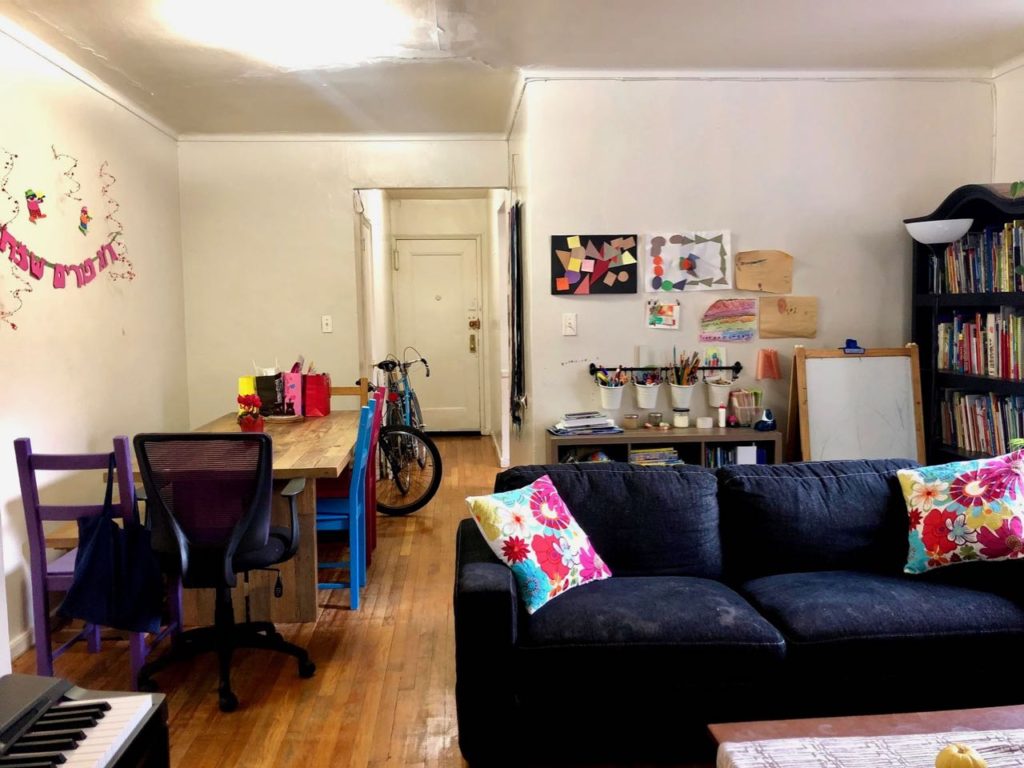 Changing the Furniture Layout (multiple times)
I told you guys the story of how we were able to stay beyond the four month lease in this post (and if you're new around here, yes it involved a sink).
What I haven't yet shared, it that when we first moved in the sublet was partially furnished, and when we took over the lease, we had to track down the owner of the furniture to see if they wanted it back. They did not. So after getting rid of most of it, we started bringing in our own furniture.
The Key to Living in a Small Space is the Layout!
Initially we had an eat in kitchen with a dining area, a main L shaped living area and one very large bedroom. Everyone slept in the bedroom: a queen for us, a twin bed with trundle for the boys, and when our daughter came along, a crib as well.
This meant that ALL of our office, storage, toys etc were in the living room. It worked well for a while because the living room was big with plenty of room to play and only the top half of the "L" shape was full of junk.
In time, that area became the bane of my existence. It had accumulated a laundry drying rack (more below), and was a magnet for getting "junked up" as my kids would say. It was impossible to keep tidy.
While having the kids in our bedroom was great for them, helped resolve a lot of sleep issues, and made it easy to parent in some ways, we were ready to move them out.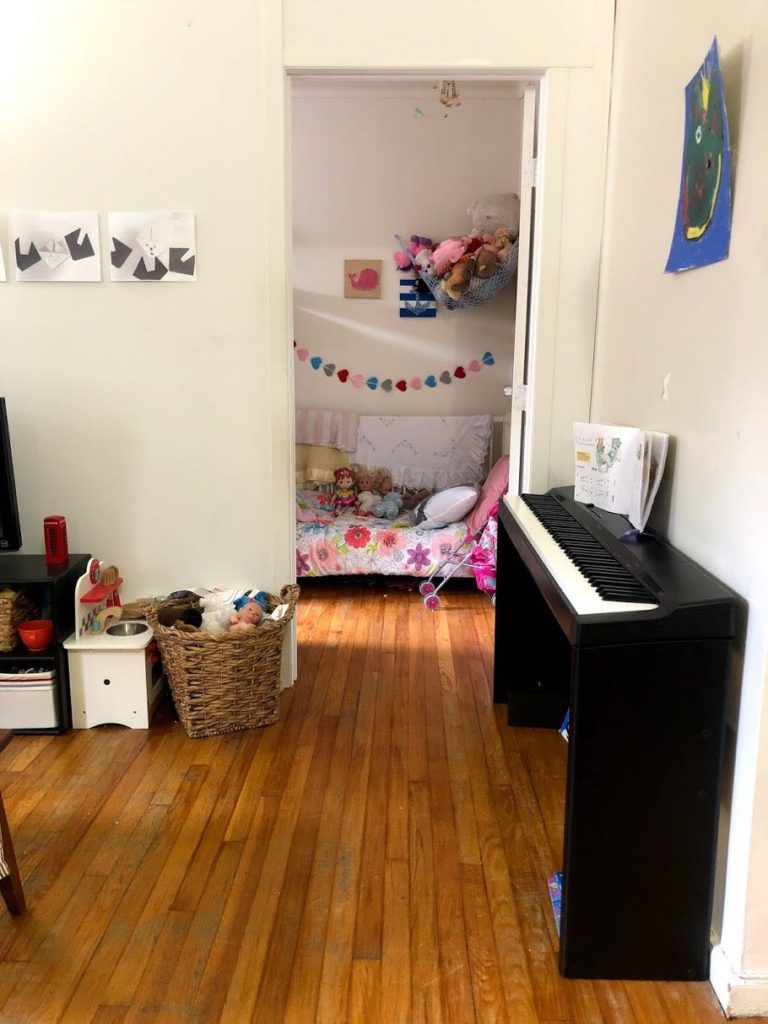 Build a Temporary Wall
Real estate prices in New York City mean that square footage is expensive. So putting up a pressure mounted wall is a good solution, even the NY Times has reported on it.
Our living room was plenty big to divide up. It also had two windows and heaters, meaning that we felt comfortable that each space could be properly ventilated.
Our super approved and so we hired Room Dividers, to come put up the wall. Within a matter of hours, we had a new wall with a door up.
This of course made for a very small bedroom for the kids. We bought a bunk bed for the big boys and it worked out great. Of course this became a sleeping only space.
The other thing that happened after we built the wall, is that I decided to move our dining area out of the kitchen and into the living area. Our former eat in kitchen, became a kitchen, laundry and storage area. This was a huge improvement, but again required us to be flexible with moving things around until we got it right!
Buy a Portable Washer
One thing parents know is that laundry with little ones at home is never ending. Initially we had two options: the obvious choice was to use the laundry in the bottom of our building.
There were three machines for each side of the building (48 apartments). Washing cost $2.50 or $3.50 and drying $1.50 per load. This was in a pretty small machine and the machines were always busy!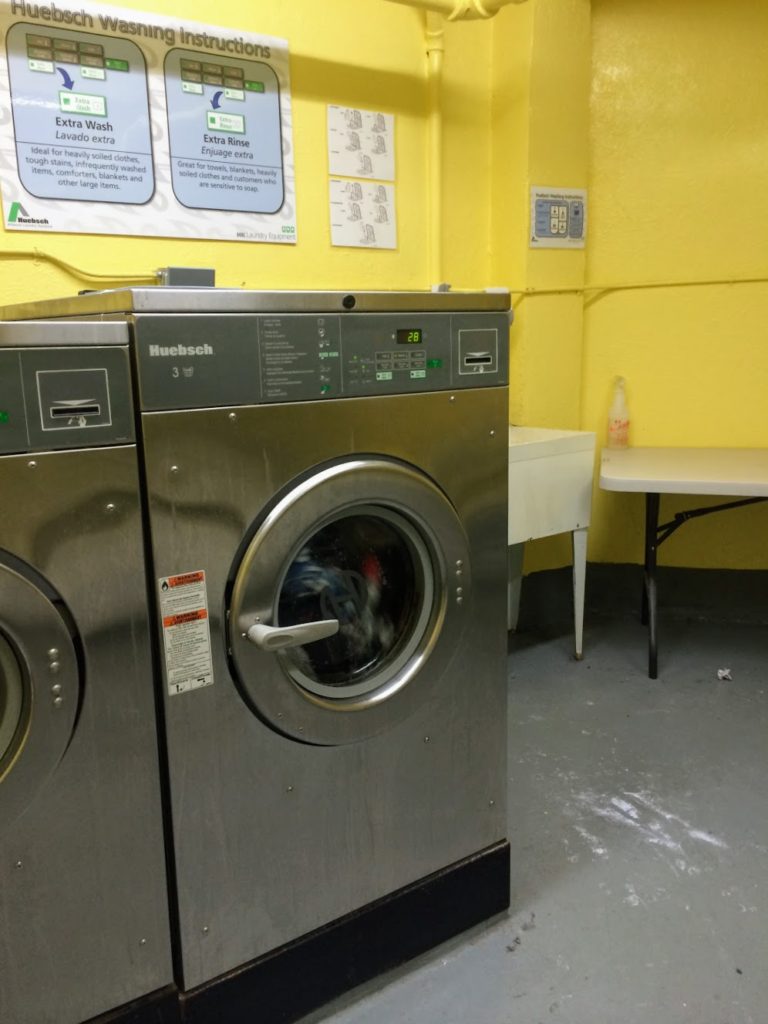 The alternative was going to a larger laundromat where we could wash all of our laundry in two or three big machines at the same time. On the one hand the laundry itself was more efficient, but on the other hand this required bagging up the laundry, taking it to our car (parked on the street), driving to the laundromat, parking, washing and then bringing it all back.
Needless to say, I was not cool with it! When we officially took over the lease, we did what many of our neighbors had already done: got a portable washer. (Ours was Haier brand, no longer available, but 2 cubic feet in size is essential with a family, 1 is too small!)
From then on, laundry became a middle of the day activity for me. Connecting the washer to the kitchen sink meant that the sink was not available for cooking, washing dishes, or anything else, so I would do this sometime in the post breakfast but before dinner time.
Cloth diapered with a portable washer
When baby A was born, I retrieved our trusty cloth diapers. Having our own washer meant that, we could easily wash them.
I hung the laundry on a drying rack initially in the living room, and later in the kitchen when we moved the dining table out to the living area.
It was surprisingly simple. The portable washer uses enough water to get them clean (more than our new high efficiency washer actually).
Bought an Air Filter
Here's a small thing that we did that made a big difference. New York City apartments are notorious for having loud clanging forced air heating systems. When you live on the top floor, you unfortunately also get a good amount of dust coming through.
We did a lot of the basics for improving indoor air quality, like keeping windows cracked, and having house plants. However the most impactful thing we did was buying an air filter.
This is the air filter that we researched and eventually ended up buying. I do recommend this model, as it has a HEPA filter and has worked great for us (still using it). I am very sensitive to air quality, and instantly get headaches from pollution. It made a world of difference and highly improved our indoor air quality.
Storage Everywhere
To make living with kids manageable in a small space, keeping belongings pared down is essential. Decluttering is a way of life in the city, and there's a reason that minimalist style is perpetually fashionable as it helps "create" space which is so important if you are living in a small space. I would regularly drop off items at a donation bin nearby.
Even more so, creating lots of storage space makes everything work better. For example, our dining room bench has a shelf where we put bins with lesser played toys. The kids were able to get them when they wanted, but mostly it was out of sight.
Another example: we found these narrow trash cans at Ikea. These worked perfectly as laundry baskets in our hallway because they didn't obstruct the door, and yet were right by the bathroom. I marked the tops with light and dark colors for the kids to sort- all about that here!
Under bed storage worked really great for out of season clothes. These weathertight bins are the best! Just check the measurements to see which ones will fit under your bed. We had both the taller ones and the shorter ones!
As I mentioned above, we also used our former eat in kitchen as a storage area. I called it my "garage" since we didn't have to be in there, except while cooking or washing.
It's taking a lot of humility on my part to post this picture below. The lingering perfectionist in me wanted to find a picture from when it was neat and clear, but this is real life with kids! You can see our laundry hanging station as well on the left. Then there were wall hooks on the right for kids backpacks and winter coats.
This garage storage unit in our former eat in kitchen mostly kept things that we now keep in our garage. Here's a quick run through: our camping box, nano stroller, coolers, microwave, reusable bags, dress up clothes, winter accessories, summer gear, Costco sized boxes such as the ziplock bags you see, hardware, some in between clothing sizes for the kids.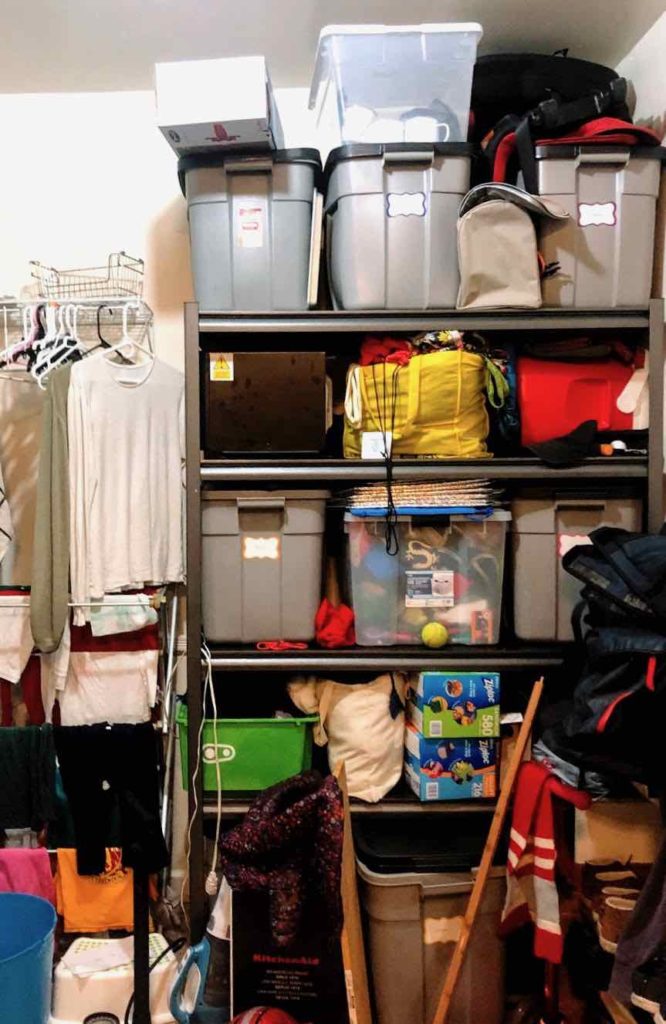 Kept a Storage Unit
But also, we kept a small off site storage unit the entire time we were living in New York City. We sort of "fell into" having a storage unit, because when we moved out of our place in New Jersey, we didn't yet have an apartment lined up and put everything in storage.
Once we were able to get rid of the sublet furniture and bring in our own stuff, it was convenient to leave a lot of our outdoor gear (read: bicycles), bulky seasonal items (read: air conditioners), and other items we weren't actively using, in storage. We ended up keeping the unit, and swaping out items every four months or so. I also used it for toy rotation, kid clothes and baby gear.
Financially, the cost of a storage unit was much, much less than getting an apartment with an extra bedroom.
Why We Stayed
So now that I've run through how we made it work, I thought I should take a quick moment to run down WHY we made it work. Because all things considered, it probably would have been easier to move to a different apartment than to keep reconfiguring our space as our family grew.
The apartment was a top floor corner unit! My bedroom was flooded with light. We had the most gorgeous sunsets, and the views of trees made me happy!
Speaking of trees, our neighborhood had so many huge tree lined streets. It made for a really nice walk when we were in the area and was significantly quieter than other areas.
The unit was rent stabilized, so our rent barely went up during our years in New York. There is no way we would have found such a good "deal" again, and spending less on rent so that we had more for other things was the right choice at the time.
The usual reasons people stay someplace: school for the kids that we loved, work, friends, family.
Living in New York City means there is always something to do, somewhere new to explore, something going on. It fulfilled a lot of wanderlust for us! Here's our NYC bucket list.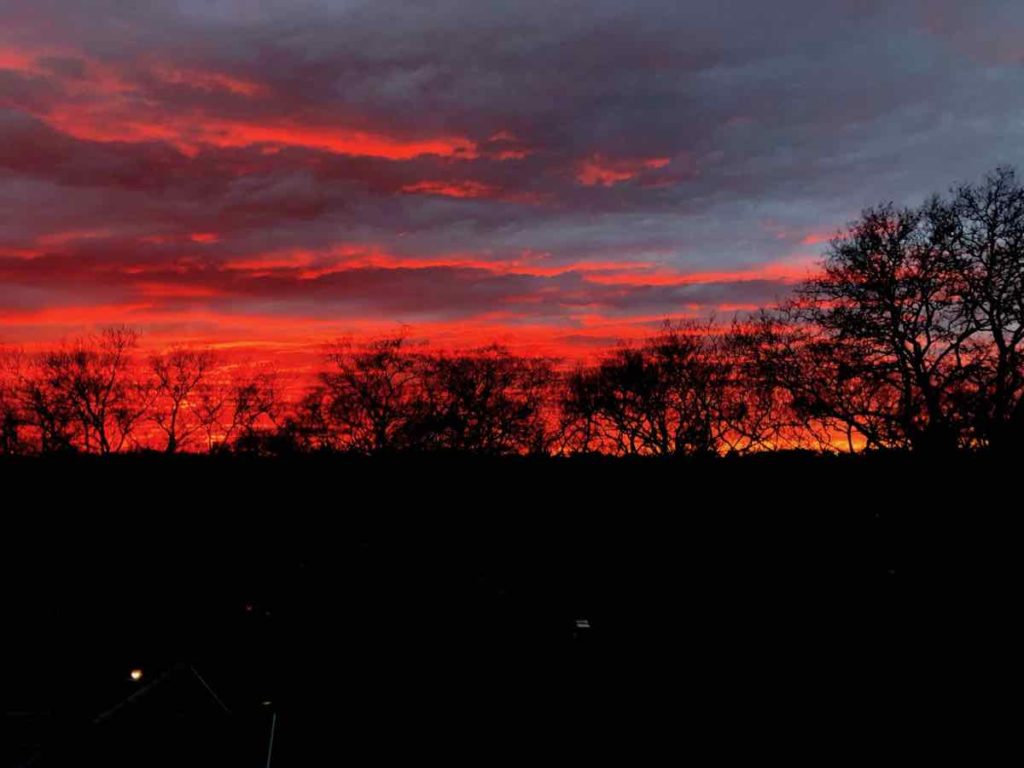 Why We Left
I've been asked many times about why we left New York and if we are planning on coming back. So I will wrap up with why we eventually were not willing to make it work any longer.
The immediate reason for why we left has everything to do with lockdown. Being home all day with six people in a small apartment was brutal. In a deeply emotional, mental, spiritual way, we just couldn't stay. But if we were "real" New Yorkers perhaps we would have stuck it out.
We had actually been thinking about our next move for about a year already. When we took this quick trip to Austin, a future move was on our mind. The main reasons why we were ready to leave:
Winter weather in New York lasts for like 6 months, and personally I hate the cold! It also makes getting around hard, especially with kids, and especially on public transportation.
The insane number of people, number of buildings, number of cars and everything that comes with it became a feeling of suffocation.
A deep desire for outdoor space, which make life in general, and especially life with kids much easier, was cost prohibitive.
The pace of life, subway commutes, and constant hustling just to get basic things done (like grocery shopping) changed from being invigorating and worth it (in our minds), to draining. Instead of enjoying the events, museums, restaurants etc, we found ourselves constantly looking forward to getting out of the city. And yes, many New Yorkers we know do exactly that: get out of the city often. But we were ready for a slow down every day and not just on weekends and vacations.
So that's a wrap!
What do you think about living in a small space as a family? Would you make it work? Any other questions about living in a one bedroom or in New York City? Leave them in the comments!