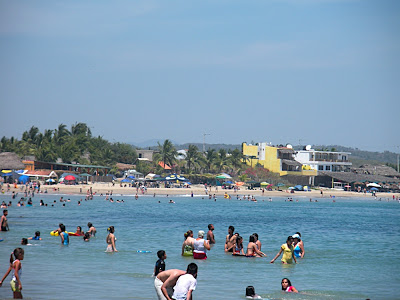 The following morning- we were out of Puerto Vallarta. PV had fulfilled the best and worst of our expectations accurately and we were ready to move on.
Leaving Puerto Vallarta South
We took the infamous Highway 200 heading south. We made one stop outside of town at the Botanical Gardens. They weren't huge but were pretty and a way to enjoy the green hills we were mostly just driving through.
Punta Perula
D had researched the lookable (rocky), surfable (rough) and swimmable (bathtub) beaches on the coast, and so we headed to the northern most swim-able beach accessible by road (the rest only by boat).
We arrived in Punta Perula midway through the day to join the Mexicans on their beach vacations.
One neglected point of research, however, was that 90% of the accommodations on the beach are RV parks, and that the vast majority of vacationers came with tents, chairs, and coolers.
We stayed at the one hotel on the beach in an "all-inclusive" package that included 3 cafeteria meals (they ran out of fish on the beach, so ground beef for lunch??? seriously?).
Determined to make the best of it- we bought an umbrella for some shade and did get to enjoy some swimming and a very long walk past some abandoned hotels. (For some reason the theme of Costalegre– the stretch between PV and Manzanillo- is abandoned resorts).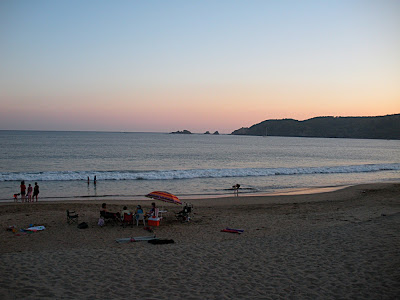 Tenacatita
By the next morning we were ready to go. Even though the beach was very pretty, the lack of even rustic tourist infrastructure was too much for us.
The next swim-able beach down the coast was our favorite from the last trip- so we decided to make a day trip to Tenacatita. We did make a stop on the way at a couple look-able beaches, but were happy to reach the friendly shores of Tenacatita.
Something about the cove is so very inviting- the restaurant workers friendly and low key, but not so rough around the edges. While the beach was great, the water fun and the food fantastic- by mid afternoon the beach was PACKED with Mexican families and we decided it was a sign to us that it was time to go home.