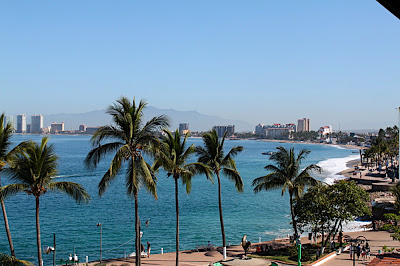 Having been forewarned that Semana Santa (the week leading up to Easter) is super busy in all of the Mexican beach towns, we decided to risk our chances and take the drive down (or up?) to Puerto Vallarta.
The beach town is mostly known for big resorts and a party atmosphere and neither of us would dispute those claims. As we winded down the highway into town it was LP to the rescue!
Puerto Vallarta Los Muertos beach
We found a cute little hotel that was affordable, clean and friendly (if only about a block and a half too far from the beach).
So we started in the heart of PV at Los Muertos beach and let's just say it wasn't our style- busy, busy, busy with restaurants, hawkers, and un-swimmable water.
It did get us in a beachy mood though and we spent the evening strolling down the Malecon- boardwalk- full of street performers, partiers, families and style, and enjoying perhaps our best pizza to date in Mexico.
Sayulita and Nuevo Vallarta Impressions
The next morning we decided to head to Sayulita (north of PV) known as a surfer beach. There were indeed surfers, but we would more accurately describe this as the Palolem of Mexico- full of hippie gringos and barely a Mexican in sight.
It was a quiet and relaxing morning but with no swimming we decided to head slightly southward to Nuevo Vallarta for the afternoon. And that was an eye-opener.
Nuevo Vallarta is like a huge resort- there's no town per se, only one resort after the other. But as Mexican beaches are all public we just walked through one of the lobbies to access the beach. Boy was it nice- quiet, clean and barely a soul on the actual beach. Needless to say that if we had the cash- this is the place to stay- artificially fake or not- it was nice.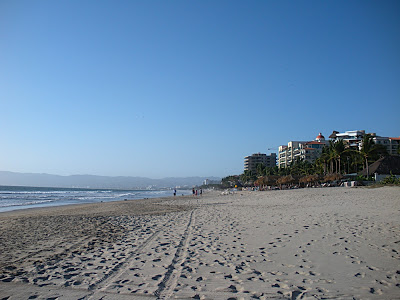 Puerto Vallarta Downtown
Our third day we decided to check out the "attractions" in town- the Cathedral, the Market, the main Plaza- if you've been to one…
Then we walked along the boardwalk called a "river walk" that is on the island in the middle of the Rio Cuale which runs through the city. What was supposed to be a green patch was full of one stall after another selling beachware, knick-knacks and the like, dotted with a teeny-tiny historical museum at the end.
Beaches south of Puerto Vallarta
Having checked out the north, we headed for the southern beaches. The southern part is mostly rocky with little patches of sand here and there. The road winds through green cliffs in what is most certainly the prettier part of the coast.
On our way we came upon a cute restaurant situated on one of the cliffs with pretty amazing views and ended up settling for the day in the southernmost beach reachable by land- Boca de Tomatlan.