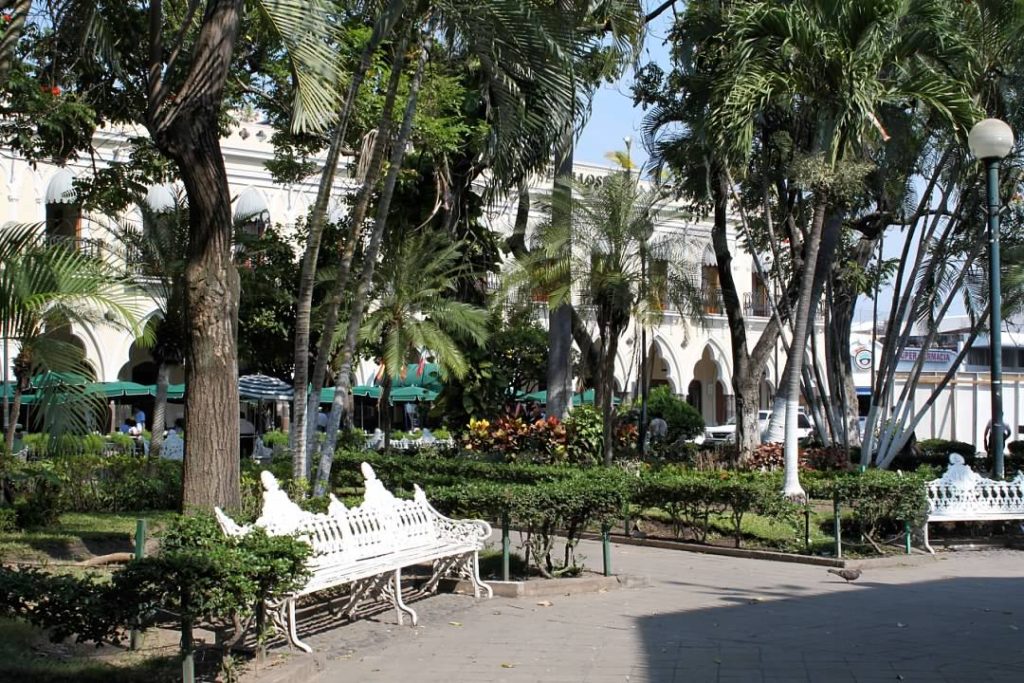 Take a trip from Guadalajara to explore Colima and Jalisco beaches. This driving tour will bring you to the most picturesque towns in Colima, past a volcano and on to the peaceful beaches of the Costalegre.
Costa Alegre, meaning the happy coast, literally starts in Manzanillo and ends in Puerto Vallarta. It is full of small coves and therefore makes a good location to relax, although you won't really find any "American standard" hotels.
Our latest trip to Cuastecomate reminded me that we never put up our Pacific Coast Tips, that have been waiting since our last two trips going South to North (this trip), and then North to South.
So here they are the beaches of the Costalegre from South to North. We have noted which beaches are best for "surf" (rough beaches), or "swim" (swim-able), and any other tidbits you might want to know!
Read on for the ultimate guide to exploring the Pacific coast outside of Guadalajara!
Driving from Guadalajara to Colima
To begin your driving tour, head out of Guadalajara on the Autopista Guadalajara – Colima/Guadalajara 54D (toll road). The signs are pretty straightforward once you get on the highway.
Driving time from Guadalajara to Comala, Colima is just under three hours. Now technically you will pass by the turn off to the Volcán de Colima, however during our time there it was recommended to get a guide to go to the volcano from Colima (the capital of), Colima State.
Comala, Colima
Our first day outside of Guadalajara, began with a highway drive and a short stop in Comala, also known as El Pueblo Blanco.
There wasn't much there, just the typical town square with Cathedral, but we walked around most of the town and it was super cute and picturesque, with all the houses being white washed with red roofs.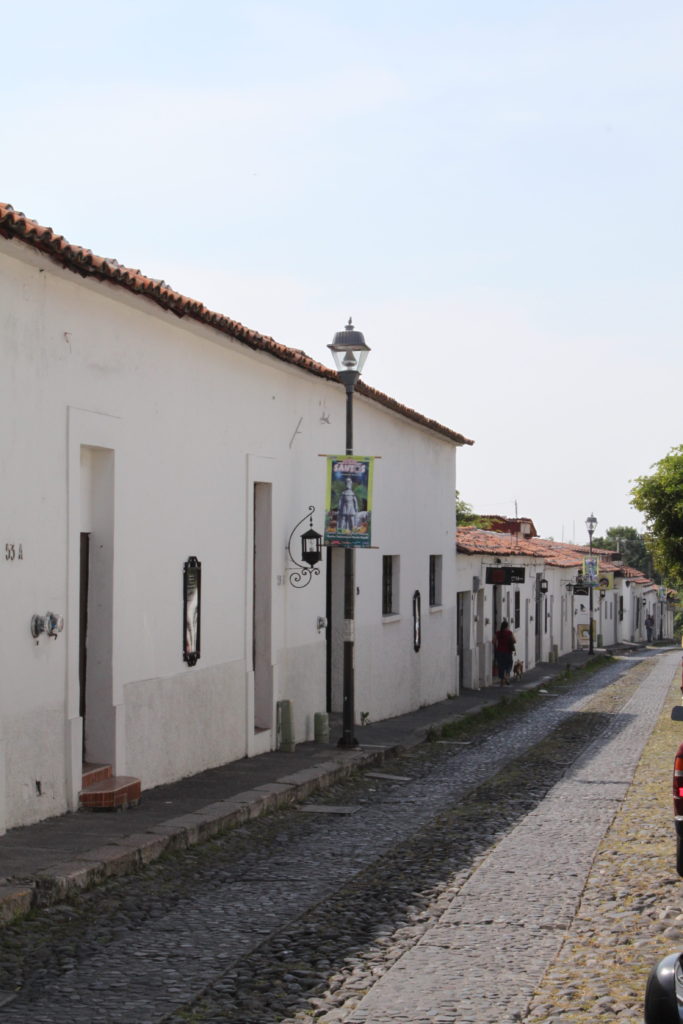 Colima, Colima
From Comala it is just 20 minutes to get to Colima. Colima is a much larger city, capital of the State of Colima, but again there wasn't much to see.
We did however have a good lunch, picked up some brochures and got on the internet in a park!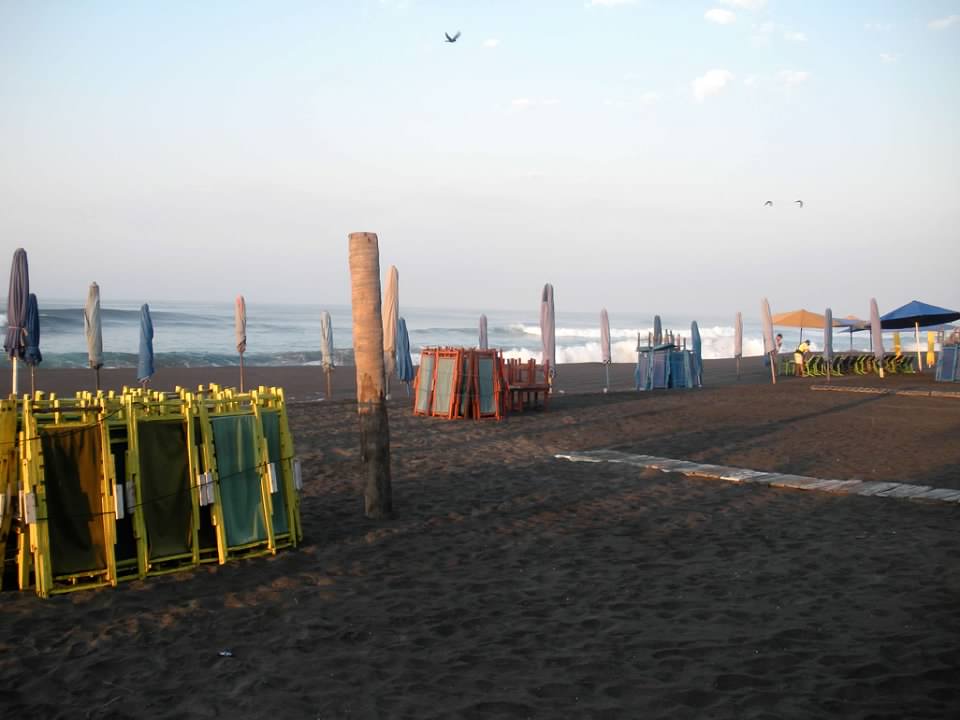 Cuyutlan
Then we were off to the beach town of Cuyutlan to stay in a friend's apartment. The beach town is super small and it was pretty quiet without any of the Mexican vacationers.
Cuyutlán is a black sand beach, best for surfing. It has a few rustic accommodations and several palapa restaurants. There's really nothing going on in the town itself, but there is a Turtle Sanctuary nearby which is supposed to be interesting (but closed on Wednesday). The best part is that getting to the beach is so easy- when the highway ends, you're there.
The sand was totally black and the waves really strong, perfect for surfing but no swimming. We didn't know that all the beachside restaurants close at 6pm; so it was tortas (sandwiches) for dinner.
The following early morning started off with a long walk along the black beach. We returned before any restaurants had opened but there was one guy with coconuts and we had the juiciest (milkiest?) coconuts ever for breakfast (topped with lemon, sea salt and chilly).
There aren't a ton of accommodation options in Cuyutlán, but there are a few basic guesthouses, which is all you need if you are coming to enjoy this small and quiet town.
Zoom into the map below to see lodging options in Cuyutlan: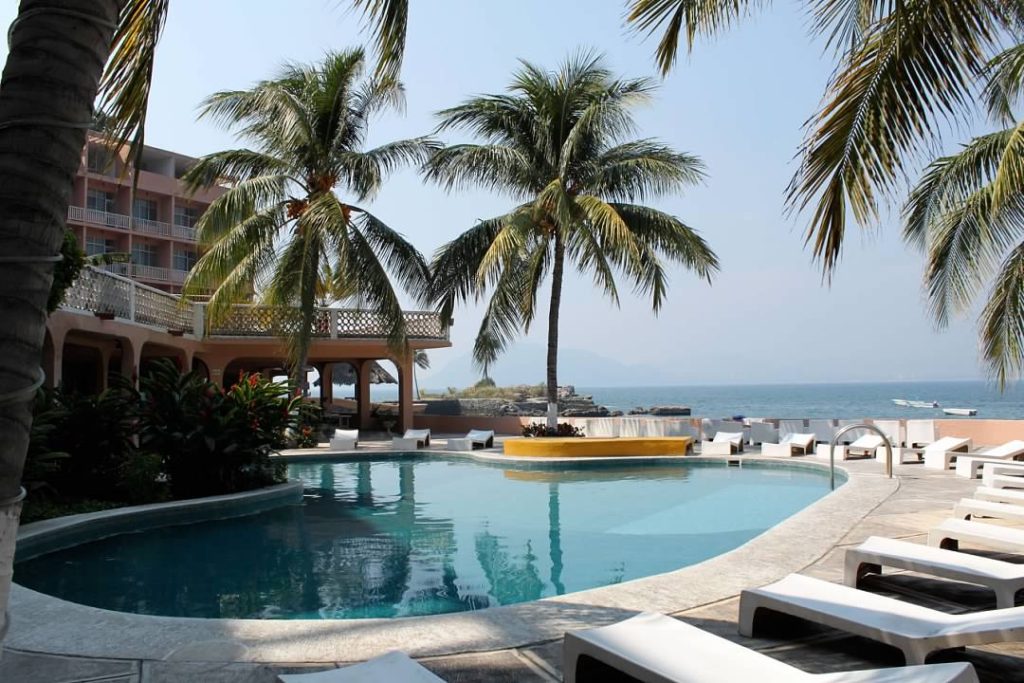 Manzanillo
After a failed attempt to visit the turtle sanctuary, we started the drive north and stopped in Playa de Santiago, in Manzanillo. We had a proper Mexican breakfast in a beachside hotel that was the most retro-awesome hotel.
Manzanillo itself is a big port city and therefore the beaches a pretty polluted. There are several large hotels (with golf courses even), but we wouldn't venture in there…If you do- our favorite is Playa de Santiago, which is a beach you can swim at.
Barra de Navidad
Barra de Navidad is on a really large cove that is quite beautiful. This beach if best for surfing. It was more built up for tourism but is still on the basic side.
Melaque
Melaque is another surf beach. It has more of a dusty Mexican town and lots of small (and not super attractive) hotels.
Cuastecomate
Then we continued north and made a slight detour (mistake) to the cutest little cove beach (Cuastecomate) for some oysters and coco-loco.
Cuastecomate is a tiny cove, good for swimming. It has a few restaurants, is good for a day trip from Guadalajara or another beach, but there are only 2 lodging options: a run down hotel and a house for rent (for 12 people).
La Manzanilla
La Manzanilla is a low key beach, good for families! It has a calmer beach you can swim, rustic accommodations and many palapa restaurants.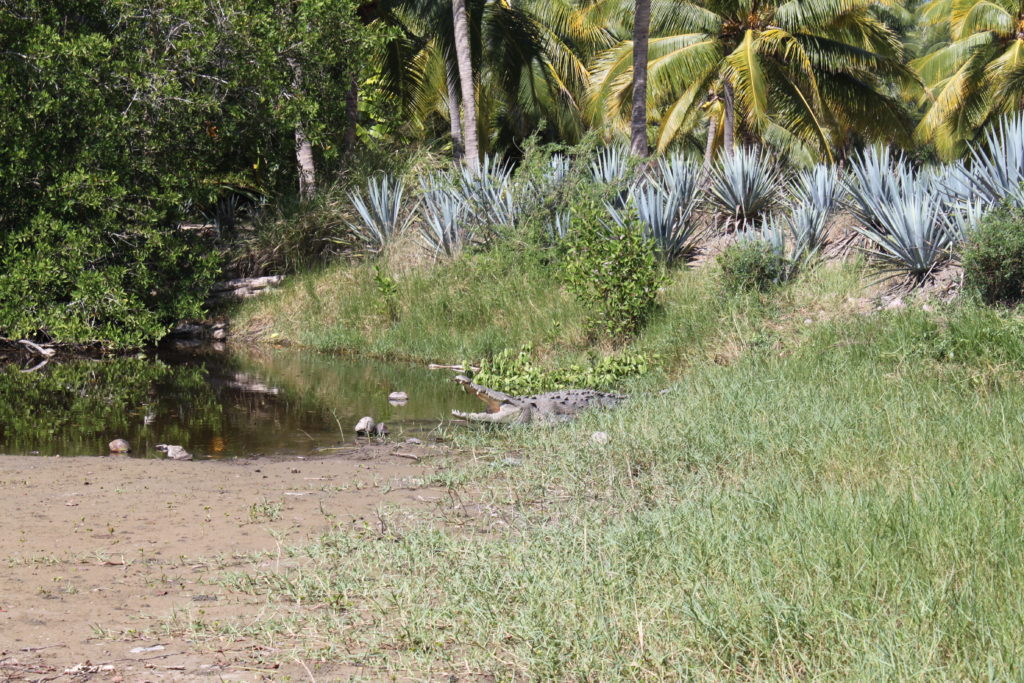 Boca de Iguanas
We stopped just a few kilometers away at Playa de Iguanas (Boca de Iguanas), where we didn't see any iguanas but did see a HUGE crocodile. So while it was very pretty we decided it would not be a suitable future vacation beach.
Boca de Iguanas is a nice beach with crocodiles, and good surf. The main accommodation here is an RV park.
Tenacatita
A little more driving on a windy hilly road and we were in Tenacatita beach. Finally there was soft sand, calm waters and plenty of open (albeit empty) restaurants to enjoy the evening.
Tenacatita has a similar vibe to La Manzanilla. It is special because there are coves facing both east and west, so you can see both sunrises and sunsets. Unfortunately going through some troubles.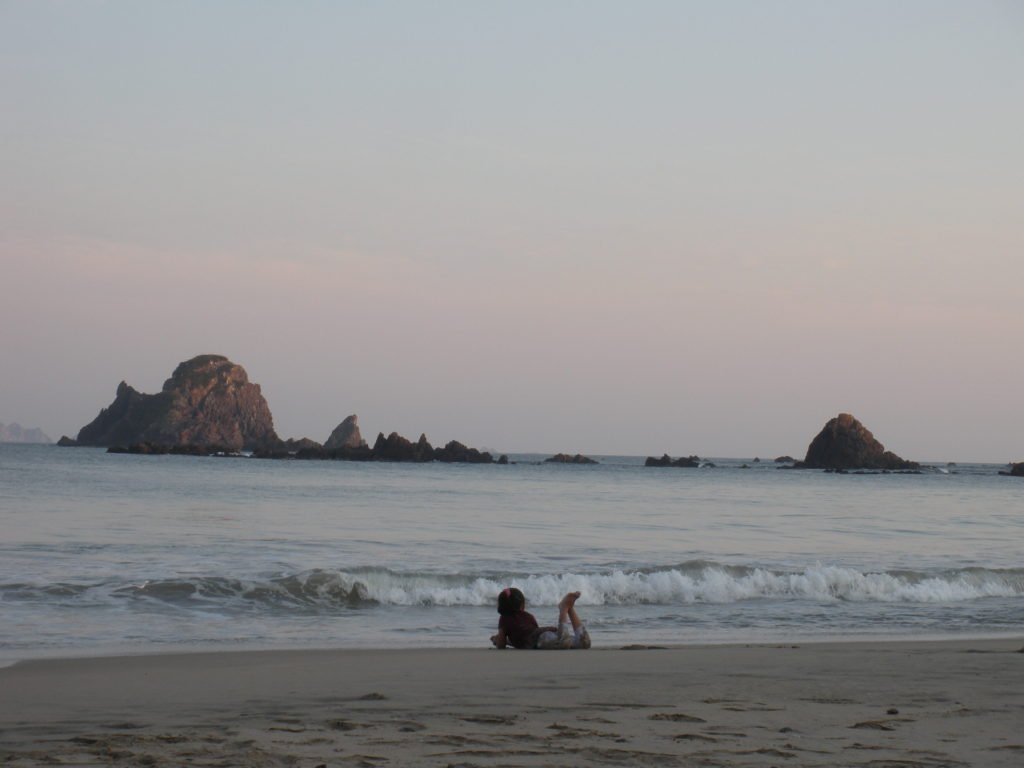 Our final day started with another long walk on the beach, breakfast and a quick swim. The beach was surprisingly longer than it seemed and strangest of all, the sun was coming up in the ocean (south-east) even though we were on the pacific!
The coolest thing about Tenacatita, is that you can walk less than 10 minutes and get to another little beach that is facing north-west (but no restaurants or swimming) and we did see a few Canadian RV trailers taking advantage of that view. We were then off to complete our beach reconnaissance mission.
Tenacatita was our last stop on this trip, but here are the other beaches on Costalegre on the way to Guadalajara:
Careyes
Careyes is home to a luxury resort and private homes. This beach is located on a very rocky strip and the houses are perched on the hill above. It might be nice a nice place to vacation but seemed very isolated to us.
Punta Perula
Punta Perula is the northern most beach reachable via the coastal road. It is good for swimming. There is a longer stretch than the above two, but even more rustic.
Most people come to camp or stay in an RV. There is one "full service" hotel that we stayed at, but we wouldn't recommend it.
Northward are the beaches of Bahia de Banderas, a.k.a. Puerto Vallarta, coming up in another tips installment.
Return to Guadalajara
On the way back from the Costalegre to Guadalajara, we made one more stop in Manzanillo's Playa Azul. This is a built up beach on the main road just by the port, which is the largest port in Mexico, for a quick lunch and then it was back to Guadalajara.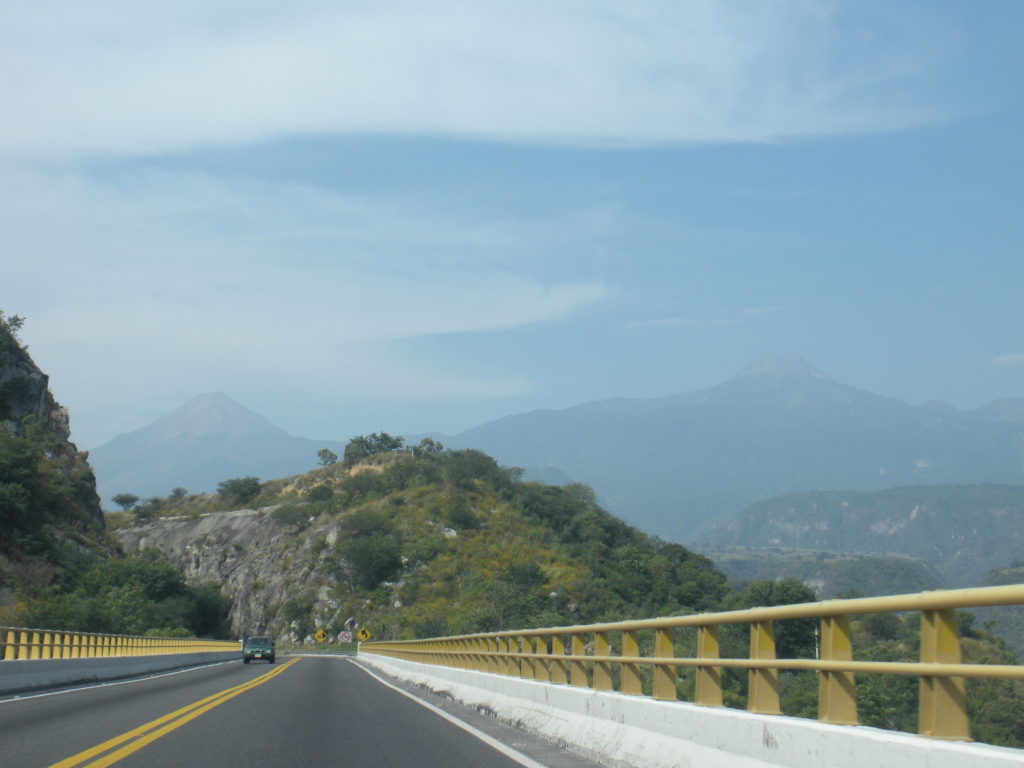 Our last day in Guadalajara, we signed a contract on the house, browsed some furniture stores and packed up for the long ride back.
Are you all about the Mexican beaches?
Check out these farther away options: