Interested in moving to Guadalajara Mexico? Then this guide is for you. Roughly there are three categories of expats moving to Guadalajara and its surrounding areas: students, retirees and working expats. Without a doubt, Guadalajara Mexico has some of the best weather in the world. The cost of living in Guadalajara is reasonable, and definitely less than the USA or Canada. So today, you'll get an overview of the Guadalajara area.
There are many Americans living in Guadalajara and Canadians living in Guadalajara. There is also a large Lake Chapala retirement community. This was our very first time in Guadalajara, as we prepared to move there as students. The information, however, should be relevant to anyone interested in making the move to Guadalajara.
This post may contain affiliate links. Thank you for supporting our work.
Moving to Guadalajara as a Student
Universidad Autonoma de Guadalajara (UAG) offers a medical school track in English for foreigners. Our morning started off with a campus tour. We saw the hospital campus (for the third year), the medical school campus (for the first two years) and the main campus (with administration and other schools).
Overall they were fairly nice and we got the impression that the schools were really hands-on. Most importantly fantastically located in the West side of the city which is the nicer and more modern area.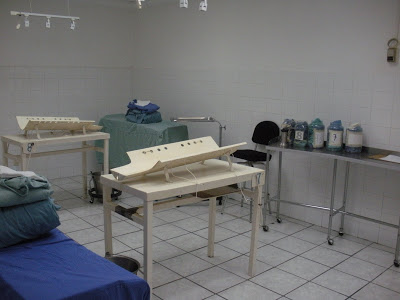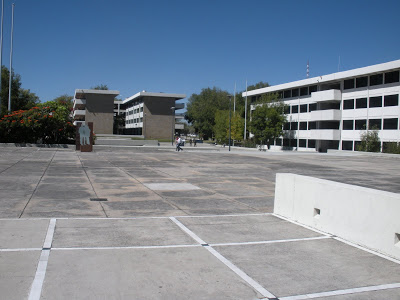 We met a woman that will be in school with M for lunch and she gave us some tips as she's been living here for a few years. From there we saw our first couple apartments, stopped at a brand new fancy mall (owned by the family that owns the university) then had dinner at a local chain.
However, the most important part of the day was yet to commence. We were introduced to the local casino. The family we are staying with frequents it relatively often, so we joined in on the evening activity. It was surreal to say the least.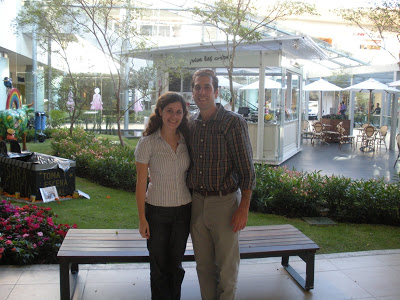 In the morning we were introduced to proper home-made gorditas (fried dough like an english muffin with some beans and cheese on top), and Mexican coffee (with cinnamon). It was a delicious way to start another long day.
Renting a House in Guadalajara
The method for finding an apartment here is to drive around the neighborhood and call phone numbers of agents on signs outside the apartments. And that's just what we did the whole day.
Meanwhile we were getting acquainted with the neighborhoods between the school campuses (about 3 km from each other). We saw a lot of nice properties. There's lots of building going on of new high-rises and your money can go a long way here.
By the end of the day we had a few prospects and several more appointments for the next day.
But the night was young (see a pattern here?). This time we were off to the Fiestas de Octubre, a month long festival that is like a county fair with rides, games, food stalls, and a rodeo. There was a famous performer so the stadium was packed and we couldn't see a thing, but at least we enjoyed the rest of it.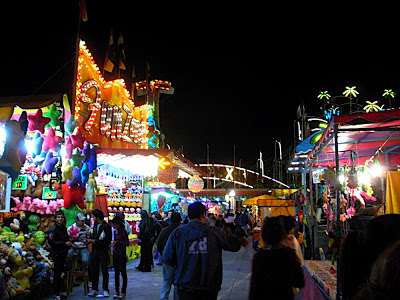 Another morning, another great family breakfast of chilaquiles (like tostada pieces with tomato sauce) and fresh juice, and we were ready to start the day.
It was another day of apartment searching, but by this day we figured out the price range at which we could get the best value for our money and we narrowed down the areas we were looking in.
We also stumbled upon the complex that houses Walmart, Sears, Sam's club, Costco etc. and another shopping mall with all the brands.
We stopped to check in and see what was available, as the apartments come totally empty (you're lucky to have a stove)…so apparently along with furnishings, we'll be going refrigerator shopping…
By this time we can confidently say that the city is nice. The weather is nice: chilly mornings and evenings, with sunny days. The people are very nice! So far everyone has been super helpful!
One last morning of looking at apartments. After lunch it was decision time and we put a deposit down on one- yay!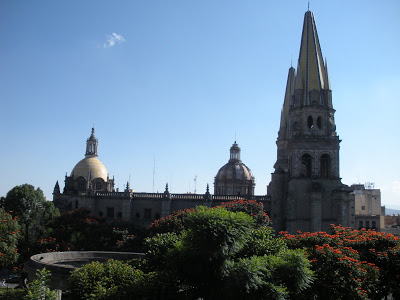 Getting to Know Guadalajara Centro (Downtown)
In the afternoon we finally got around to seeing the historic center of town. The main cathedral is surrounded by several plazas with fountains, vendors, some performers and lots of people just sitting around.
Things to See in Guadalajara Centro
Since this is not a complete touring guide, but rather a moving guide, here's a post for sightseeing in the Centro Historico including all the main sights such as the Cathedral, Teatro Degollado and Hospicio Cabanas.
Read: How To Spend 3 Days in Guadalajara
It was really pleasant to walk around with lots of trees and it basically looked like what the center is expected to look like.
We've concluded that the food is great. After four days in the city and not even one mediocre meal! But evening entertainment was yet to commence and it was probably the best day yet!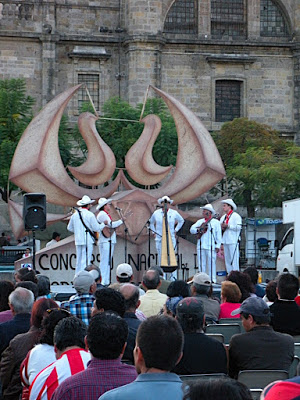 We went to the VIP movie theater. For about 9 dollars we sat in super comfortable leather recliners, and had waiters service us as we ordered food and drinks!
We couldn't say much for the movie (Michael Jackson) but the experience was amazing! Before going home we swung by a gated neighborhood to visit a cousin of the people we're with and saw where all the who's who of Guadalajara live…not bad.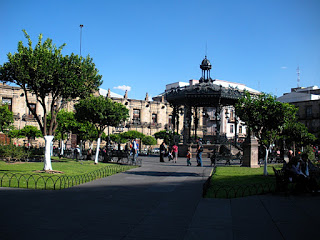 Tlaquepaque
This was tourist day. In the morning we went to Tlaqupaque, a suburb of Guadalajara that is full of artisanal shops.
There were lots of pedestrian streets with tons of shops selling everything from furniture, to lamps, to household goods, to art to jewelry and more. A lot of it was really, really nice (with prices to match) and it felt very touristy but pleasant.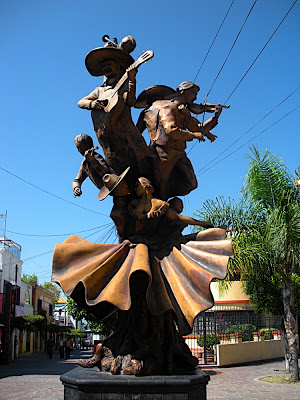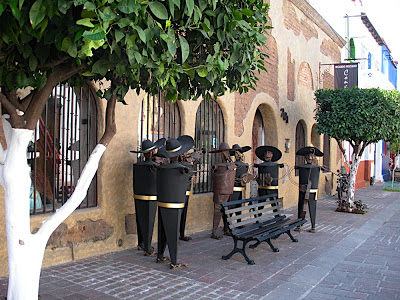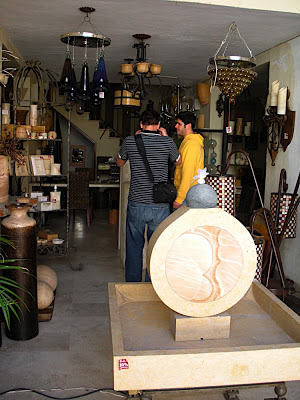 Chapala
The family we're staying with owns a bakery so on the way back to the city we had to check that out. Then after tasting the local fresh totally natural and delicious ice cream we were off to Lake Chapala.
The Lake Chapala area is only 45 minutes out of the city but it is a different world. It is really mountainous, a little chillier with small villages dotting the landscape.
The area of the lake is full of retired Americans and Canadians living in little houses. If you're in the town of Ajijik you don't need to know Spanish!
The lake itself is contaminated so it's only good for looking at, but the boardwalk was nice. In Chapala itself there's more of a town with a Cathedral, shops and restaurants. It was another long tiring day but very fulfilling. If you come here, we'll take you there.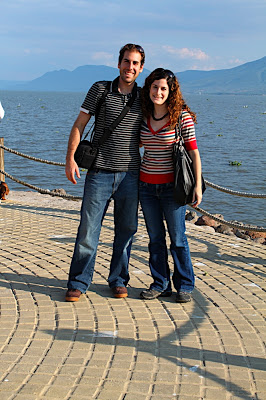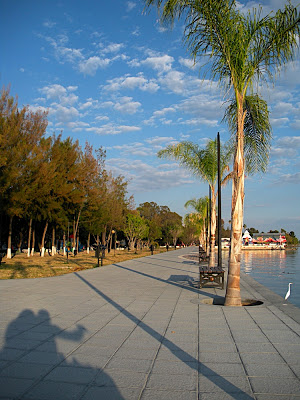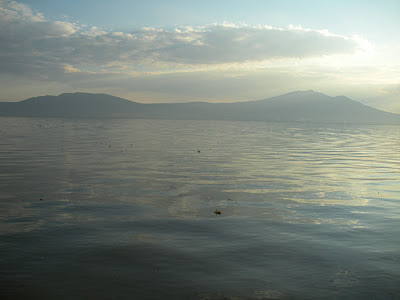 Tonala
Sunday we checked out the apartment for the second time to see it in the morning light. Then went down the street for brunch at a recommended restaurant in the Providencia neighborhood.
Then it was time to join all the Guadalajarians on a typical outing to Tonala. The suburb of Tonala is like Tlaquepaque in that they produce artisanal crafts there, but it is not as refined and the prices are a little lower for that.
On Saturdays they have an outdoor market with street stalls full of typical market junk. We were less than impressed but at least we got to see some of the "rustico" furniture you can get there (unfinished).
Read all about Shopping in Tonala here! Including where we got our furniture!
Wrapping up our First Visit to Guadalajara
And Monday it was time to get back to business with paperwork, errands etc. In the afternoon we visited the D'Celina factory and saw how the little communion and baptism kits are handmade. It was cool to see that up close and it also meant we saw a bit of the eastern side of town which we hadn't really frequented (and probably won't in the future).
If you are considering moving to Guadalajara…
I always suggest coming to visit Guadalajara before moving to live in Mexico full time. While on your visit, consider taking a tour or check out this full list of things to do in Guadalajara!
Further reading: All the Best Things to Do in Guadalajara
Would you consider moving to Guadalajara? We strongly suggest a visit to check it out!