Lying on the Gulf of Mexico, the Yucatan beaches have a totally different character than those along the peninsula's Caribbean coast. Most people coming to the Yucatan peninsula, are familiar with the beaches of Quintana Roo. They fly into Cancun and head south down the coastal road to a resort. However, if you're hoping for a laid back vibe, away from the crowds (and cost) of spring breakers, check out Yucatan! The emerald green beaches in Yucatan State may be just what you are looking for! On our latest trip, we finally got to explore some of the beaches in Yucatan state, and they did not disappoint! Bonus: you can see flamingoes in their natural habitat! All the details below!
Yucatan Beaches at a Glance
There are several main beaches along the Gulf coast of Mexico, along with lots of little ones. Here's an overview of the beaches in Yucatan, from East to West. Starting at with standalone El Cuyo, near the border of Quintana Roo, then Rio Lagartos and San Felipe follow. Telchac Puerto, Uaymitun, Chixculub Puerto, Progreso, Chelem and Chuburna are all connected via the coastal road. Then Sisal is mostly on its own in the northwest, and Celestun faces completely west.
Note that to access the beaches in Yucatan state, you will drive on the main highway from Cancun to Merida. Then you will need to turn off the highway, heading north to your choice beach. Most of the beaches do not connect on a coastal road so plan your turn off ahead of time!
El Cuyo
El Cuyo lies just two and a half hours from Cancun. It was the beach I was most excited about visiting as the water still has some of that bright blue Carribean color.
Vacationing there is not too cheap with few accommodations, mostly vacation rentals. That said, the town seems laid back and lively. Apparently it can get quite windy in the afternoon making it a good location for kitesurfing!
Unfortunately it was not meant to be, as we decided it was too far away from a comprehensive medical center for our babymoon. (The closest small center is in Tizimin, but for more care we would have to drive over two hours to Cancun or Merida.) But it is absolutely on our bucket list!
Rio Lagartos and San Felipe
Rio Lagartos lies on the lagoon of Ria Lagartos. It is an access point to see flamingoes in the nature reserve in the spring time, roughly from April to May. That said, we did not seriously consider staying here, as there is no real sand beach.
To the east of Rio Lagartos, you will find Las Coloradas, otherwise known as the pink lake from instagram! The pink body of water is as result of the salt processing plant. Not sure how we feel about this from an environmental standpoint. (Tell me in the comments if you have more information to add).
San Felipe, is a small fishing town just west of Rio Lagartos. We considered it for a hot second, before ultimately deciding to travel up a different road, literally!
Coastal Road 27
From Dzilam de Bravo to the main port of Progreso, you do have a coastal road! This was the section we were most likely going to visit, since our first stop of the babymoon, was a couple of days at Hacienda San Jose.
All along the coastal road are small villages with vacation rentals, and local seafood restaurants.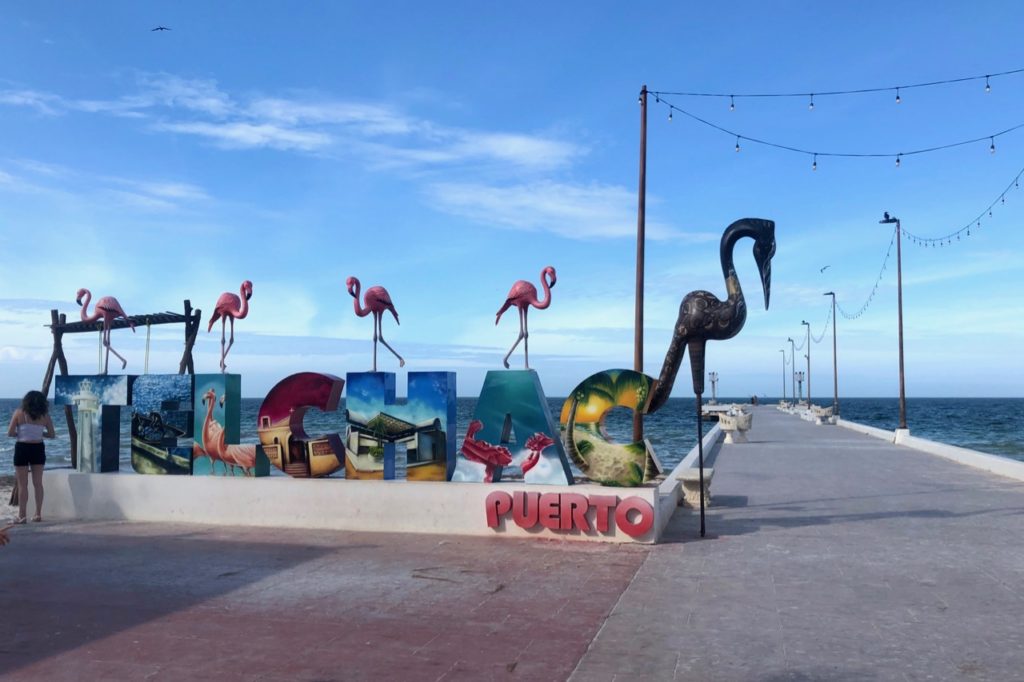 Telchac Puerto
Our first stop on the coastal road was Telachac Puerto, since we came up the road from Telchac! This port town has a typical pier sticking out into the gulf, lots of restaurants and a few hotels. You can tell that during high season (summer) the town is inundated with souvenir vendors and beach gear sellers.
We got lucky with a beautiful day; the water was blue! Our restaurant of choice ended up being Restaurant Sea Friends, right on the corner of the main plaza and Calle 20. Everything was on point!
Zona Arqueológica de Xcambo
Continuing west on the coastal road, you will now be driving along the Laguna Rosada. One possible stop that you can make, is crossing the laguna inland so that you can visit the Zona Arqueológica de Xcambo, a port site with ancient salt factories.
Uaymitun
The next town on the coastal road, Uaymitun, is real just a cluster of beach houses spread out along the road. However, there is a viewpoint on the south side of the coastal road, where you can see flamingoes practically year-round.
During our visit in December, flamingoes are usually found in Celestun! However there is part of the flock which always seems to be in the Laguna, and we were able to see a few flamingoes even though it was totally off season!
Tip: Use this website to find out in real time where the flamingoes can be seen!
Progreso and Chicxulub Puerto
The next larger town, right before Progreso is Chicxulub Puerto. We most definitely considered this an option for our vacation! Ultimately, the house we chose was on the other side of Progreso. That said, there are plenty of listings on AirBnB in this town.
Progeso itself is a large port town, with the longest pier in the world! The advantages are that it's a big town with all of the shopping amenities you need. Cruise ships dock in Progreso regularly and inundate the town with daytrippers. Many will board buses to beach clubs, to see the flamingoes, and even to Chichen Itza.
On the down side, Progreso is not very beautiful, and has all of the industry (and waste facilities), that come with being a port town. The one piece of advice we got time and time again, was this: if you are visiting the Yucatan beaches, do not stay in Progreso.
Just outside of town, but technically in the municipality of Progreso, you will find Reserva Ecológica El Corchito. This is a small nature reserve on the laguna, where you can take boats, visit small cenotes and see wildlife! It seems like a great and inexpensive family activity.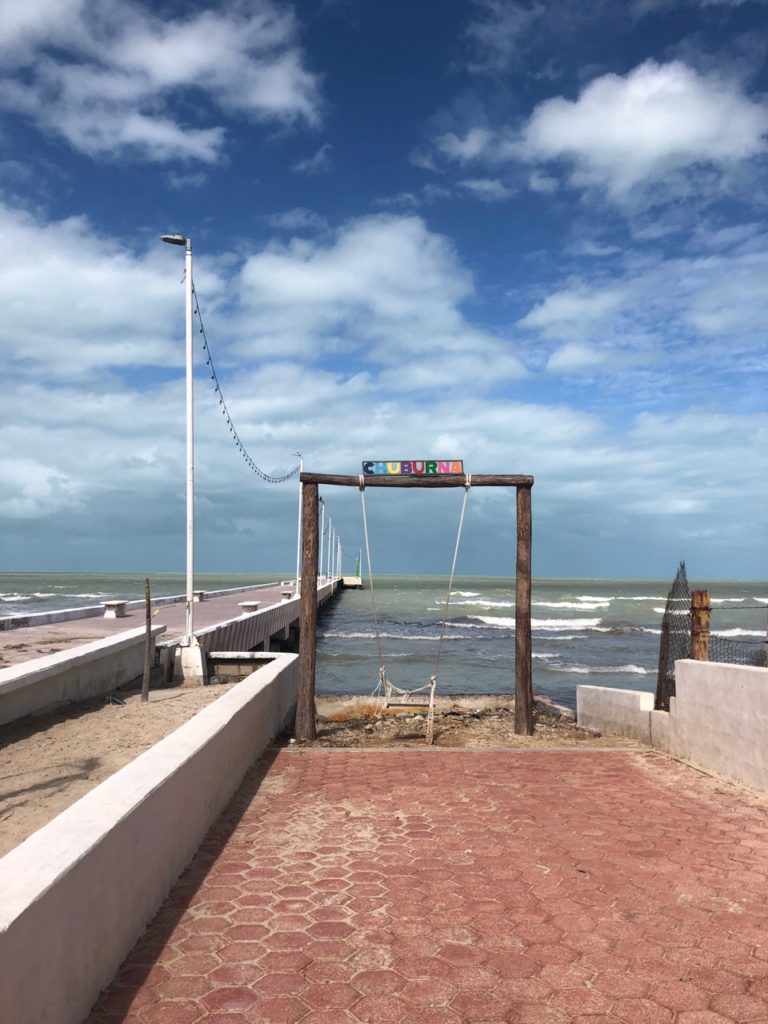 Chelem and Chuburna
West of Progreso is a smaller road that continues along the coast. Here you will get to the small towns of Chelem, Chuburna and Chuburna Puerto. All of them, are really just a strip of beach houses and guest houses along both sides of the road. There are many vacation rentals!
During the summer, these towns are full of city dwellers from Merida. In the off season, however, it is mostly expats from the USA and Canada that are still hanging out!
Our beach rental of choice, ended up being located in Chelem. There is not too much there, being a very small town. However it was just enough of what you need for a beach vacation: a few seafood restaurants, OXXO convenience stores for water, and a selection of small stores around the town plaza (complete with small playground!).
Tip: Come to your beach vacation with all the groceries you need. There are supermarkets in Progreso, but you will have a much larger selection if you shop in Merida.
Our Baby Moon in Chelem
Ultimately, when we were deciding on a beach destination for our babymoon, our priority was relaxation and proximity to amenities. Chelem totally hit the spot on both counts. The town was extremely quiet in December, as the weather was non-cooperative during our stay!
A Norte
The only doubts we had about booking a Yucatan beach vacation in the winter was the possibility of a "Norte" (pronounced NOR-te). A norte is stormy weather that happens when the USA is experiencing a winter storm. The cold currents make the water tumultuous and can get very windy, meaning you can't really spend much time at the beach!
And it happened! We had a norte while we were on the beach. The wind was very strong making it impossible to spend much time outside, not to mention getting near the water. Nevertheless, it was a cool experience, and we discovered one of the best reasons to vacation on the Yucatan beaches– Merida!
Chelem is really only about a 30 minute drive from the northern part of Merida! On the worst day of the storm we were able to head to town, do some errands, some shopping, some eating, and still come back to sleep on the beach to the sound of the howling wind!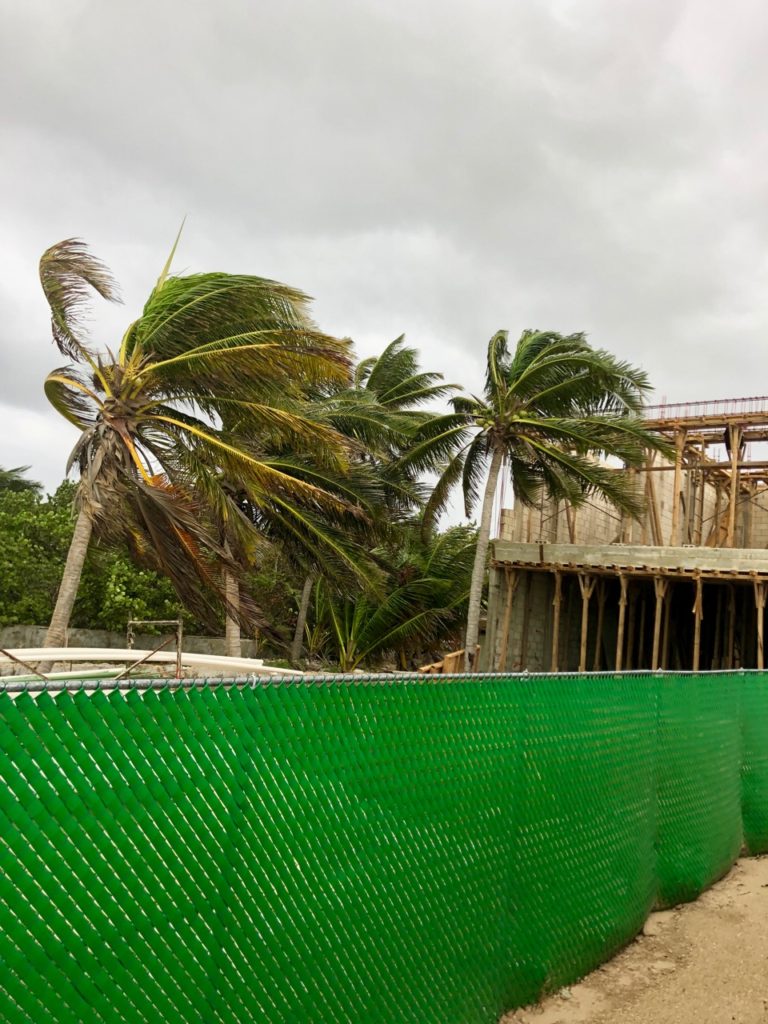 Dzibilchaltún
Dzibilchaltún is an option for a day trip from either Merida or the Progreso area, as it lies right off the the 261 highway that connects the two cities. On our way back to Chelem we made an attempt to stop there and learned two lessons.
It is quite expensive compared to some of the other archaeological sites in the Yucatan. Get there early in the day to take advantage of all that there is: the archaeological site, the museum and the cenote.
The site includes a cenote which means you should bring a bathing suit to swim, however you need to have it on already, because bags are not allowed and need to be stored in lockers! Quite the conundrum.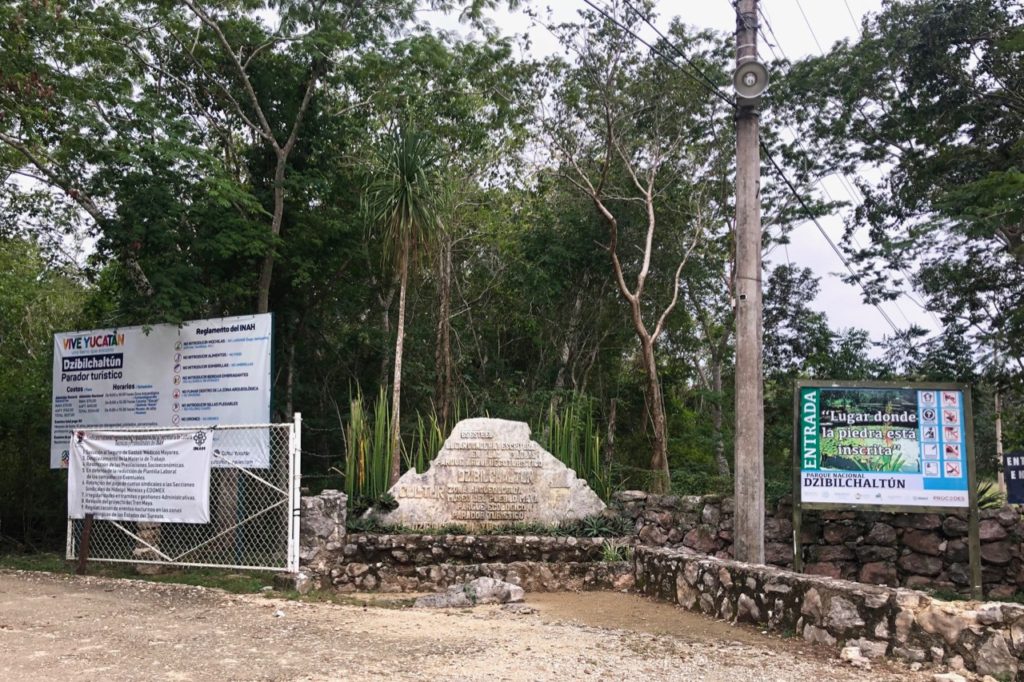 Chicxulub Crater Museum
We were most excited to make a visit to the Chicxulub Crater Museum, which focuses on the Chixculub Crater– the one believed to have caused the dinosaurs to become extinct and created the ring of cenotes in the Yucatan!
The museum is within the Parque Científico Tecnológico de Yucatán, located on the Papacal-Chuburna road. That is, we drove west to Chuburna and took the road heading south.
The technological park was open with several different facilities, including a small botanic garden, a library and a gift shop. However at the time of our visit, the museum was not yet open to the public. That said, we could tell that there was a lot being invested into this park and hopefully it should become a great tourist site in the Yucatan.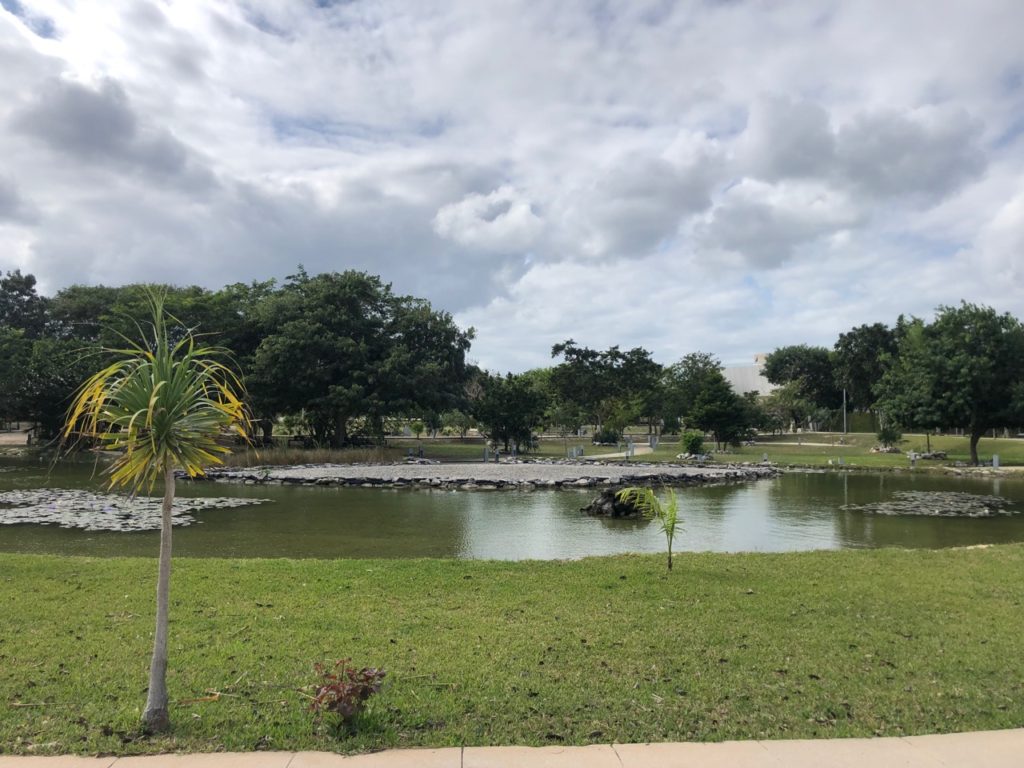 More Beaches in Yucatan
I would be remiss to mention that there are a few more beaches in the Yucatan. Namely, Sisal is a small beach town that is quite removed from the rest of the beach towns and is accessible via it's own road heading north-west from Merida.
The other larger beach destination is Celestun, which actually faces West on the Yucatan peninsula! Celestun is THE place to see flamingoes in December. It is easy to organize a day trip from Merida, but there are also plenty of accommodations and a true beach to play on, if you so wish.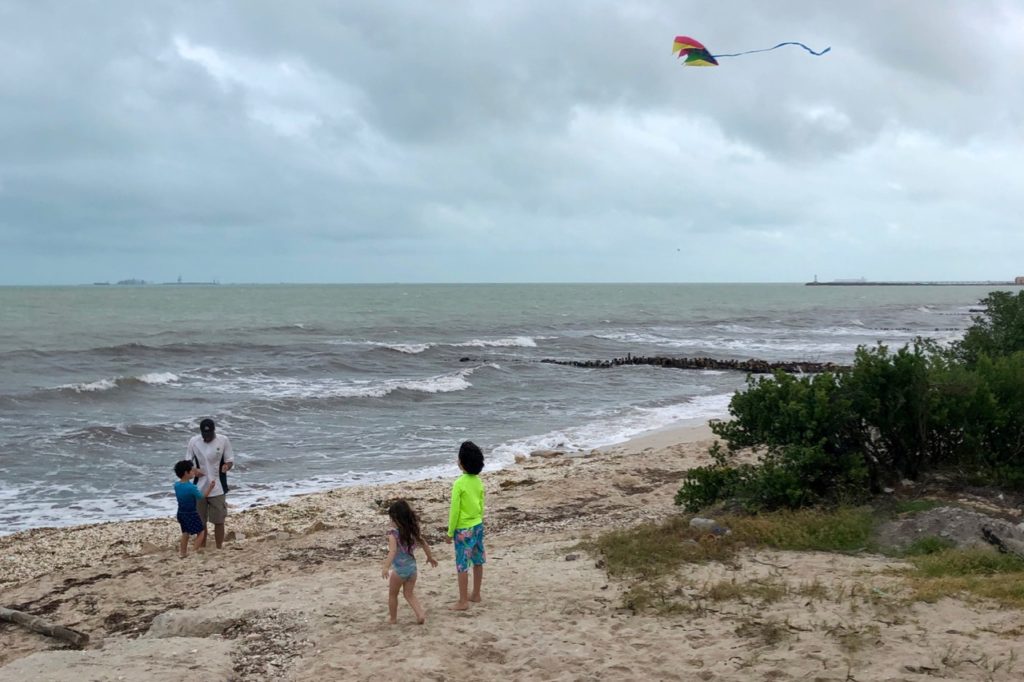 Summing Up Our Time on the Yucatan Beaches
As I briefly mentioned in our babymoon itinerary, we had four beach days in the Yucatan. Here's how it went down:
Day 1- We spent in Telchac Puerto and Uaymitun! See above.
Day 2- We had a "norte" and went into Merida (more details coming soon!) One awesome advantage, was that tons of beautiful shells washed up on the shore in Chelem.
Day 3- We attempted to visit the Chixculub Crater museum, but then had a lovely day in Chuburna and at the beach in Chelem. It was just windy enough to fly a kite!
Day 4- We had a full beach day with beautiful weather, seashell collecting, swimming and fun.
Day 5- One more beautiful morning at the beach, before we left for our next adventure…
Have you been to any gulf coast beaches? In the USA or in Mexico? Would you consider visiting the beaches in Yucatan?