If you thought you knew all about things to do in Cancun, then you are probably mistaken. Unless you happen to explore Cancun beyond the tourist spots, you probably don't know about the secret spot where you can observe wildlife and walk on the rocks in the middle of the Carribean ocean off the coast of Cancun in Quintano Roo. This is one of the best kept secrets of the Yucatan peninsula that is still accessible if you staying at a resort in Cancun while traveling to Mexico with kids!
Returning to Cancun before flying home
And so….we were back at the Westin in Cancun. After our drive from Izamal, we were extremely happy to get set up on the timeshare part of the resort. We thought we only had two nights to look at the water, so we went down to the beach straight away…and were greeted with the perfect sunset!
The next day we did a repeat of our first visit to the resort (or should I say, our second?): Beach, pool, eat, rest, beach, sleep. Yup, just like that!
Except that this evening, we decided to walk all the way south along the beach until we reached the end of the peninsula.
Finding the Secret Peninsula
Right past the Club Med, there is a tiny oasis of shrubs where the beach hits the rocks.
When the tide is low, you can see all sort of clams, crabs and other sea creatures in the little pools that are formed. And there is one spot with an amazing water spout the shoots up every few minutes from between the rocks.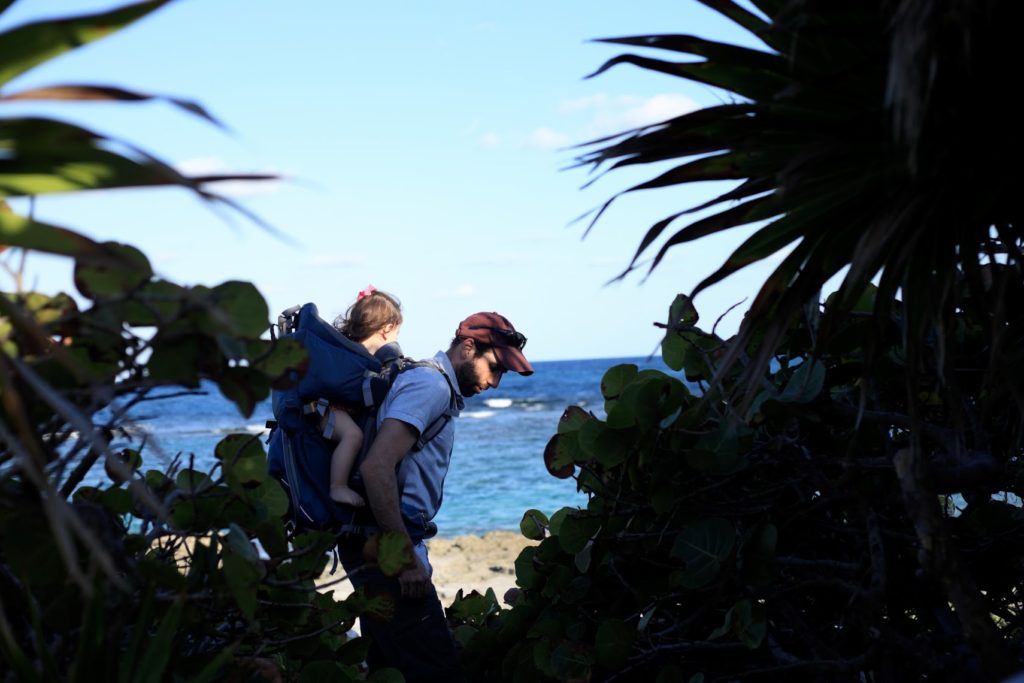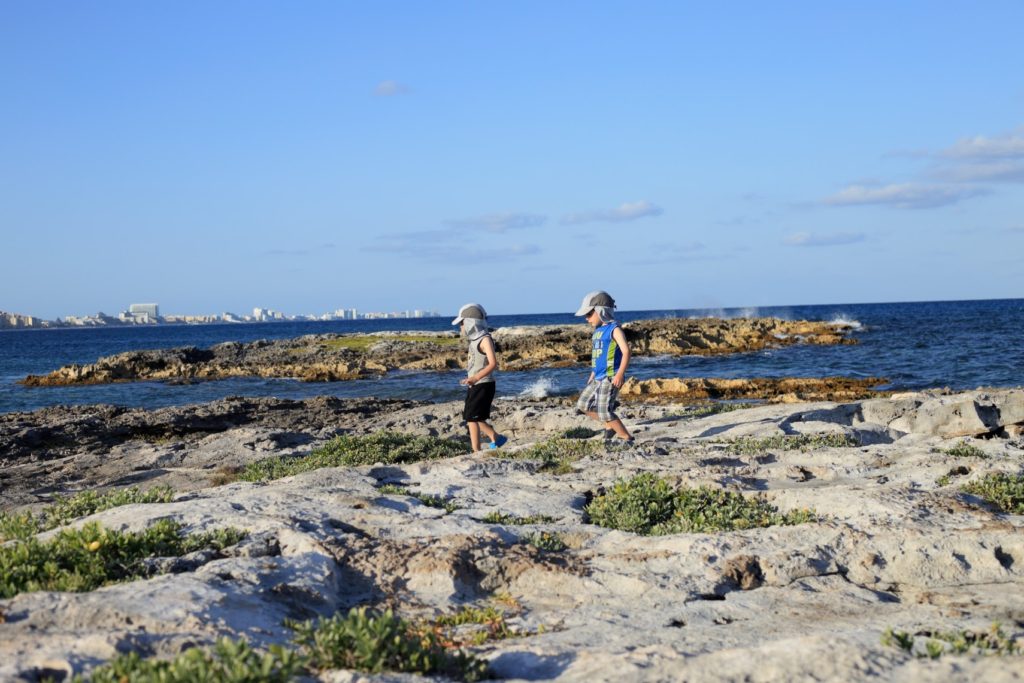 From the peninsula, the hotel strip feels so far away. It is quiet and peaceful, and the only sounds are of the waves crashing into the rock. It was a perfect last little adventure…
Surprise!
We returned back to the hotel to finish packing up and preparing for our flight the next day, when we got an email from our airline!
Flights for the next day were cancelled due to weather in New York. We had one more night to savor our vacation! Cue happy dance!
We sorted it out with the hotel. And got one more day of bliss, soaking in every last bit of sun and relaxation before going back to reality!
We talked to the kids about their favorite parts of the trip: climbing pyramids, swimming in a cenote, a music lesson, and so much more! It really was great!
Did you miss any part of our trip recaps? Here they are:
Have you taken road trips with your kids? Would you take one in a foreign country? And most importantly, any other questions about traveling with kids to Mexico???
---
Start a search for your next Mexico vacation right now! The deals are seriously amazing!
---
Don't want to forget where you read about the secret peninsula in Cancun? Pin this post for later!