Considering traveling to Yucatan with a baby and toddler? Here's the deal: We love Mexico with kids. You could not choose a better destination for a vacation with a baby!
I previously wrote up some tips about traveling with a baby and toddler. In that post I mentioned planning, gear and sleeping arrangements. So today I'm back with our (never-before published) exact itinerary (which I wholly recommend), and all the juicy details!
This is an itinerary you can use for backpacking Yucatan with a baby and toddler. You could also make it into a road trip with baby and toddler by renting a car. It covers all of the major sights in Yucatan and includes a little bit of everything: city, beach, archeological ruins and more!
So take this detailed Yucatan itinerary as a starting point for planning your own trip to Mexico! This one way itinerary can be adjusted into a loop with an additional one way flight or drive back.
This post may contain affiliate links. Thank you for supporting our work.
Backpacking Yucatan with Baby and Toddler
This is a recap of the trip we took with a 10 month old baby, and 2.5 year old toddler. I'm publishing it now so that ya'll have the background on why we decided to plan another trip to Yucatan, this time with 3 kids! I'll be back with all those details in the next few weeks!
In this Yucatan Itinerary we tried to include all of the essentials: beaches, cenotes, and Mayan ruins. Plus getting to know a pueblo magico (magical town) and seeing flamingoes!
First things first, here is our exact itinerary:
Yucatan Itinerary with Baby
Arrive in Merida, get situated and explore (Parque Centenario- to let the kids run around).
Merida walking tour at 9:30 a.m. (free on Thursdays) + explore historic center, carriage ride on Paseo de Montejo, evening Parque Santa Lucia (free live music show every Thursday)
Day trip to Celestun to see flamingos (bus+tour 700 mxn adult)
Two options:

a) Day trip to Uxmal + Hacienda day trip (425 mxn adult)
b) Stay in town and visit Gran Museo del Mundo Maya de Mérida (this was the option we did!); evening light show at Casa Montejo (every Saturday)

Merida open air market in the Plaza Grande in the morning (every Sunday), then bus to Izamal. (Note: by bus, the station is at calle 67 between 50 and 52, with departures every hour. The cost of the ticket is $22 pesos one way, $44 pesos roundtrip. Also you can take a Van in calle 65 between 52 and 54.)
Izamal: Franciscan convent, government palace, Kinich Kakmo pyramid climb, horse and buggy handicrafts, (Time permitting: secondary pyramids- Kabul, Itzamatul, Conejo). Drive Izamal to Piste (town adjacent to Chitchen Itza, note: buy breakfast and lunch for next day before drive).
Chitchen Itza visit, then bus to Valladolid (find a place to do laundry)
Ek Balam visit, Cenote Zaci in town Valladolid
Cenote Xkeken, bus from Valladolid to Tulum (pick-up some provisions before leaving town, possible stop in Coba- we didn't stop)
Tulum beach day
Tulum beach day (Sian Kaan tour optional- we decided to skip)
Tulum ruins, transfer hotels
Tulum resort
Tulum resort
Check out and drive to hotel in Cancun
Flight from Cancun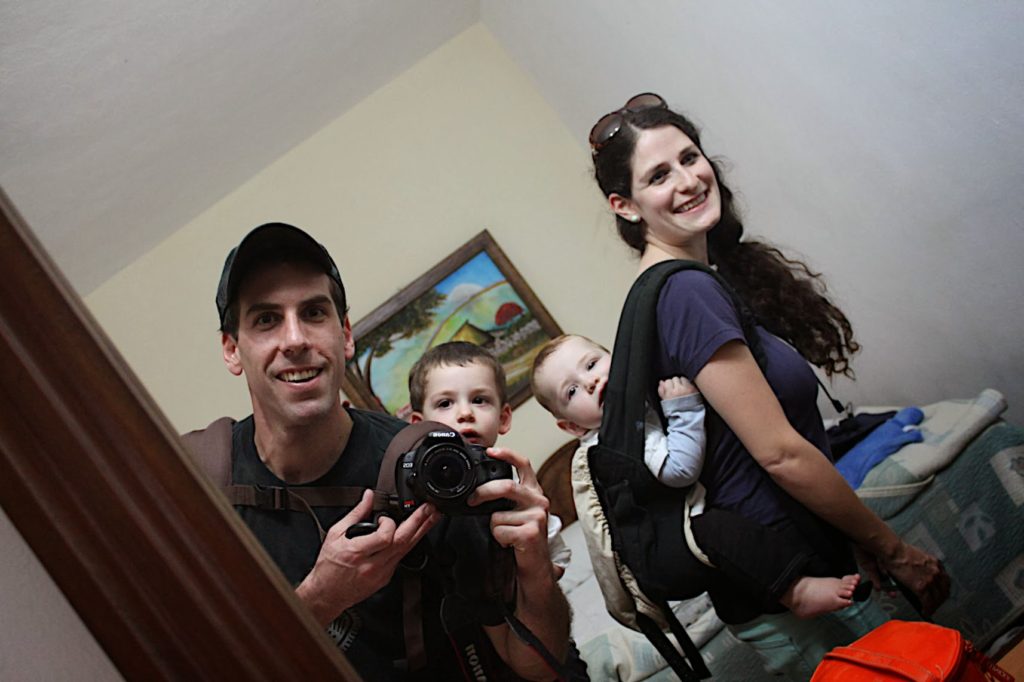 Highlights of Our Trip in Yucatan
Here is a break down with more details on each location, including what we did and things I recommend to do with a baby in Yucatan. Click through to the supporting articles for more detailed information and some alternative places to visit on your trip!
Merida
Our trip started off with a four night stay in Merida. We loved the quaint historical center, staying right in the thick of things and exploring mostly on foot.
We took a free walking tour on our first full day, which I highly recommend. The kids especially loved a carriage ride we took down Paseo de Montejo.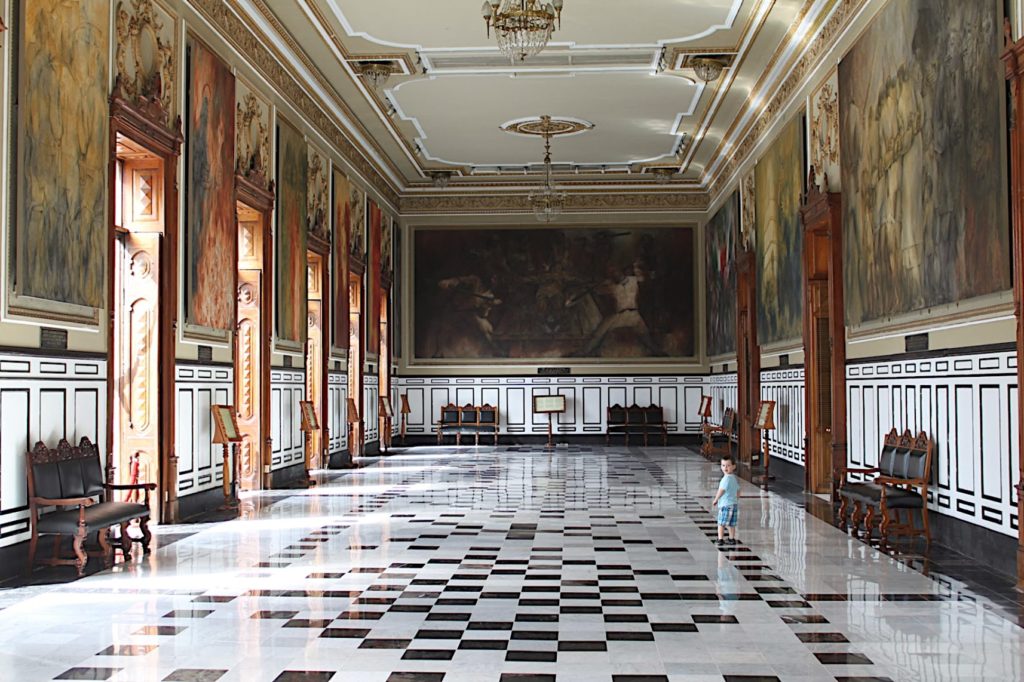 Day Trip to Celestun
One of our favorite activities from the trip was taking a bus tour to Celestun to see the flamingoes. It was so nice to be able to take the trip and have the driving taken care of so that we could focus on the babies and enjoying the boat tour. It was truly an amazing sight to see the flamingoes flying in the air!
(Note that depending on the time of the year, it may be better to see the flamingoes in Progresso. Find out ahead of time where you want to go as there is quite a bit of competition between the different tour companies.)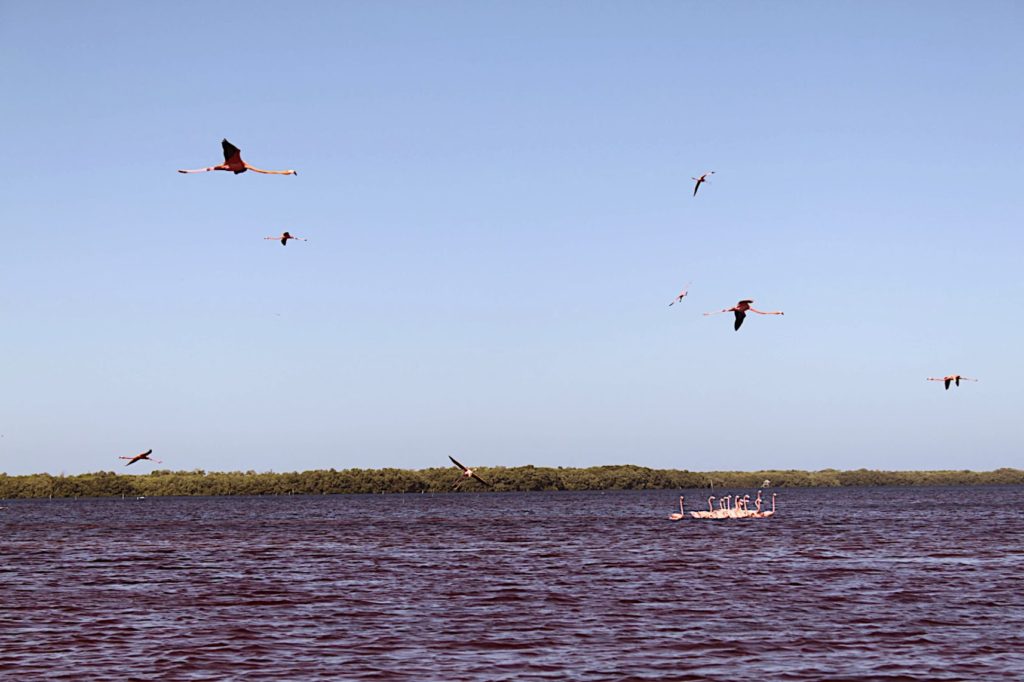 We had originally planned on a second tour day to see the ruins in Uxmal, but decided to forego that for a calmer in town day and the Gran Museo de Mundo Maya.
The light show at night in the main plaza of Merida was amazing and we wish we could have stayed even longer…but the babies needed to sleep so that we could head to Izamal the next day.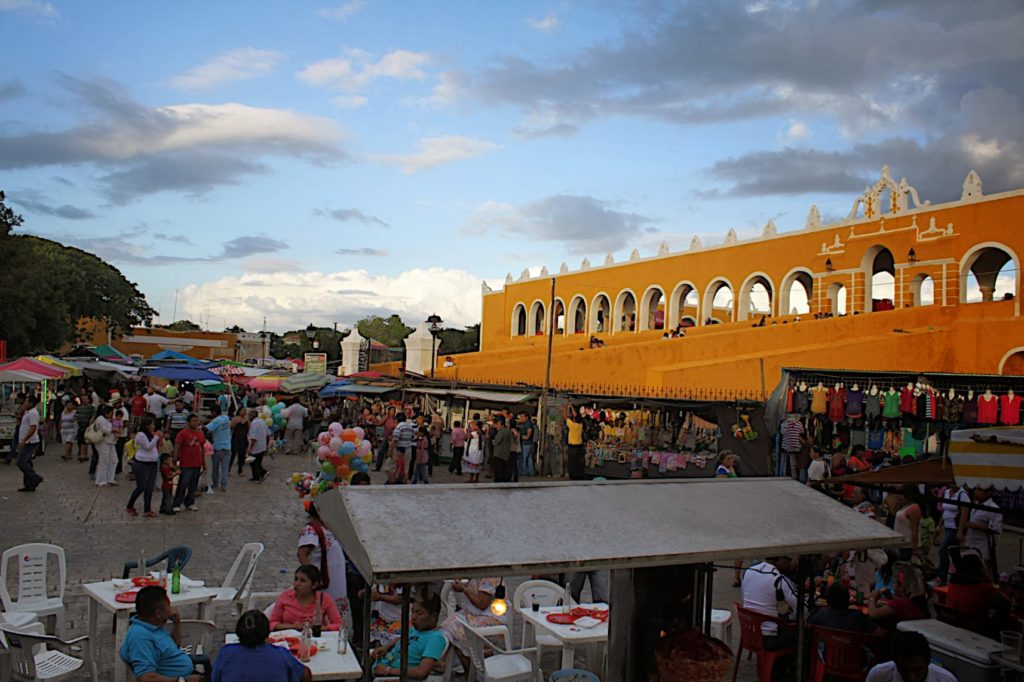 Izamal
Izamal, painted in yellow in honor of the pope's visit several years ago, is such a cute small village! It is one of Mexico's Puelos Magicos, and truly was a highlight for us.
The people there were incredibly nice, and we had a great time exploring the ruins right in the middle of town. The day we arrived was a feria in honor of the Virgin of the Conception, since the convent in town in a major site for that virgin.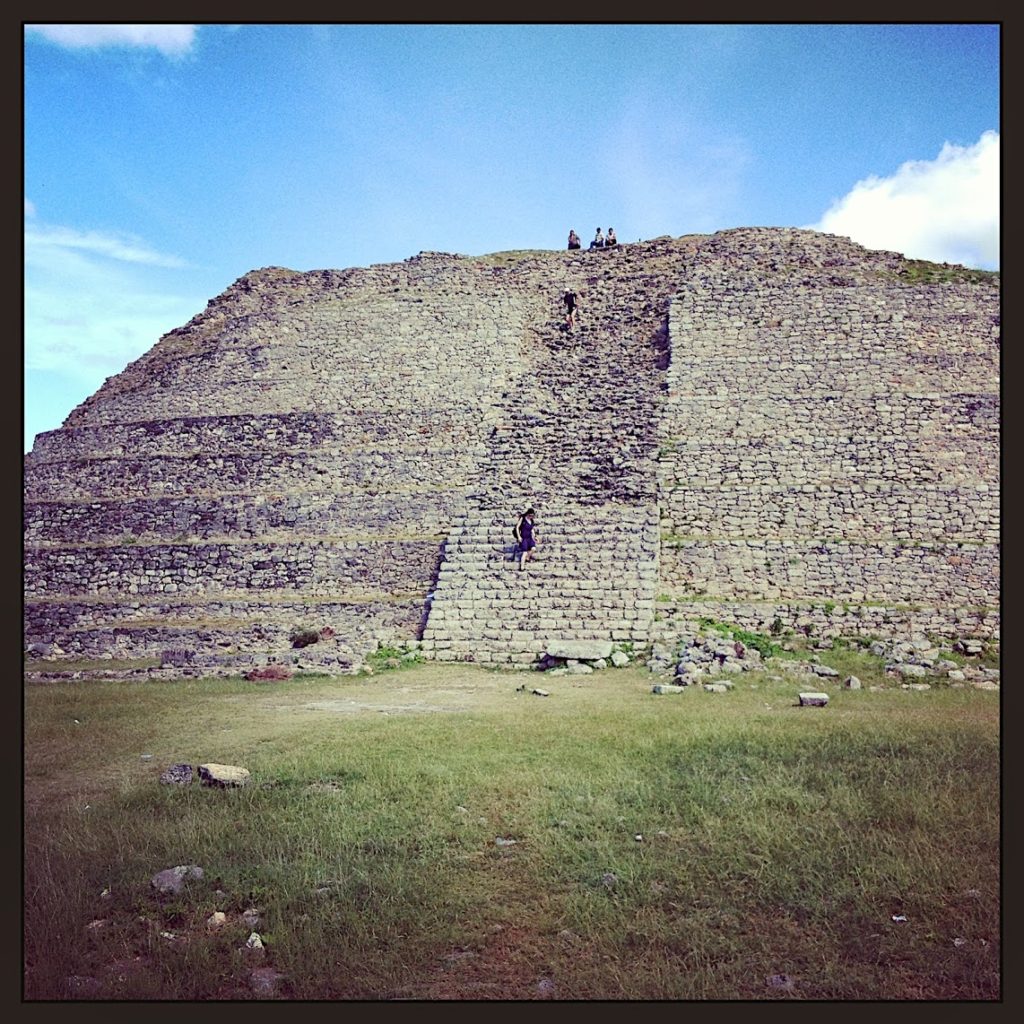 Chichen Itza and Piste
Chichen Itza is by far the most famous sight for Mayan ruins! You can visit them by taking a tour from Merida, Cancun, Tulum, or even Progreso if you're coming on a cruise ship. So of course, we had to include this in our first time trip to Yucatan.
We were on to Piste, the small town closest to the ruins in Chichen Itza. There really isn't anything special in town, we just slept there the night before, so that we could beat the crowds at the ruins.
Many other tourists will come on day trips from hotels in Cancun or cruise ships, so they arrive closer to mid-day. So if you can get there right during opening, you will have a much quieter experience.
Unfortunately, I got food poisoning that night. Fortunately, everyone else was fine!
It was not our favorite, because you can't climb the structures, but it is a must see. So Chichen Itza- check!
Valladolid
Our next couple of days were spent exploring from Valladolid. This was the part of our trip that felt a little rushed because we were moving around so much and there was a lot to do and see.
We also really liked the small town feel of Valladolid and would have loved another day to relax around town. From Valladolid we took a day trip to Ek Balam and also visited a couple of cenotes.
Day Trip to Ek-Balam
When choosing what ruins to visit in the Yucatan peninsula, there really are so many great choices. Of the major ruins to consider for your trip- you cannot climb the main pyramids in Chichen Itza and Uxmal, but you absolutely can (for now) climb Ek-Balam and Cobá!
For this trip we chose to visit Ek-Balam which was an incredible choice! The ruins are in the middle of so much greenery, and there were lots of little nooks and crannies to explore.
Ek Balam translates to Black Jaguar, a sacred and powerful animal to the Maya. The black jaguar represented ferocity and bravery, the ruler of the underworld and darkness.
About halfway up to the to the top of the main pyramid, there is a tomb where a king is buried. The open jaguar mouth with large teeth denotes a portal to the other world. Around the tomb are detailed stucco sculptures depicting various animals and warriors.
In terms of size, Ek Balam is my choice if you have younger kids as it is more compact than some of the other options. The kids loved it! It gets hot quickly, so I recommend an early morning start (this goes for all ruins)!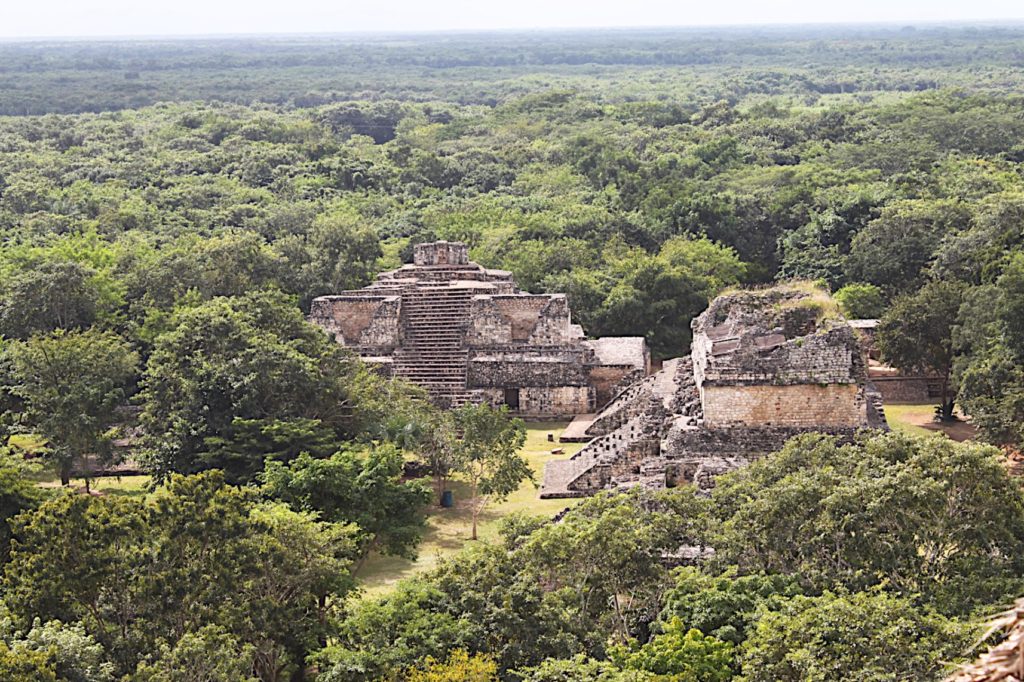 Cenotes
A cenote is a sinkhole filled with water that occurs naturally in limestone rock. When an underground cave collapses the groundwater below it is exposed.
In every cenote there is a section that gets eerily dark because they are connected to the underground acquifer. That means they get incredibly deep! In fact, in some cenotes they teach diving lessons! (I personally find the whole formation of cenotes, fascinating and slightly unnerving at the same time.)
It is thought that the ring of cenotes in the Yucatan was created when the meteoroid that caused the Chixculub crater hit, and later caused the dinosaurs to become exinct.
There are different types of cenotes. Open cenotes are completely collapsed and so are open. It's like walking down into a pool. Semi-open cenotes are mostly underground but have a section that is open to the sun. Closed or underground cenotes are completely underground. They are usually artificially lit, unless there is a small opening for sunlight to beam in.
The water in cenotes tends to be very cold year round, making it a good spot to refresh from the hot sun in Mexico.
Cenote Zaci
We loved visiting the centoes- Cenote Zaci, in town in Valladolid is an open cenote- cheap to visit and walking distance from downtown Valladolid.
Cenote Xkeken
Centoe Xkeken, not too far out of Valladolid, is especially beautiful, and I highly recommend a visit if you are only visiting one cenote on your trip. Cenote Xkeken, is an underground cenote in a limestone cave located in Dzitnup together with Cenote Samula.
You can visit either one of the cenotes, or both, as they share a ticket office. What is nice about these cenotes, is that the tourist amenities are totally built out.
There are designated changing rooms with showers and bathrooms, and they do ask you rinse off before entering the cenote to protect the local ecosystem from man made chemicals. Leaving the changing rooms, there is a clearly marked path to walk down to the cenote.
There are many steps to get down and they do get slippery when wet, so watch your step. (We carried our little ones down to be safe).
Cenote Xkeken is known for the light beams that shine down into the cave creating a magical turquoise blue effect in the water. The best time of the day to visit will be mid-day, when the sun is shining down into the cenote.
We couldn't do much swimming with the little ones, but we did take a dip in the chilly earth water.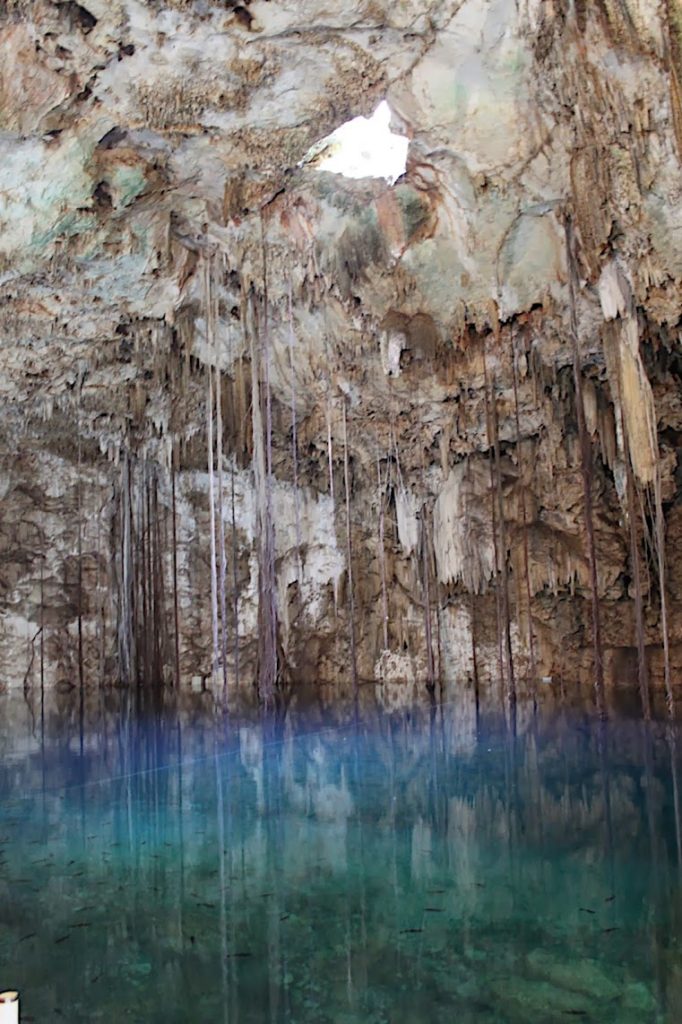 A Week in Tulum, Mexico with Kids
Then we were on to the beach portion of our trip! Beach vacations are a no-brainer when it comes to little kids.
For this we technically traveled from Yucatan province to Quintana Roo province. We stayed in Tulum, which used to be an off-the-beaten-track backpacker hang out, but is now fully developed with hipster cafes and prices to match.
Where to Stay in Tulum
As it worked out, we split our time between an eco-hut on the beach, and a resort (because we had credit from a previously cancelled trip to use up).
Our first three days we spent at Zamas, a beachside collection of huts, with accommodations right on the water. This is a really great place to disconnect, though there was no air conditioning we were comfortable with fans and mosquito nets. Click here to check current prices!
During this time we explored the various beach clubs in Tulum, and spent a lot of time walking along the shores of Tulum.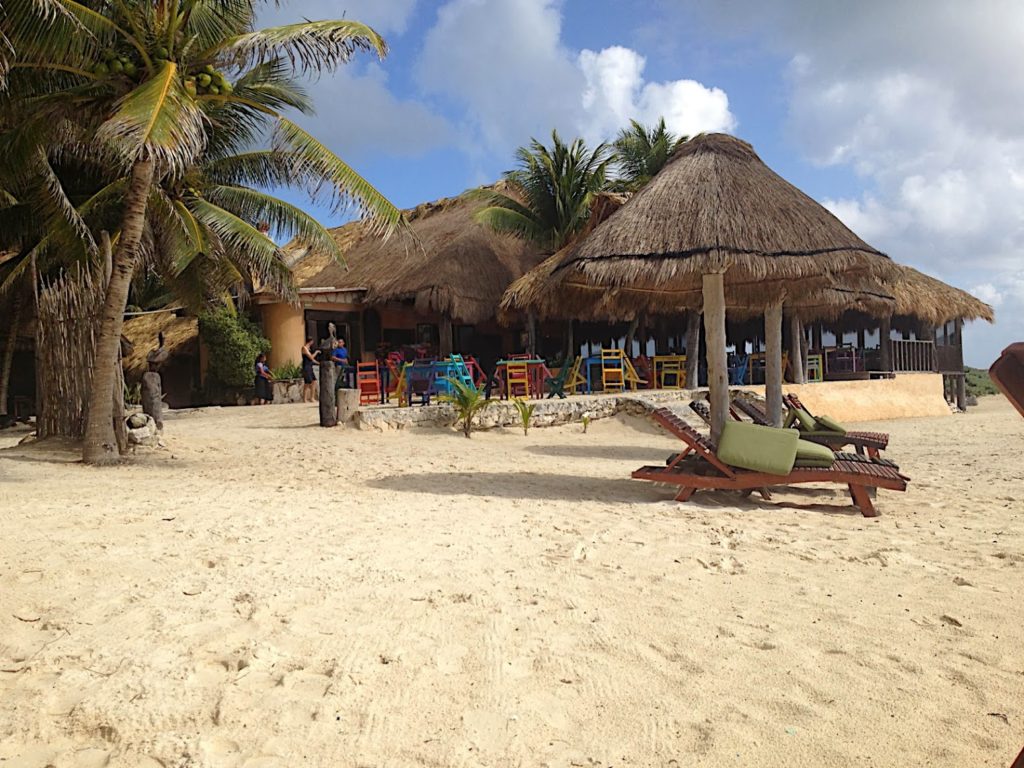 We did take time out of digging holes on the beach and lounging around to visit the gorgeous ruins in Tulum. This is a truly stunning juxtaposition of Mayan ruins and a beautiful turquoise beach. I highly recommend it!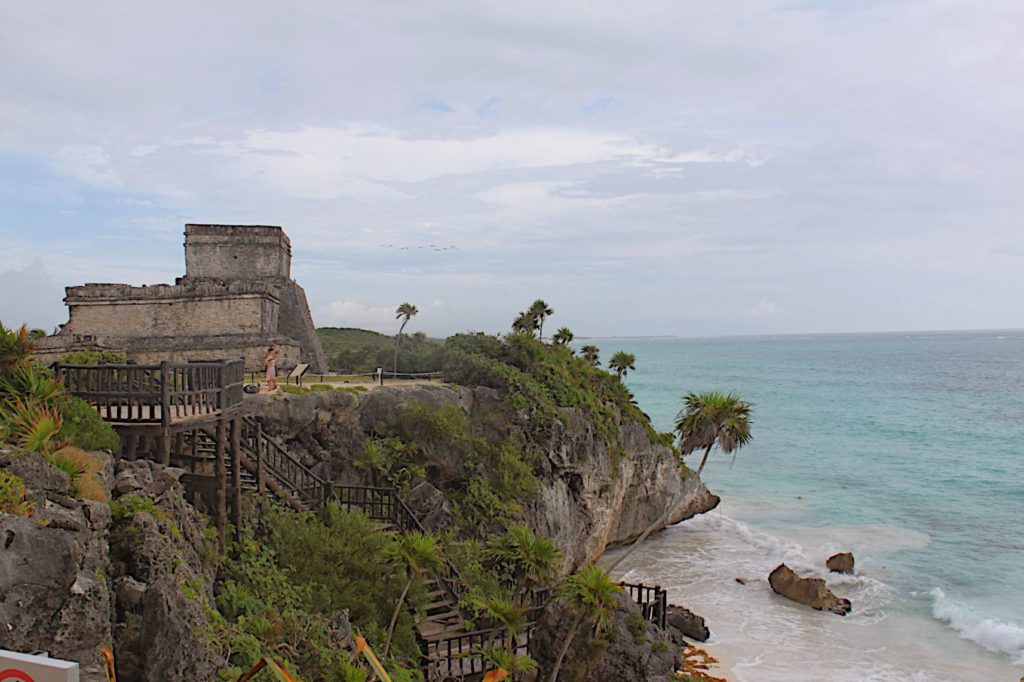 The next three nights we spent at Dreams Tulum Resort. This is a great choice for an all inclusive resort in Tulum. It is very family friendly, and often times runs promotions for kids staying free in a room with adults. That makes the all inclusive per day cost actually quite a good deal, as you have no extra expenses while on the resort. Click to check prices at Dreams
Obviously the all inclusive is a totally different vibe than the beach huts at Zamas. They make it easy to stay on the resort full time: hanging out at the pool, going around the different restaurants and enjoying games like ping pong and more. We had some rain and were really happy to be able to hang out in the resort coffee shop!
Cancun
We moved hotels one last time, to be in Cancun on the night before our flight. Read my full review of the Westin Cancun. (We have been back three more times since this initial stay, which speaks for itself).
After on and off rains during the previous days, were blessed with beautiful weather for our last night. It was the trip of a lifetime and definitely left us hunkering to come back for more.
Read my full review of the Westin Cancun, and the secret spot we found on our subsequent trips!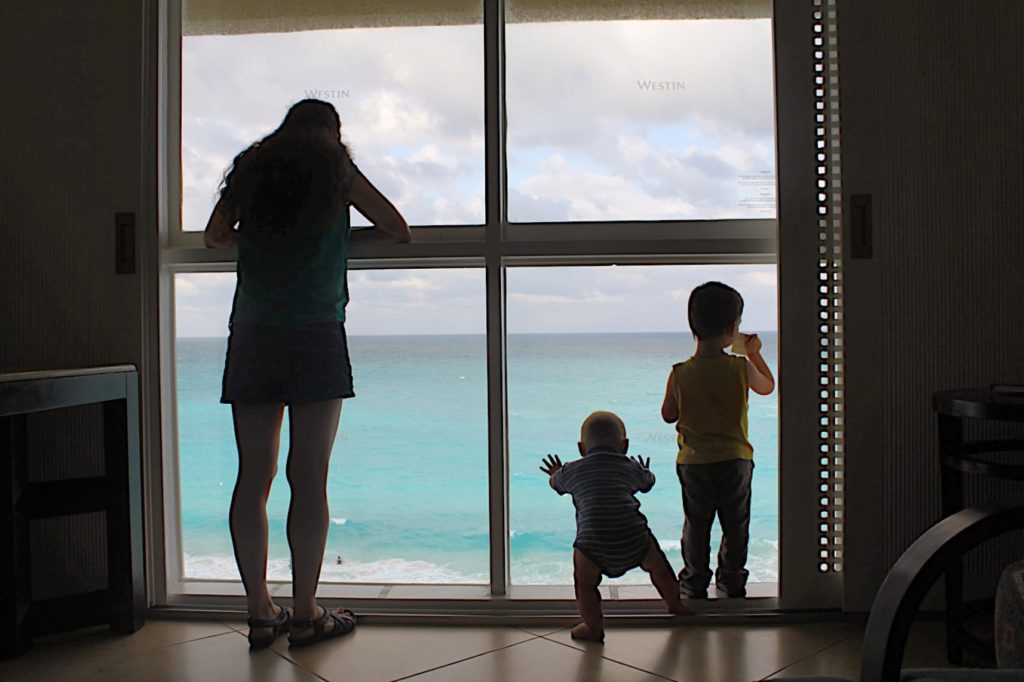 Hotels in Yucatan for travel with baby
Here's a quick list of the hotels we stayed at. They all had rooms with two queen beds , which was plenty of space for two adults and two little ones.
Concerned About Safety in Mexico?
Our experience has been that the tourist oriented areas of Mexico are perfectly safe for travelers. Because things can happen unexpectedly on any trip, we do recommend getting travel insurance before every trip. Click here to get a free quote!
Alright, you must be itching to plan a trip to Yucatan with your kids by now! I know I am! Any more questions I can help with? Drop them in the comments!
Looking for more itineraries in Yucatan?
Here's a two week round-trip we took with three kids! And here is the babymoon we took before our fourth kids was born, focusing on the Yucatan beaches.
Start searching for accommodations for your Mexico trip right now!
[booking_product_helper shortname="mexico"]
Not quite ready to book yet? Save this post for later!