When you're getting tired of the beach in Cancun, it's time to head on a road trip adventure to Punta Laguna and Coba! The Yucatan peninsula has amazing jungle and prehistoric sites all over, within just a short drive of its gorgeous beaches.
Of all the archaeological ruins in the Yucatan peninsula, the pyramid at Coba is one of the most fun to visit! You can climb this pyramid all the way to the top! If this is your first trip to Cancun or Mexico, don't miss out on check out the Yucatan jungle and Mayan ruins.
One of the most exciting activities for kids, is spotting monkeys in the jungle! So grab your rental car and swap your flip flops for a pair of shoes, for all the details on visiting Punta Laguna and Cobá with kids.
This post may contain affiliate links. Thank you for supporting our work.
Punta Laguna and Coba with Kids
Punta Laguna is a fun day trip from Cancun! The nature reserve at Punta Laguna is only two hours drive from Cancun, making it a great place to trade the sun for a shaded jungle walk.
If you get an early start you can visit both Punta Laguna and Coba in the same day. This would be best suited to high energy travelers: read independent travelers or adults and teens. Coba is only another half an hour away, so you can fit in an afternoon visit to the archaeological zone.
Coba is one of the iconic Mayan ruins in the Yucatan peninsula. This is because the tallest pyramid stands apart from other structures and you are allowed to climb it! It is most definitely one of the most instagrammable spots in the Yucatan.
Continue reading for all of the details on how to visit these two fun destinations in Quinatana Roo!
Driving to Punta Laguna from Cancun
After our beach time, we were finally on the road!!! Yes, three exclamation points because our first stop was one I was most excited about- Punta Laguna! If all bode well, we would get to see real spider monkeys in the wild…
Tip: But first an aside. When we left Cancun, we were using Google maps to navigate… and definitely got on the wrong highway when the map suddenly dead-ended on us! We reversed course, paid the toll (again) and then we were really on our way. So learn from our mistake, use Waze!
The drive from Cancun to Punta Laguna is fairly simple once you get on the correct highway. You will be heading southwest toward the jungle! Take the toll road 180D from Cancun towards Merida.
From there you will turn off toward Nuevo Durango on the 109 road. Note that this a a small road with one lane in each direction, so your total driving time should be right around two hours.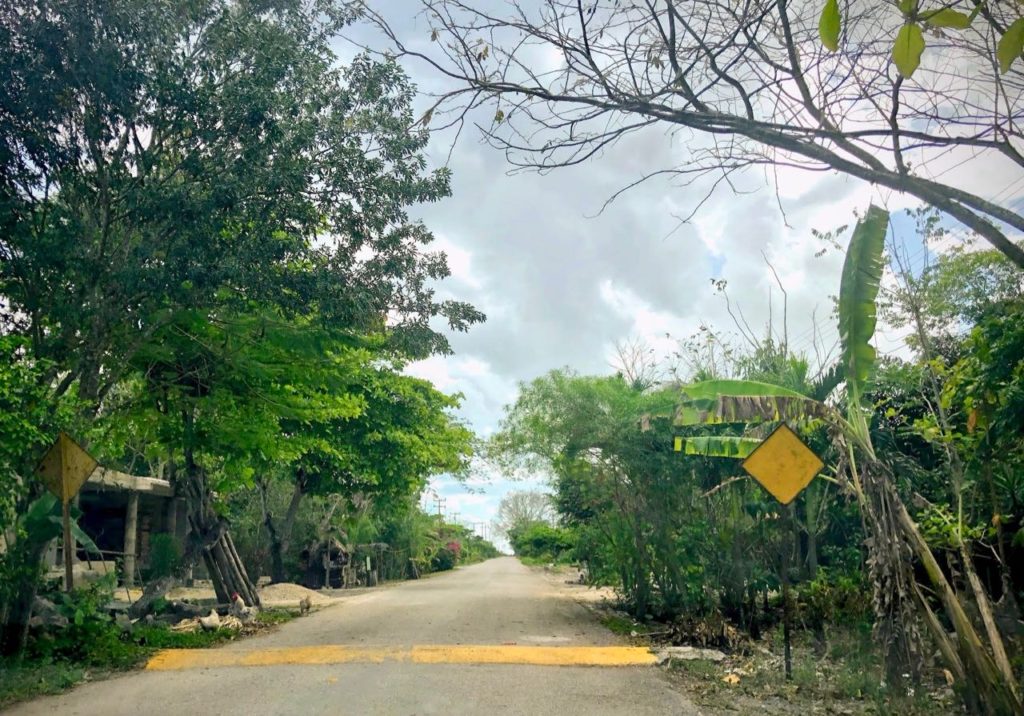 Punta Laguna, Quintana Roo
Now back to the recap. Punta Laguna is a nature reserve that has both howler monkeys and spider monkeys!
If you want to get your kids excited, I recommend reading Eric Carle's Panda Bear, Panda Bear, What Do You See? That book was where we first heard of the spider monkey.
Should you get a guide?
The online reviews about whether we should take a guide were conflicting. There wasn't a consensus about whether it was worth the extra cost. When we arrived we asked some other tourists in the parking lot.
Based on their experience (barely seeing anything), we decided it was definitely worth our while to take a Mayan guide and guarantee monkey sightings. I mean, this was the reason we came here, right?!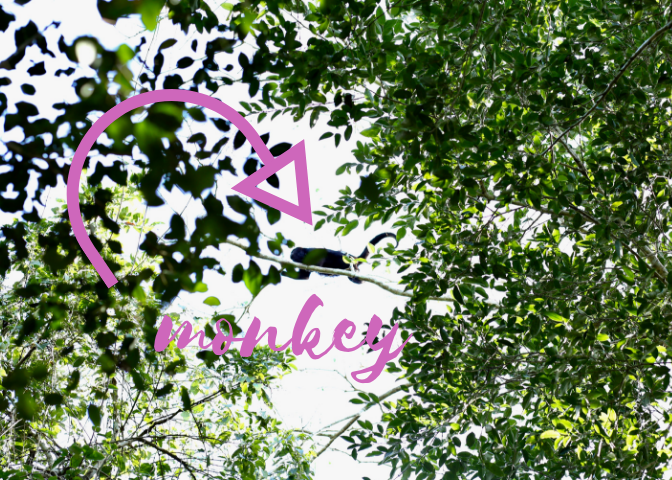 We all loved the hike! The guide took us around the reserve and knew how to call the monkeys, so we saw them high in the canopy.
The monkeys swing on branches from tree to tree. We saw mother monkeys helping baby monkeys get around. They move fast and we had a tough time taking pictures, but the experience was priceless!
At the end of the walk we ended up by a picturesque lake. We had a nice time just hanging out a bit. However, if your kids are a little older, you can also paddle across the lake to a zipline! (There is an additional fee for this).
From Punta Laguna we drove the rest of the way to Coba…Just continue on the 190 road for another half an hour or so!
Cobá
Cobá is just a small little town, but we were there to sleep the night for an early day of exploration the next day. We planned to take our time exploring the "Zona Arqueológica Cobá", which consists of many smaller structures in addition to the large main pyramid.
Lodging in Coba is highly limited to a few barebones guest houses. Its location within a short drive of Tulum and Mexican cruise ship ports means that the majority of visitors do not stay there.
Fortunately for us, our plan was to stay the night so that we could arrive at the ruins first thing in the morning, before the barrage of tourists! Unfortunately that night was my turn for Montezuma's revenge. We kept the next day's exploration easy going!
Exploring Coba with Kids
When you arrive at the ruins, there are options to rent bicycles, or hire a bike taxi to take you from the main entrance to the Ixmoja pyramid (that's the big one at the far end of the complex).
We chose to walk in so we could explore the other areas as well. Our boys- ages 5 and 6.5- walked, and our 1.5 year old was in our Deuter carrier. We took our time exploring until we made it to the Nohoch Mul group and main pyramid. By then the sun had come out in full force.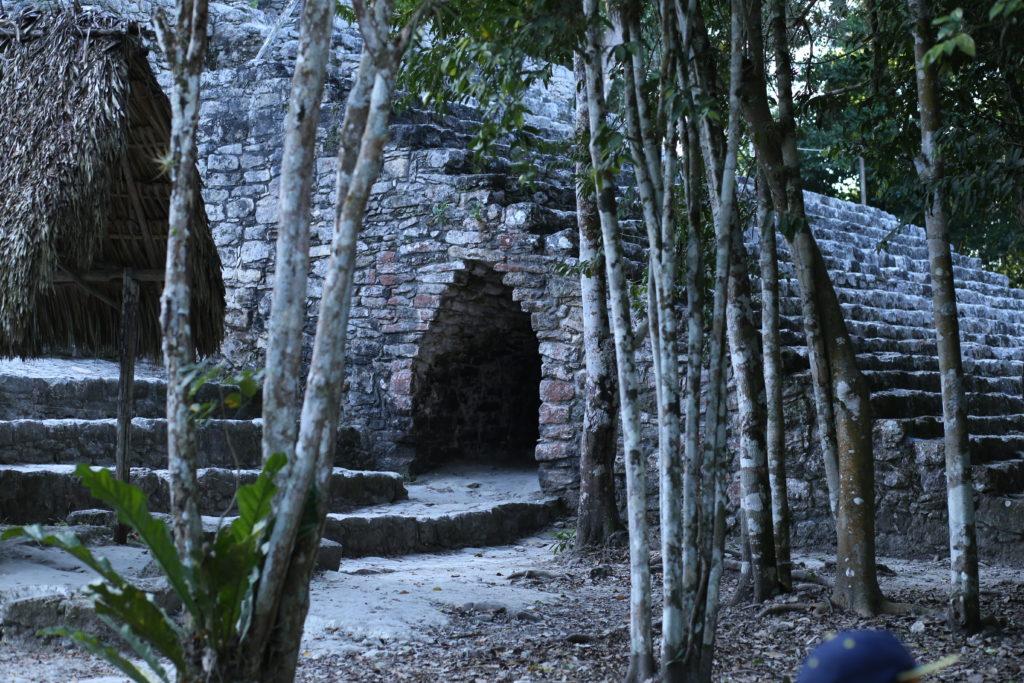 Our 6 year old promptly took off! No fear! He climbed the huge steps up while we were fumbling around with the sunscreen. In my weakened state I hung back with our little one, while M took our 5 year old up, and helped both boys come down. There is a rope down the middle to help navigate the large steps coming down.
During the time that they were on the pyramid, the cruise ship groups arrived, and the area was quite busy by the time we decided to head out. By this time, the boys were exhausted, so we hired a bike taxi to take us back to the main entrance.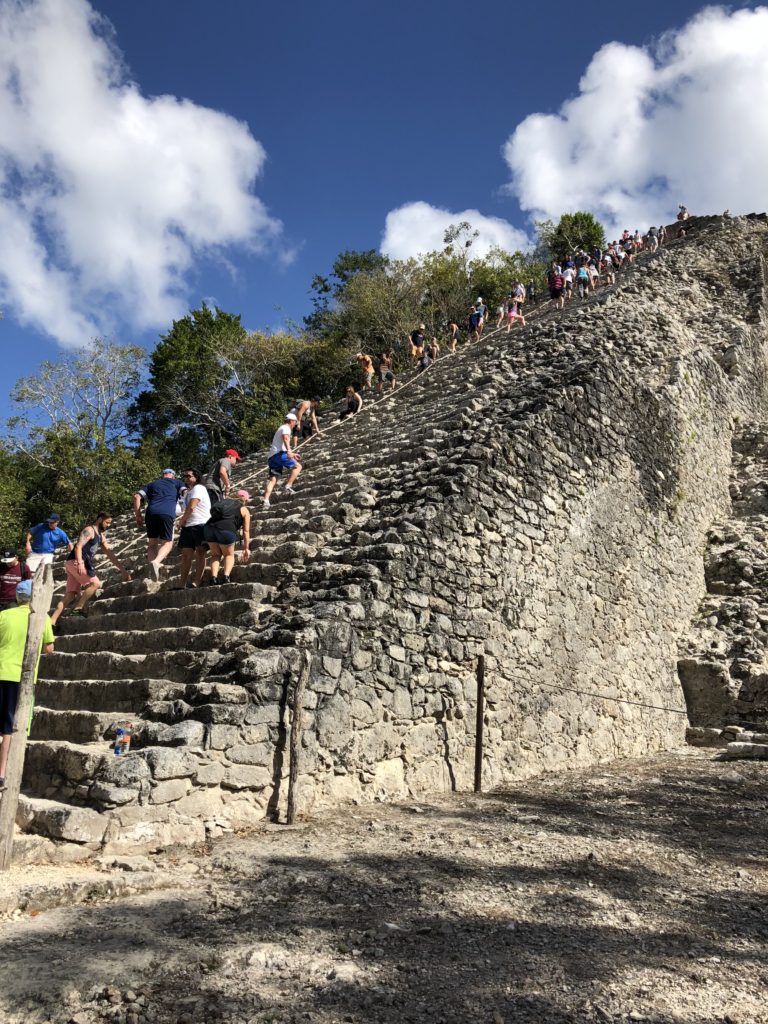 Afternoon is the best driving time because it is baby's nap time. We hit the road to Merida…one of our favorite Mexican cities! But that's for our next post!
Seeing the monkeys was such a highlight for me! What gets you excited when you're traveling? Ruins? Relaxation? Wildlife?