Alright folks, I'm back with the final two recaps of our trip to Yucatan with three kids, and then we will be back up to real time in New York City.
So, after our absolutely amazing, busy "best day", we were off to my personal favorite destination of our trip: Hacienda San Jose.
We woke up in Merida ready to pack up and hit the road so that we could spend as much time as possible at the hacienda. Early check in and late check out for the win. But first…a completely unplanned and totally awesome experience for Little N.
A Morning in Downtown Merida
For our final morning in Merida, we walked back into the downtown area for a some shopping.
We passed by a small music school advertising lessons, and took the opportunity to sign up Little N for an introductory lesson. He had half a lesson in piano and half in drums, and it was so great! He loved it and it definitely peaked his interest in taking lessons at home.
Haciendas in the Yucatan
We quickly finished packing up and hit the road to see a part of Yucatan history we had missed on our first trip- a hacienda!
The haciendas were large plantation houses. Yucatan was known for its plantations of henequen, a type of agave plant that produces a fiber similar to sisal.
In the 19th century, this industry boomed as the fiber was used to make rope, particularly for maritime activity. The haciendas declined quickly by the mid- 20th century with the proliferation of nylon rope.
Nowadays many of the abandoned haciendas have been revived as tourist destinations or hotels.
In full disclosure, we chose this particular hacienda because it was part of the SPG network and we used points to pay for the stay. It was stunning!
Hacienda San Jose
The property of Hacienda San Jose was magical. We spent our time there just exploring the little pathways all around, observing the gorgeous landscaping, and enjoying a true luxury experience.
Of course, we hit up the (slightly chilly) pool on both days. The only thing that wasn't great, was the food. It still wasn't bad, but didn't live up to the same level as the service and environment, and as we were quite secluded in the jungle of Tixkokob, it was what it was.
The rooms were huge! We had two double beds and a hammock. The bathrooms had more than enough room for all of us to move around, in on the back patio there was an outdoor tub. All we had to do was request, and a staff member made sure it was full of warm water at the time we indicated!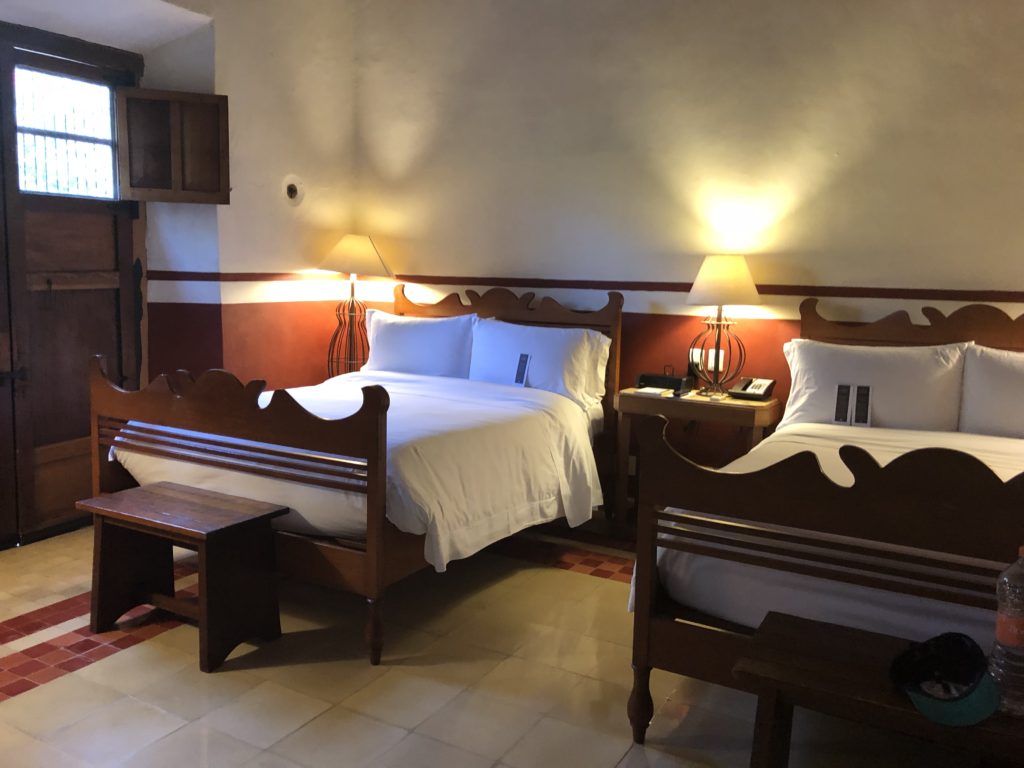 The quiet and slow pace were just what we needed after several days of touring.
Alas, it was time to head back towards Cancun to catch our flight a couple of days later. After our late afternoon checkout, we spent one night in Izamal- just a half hour away from the hacienda- to shorten our final driving day a bit.
Izamal
In Izamal, we checked into the same hotel as last time. We did yet another evening carriage ride, to enjoy the yellow painted town, and soak in every bit of the warm evening air.
Driving from Izamal to Cancun
The next day we had a two and half hour drive back to Cancun. So to get the kids nice and tired before the drive, we climbed up the Kinich Kakmo pyramid.
It is right in the center of town and has a great view of the surroundings. Once they were sufficiently exhausted, we loaded up into the car and drove straight to Cancun!
We only made one stop at a highway rest area for a quick taco lunch, and were back on the road.
As I previously mentioned, our room in Cancun this time around was much nicer, and we got an extra little bonus….but that's for next time!
Have you been to a luxury hotel? Would you take your kids to one? Or are we the only crazies??? This was a rare occasion for us and was such a fun treat!