Wondering about the best places to eat and relax in Guadalajara and Puerto Vallarta Mexico? Well you've come to the right place! After living in Guadalajara for four years and vacationing in Puerto Vallarta (and Nuevo Vallarta, Marina, etc) numerous time, we flew back to visit our favorite haunts. Tequila was off the menu for this pregnant lady, but food and chill out time was the name of the game! Whip out your idevice and take notes: these tried and true favorite restaurants in Guadalajara and Puerto Vallarta do not disappoint.
Deciding to Vacation in Guadalajara Mexico
The first week we moved to New York City, we found out baby number three was on the way! Fast forward a few months into the school year, and the winter was taking its toll. What's more, Michael completed his first round of exams and it was time to celebrate.
We couldn't think of a better place to visit in January than the lovely weather we knew and missed from Guadalajara, Mexico. What's more, the Zika hysteria was at its peak so a vacation at altitude was in order.
New York City to Guadalajara: Flying Volaris
If you're looking for cheap, cheap flights into Guadalajara, the way to go is on Volaris airlines. Purchase ahead for the best prices. That said, the direct New York City to Guadalajara flights, regularly leave around 2 am!
You can already imagine the pros and cons without me spelling it out: the time is really inconvenient, obviously. The price is right. Choose your own adventure, people!
Best Restaurants in Guadalajara
This is not an exhaustive list of the best restaurants. I'll leave that for the foodies. Let's call this the list of restaurants we loved as a family, with reliably good food and good service.
La Chata– Without a doubt, the best location for traditional Mexican food from Guadalajara. The downtown location is super charming, but the Providencia location has a small kids' play room. Order the Caldo Tlalpeño (soup) or the arrachera, or really anything! Seriously, everything is good!
Tacos Charly– Guadalajara is know for fish tacos! As a matter of fact, most of the fish from the coast is sent to the large fish market in Zapopan, making the fish there often times more fresh than the fish in Puerto Vallarta!!! This taco place is so good. The fish and seafood tacos are super fresh, inexpensive and the salads and sauces on point! (Note there are a couple locations; we slightly prefer the one off of Avenida Revolucion)
Chai– This restaurant and cafe is one of several excellent places for a brunch or lunch. The food is solid, the coffee and juice is excellent, and the atmosphere and decor is really nice. Have kids? The Providencia location has an amazing play room. Young and hip? Head downtown!
Cafe Barra Cafe– Definitely one of the best places for a breakfast in Guadalajara. Everything is good!
Dainzu– If I could only go to one restaurant in Guadalajara, it would be a very close battle between La Chata and Dainzu. This restaurant has a Oaxaca inspired menu. Breakfast includes a fruit bar and amazing breads in addition to your main meal. We love it so much, it inspired us to visit Dainzu in Oaxaca!
Sonora's Meat– If you are looking for a good grilled beef arrachera, you can not go wrong here. They offer a paquete (package) with tortillas, guacamole, grilled onion, etc, making it an amazing value for a family meal. (Ever since we started eating exclusively grass fed beef at home, we've become really picky about recommending steak. This one still tastes divine!)
Restaurant Honorable Mentions in Guadalajara
Black Coffee Gallery– Local chain offering a solid espresso bar.
Cafe Punta del Cielo– Mexican coffee chain, again solid!
La Tequila– The very first restaurant we were taken to in Guadalajara, this is a great choice for your first foray in Mexican food. The menu is complete, as is the bar, and they make guacamole at your table side.
Santo Coyote– If you are a tourist in Guadalajara this is "the" fancy restaurant to go to. The decor and atmosphere are gorgeous. That said, the food is just as good (if not better) at the other places we mentioned. But it's an experience for sure.
Relaxation in Guadalajara Mexico
Guadalajara is an easy going city of about 5 million people (including the metropolitan area)! It's not typical to describe a big city as easy going, but the layout of different neighborhoods, lack of skyscrapers, beautiful weather year round, and friendly people make for a very nice city.
Centro Historico
As a tourist, you can see the main attractions of Guadalajara, staying in the downtown Centro Historico, in a couple of days. For lodging, you can't go wrong with Hotel Morales or the very historic Hotel Frances!
Here's how to spend 3 days in Guadalajara! The first day has all the details you need for checking out the Centro!
For relaxation, consider just hanging out in some of the outdoor plazas and people watching as you soak in the sun. This is one of our favorite activities to do with kids and visitors to the city!
Bosque Los Colomos
Bosque Los Colomos is THE green space within Guadalajara city boundaries. There are 5k routes marked on the trails, or you can just explore the lake and enjoy the scenery.
On weekends you will find painting in the park set up (as with many local parks). Very fun, and affordable, to get your craft on in nature.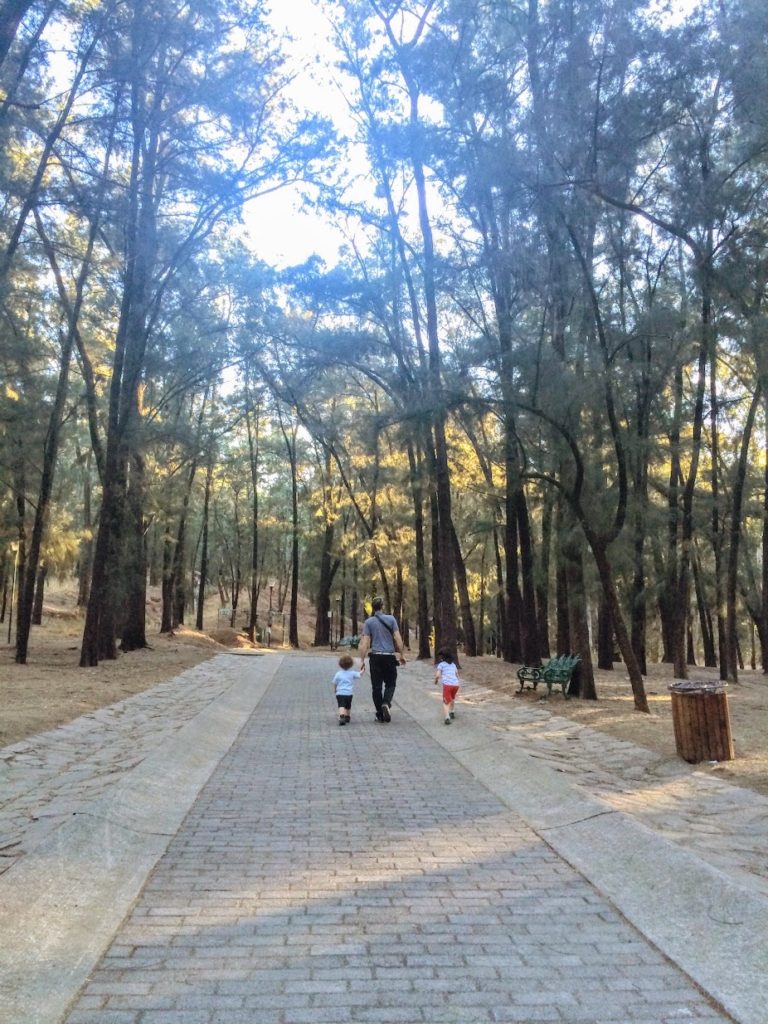 Malls, Malls, Malls
What would a vacation be without a little shopping? Guadalajara has some excellent malls with both indoor and outdoor options. Two of our favorites (having checked out all of them at one point or another) are Gallerias and Andares.
Andares is an indoor/outdoor mall. In additional to all the usual shops, there is a nice selection of restaurants offering indoor and outdoor dining options. Additionally, there are constantly free concerts and event activities in the central area.
Plaza Galerías is what I would characterize as a more typical mall. That said, it is very complete in terms of shopping options. There are chain restaurants, grocery stores and kiddie play areas within the rather large complex.
Want to catch a movie?
Both malls have a Cinepolis movie theater, with Andares offering a Cinepolis VIP. The VIP option means you sit in arm chairs and have the option of ordering food throughout the showing!
Events and More
The advantage Guadalajara has as a large city is huge in terms of cultural events. There is always something going on in the convention center, or at various outdoor venues. Depending on the time of the year you can catch a rodeo or other expo.
Another perennial favorite, is the Guadalajara Zoo! The Zoo has both a safari area and an aquarium. In addition is there is a train to take you around and cable cars! It is beautiful and easy to walk around!
With more time, consider taking a day trip to Lake Chapala (home of many expat retirees), or Tequila!
We left this part out on our baby moon / family trip because it was time to head to the beach in Puerto Vallarta.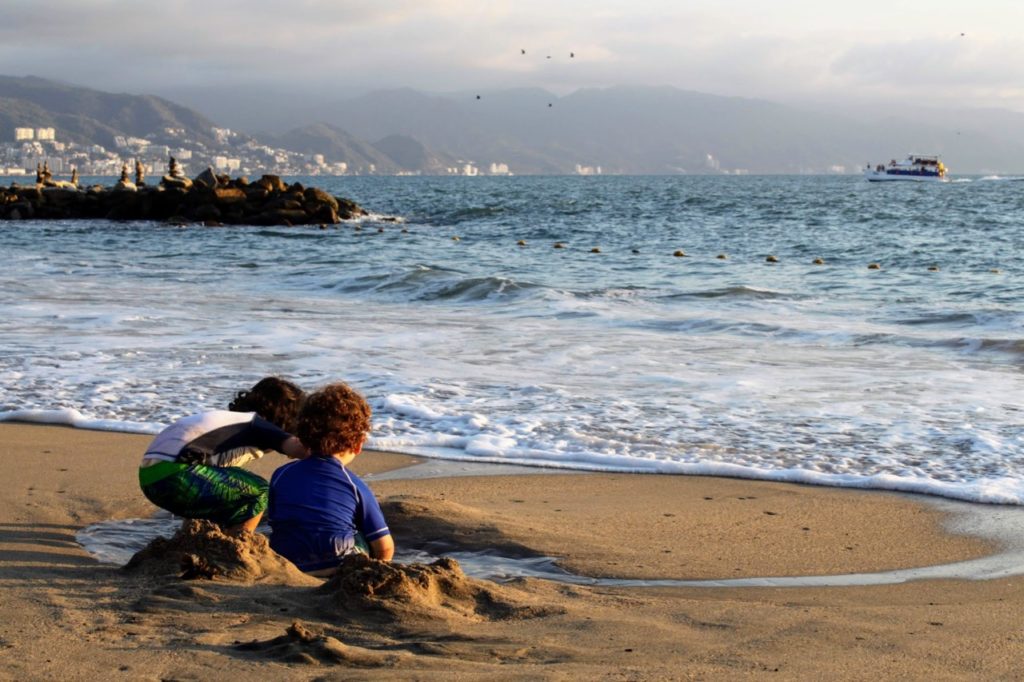 Relaxation in Puerto Vallarta
Just four hours away driving from Guadalajara, or a one hour flight, will get you to Puerto Vallarta. I'll keep this section short because I have written many times about our trips to Puerto Vallarta!
Driving from Guadalajara to Puerto Vallarta
The easiest route is to take the carretera (highway) 15D from Guadalajara towards Tepic. This is a toll road and this section is generally well maintained.
From there, you must (relucatantly?) drive down the forested mountains on Route 200 towards the coast. Take your time and your patience if you are heading out for a weekend as the road is windy and narrow.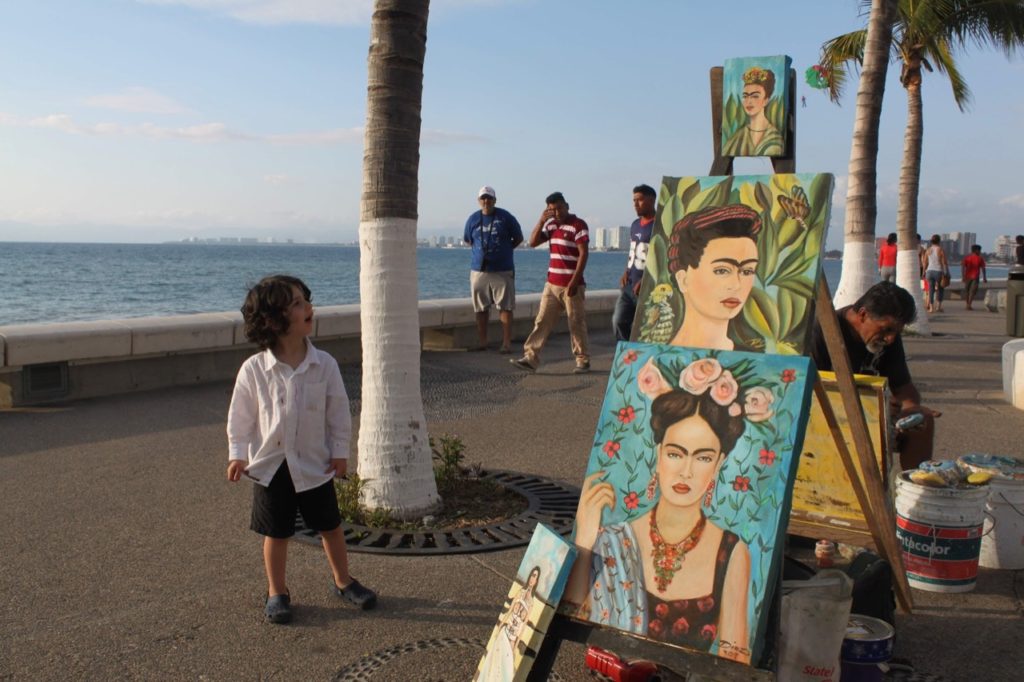 Lay of the Land in Puerto Vallarta
There are many options for accommodations all along the coast! Starting in the state of Nayarit. One of the closest options, is Chacala, a tiny beach that is one of our favorites.
Then you come upon some expat favorites: Rincon de Guayabitos, and further south, surfer heaven in Sayulita! That's followed by luxury in Punta Mita.
Working our way south, there are many vacation rentals near Bucerias. Then you head into the area of all inclusive resorts in Nuevo Vallarta! Finally you can cross back into the state of Jalisco, passing the airport.
Puerto Vallarta proper has a mixture of accommodation options. We really like the hotels in the Marina Vallarta, as you have both full service hotels but also many restaurant options in the marina itself which cater to the large amount of vacation condos in the area.
Downtown Puerto Vallarta is great is you are looking for a fun, going out vibe! The boardwalk is gorgeous, the public beaches have plenty of restaurants where you can sit at for the day, and the cobblestone streets are just too cute!
Heading to the southern end, again you get back into larger hotels. The city will turn into gorgeous mountain roads that go all along the Costa Alegre.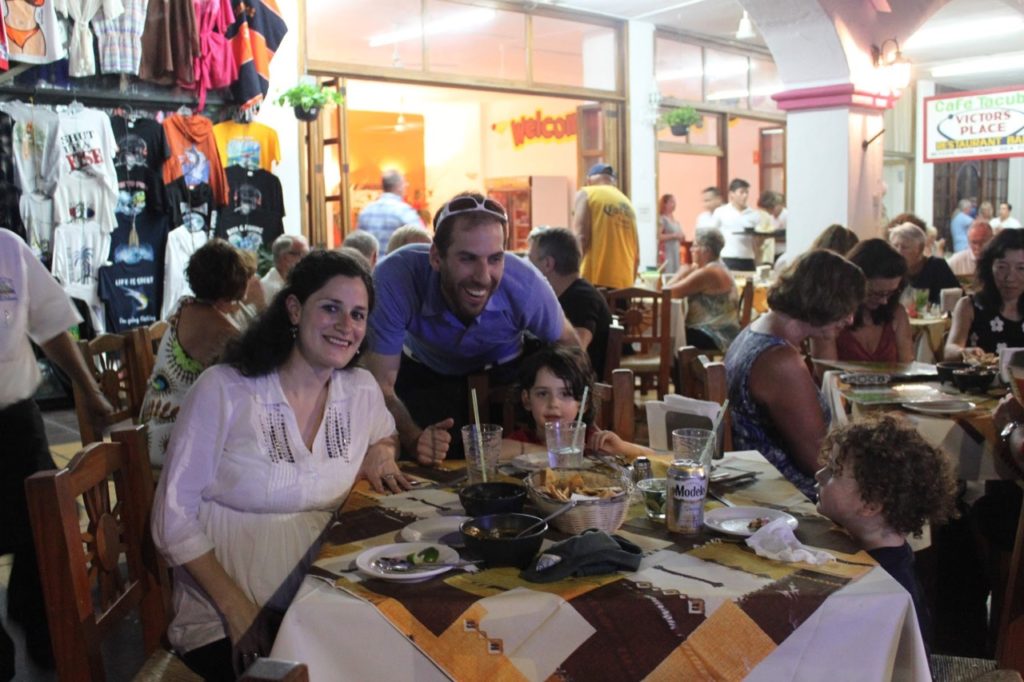 Dining in Puerto Vallarta
There are so many dining options in Puerto Vallarta! Most cater to tourists, but also, they are mostly all fine! A couple of our favorites are along the boardwalk (malecón): La Dolce Vita, for Italian food, and Buonissimo Gelato. In the marina, we like Victor's, for dinner, and Los Mariachiles, for breakfast.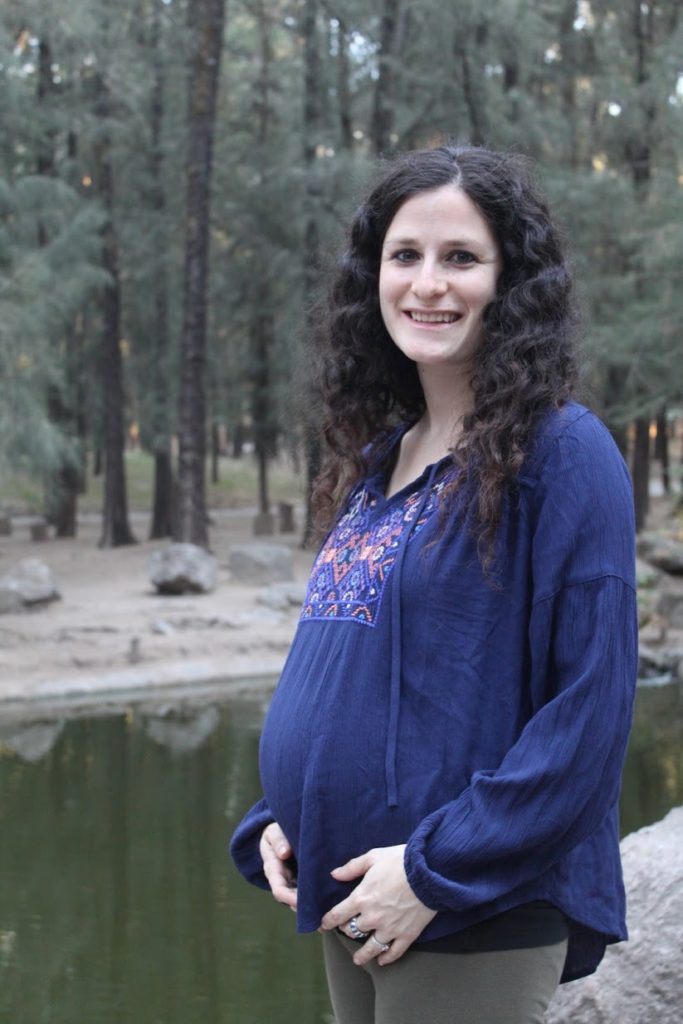 Would I recommend Guadalajara and Puerto Vallarta for a Baby Moon?
A resounding yes! Both are easy going places to eat your heart out and relax while you're pregnant!
Leave your questions in the comments!