San Antonio is arguably the most interesting destination in Texas. Time and again, when people ask about visiting Texas with kids, San Antonio is at the top of the list! And for good reason, this city boasts plenty of things to do with kids outdoors and indoors. There are fun activities for kids in San Antonio that are good all year long.
If you are considering a "Trip to Texas", then San Antonio definitely needs to make your itinerary. You can combine a visit to this city with a drive into the Texas Hill Country, and get a taste of Texas' natural beauty.
San Antonio has pretty great weather during the fall, winter and spring with warm to mild temperatures. It does get hot in the summer…but that goes for all of Texas.
If you are looking to spend a weekend in San Antonio with kids then look no further. Here is a guide to the best things to do in San Antonio with kids!
The Best Things to do in San Antonio (with Kids)
San Antonio is Texas' second largest city! It was founded in 1718 as a Spanish colonial mission, and that history is apparent in the tourist activities, and general layout of the city. Our children absolutely loved the walkable downtown area with its historic buildings and
If you are considering a weekend getaway to San Antonio, check the weather and plan to spend most of your time outdoors. Without a doubt the best time to visit San Antonio (and all of Texas) is the fall or spring time. Our visit took place in the winter, and while it was chilly, we had lovely sunny days. We definitely recommend San Antonio as a Texas staycation or for a quick domestic weekend trip.
So without further ado, here are the best things to do in San Antonio for families or anyone really!
1. Visit the Alamo
Remember the Alamo! Who remembers this from their high school history class??? No?! Here's a quick primer: The Alamo building was originally the Misión San Antonio de Valero, a Spanish mission. It is famous for the Battle of the Alamo that took place in 1836 when Texans were fighting for independence from Mexico.
Tip: If you have elementary age kids or tween, I made a recommendation for this book, in another post about Gonzalez, Texas. It is a graphic novel about the Alamo; highly recommend.
For the adults: There's a new (controversial) book that came out: Forget the Alamo. If you read it, please let me know your thoughts!
The Alamo is right in downtown. You can grab timed ticket from the booth right outside the main entrance. It is free to walk around; you only need to pay for an audio guide or guided tour if you want.
2. Walk Along the Riverwalk (or take a River Cruise)
The San Antonio river walk was originally designed for flood prevention. It is a channel with sidewalks and shops on both sides. This is a favorite pedestrian walkway and the second must do activity in San Antonio.
There are plenty of restaurant along the river walk if you want to enjoy people watching. A fun activity is taking the river cruise. This guided cruise will tell you all about the river walk and San Antonio in general!
Do note, if you are coming with a stroller that there are only a couple of handicap entrances. As the walkway is located one story down from the street level, you need to go down a flight of stairs to access the riverwalk! There is an elevator at Houston St. and Presa St.
3. Enjoy Downtown San Antonio
Both the Alamo and the Riverwalk are located in downtown San Antonio. Here are a few more places you can walk to.
Walk through La Villita, for local crafts. Right across the street from the convention center, this is full of quaint local shops.
For families the Yanaguana Garden is not to be missed. This large urban park and playground has fun climbing structures, swings, a water feature and backyard chickens. Our kids did not want to leave!
While you are exploring the city, check out historic Market Square, which is an outdoor shopping plaza with specialty shops and a farmers market.
Further from the center but still downtown is the Pearl District which has a brewery, farmer's market and other fun shopping options.There are a couple of museums downtown as well, but more on that below!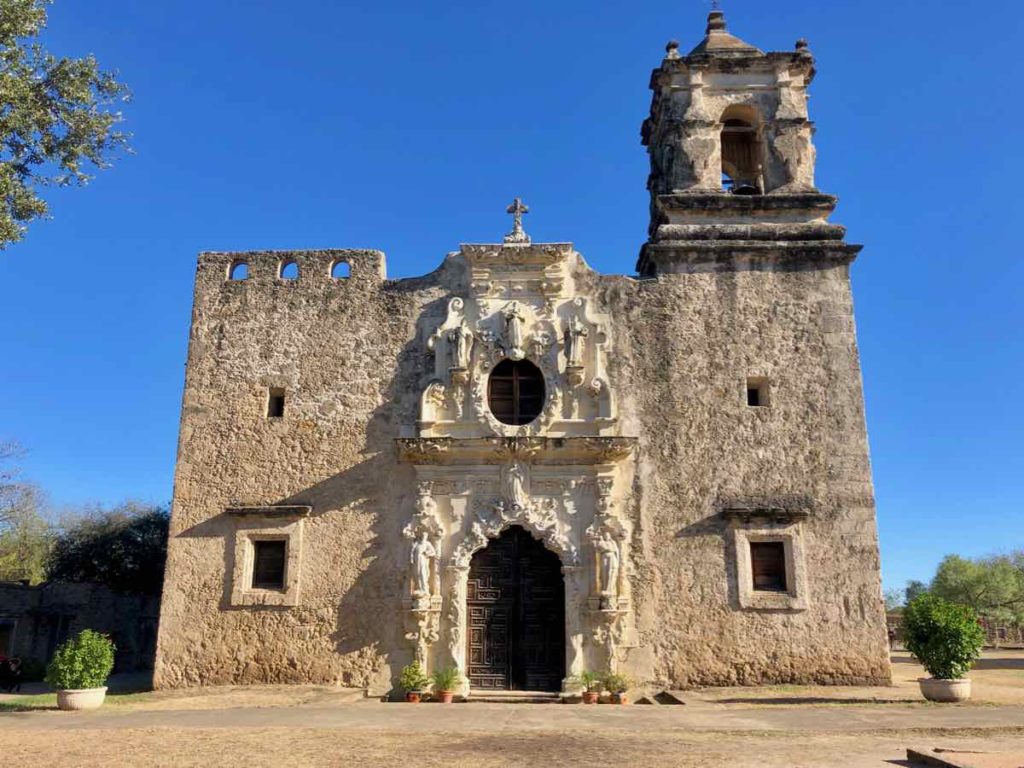 4. Visit the San Antonio Missions
The San Antonio Missions National Park is most definitely a must-see in San Antonio and the only UNESCO World Heritage Site in Texas!
The park consists of five Spanish colonial missions: Mission Concepcion, Mission San Jose, Mission San Juan, Mission Espada, and Mission San Antonio de Valero (the Alamo, above). These missions together were incorporated make up the San Antonio Missions National Historic Park.
You have many options for visiting the missions. Choose one or two the explore, or drive between them. There is also the option of using the Hike and Bike Trail! This seems like a fun option if you are solo or with older kids! You can also take a tour of the missions.
Mission San Jose
Mission San Jose is the largest and best restored of the missions. In addition to the church, you can see where people lived, the granary, soldiers' quarters and a gristmill! This is a really expansive destination perfect for exploring with kids!
It is also easily accessible by public transportation, if you are in San Antonio without a car!
Mission San Juan
Mission San Juan has a picturesque white church building and is calm and quiet. From here you can also access the Yanaguana Trail over the original San Antonio River. We loved ending our day at this peaceful mission.
Mission Espada
A short drive from Mission San Juan is Mission Espada. This is another smaller complex, but that you can drive by on the Camino Coahuilteca. This driving path connects the missions if you just want to see the structures from the outside. Nearby there is also the Espada Aqueduct you can check out!
Mission Concepcion
This mission has the the oldest unrestored stone church in America! This is one of the smaller complexes. We skipped it on our trip, but if you are driving through San Antonio on the I-10 highway, it is super close and could make a fun historical stop on a road trip through Texas.
Even better, across the street there is a Concepcion Park! The city park has trails, a playground and everything you might need in a rest stop.
Mission San Antonio de Valero
This is the Alamo, see details above on how to visit!
5. Check out San Antonio Museums for Kids
San Antonio has many museums for every interest. Here is a selection of museums we would consider visiting with kids.
Brisco Western Art Museum
If Texas makes you think of ranches and the Wild West, then this is the museum for you! You can see art from pre-colonial days and onwards. With kids, you can't pack in too many museums in one go. This was our choice for a unique San Antonio museum.
San Antonio Museum of Art
The San Antonio Museum of Art (SAMA) is well known for having an excellent Latin American art collection. They also have Greek, Roman and Egyptian art, which is always a hit with kids!
The DoSeum
It seems like every big city has a hands on museum these days, and the DoSeum is the San Antonio version full of science experiments and activities for kids.
UTSA Institute of Texan Cultures
If San Antonio is your first (or only) foray into Texas culture, you can check out this museum for exhibits on traditions, food music and more from Texas.
McNay Art Museum
The McNay Art Museum is the contemporary art museum in San Antonio. With a longer stay in town, check out the collections in the Spanish Revival house that was home to art-collector Marion Koogler McNay.
Review of the St. Anthony Hotel
The St. Anthony Hotel is part of the Luxury Collection Hotels in the Marriott group. Many people think that you can't stay at luxury hotels with kids. However, you most certainly can (unless it is an adult only property)!
As a matter of fact we love staying at nicer hotels because a standard room will have much more space and usually can accommodate our whole family. This was the case at the St. Anthony Hotel in San Antonio.
The lobby of the hotel has an opulent feel and very nicely decorated. There is a restaurant and bar area indoors.
In terms of outdoor space, there is also an outdoor rooftop pool and another outdoor lounge area on the top floor. We loved the both of these outdoor spaces with amazing city views of San Antonio. We especially loved that the pool area had a shallow section for sunbathing. This ledge design is perfect when you have a toddler!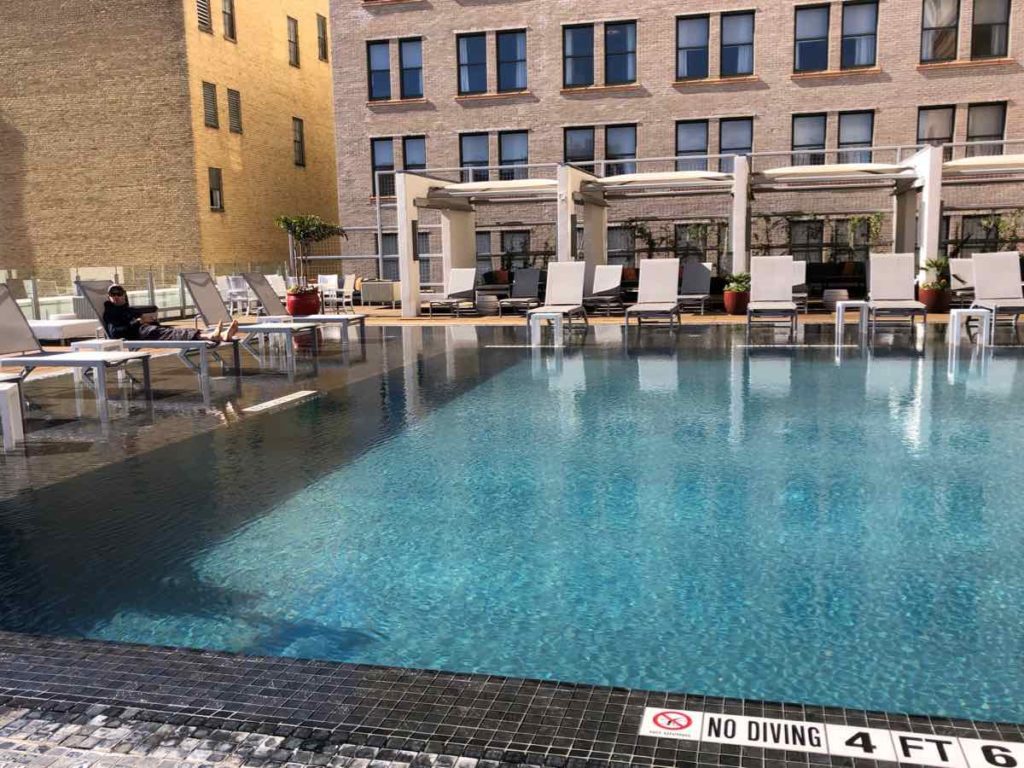 Speaking of view, the St. Anthony Hotel overlooks Travis Park. This small city park has art installations and benches. Around the park, you can find metered street parking that is free overnight.
The room featured two queen beds with upholstered end of bed benched. We joked the benches were big enough for our five-year-old to sleep in as a bed! However, we were provided with an extra rollaway bed that fit in the room with enough space to still walk around.
Otherwise it had standard fittings such as a mini fridge, coffee makers, complementary water bottles etc. Click to Check Current Prices!
Tip: We used our free night certificate from Marriott to stay at this hotel. If you want to know more about how to get the certificate, you can check out my post on travel hacking or leave a comment and I will send you a link for the credit card that we used!
Where to Eat in San Antonio
Schilo's – Schilo's is San Antonio's oldest restaurant. It serves traditional German and American food. Everything we ate here was great! The kids especially loved the split pea soup!
Pharm Table – Everything at this organic restaurant is absolutely divine! We loved every dish: salads, probiotic starters, drinks and more, inspired by Ayurvedic flavor balancing. It's not always easy to find healthy food, but it's so fun and delicious when we do!
San Antonio Kid Activities
As you can see never really are so many things to do in San Antonio! We easily could have extended our weekend trip to 4 or 5 days in San Antonio.
There are even more kid friendly activities we were recommended that we didn't have time to try. These include the San Antonio Botanical Garden or taking a day trips.
The most frequently mentioned day trips from San Antonio include: Natural Bridge Caverns, where you can tour underground caverns or visiting a dude ranch. If you add in those other activities you could easily spend a week in Texas with kids!
Have you been to San Antonio? What was your favorite part?