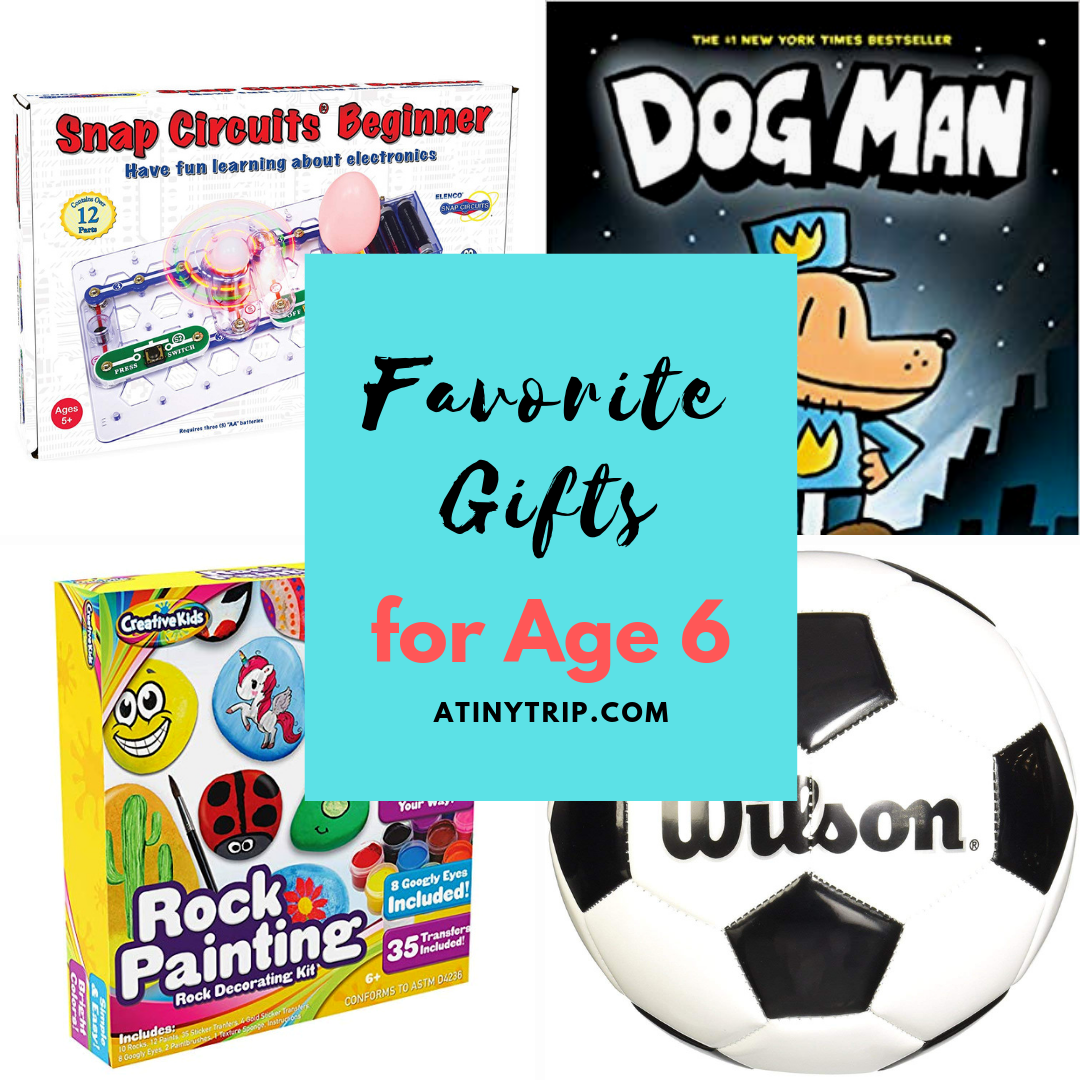 Very soon our "Baby brother" will be turning six years old. Six year olds are so much fun! There are great gifting options for age 6. They've officially left that preschool/ kinder age group, they may be learning how to read, and are really interested in the world around them. Since we've done the 6 year old birthday once before, I have a good sense of what works. These are some of our favorite gifts for age six!
This post may contain affiliate links. Thank you for supporting our work.
STEM Gifts for 6 Year Olds
Legos
Legos- I think of age 5 as the perfect age for real legos. There is something about building with tiny pieces my kids love. At age six, you can really get into more intricate builds. The favorite in our house have been the Nexo Knights and Ninjago kits.
I think that now is the perfect time to introduce more involved kits based on their interests; this is the kit I currently have in mind for B. [Update- this kit was a big success; the still play with it two years later]!
Snap Circuits
Snap Circuits- The other great toy for age six, are Snap Circuits. We have both the Junior set and the Beginner set, and while the boys have been playing with them for over a year, like so many things, being able to read really takes things to the next level. They still love to experiment to see what happens but can now also read the explanations.
Sport Birthday Gifts
Soccer Gifts
Soccer- Age 6 is a great age to begin a huge variety of sports. Our kids are big soccer fans and one item that is required for this age is a small size 3 soccer ball.
While less exciting, they have also been happy to receive soccer shoes. You will notice that in 90% of pictures my kids now wear these!
One more thing- the boys were ridiculously excited to get goalie gloves! Totally not necessary, but fun!
Baseball Gifts
Baseball- The other sport that both boys at ages 5 and 7 really love, is baseball. I can highly recommend this bat, a set of balls, a helmet, and mitts (we have this one for the 5 year old and this one for the 7 year old).
I like gifting things I would probably get anyway, like extra balls, for birthdays. The kids seem to appreciate it and they never complain (unlike if I try to gift clothes :/).
Art Gifts
Pencil Sharpener– Our B loves arts and crafts, and while we already have a plethora of drawing supplies: pencils, crayons and markers, the one item he has really been requesting is an electric pencil sharpener. [Update- this was an excellent purchase and gets used almost daily].
Rock Painting Kit– This is the kit we recently got for a classmate, and the boys really, really wanted one themselves! So much, that they started painting random jaggedy rocks they found. I may have another kit I got on sale already stashed away. 😉
Model Magic– The kids got a small packet of this modeling clay at school and absolutely loved it! M and I also got a chance to play around with it, and agree it is a fun material. It is extremely lightweight and malleable, and less sticky than play dough. I think it will be a nice addition to our heavily used art supplies.
Music Gifts
Ukulele– Ever since his brother got a guitar, our B has been dying to get a ukulele! We've confirmed with his music teacher that it is a good place to start if he wants to transition to guitar later. This will likely be his big birthday gift.
In addition I am thinking of getting some guitar hooks. A practical purchase that I think is somewhat necessary with a two year old in the house. I really like some of the more decorative hooks on etsy, but we will probably stay low-key with the basic ones. [Update- the basic hooks linked above have been wonderful and already moved houses with us and are working great].
Digital Piano– This is not currently on the docket for us as it is quite a large purchase. However, we have confirmed that around age 6, when kids learn to read, is a great time to begin piano lessons. This keyboard comes highly recommended. Our friends have a similar model and it's great!
Favorite Books at Age 6
Fancy Nancy- These are some great "I Can Read" Books. They are slightly more interesting than many of the other early readers, and I love the inclusion of bigger vocabulary words.
Mercy Watson– These are great first "chapter" books. The stories are short and entertaining! Lots of full color pictures too!
Ricky Ricotta's Mighty Robots– by the author of Captain Underpants (another favorite but slightly more advanced); nice colorful illustrations.
Dogman– Yet another Dav Pilkey favorite. Even before they could easily read them, the illustrated graphic novels were a favorite in our house.
For those with reluctant readers, I highly recommend graphic novels. They were the gateway books for both older boys to really kick their reading level up a notch so that they could later handle chapter books!
Cam Jansen– Slightly more wordy than some of these other series, but great short stories.
A Couple Final Recommendations
Chess– Early elementary school is such a great age! If the kids show interest, we teach them to play the classic game of chess.
Book light– One thing we love to encourage our readers at home, is buying them their own book light. This one is great because it's rechargeable. [Update- we have had this light for 3 years and it's still going strong!] Another option is a head lamp, so they can use it in bed but also for camping.
So that's my roundup of our favorite gifts at age 6! What did I leave off the list? Anything else you recommend?