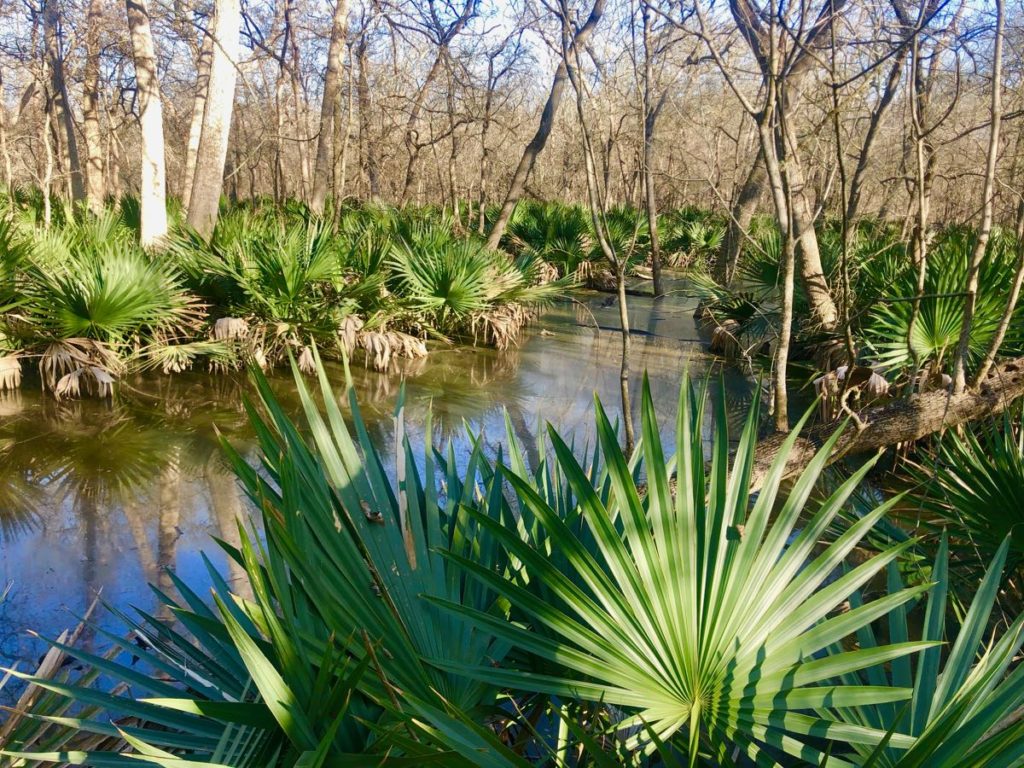 Before we get to Palmetto State Park, let's talk about palm trees. Or just skip ahead past the first picture… If there's something you should know about me, which I haven't mentioned on the blog it's that I love palm trees! Like LOVE love…they are beautiful and tropical and make me feel like I'm on vacation. Who's with me???
One of my favorite parts of living in Guadalajara was driving down Acqueducto street with beautiful palm trees in the middle. India…Goan palm trees for the win. Tel Aviv? Palm trees line the board walk and it's instant vacay-mode. One day I will have a house of my own, and my front yard will have palm trees welcoming me into my own oasis at home. One day!
Not to mention that coconuts and dates come from palm trees. Dates are just about the best form of natural sugar.
So now that you've heard my soliloquy about palm trees…let's talk about Palmetto State Park in Texas. Because while we have been enjoying exploring Austin and other areas of Texas, the landscape is nice but not that beautiful tropical vibe which I love. Except for this gem that we found…
This post may contain affiliate links. Thank you for supporting our work.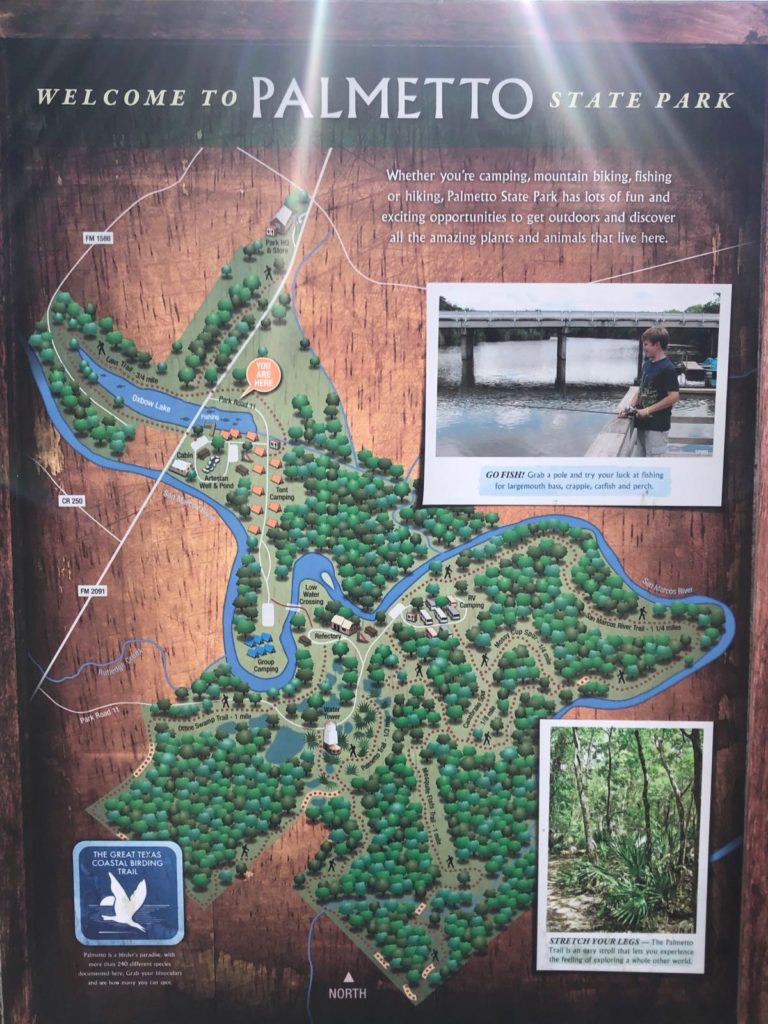 Palmetto State Park
Palmetto State Park is named for the dwarf palmetto. This small palm, is rare in this part of Texas. Palms love moist warm weather, and 10,000 years ago the dwarf palmetto thrived here. As the years passed and the weather became cooler and drier the palmetto disappeared.
Palmetto State Park is the farthest west that you will find the dwarf palmetto these days, making this a super unique Texas park. Parts of the park feel like you're going back in time. Walking in the ephemeral swamps, lined with the palmettos, you feel as if you may encounter a dinosaur at any moment!
If that isn't reason enough to visit Palmetto State Park with kids, then the easy trails and convenient campground will seal the deal!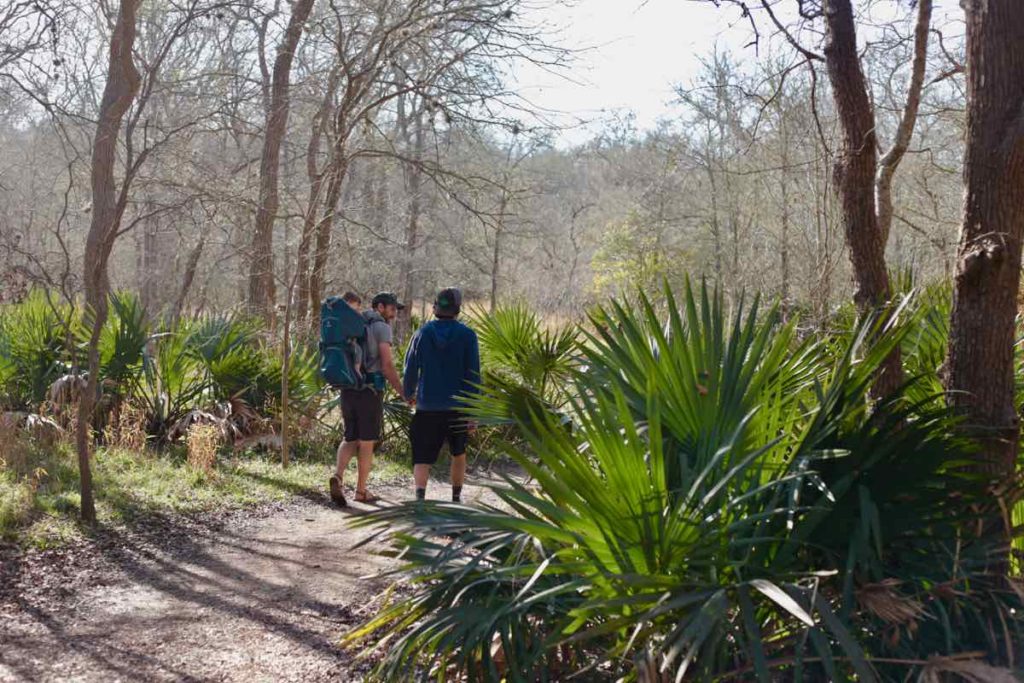 Hiking in Palmetto State Park
One of our favorite features of Palmetto State Park, is that it is relatively compact. You can download a map, and see that most of the hiking is concentrated in the same area south of the San Marcos River.
From the main entrance, drive straight over the lake and follow the 11 road taking a left into the main parking and camping area.
From here you have many options for different trails. They are all pretty short and they are all easy!
San Marcos River Trail
The San Marcos River Trail, is so called because you walk along the San Marcos River. There are many point where you can go off trail to get closer to the river, but it can get a bit steep.
This trail is flat and easy at a little over a mile. From it, you can detour to the Mossy Cup Spur and the Canebrake Spur. You can finish back on the San Marcos River Trail or continue on the Mesquites Flat trail to extend your walk.
As you may have noticed from the pictures, we had our friend Scott with us on this hike, so we took our time. (Austinites: Check out Southern Turf Co).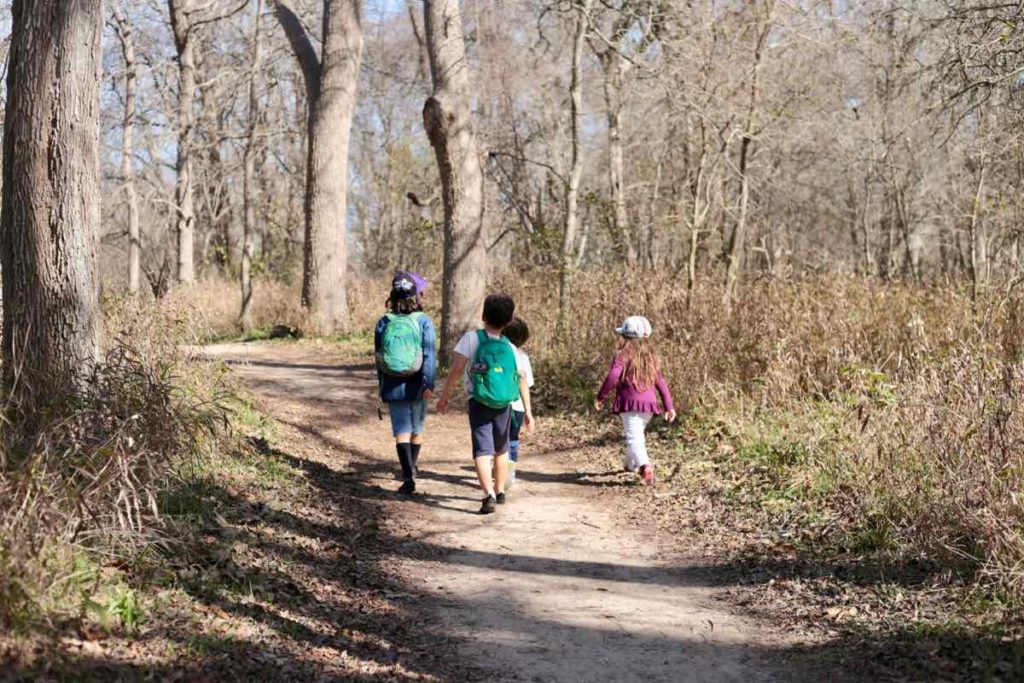 Palmetto Interpretive Trail
This trail highlights the dwarf palmetto. This is the one where you really feel like you're in the dinosaur age. The trail is just a quarter of a mile on wooden bridges and there are many signs desribing the landscape and wildlife of the park.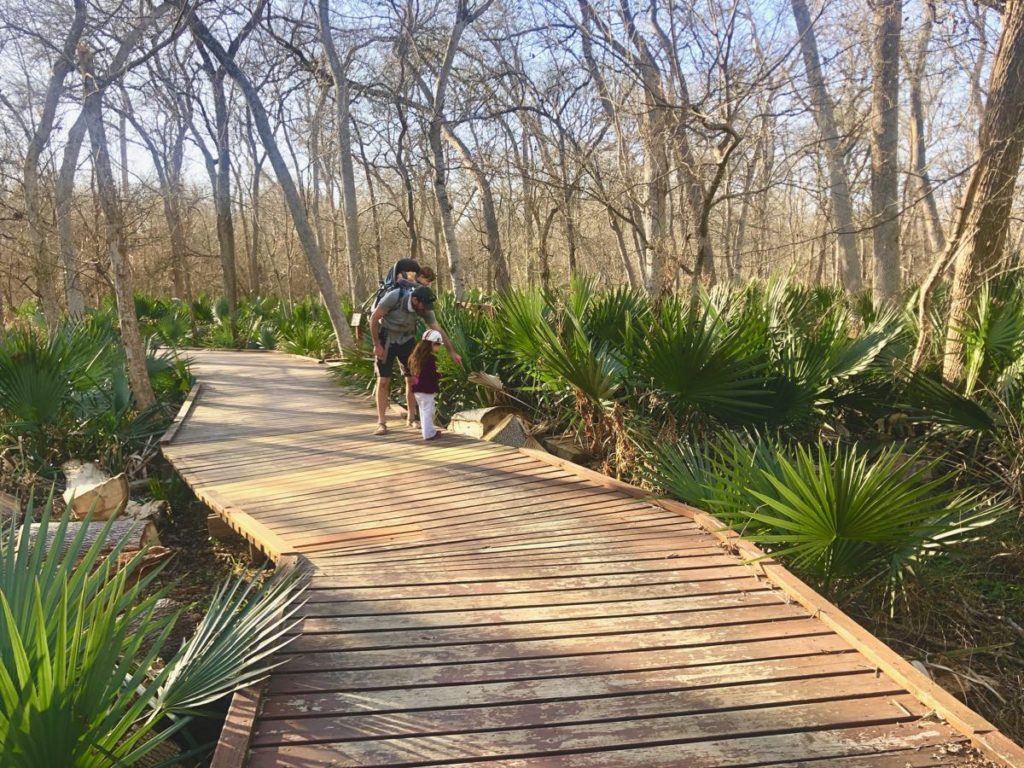 Ottine Swamp Trail
From the interpretive trail you can get on the Ottine Swamp Trail. This one is again very short, at only about a mile long, and flat. In this trail we felt the most immersed in the park with big trees hanging overhead.
Note that to get back to the parking lot, you do need to cross a road. You will think you are at the exit, but the trail continues along the road to the right, until it opens up and you will see the sign to continue on the trail on the opposite side of the road. When you exit you will be in front of the dining hall.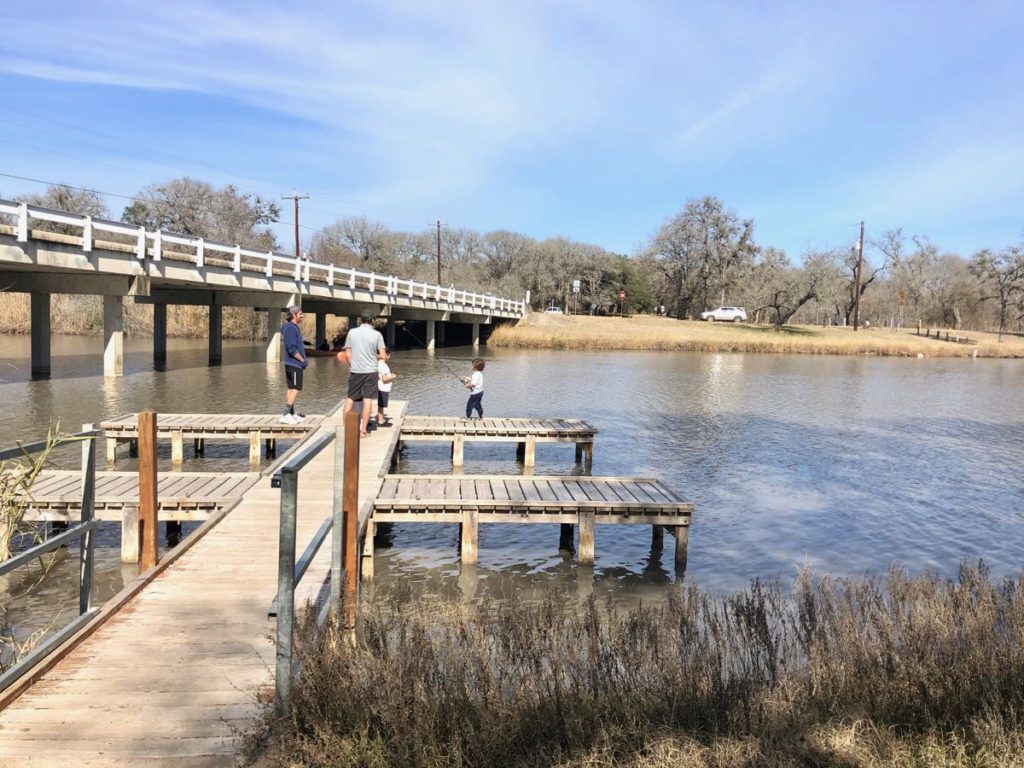 Oxbow Lake
When you first drive into the park, after passing the entrance booth, the first turn off into a recreation area is at Oxbox Lake.
This area of the park near the lake has: tent camping, piers for fishing, a playground and a picnic day use area and restrooms. There is also a "trail" around Oxbow Lake. However it's not that big, so what you see is what you get. If you are big on fishing, then definitely visit this part of the park.
One unique feature, is the recreated mud boils. Mud boils are natural mineral springs, but due to the falling water table, the natural springs have gone extinct. The recreated mud boils use pumps to bring up the water into the artesian geyser springs and ultimately flow down into the lake.
On our visit, we stopped at the lake before going hiking. However, I recommend heading straight to the trails, and leaving the lake and picnic area for a lazy afternoon.
***Note: it is also possible to paddle down the San Marcos River. Our kids are not the right ages at this point, but you can read more about how to do that and access points here.
Things to Do in Gonzales Texas
Palmetto State Park is located in Gonzales, Texas. Gonzales is know for being the location where the first shots were fired for Texas Independence. Ever since my kids read this book, they have been obsessed with coming back here. Highly recommend if you have kids in the 8-12 age range!
Since they've read this book (it's graphic novel style) a half dozen times, I had them tell me a couple sentences on the history of Gonzalez (homeschooling, y'all). Short story short: Mexicans lent the town a canon to use against Comanche raids. When the Mexicans wanted to take the canon back ,the Texans made a flag with the phrase "come and take it" along with a black star and an image of the cannon.
Gonzales Memorial Museum– displays the "Come and Take It Cannon" which fired the first shot for Texas Independence on October 2, 1835.
Gonzales Old Jail Museum– as you may have guessed…an old jail (19th century) turned into a museum.
Pioneer Village Living History Museum– restored old buildings showing how people lived in early 19th century Texas. Free.
More Things to do Near Palmetto State Park
For more things to do near Palmetto State Park, check out this list of stops on the 183 highway in Texas. We had the chance to drive the whole way from Austin to Port Aransas, and found many things to do along the way.
The closest town to Palmetto State Park is Luling. There you could check out Zedler Mill for access to the San Marcos River swimming and paddling. Alternatively, you can visit the Luling Oil Museum, grab some BBQ or buy local watermelon in season!
Our choice? Stop in Lockhart for some BBQ! Officially the Barbecue Capital of Texas, and a very short detour to head into town before hitting the road!
Before you go, check out these other Texas Parks:
Have you been hiking in Central Texas? What's your favorite State Park you recommend we check out? And for everyone else, how do you feel about palm trees???