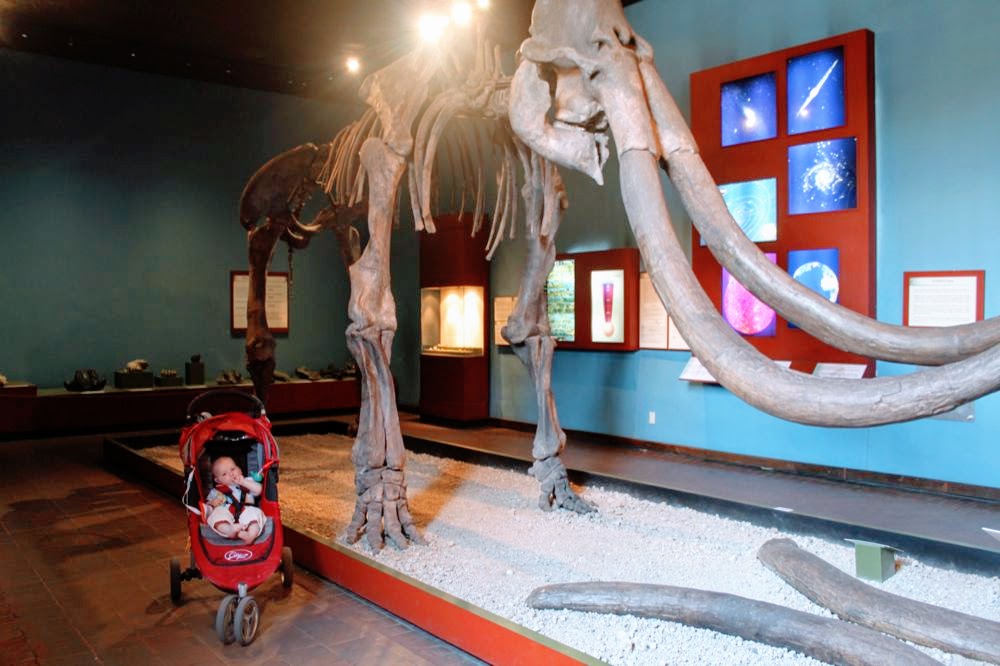 Here's a quick overview of the Guadalajara Regional Museum, and a few extra places to see in the Guadalajara Centro Historico!
Guadalajara Regional Museum
The Museo Regional de Guadalajara is located in the Centro Historico, right off of the Rotonda de los Jaliscienses Ilustres, the plaza with all the statues. It's easy to miss, but a good inexpensive stop if you have some time to spare.
The highlight for us, was definitely the mammoth skeleton you see above. Overall the museum was a sort of hodge podge of artifacts. Some prehistoric artifacts, some colonial era paintings, a bit on the history of Mexico, and a small collection of Huichol art. Overall similar to other small museums we have been to in Mexico.
I would not make a special trip to visit this museum, but if you're already downtown and may be interested you can pop in for a short visit. Do note that the signs are very minimal and all in Spanish. If you're expecting something like the Anthropology Museum in Mexico City, you will be disappointed.
To Visit the Guadalajara Regional Museum:
The museum is located on Calle Liceo 60
Open Tuesday to Sunday 9 am to 4:30 pm
Entrance is 65 pesos (discounts for students, seniors, etc), free Sundays
No bags allowed, but there is a bag storage on site
On a totally random Tuesday, D took Little N on a little Centro exploration. We did a quick walk through the Jardin de la Reforma, with a plaque dedicated to the great reformers.
Since nobody had wanted to go to the museum with her on previous visits, Little N was happy to accompany his mommy. We visited the Regional Museum of Guadalajara (Museo Regional de Guadalajara) which included a short history of the region through the ages. It had paintings, various artifacts and the highlight was a mammoth display!
We then continued on the Palacio Municipal (City Hall) to see a few more murals by Gabriel Flores that depict the foundation of the city.
Our last stop was the small Templo de la Merced, with it's white facade and ornate gold interiors.
Before our trip was over, we met up with M for lunch at La Chata with its consistently good food and service. We're thinking it's time to branch out, but just can't miss the opportunity to re-visit this place.
More Things to Do in the Centro Historico: