One of the most surprising aspects of moving to Texas is seeing just how many different wildflowers blanket the State of Texas during the spring time. Of course, many have heard of the famous Texas bluebonnets, but there are so many more types of flowers that bloom during spring in Texas!
We have been utterly enthralled with the huge variety of colors. There are different types of flowers that cover highway medians, school yards, and the many trails and greenbelts in Austin!
These spring flowers really do make it so beautiful! You can expect to see spring flowers in Texas roughly from April to June, sometimes starting as early as the end of March!
Here's a quick look at the flowers we have seen most often! Plus, the app you need to download right now to identify the flowers on your own!
This post may contain affiliate links. Thank you for supporting our work.
The Most Common Spring Flowers in Texas
Here's a list of some of the most common spring flowers in Texas. They are not in any particular order. These are the ones we have seen most often in the Austin area, meaning central Texas.
You can check out this Texas State Parks list of wildflowers to help you identify the most common spring flowers! Or check out this more complete list. Better yet, keep scrolling for the app that will help you identify what you see on demand!
1. Bluebonnet
The Texas Bluebonnet (Lupinus texensis) is the most famous flower and one of the early blooms. There is a bit of an obsession of getting pictures in a field of bluebonnets here in Texas! (Reminds me of Fall Foliage pictures up north). The bluebonnet is the official flower of Texas!
2. Pink Evening Primrose
Pink Evening Primrose (Oenothera speciosa). We have seen this pink flower ev-ry-where. Apparently it is common in disturbed soil….so that's not surprising.
3. Indian Blanket
The Indian Blanket (Gaillardia pulchella), with its red inside and yellow outside is one of those surprising flowers. How gorgeous! Also called a firewheel, this flower survives into the beginning of the hot Texan summer.
4. Mexican Hat
The Mexican Hat (Ratibida columnaris), also called the Prairie Coneflower, is another flower from the sunflower family like the Indian Blanket above. It's reminiscent of the shape of a sombrero, hence the name.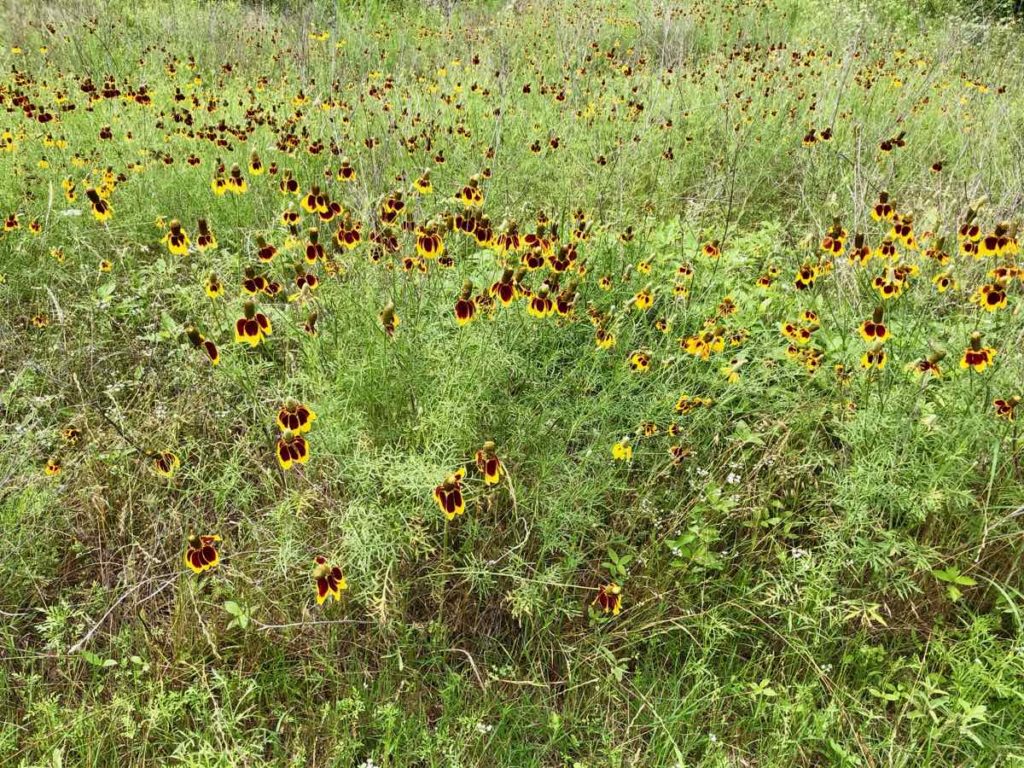 5. Indian Paintbrush
The Indian Paintbrush (Castilleja indivisa) almost looks like the orange version of the bluebonnet, and they often flower in the same places!
6. Black Eyed Susan
The Black-eyed Susan (Rudbeckia hirta) is yellow with a black center. You can see them practically everywhere. And yes this one is also related to the sunflower.
How to Easily Identify Flowers in Texas and Anywhere!
This past year we came upon an amazing app that we have used intermittently while hiking in and around Austin! (Intermittently because we prefer hiking without constantly being on devices).
The Seek App by iNaturalist, is an awesome resource to have. You open the camera, and hold steady while the app identifies the plant for you! How great is that?
It can identify animals, plants, fungi, insects…really a huge variety. And if you get into it, it is fun to earn badges as you identify more and more species.
It has been really great for us, both for learning to identify different plants while hiking, and also for motivating reluctant hikers. While our kids are used to hiking often, sometimes they are not really in the mood, and this is just one more option in our toolbox to make hiking with kids more pleasant.
Free Wildflowers Coloring Page
A great way to get younger kids excited about discovering wildflowers or really anything in nature is to frequently take them on walks.
Older kids can take an observation journal, we love this one! It is just the right size and very light to carry around.
For the littles, however, it is nice to prime them for making "discoveries" with at home activities like books and coloring page!
So here is a free wildflower coloring page I created for you. Click on the image below to print a copy for your toddler or preschooler!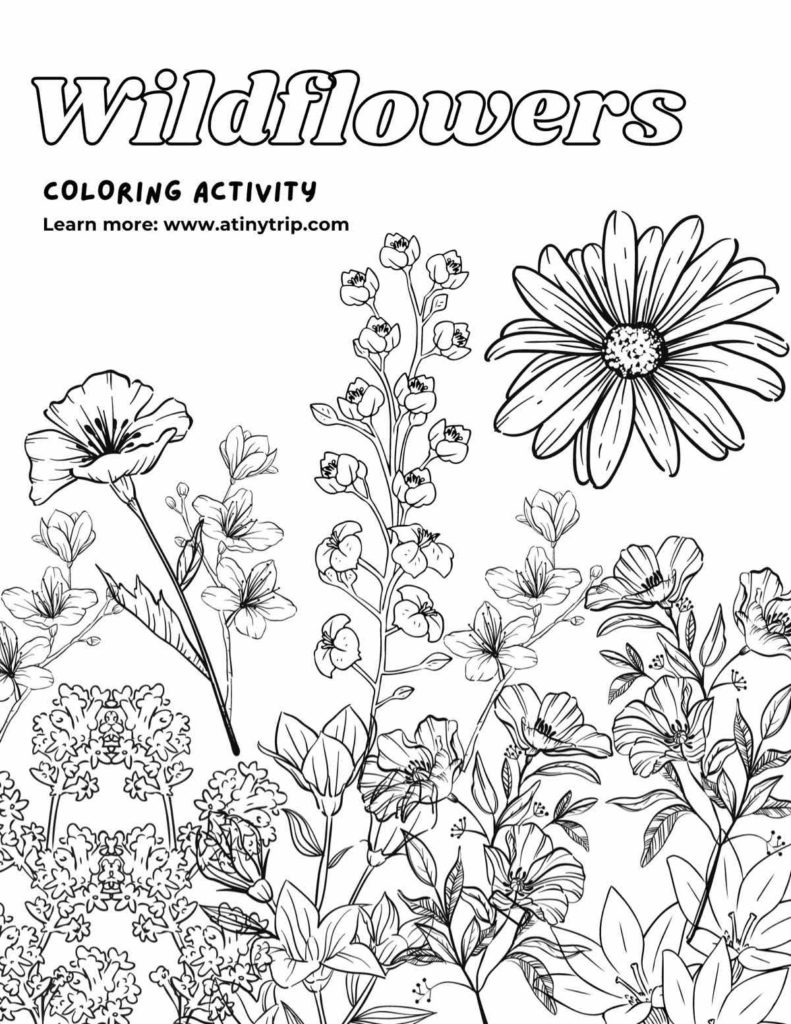 If you love it, drop your email for access to more free printables!
Texas Wildflowers
One complaint we often hear from people that have lived in the northern United States is that Texas doesn't have four seasons. This absolutely has not been our experience.
Yes the summer is hot and the fall is also hot, but actually an amazing time for hiking with foliage near the end of November. Winter is cooler, with only the rare snow storm. And spring in Texas is gorgeous (and rainy). Look at all these Texas Wildflowers!
So I'll leave you today with this amazing mural you can find in downtown Austin. It's a teaser for the full Austin guide coming soon-ish. Stay tuned!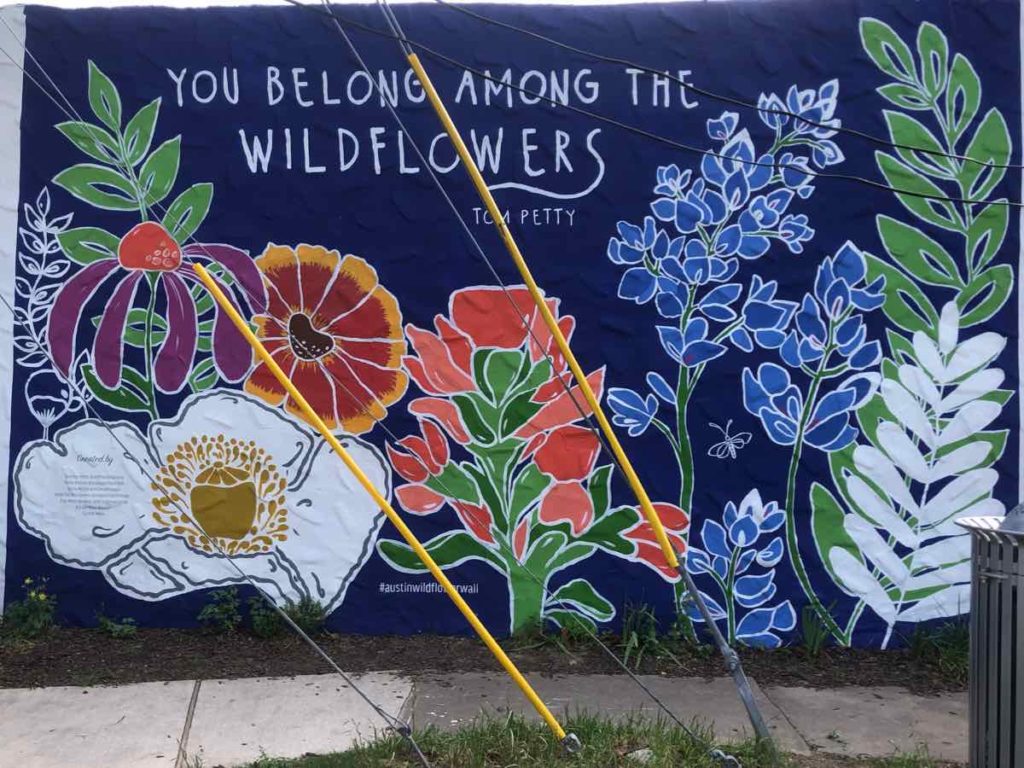 Did you know that Texas has so many wildflowers? What are your favorites?
Before you go, check out more Texas Parks here: