You know it has to be good when it has enchanted in the name, right?! Well it absolutely is one of the best day trips from Austin: Enchanted Rock State Natural Area. I keep wanting to write Enchanted Rock State Park…but apparently it is a natural area, so…
Anyways, if you're looking for an amazing day outdoors in Central Texas, then Enchanted Rock is definitely for you. There is hiking, and climbing, even rock climbing for those so inclined. Today will be a short post, as it really is pretty straight forward.
Find out everything you need to know about magical Enchanted Rock State Natural Area.
This post may contain affiliate links. Thank you for supporting our work.
Hiking Enchanted Rock with Kids
Enchanted rock is the perfect destination for hiking with kids. The main featured rock is so fun to scramble up, and the area has many different trails for hiking and bouldering.
The granite dome that is the enchanted rock, was formed from magma that rose and pushed into the rock above it. It has several layers, like an onion, called an exfoliation dome. Enchanted Rock rises 425 feet from the base! Yes, this means there are great views from the top!
You can definitely plan to spend a whole day hiking at Enchanted Rock, (detailed below) just make sure you pack plenty of water and food. There are many trail around the rock, Turkey Peak and Little Dome, which ware the other domes in the park!
Because we are a family of six, and we were slow getting out of the house in the morning, we started off our day with a picnic lunch. There are benches right by the parking lots, and from there it is easy to start exploring the park!
Trails of Enchanted Rock
Here's a link to the trail map you will get upon arrival to Enchanted Rock.
Summit Trail
Get started with the main event! The Summit Trail has you climbing up to the top of Enchanted Rock. The trail is less than a mile long, but you are climbing most of the time. That said, we didn't find it very difficult. Even our four year old didn't complain. Despite how steep it looks, once you are actually scrambling up the rock it is not too hard or too steep!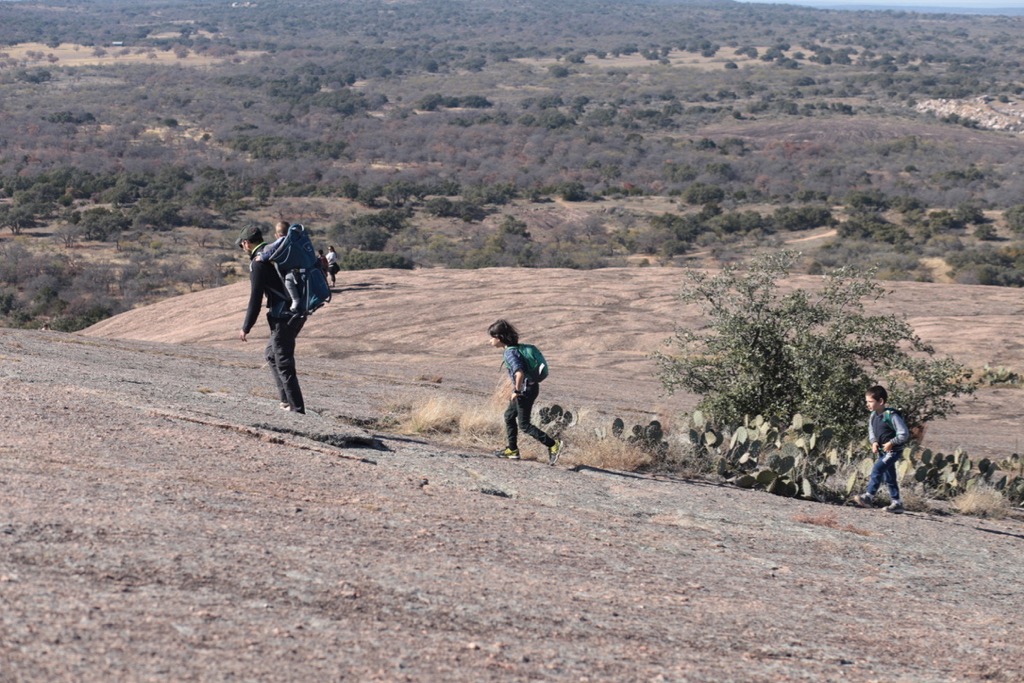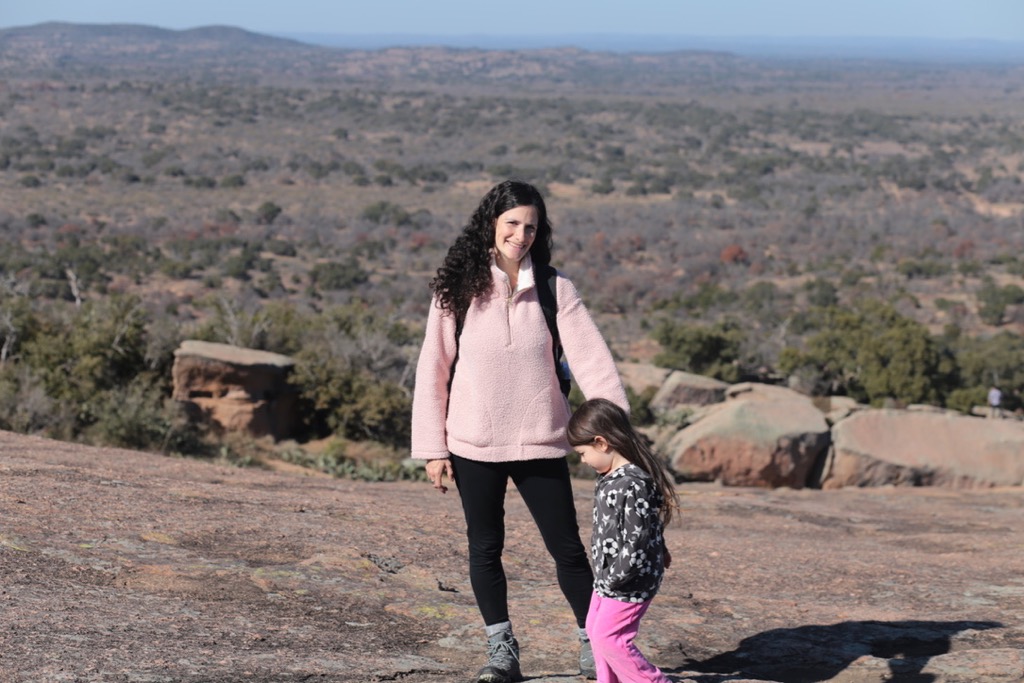 Echo Canyon Trail
You can take this trail from the parking lot by starting on the flat part of the Summit Trail, but we descended off to the side of the Summit Trail and entered into the Echo Canyon Trail. This trail is rocky and has you walking in between rocks. Some parts are very narrow. The kids had a lot of fun with it!
From the Echo Canyon Trail you can either keep going to Moss Lake and connect to the Loop Trail which encompasses the whole park, or take a right to the Base Trail.
The Base Trail
The Base Trail goes along the base of Enchanted Rock. This trail is relatively flat, and it has a very desert feel to it. There are places marked where you can get off trail to go rock climbing. (Obviously that wasn't appropriate for our group). 🙂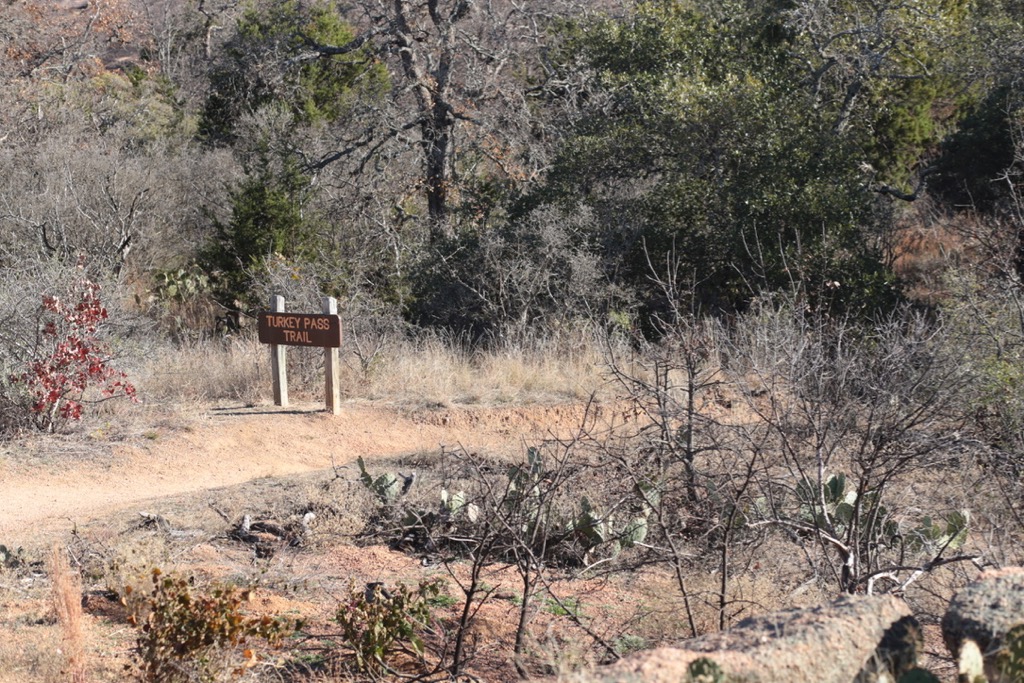 Turkey Pass Trail
The Turkey Pass Trail connects between the Base Trail and the side of the Loop Trail close to the parking lot. This was definitely our favorite trail, other than the summit.
Turkey Pass Trail has you hiking between Enchanted Mountain and Turkey Peak. It is fun to be between these to huge mountains, and the trail was only moderately difficult. It was just the right amount of climbing and twists to keep things interesting.
To return back to the parking lot, we passed by the Frog Pond and crossed Sandy Creek to walk on the Loop Trail. This section is flat and easy (but the kids were tired!).
Our total hiking distance for the Summit and the loop combining Echo Canyon, the Base Trail, Turkey Pass Trail and Loop Trail was around 3.5 miles.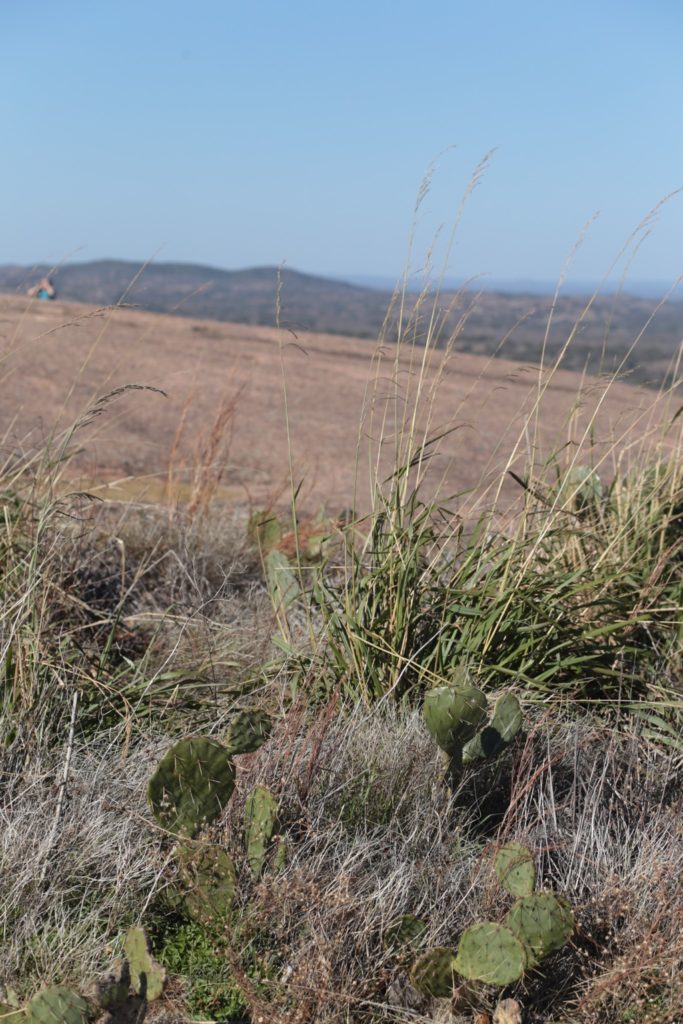 Austin to Enchanted Rock
Enchanted Rock is located less than two hours away from Austin. This makes it a great destination for a day trip from Austin. Depending on where exactly in Austin you are coming from you will want to take the 71 W or the 29 to Llano.
From Llano to Enchanted rock it is very simple, and there are signs to get you there. Just follow the 16 and turn off on Ranch Road 965 to Enchanted Rock!
Note that it could also be a great destination if you are exploring the Hill Country and coming from Fredericksburg!
Where to Stop on the Way to Enchanted Rock
On the way back from Enchanted Rock, we stopped in Llano, Texas. It is pronounce Lan-Oh. We weren't sure and it was a bit awkward. So now you know. Llano is famous for Deer hunting, and you see processing facilities driving through.
The town is not really a tourist town. However, this is home of Cooper's Old Time Pit Bar-b-que. And yes, we recommend it!
Badu Park is a city park right on the river, which was our choice for a dinner picnic destination! There is lot of room to run around, as well as restrooms!
Our visit to Llano was in December and they had a trail of lights set up, which was a fun way to end the day!
Things to Take on Your Visit to Enchanted Rock
Water. and then some more water! There is no practically no shade to speak of on most of the trails and especially if you're heading up to the summit.
Food, because your closest stores and restaurants are still not that close.
Comfortable shoes. I would suggest a pair that has good traction on the soles as the rock is pretty slick.
Your usual hiking gear.
Interested in more parks in Texas?
How about checking out:
As always, drop your questions in the comments!