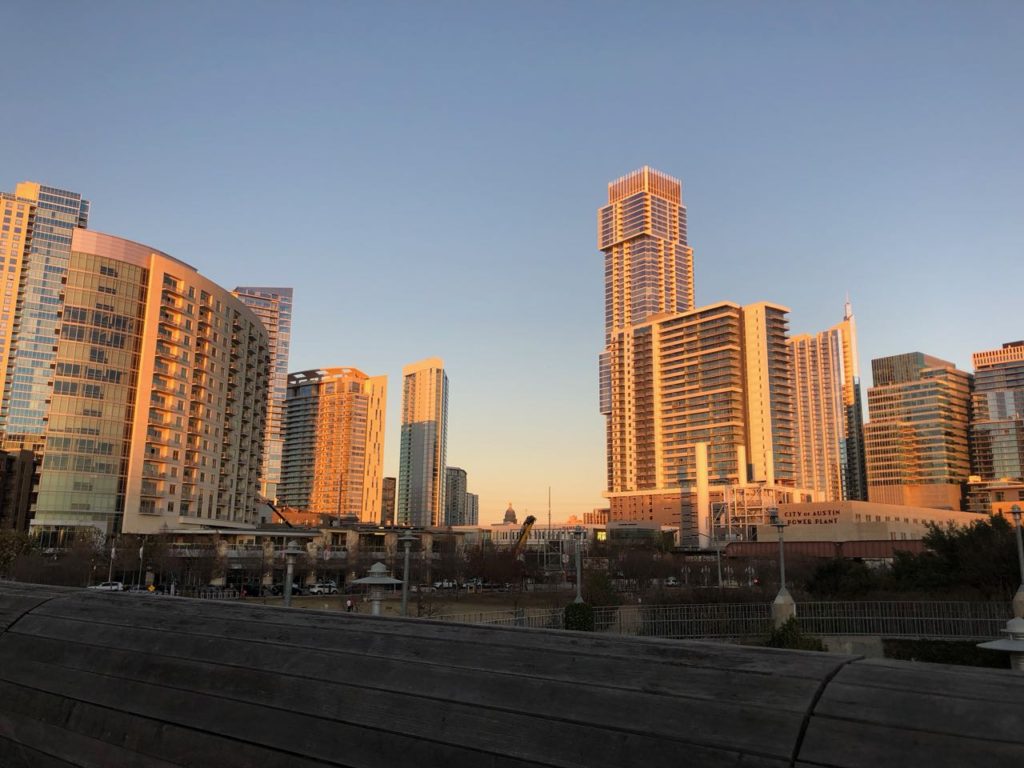 Do you have just a couple of days to visit Austin? Perhaps a weekend getaway to Austin is what you are looking for? Well if you're traveling with kids, look no further. Here's the guide to a short Austin trip with kids, complete with how to get there from Houston, and where to stop along the way!
At the very beginning of 2020, after our wonderful babymoon in Mexico, we took a quick trip to Austin with kids. We had just enough time to visit some of the best things to do in Austin with kids during our short visit.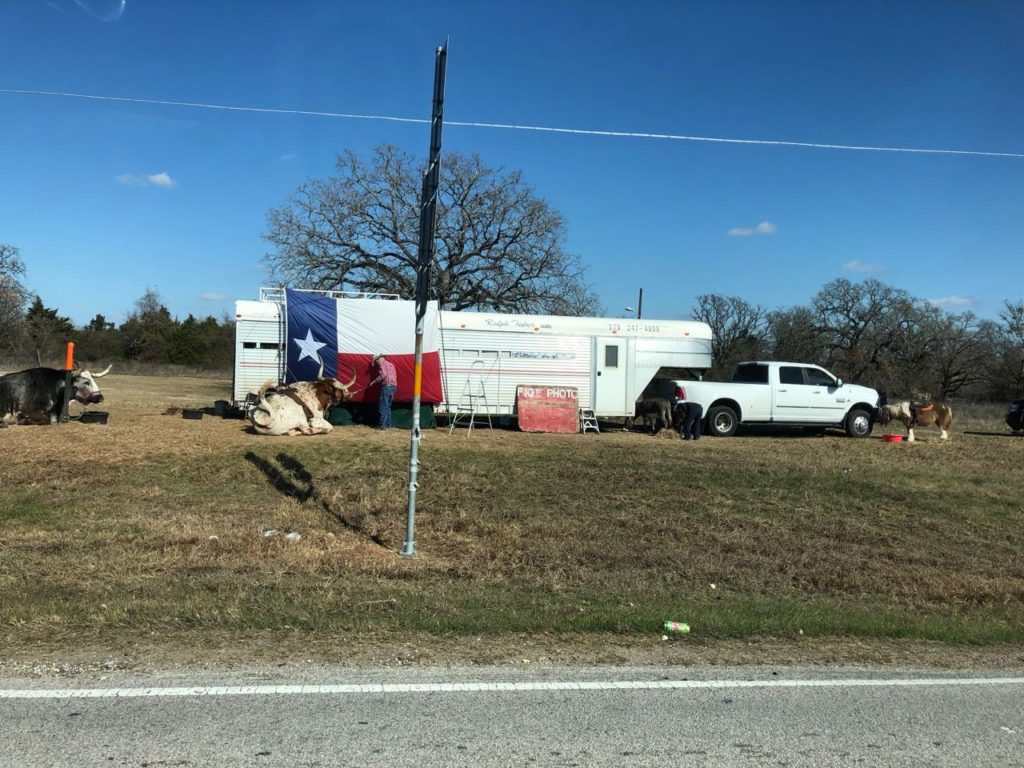 Driving from Houston to Austin
There are two main options for driving from Houston to Austin. Both options take between two and half to three hours, depending on the traffic.
Option 1: Drive on the US 290
Driving on the US 290 from Houston to Austin is mostly a good option if you are going to North Austin. We have considered this as an option if stopping at Lake Somerville, which has amazing camping and dark night skies!
Option 2: Drive on the I-10 and TX 71
This is our preferred option. While the driving on 1-10 can be busy, with lots of trucks and traffic, once you hit the 71 the drive is much easier. Do be careful not to speed! The open road makes it enticing but law enforcement knows that!
Another pro with this route are the possible stops along the way.
Where to Stop on the I-71
Hruska's Bakery is famous for Kolaches (a pastry of dough surrounding a filling- Yum!)
Peter's BBQ across the street from Hruska's has a solid BBQ selection. Both of these in Ellinger, Texas will split your drive right around half way.
Buc-ee's in Bastrop is another good place to stop if you need gas or a snack. It is definitely a Texas road side institution! The restrooms are always in good shape, ice is cheap and we've even found a few healthy-ish snacks in there.
The Best Things to Do in Austin with Kids
We consulted our friends in Austin on the best things to do with kids, and this is what we got. I think if you're coming for a weekend in Austin with kids then this will keep you plenty busy!
Thinkery– an amazing Children's Museum
Downtown walk around near Town Lake
So, that's exactly what we did!
The Thinkery Austin
Oh my goodness! We have been to a lot of different children's museums over the years, and our kids absolutely loved this one!
There are various science themed rooms and stations. Seperately there are areas for tinkering and playing. There are both toddler friendly areas and more involved exhibits for older kids.
In addition, there is a fun outdoor playground with an awesome climbing structure, and even water features that our kids loved!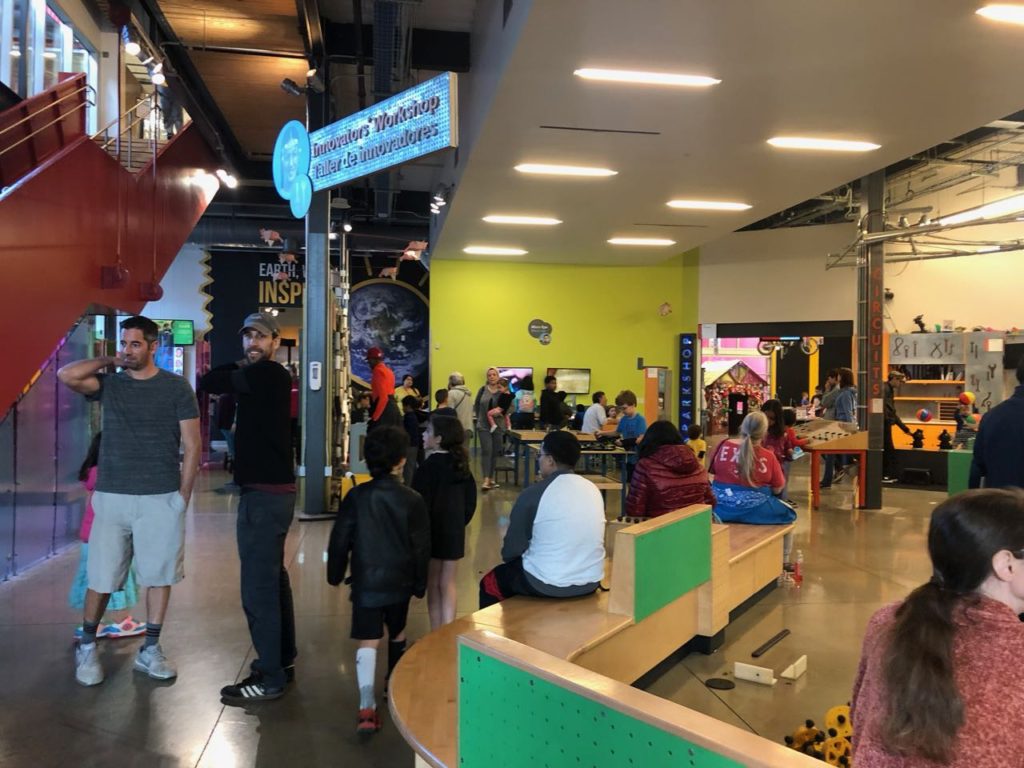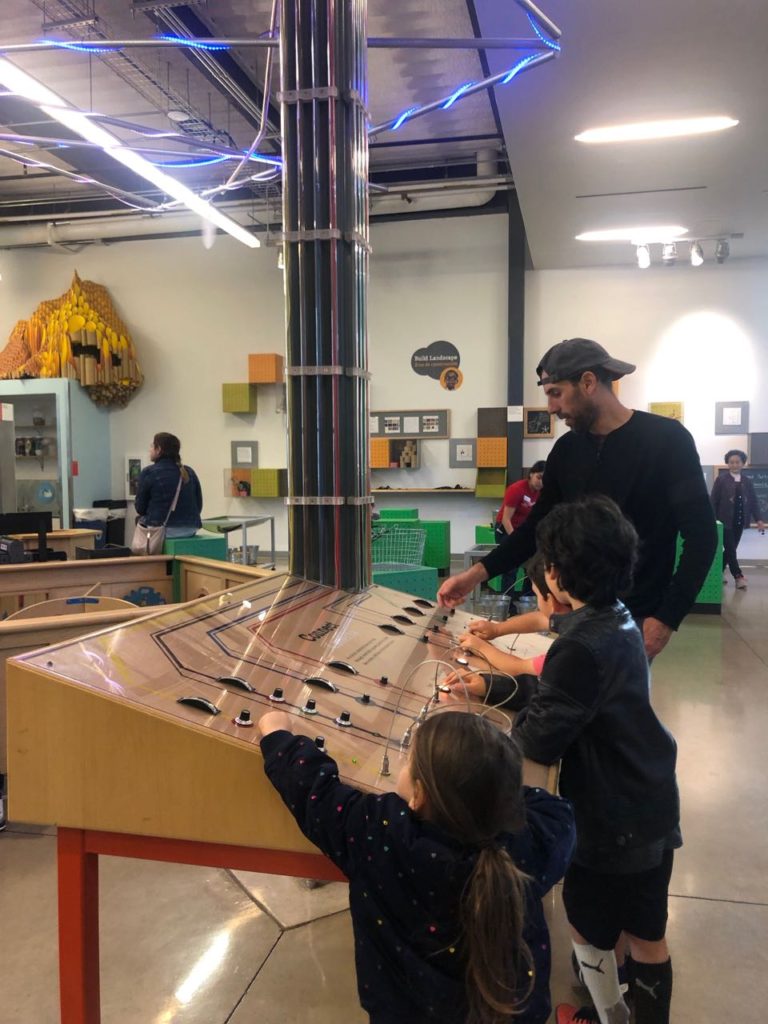 Farmer's Market at Mueller
One of the best parts of the Texas Farmer's Market was the music. There was a live show and our kids loved it!
The farmer's market has areas of both ingredient shopping, and then food trucks with more prepared food.
Overall the farmer's market had a little bit of everything. We are big fans of farmers' markets in general. However, I did find a lot of the prices on the high side compared to New York.
Another fun activity, is the petting zoo that is set up! For a small fee kids can pet some animals.
It was a beautiful Sunday morning that we were there, and the market did get quite crowded. That said, the kids loved playing around all the grassy areas around Mueller Lake!
Austin Parks
We visited a few playgrounds with the kids. One in particular we liked was the Ramsey Neighborhood Park. It was open and had different types of climbing structures and grass for playing ball.
Downtown Austin
We didn't spend too much time in downtown Austin, but we did walk around a bit and the kids enjoyed some freedom to run around.
Pfluger Pedestrian Bridge
This was one of the highlights for a short trip to Austin! Cross at sunset for gorgeous views of downtown Austin! In the nearby Sand Beach Park there is a huge grassy area for running around.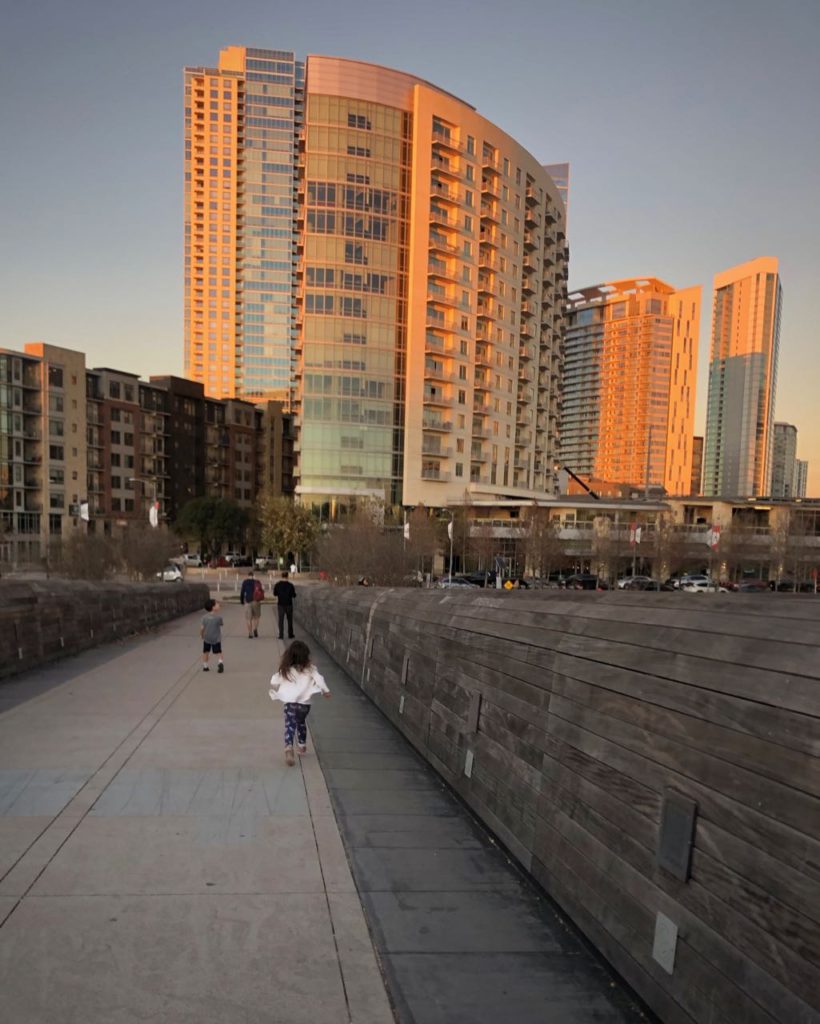 Eating with Kids in Austin
We are far from experts, but I do want to make note of a few places that we tried out and loved eating in Austin with kids.
Tacodeli– this is a local taco chain. I mean, who doesn't love tacos? The thing that makes this chain stand out over the many other taco shops in Austin, is that the ingredients are better quality. Local and organic always have my heart!
Epoch Coffee– this coffee shop is right by the Pluger pedestrian bridge and I will note that the coffee was very good, and also outdoor seating is a win with kids!
Cosmic Coffee and Beer Garden– such a fun spot with kids. There are a bunch of food trucks and plenty of bench seating. Our kids had the best time walking around while we were able to eat and chat with friends.
Driving from Austin to Houston
On the drive back to Houston from Austin, we again took the TX 71 and then the I-10. Just about halfway into the drive we were searching for a park to get some air and came upon a hidden gem!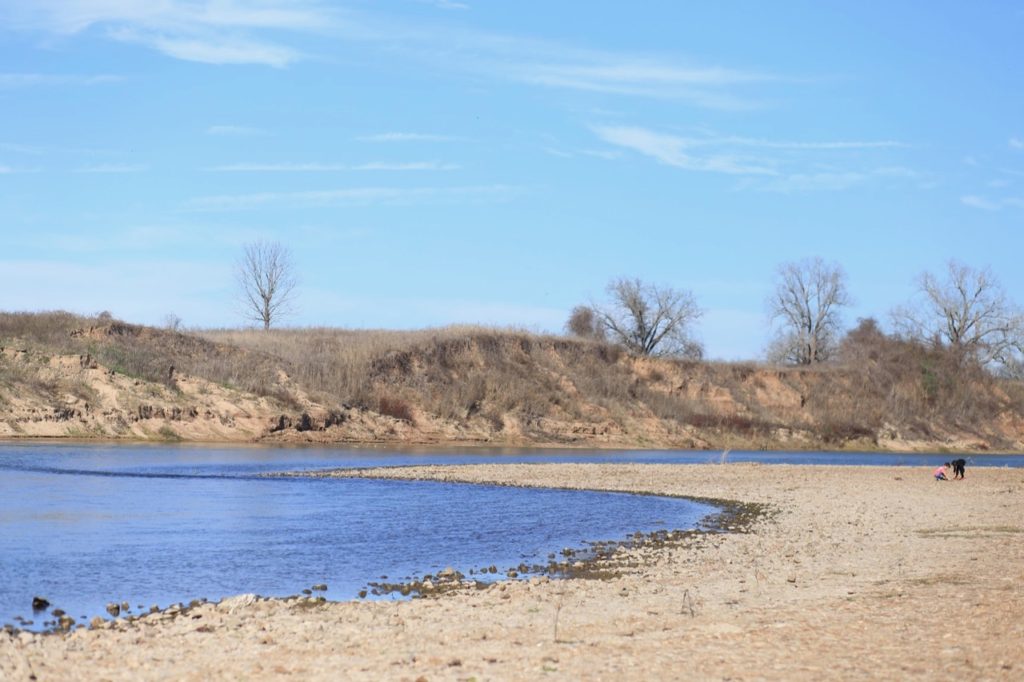 Plum Park on the Colorado
The turn off to Plum Park is right off of the Texas 71 highway. Watch out for it, otherwise you will miss it! Drive down the country road past a railroad crossing and farm land and you will end up in this quiet spot, perfect for stretching your legs.
Plum Park on the Colorado River was just the perfect gem of a spot. Granted this was January, so the water was freezing cold. However, the kids had the best time playing with and collecting rocks along the Colorado River. It was so peaceful and quiet!
Have you been to Austin? What was your favorite thing to do (with or without kids)??? Share it in the comments so we can check it out!