Hiking in Austin is the ultimate outdoor activity to do with kids. Trailheads are plentiful, many starting in neighborhoods and leading to the greenbelt parks and creeks. Families interested in hiking Austin have so many options! There are hiking trails all over the city and its surroundings.
Since our arrival, hiking Austin and discovering the best trails for hiking with kids in Austin has been at the forefront.
There was nothing we were more lacking in New York City than easy access to the outdoors and nature. There are so many benefits for hiking with kids, that we have made it a top priority to find new favorite locations for our family.
Here's a quick overview of some of the best parks and greenbelt areas in Austin for hiking with kids!
This post may contain affiliate links. Thank you for supporting our work.
Austin Hiking with Kids
There are so many benefits to spending time outdoors with kids, and living in Austin makes it easy! It seems like just about every neighborhood has access to parks- if not from the neighborhood directly, then within a short drive.
Parks and Greenbelts in Austin
They say that Austin was a city built inside a park. Who is they? I don't know! But "they" are certainly right.
For this guide, I will roughly group hikes into neighborhoods from North to South Austin. Note, that we have completed all of these hikes with 4 kids! The baby is in our hiking carrier, but the kids ages 4, 7, and 9 have all walked these trails independently!
Hiking in North Austin: Brushy Creek
Brushy Creek Greenbelt
The Brushy Creek Greenbelt connects to northernmost neighborhoods of Austin with Cedar Park. It has many hiking and biking trails. Here's a look at a couple sections of the Brushy Creek trails.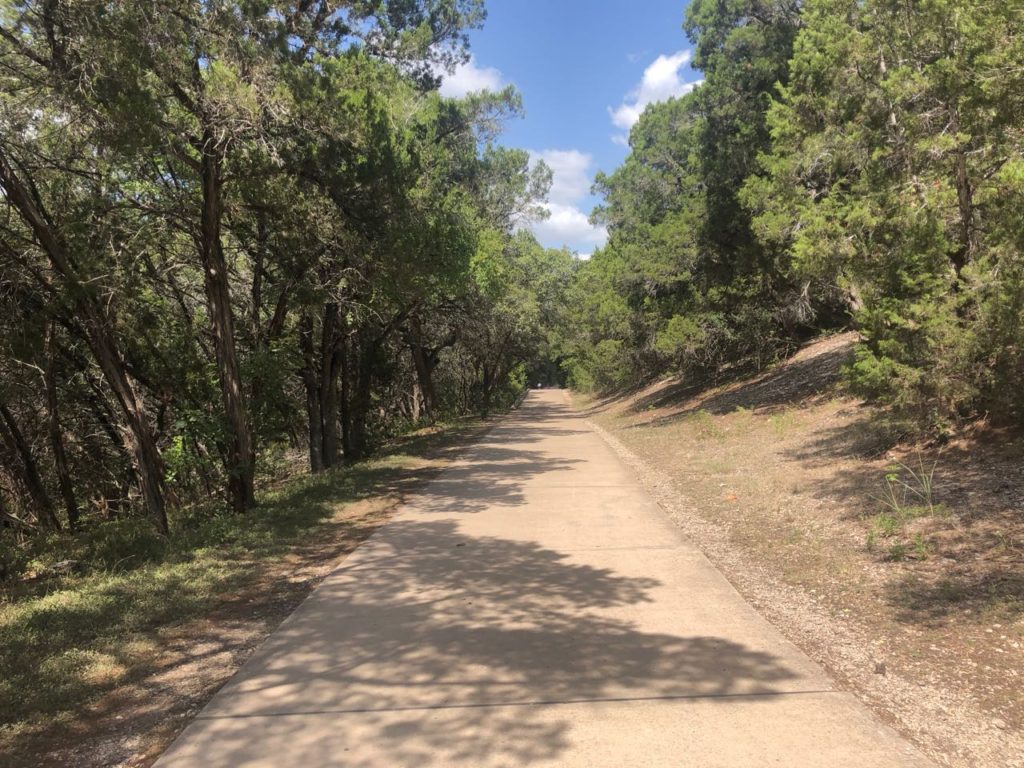 Twin Lakes YMCA
Easy (paved)
3 miles one way to Brushy Creek Lake Park
This section of Brushy Creek runs from under the 183A highway to the Twin Lakes YMCA. The path is only about a half mile long, and it is paved. We took bikes and scooters, parking at the YMCA and going to the highway and back.
You can easily continue on to other parts of the Brushy Creek greenbelt. It is a mile and a half to the sports complex, where there is more parking.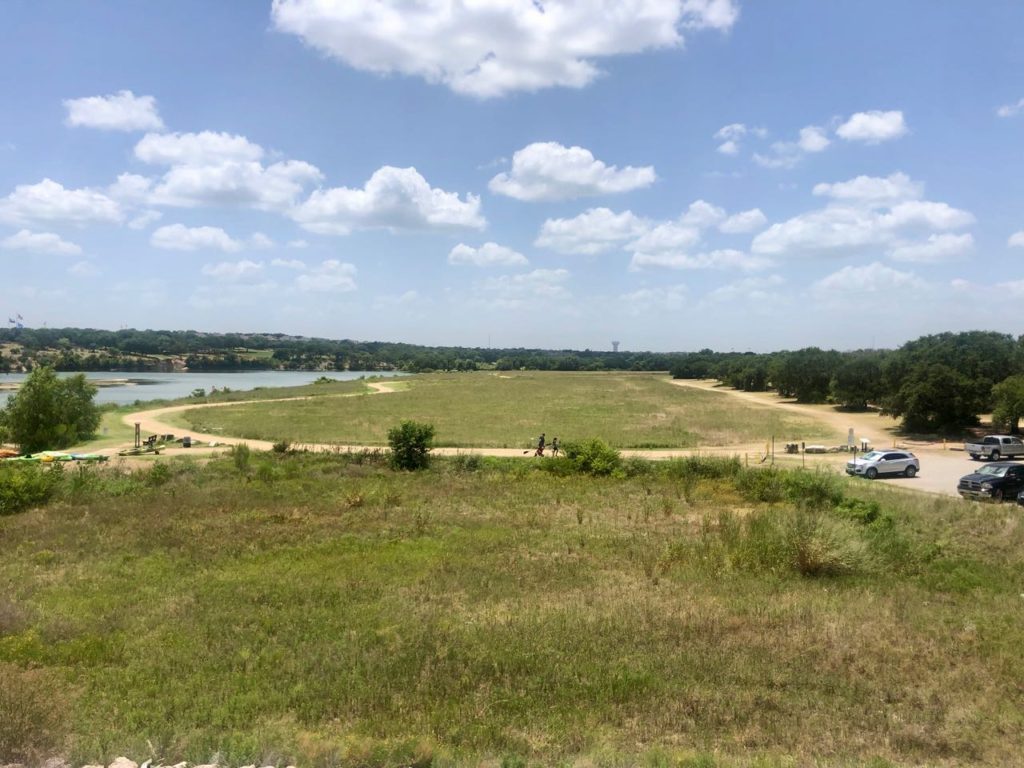 Brushy Creek Lake Park
Easy (paved)
1 mile loop inside the park
Past the sports complex going East, you can stay on the main paved trail or check out some of the hiking and off road biking trails. These run both on the ridge above the creek, and along the creek itself.
The single track and the double down biking trails are both really fun for hiking, taking you back and forth. The kids got a kick out of seeing us walking in opposite directions when they were ahead.
Continue from the sports complex on the paved trail under West Parmer Lane to the Brushy Creek Lake Park. Alternatively, drive and park at the Lake Park to spend the day outdoors.
At Brushy Creek Lake Park you will find a playground and splash pad, picnic tables and grilling stations. You can also go fishing or rent kayaks and hit the lake! This is without a doubt one of the best places to see wildflowers in the spring time.
From the park you can continue biking above the dam and to the farther sections of Brushy Creek: Champions Park and then Creekside Park.
Bull Creek
Bull Creek Preserve
Moderate
~ 2 miles round trip
If I had to choose my favorite hike for a family in Austin, Bull Creek Preserve would be it! As you begin in the parking lot, the creek is quite a distance below. Keep walking down the trail and you can walk in the creek itself. Along the way, are many areas perfect for dipping in the water and just hanging out.
There are trails on both side of the creek! Choose one side for walking down and the other for the way back. We walked to where the Capital of Texas 360 Highway crosses over the creek and then turned around, but you are able to keep walking onto the next section.
Spicewood Valley Trail
Moderate
2.1 miles roundtrip
The Spicewood Valley Trail is another nice neighborhood trail that goes in the valley between the houses in the neighborhood above. About halfway down the trail there is a ledge, with a "waterfall" where we saw people fishing.
Next, about two thirds of the way, there is a short trail you can take to reach Mountain View Park, that has a little playground. We continued on to the very end of the trail and turned back around.
Northwest Balcones Park (Talleyran Park Trail)
Moderate
1.2 miles roundtrip
On Halloween we decided to take a short hike, choosing the Northwest Balcones Park, which is a part of Upper Bull Creek. It was indeed a short hike, but still lots of fun!
There is a parking lot at the Northwest Balcones Park right next to the playground (lots of fun). Walk all the way to the end, past the baseball field to begin the trail. After climbing down some steps/rocks, the trail is fairly easy and straightforward.
Keep straight past the first turn off on your left. When you're nearing the end there is another turn to your left, take it and you will loop back around. Then you are left to climb back up out of the valley to the sports fields.
Great Hills Neighborhood Park
To access the Great Hills Neighborhood Park trails, you can park on Floral Park Drive. From there, walk down the hill and along the creek.
To access the creek itself, take a left at the marker for "Potters Place". There are some deeper sections for playing in the water. You can continue walking along the creek or above it on the main trail.
This is a very easy hike! We took our newborn baby in a baby carrier and it was perfect for letting the older kids play in the water. Note: we did not complete the 2.3 mile loop, just a small section of it (see: newborn).
Walnut Creek
Walnut Creek Metropolitan Park
Easy
Over 8 miles of trails to choose from
Walnut Creek is a huge park in North Austin. For this day's hike, we parked near the Dog Park Lot. On Google Maps you will see it as "Kiosk, Pool Lot Trailhead".
This part of Walnut Creek is good for dogs, as it is a leash free area. You start off with wide open trails, on the Pool Lot trail, which then gives way to the Walnut Creek Metro Trail.
This trail is narrower but runs right alongside the Walnut Creek. It is possible to walk right in the middle of the creek in many areas where the water is shallow. We walked to around the Walnut Creek crossing and then used the Pool Lot trail to return.
Walking this section ended up being around 2 miles round trip. This trail is one of my favorites for walking with children! There was plenty of room, and many small off-shoot trails to explore!
Other times, we have walked the North Walnut Creek, which starts off paved. We have diverted to walk along Tar Branch creek. This section has secluded watering holes which are amazing. On the other hand, there is a big electric pole on this side of the park, so FYI if you are EMF sensitive.
Copperfield Nature Trail
Easy/moderate
1.75 miles one-way
The Copperfield Nature Trail is another part of the Walnut Creek greenbelt. This walk was a little different in that we started on one end at the Blakeney Entrance, and came out at the Trotwood Entrance. (We then made our way through the neighborhood back to the car).
The hike itself was fun and not difficult. Near the beginning there was a vine the kids swung on. The trail goes along Walnut Creek but comes up to the road to cross Shropshire Boulevard.
The following section where the creek bed is nice and wide was our favorite. The kids got a kick out of finding tiny brown frogs in the creek bed. Then we ascended back up toward the neighborhood.
Downtown Austin Hiking: Colorado River, Town Lake and Boggy Creek
Mt. Bonnell
Mount Bonnell is the perfect place to see sweeping views of Austin. Climb up the stairs and take a look at the view over Lake Austin.
If you go slightly to the left of the stairs, you get views of downtown. Then walk back the other way and enjoy the greenery along the river. This trail will take you back down to the parking area!
Zilker Park
Let's call it Austin's Central Park! Right in the middle of downtown, this was the very first park we went to when we were considering moving to Austin. Grassy areas, a botanical garden and more, Zilker Park runs alongside Town Lake, which is actually the Colorado River!
To call it hiking is a bit of a stretch. Nevertheless, there are paved and gravel trails all along the water. Great for exercising and getting some sun right in downtown Austin.
Auditorium Shores at Town Lake
Another area right by town lake, is Auditorium Shores. This is right by the Palmer Event Center and you can park at 676 W Riverside Dr. The trails take you all around.
For kids the highlight is most definitely the Doug Sahm Hill that you can easily climb via a winding trail for views of the city. Immediately adjacent you will find the small Liz Carpenter Splash Pad.
Keep going a tiny bit more and enter the brand new and fabulous Auditorium Shores Playground! This is our kids' favorite type of playground with lots of different areas and climbing structures. It has been intermittently open and closed during our time here.
Southern Walnut Creek Trail
For a paved trail, try out the Southern Walnut Creek Trail. You can park at Govalle Park, the YMCA or Austin Tennis Center. There are mile markers along the way. It was cool to explore a different part of town, just be aware of the bikers if you walk this one.
Barton Creek Greenbelt
Barton Creek is synonymous with Austin. This downtown greenbelt has an amazing young vibe, especially on weekends. The different sections all connect and you could definitely make an epic day of hiking in Austin here. I will highlight two sections we enjoyed with kids.
Spyglass Trailhead at Barton Creek Greenbelt
Entering at the Spyglass trailhead is a great option if you want to hike into downtown! This section goes by The Flats, an area that is perfect for hanging out in the water! Continue walking along this shady trail all the way to the Barton Springs Pool.
The Barton Springs Pool is an iconic Austin spot, to bathe in year round 68 degree water! (It does get warmer in the summer…like up to 75 degree we hear, but still too cold for our crowd).
Twin Falls to Sculpture Falls
Easy/moderate
3.2 miles roundtrip
This section of Barton Creek that goes to Twin Falls and then on to Sculpture Falls is a fun time when the sun is scorching above. Park right off the highway feeder at the Barton Creek Greenbelt Trailhead.
The trail descends and the follows the creek. There are many places you can get off the trail to dip in the water! Note that the currents near the falls can be quite strong if it has recently rained, so watch those little one!
South Austin: Onion Creek
We've only done a bit of exploring in South Austin, since it's further away for us. Of course the big one, is McKinney Falls!
McKinney Falls State Park
McKinney Falls State Park is one of the quintessentially Austin things to do! For Austinites looking for a place to spend the whole day outdoors, McKinney Falls is a great option.
I have a whole guide for you on McKinney Falls, as there are many different hiking trails there. But generally speaking it is a short drive from downtown, there are plenty of things to do other than hiking, and it has all of the amenities of a state park.
All of the trails we accessed were easy to do with kids, making this a great option. Just don't forget to reserve your entrance ticket ahead of time!!!
In particular the Onion Creek trails are paved and will work for strollers and bikes!
Hiking in Cedar Park, Leander, Round Rock and Georgetown
Buttercup Creek Cave Preserve in Cedar Park
Buttercup Creek Cave Preserve is a cute little green patch nestled in suburban Cedar Park. This woodsy walk on narrow trails is like a scavenger hunt to find the caves.
The underground caves of Buttercup Creek, 145 feet in the ground, are gated up so you can't actually go in them. Nevertheless, because the entrance is on the ground, you can't see it until you reach it. We had a good couple hours exploring, and the cave entrances do have explanatory signs.
Discovery Well Cave Preserve
To access the trails here, you need to go to Ranch at Cypress Creek Park. There is a small playground, and just past it on the left you will see a gate to get to the Discover Well Cave Preserve.
This trail is totally flat and very easy, if on the long side. We took the trail counterclockwise, but all of the caves were in the last third of the loop. Therefore, I would suggest entering the gate and going to your left. After you see the caves, you can determine if you would like to continue or backtrack.
Note that there is very little shade for most of this trail.
Twin Creeks Historic Park in Cedar Park
Twin Creeks Historic Park is a good family walk. From the parking lot, the initial paved path is very wide and leads to a log house with a historic marker.
From there take a right on the smaller path and walk along Cypress Creek. There are benches along the way, and several points where you can enter to enjoy the water. Eventually the paved path will give way to a trail.
Near the end of the path the houses on either side will seem to get closer and closer. You could theoretically exit out at Zennod Ct, but we just walked back!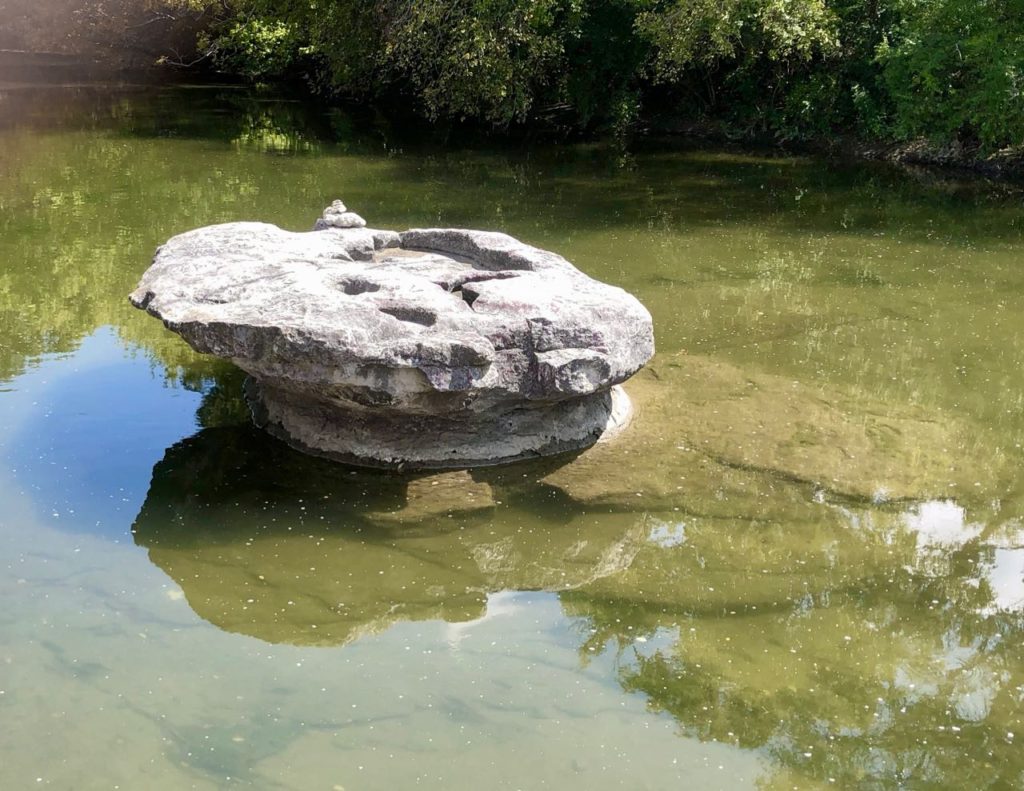 The Round Rock of Round Rock, Texas
I would barely call this a hike, more a walk, but a fun little spot to visit is the actual "Round Rock" in Round Rock. You can see the rock as part of the Chisholm Trail, which was once where cattle drives used to come by.
From the sculptures commemorating the cattle drives, walk past the rock on a bridge crossing another section of Brushy Creek. You can keep walking under the 35 highway to reach Round Rock Memorial Park, with a small play ground and some picnic benches.
Lake Georgetown
If you are in North Austin, heading to Lake Georgetown may be about the same distance as Lake Travis. Lake Georgetown is a part of the San Gabriel River that lies behind the North San Gabriel dam. The two main access points for swimming, boating, fishing and camping are Cedar Breaks Park and Jim Hogg Park.
Due to capacity limits, we were not able to access these in the summer (arrive early), so we went to check out Overlook Park. This park is best for adults or strong swimmers, as there is no beach- just a jump into the lake!
Nevertheless there is access to hiking trails, both over the dam and along the San Gabriel River.
Dinosaur Tracks in Leander (San Gabriel River)
This is a fun one! In Leander you can see fossilized dinosaur tracks! To get to the trail, drive north from Austin on the 183 Highway. Take the left turn to Green Valley Drive, and park in the median of the highway.
Walk down to the river bed underneath the highway and to the left. The dinosaur tracks are actually a bit further past where the marker is on google.
This is a really fun walk because the San Gabriel riverbed is all carved out. The kids had a great time walking the uneven terrain, and of course seeing the dinosaur tracks!
Hiking around Lake Travis
Lake Travis is not a true lake, but actually a reservoir used for flood control of the Colorado River. That said, its location just outside of Austin, makes for an easy day trip. Here are a few more day trips near Lake Travis.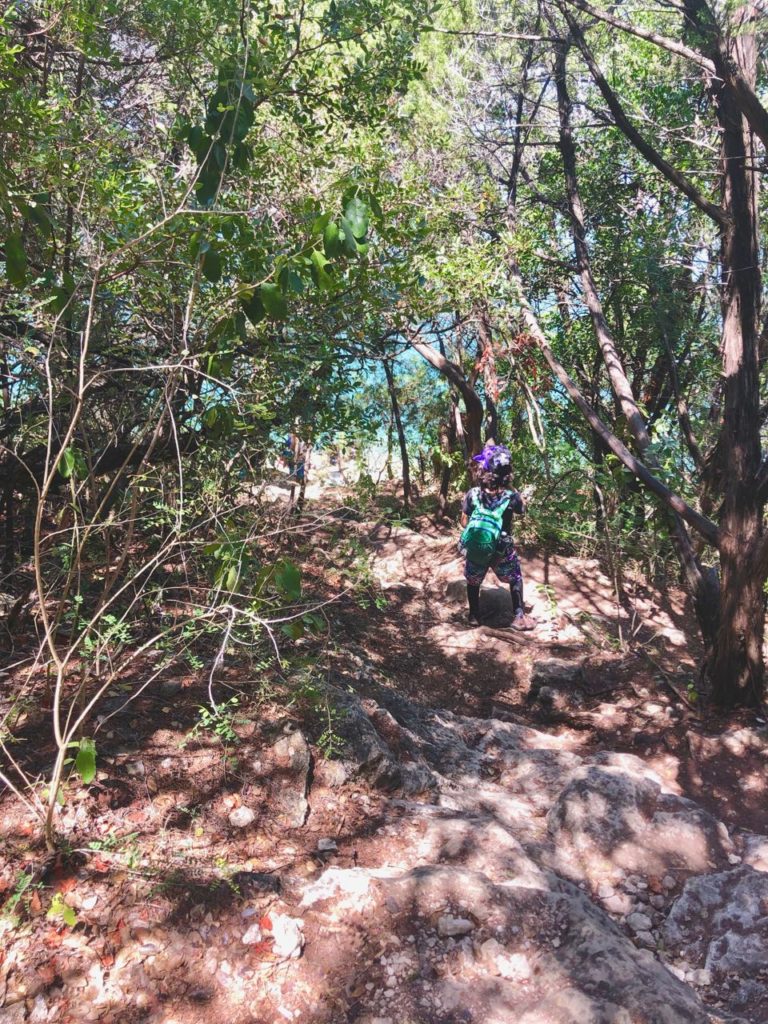 Tom Hughes Park
Tom Hughes Park is one of the closest access points to Lake Travis from Austin. As it is run by the county, it does have a day use fee ($5/adult).
This particular park, is the only one on this list I would actually not recommend for a family, or at least not for one with younger children. The access to the lake is not far, but it is rocky and very steep! Even all the way at the shoreline, it is too rocky for sitting, unless you have your floats and can lounge in the water!
My big boys enjoyed this as a challenge, but for the littles it was a bit too much!
Arkansas Bend Park
Arkansas Bend Park is an excellent access point for families to visit Lake Travis. This park has plenty of space to spread out. There are many spots on the shore where you can hang out and easily walk into the water.
On the "bend" itself are nicely landscaped amenities, such as many picnic tables and grilling stations, restrooms, and a good sized playground. There is also a really nice view! You can reach the water from all sides by walking down the hill. There is a day use fee ($5 per adult).
Hamilton Greenbelt in Lakeway
Easy
Up to 5 miles roundtrip
For a change of pace, you can head out to Lakeway, near Lake Travis. There, the Hamilton Greenbelt provides a great hiking path.
Start off in the parking lot off of Lohmans Crossing Rd, where there is a nicely manicured garden. From there, you can stay on a wide path, perfect for strollers, or take the parallel narrow paths in the woods.
There is a section with a waterfall and waterlilies on your left, where you could exit the trail. Alternatively, you can keep going much farther, to discover cave like sections if you go near the creek (near rescue marker 223). Note: not all of the trail is marked on google maps.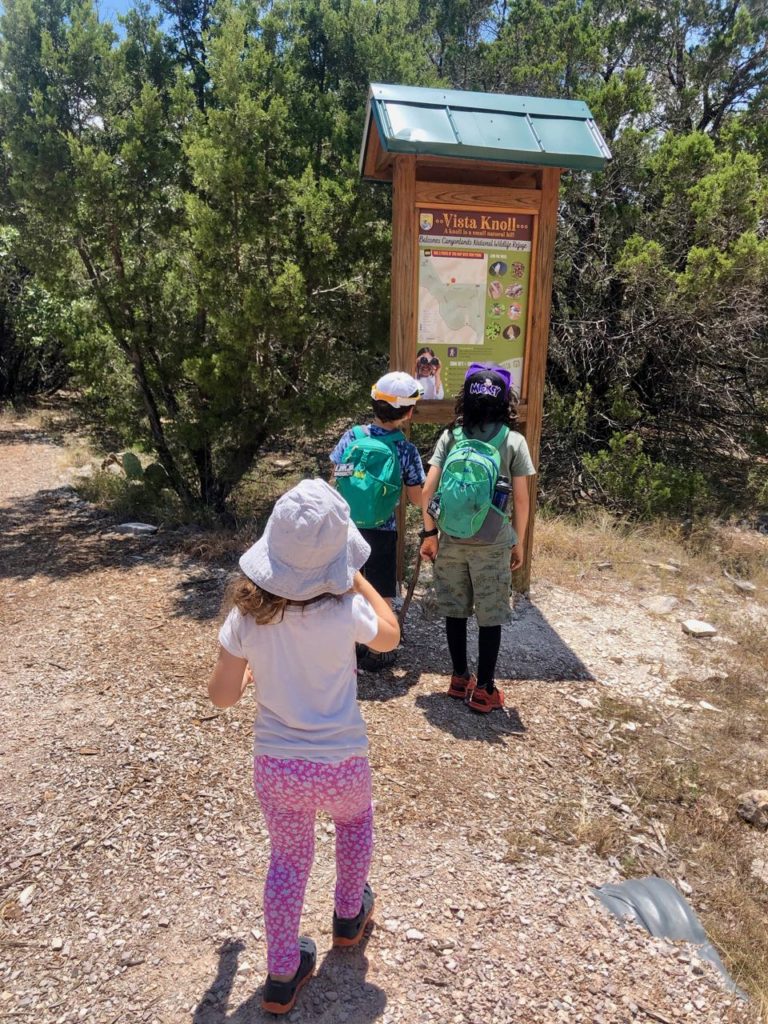 Balcones Canyonlands National Wildlife Refuge
In a category all its own, the Balcones Canyonlands National Wildlife Refuge, lies north of Lake Travis. It is an amazing place for bird watching in particular.
To get to Balcones Canyonlands drive on road 1431 and turn off to the right, heading up the hill on Warbler Vista. Once in the wildlife refuge, you can park near Warbler Vista, or keep going to Vista Knoll, or further still to Sunset Deck.
For our family walk, we chose the Vista Knoll trail, which had us begin on Cactus Rocks trail, descending down the forested mountain, and then turn off to Vista Knoll. The view did not disappoint, as we headed out of the forest into the ridge line, with a clear view of Lake Travis and the surrounding area. All that descent on the way there, meant a climb up on the way back.
To wrap up our visit, we checked out the Sunset Deck, which has a shaded deck! It was perfect for a snack and a relaxing end to our visit.
On another day, we hiked the Ridgeline trail. This trail was not as challenging, as there is less elevation change. It is, however, rocky much of the way. Read more details about this trail in my complete guide to Balcones NWR.
Our Favorite Hikes in Austin
Wrapping up this mega guide to hiking in Austin, I've been asked about our favorite trails thus far. These are my choices.
For hiking in Austin itself, I think that you can't go wrong with Bull Creek Preserve and Walnut Creek Metropolitan Park. Both of those are just beautiful Austin hikes along creeks. You can make them as short or long as you like!
For more of a young cool vibe, and a party atmosphere on weekends, I like the Barton Creek Greenbelt.
Outside of Austin, my favorites so far have been Arkansas Bend for visiting Lake Travis, and Balcones for hiking and feeling more detached from the city!
Do you have any more suggestions for us on where we should go hiking next in Austin? Have you explored all the hiking options in your city?
P.S. Ready to get out of town? Here are more Texas State Parks and hiking destinations further outside of town:
Not quite ready to get your hiking shoes on? Save this post for later!