When the kids are starting to loose it, it's time to head outside for a day outdoors in Brooklyn. Even for those of us that live in New York City, our city kids need their outdoor time!
That doesn't mean you always have to travel out of the city for a day spent in nature. Brooklyn has plenty of outdoor activities for kids! Right in our own backyard we have access to parks, beaches, and a myriad of playgrounds that break up the urban jungle.
This may seem out of place, but even in the winter, there is lots to do for Brooklyn families and visitors alike. Check out these five ways to spend the day outside in Brooklyn!
Brooklyn Bridge Park
For all first time visitors to New York City, our very first recommendation is to walk across the Brooklyn Bridge. Our suggestion is that it's best to do first thing in the morning. As soon as you cross over to Brooklyn, then obvious place to visit with kids is Brooklyn Bridge Park.
Brooklyn Bridge Park is a favorite for tourists and locals for good reason. The park has amazing views of Manhattan and a ton of things to do! Each pier is slightly different. Starting up north, you've got Jane's carousel, a beautiful antique carousel.
Then heading south of the Bridge, you have Pier 1 with large hilly and grassy areas perfect for a picnic. If you haven't packed lunch, there are many restaurants here, including the famous Grimaldi's Pizzeria, Shake Shack and more.
Piers 2 through 5, host basketball courts, a roller skating rink, soccer fields, and walking trails. Feel free to walk right past those along the water, to quickly get to our favorite pier for kids, Pier 6.
At the southernmost part of the park, Pier 6 is THE place to be for Brooklyn families. Here you have playgrounds, sand pits, and swings (not to mention restrooms). If you're visiting during the summer, pack bathing suits, for the water feature.
On the very end of the park is the ferry terminal. During the summer you can take the ferry to Governors Island, a car-free island between Brooklyn and Manhattan. After spending your day in Brooklyn, you can also take the NYC ferry back to Wall Street!
To visit Brooklyn Bridge Park via public transportation:
For Pier 1 take the Subway to High Street A/C stop
For Pier 6 take Subway to Court Street R or Borough Hall 2/3/4/5 stops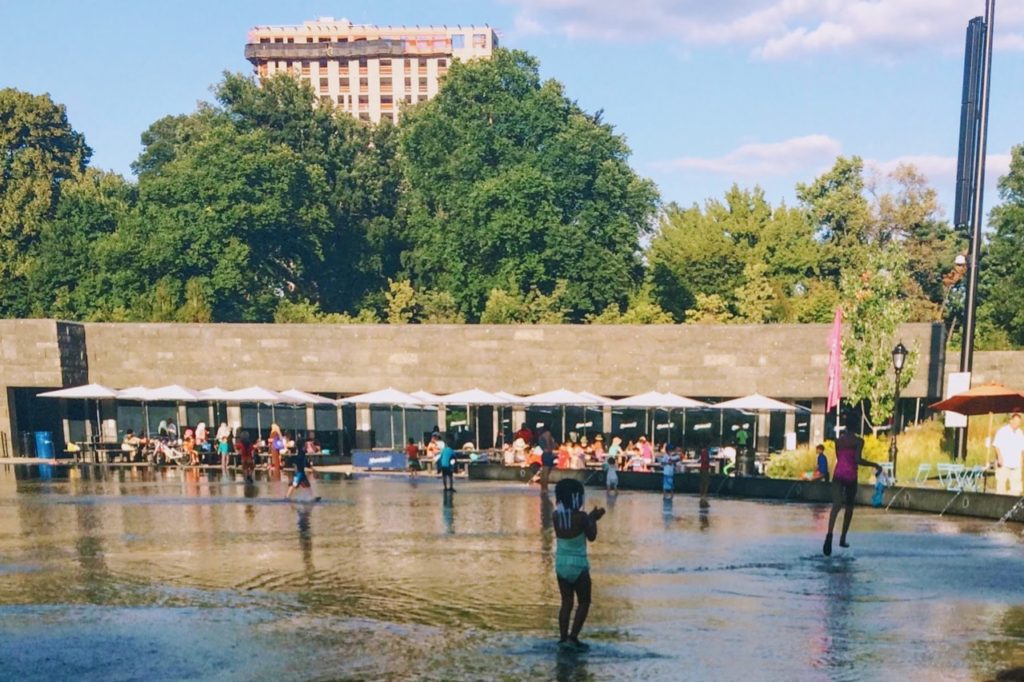 Prospect Park
The Central Park of Brooklyn, Prospect Park is a huge park where you can easily spend the whole day. Much like its Manhattan equivalent, it has a both walking trails and open fields, as well as several playgrounds and specialty features.
One unique feature of Prospect Park, is the Le Frak Center at Lakeside. The LeFrak Center has a fun water feature in the summer, a roller skating rink which becomes an ice skating rink in the winter, and a café with indoor and outdoor seating. Grab some food and watch your kids play. They won't want to leave!
You can also go boating during the summer, in the adjacent Prospect Park Lake! Alternatively, walk around the lake and visit the Audubon Center, which has activities for kids year round. Check the schedule!
Speaking of summer, every Sunday from May to September, Prospect Park hosts Smorgasburg. Between the huge variety of food trucks, you can find cuisine from all over the world. There is something for everyone, even your pickiest eaters!
In the Children's Corner, just north of the LeFrak Center, you will find more activities for kids. These include the Carousel in the Children's Corner, Lefferts Historic House, and the Prospect Park Zoo! You can also rent bicycles and multi passenger surreys (bikes), perfect for a ride with the little ones in tow.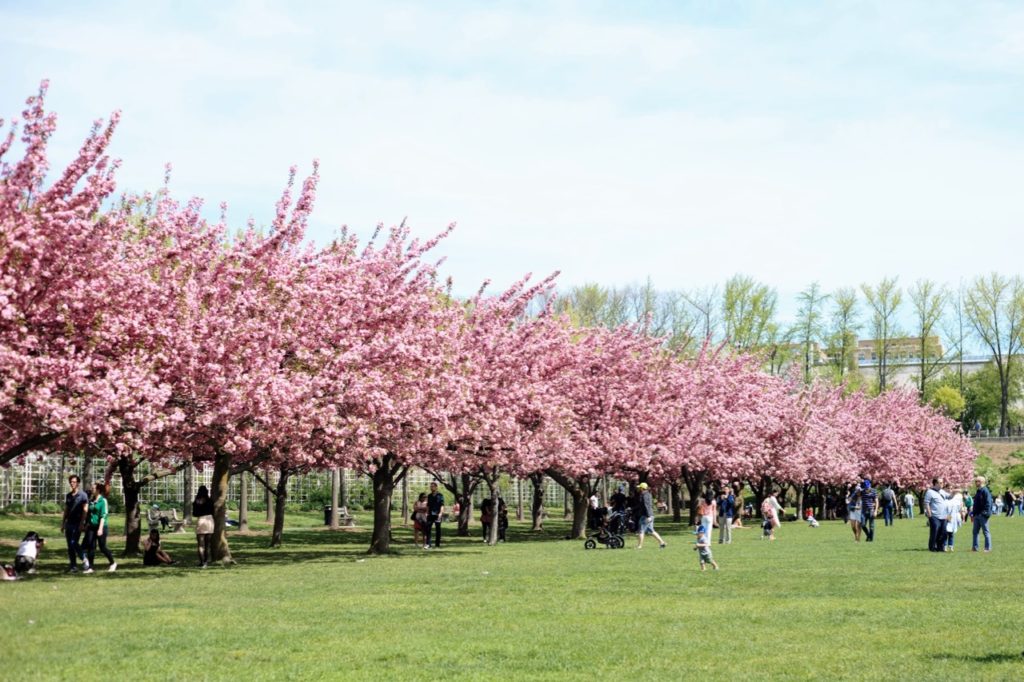 Brooklyn Botanic Garden
If all those activities in Prospect Park weren't enough, head across the street to the Brooklyn Botanic Garden! The botanic garden is arguably the most tranquil place in Brooklyn.
There are three entrances to the Botanic Garden, making it easily accessible by public transportation. It really is an amazing place to visit for people young and old. Coming from the north, begin by strolling around the pond in the Japanese Garden. Then walk through the grass on the Cherry Tree Esplanade, and don't miss the beautiful Rose Garden!
On the southern end, visit the Children's Garden for interactive exhibits for the little ones. Friday mornings are an especially good time to visit. They set up special activity stations in the Children's Garden, such as planting, crafts and learning stations!
Right across from the Children's Garden is another favorite for kids. The Water Garden has stone blocks that act as a bridge over Belle's Brook. Your young child will love walking back and forth a few times. Alternatively you can sit on one of the many benches around the garden.
When you're ready for a break from the exploration, head over to the Lily Pool Terrace for a bite at the Yellow Magnolia Cafe and Canteen. These indoor and outdoor options showcases ingredients grown in the garden itself. Can't get more local than that!
Even in the winter, the Brooklyn Botanic Garden is a great destination with kids. Adjacent to the Lily Pond and cafe you will find the conservatories (read:buildings). These showcase a wide variety of plants to see in indoor conditions. Our favorites are the Desert Pavilion and Tropical Pavilion, where it's always warm!
For one more cultural stop, consider combining your visit to the Botanic Garden with a hop into the Brooklyn Museum. This museum has a small permanent collection, and most of its space is dedicated to temporary exhibits. Check the website ahead of time to see what is on view!
To visit via public transportation:
Subway to Eastern Parkway Brooklyn Museum on the 2/3 line
Subway to Prospect Park B/Q (I recommend this one with kids: it has an elevator and is closer to the Children's Garden)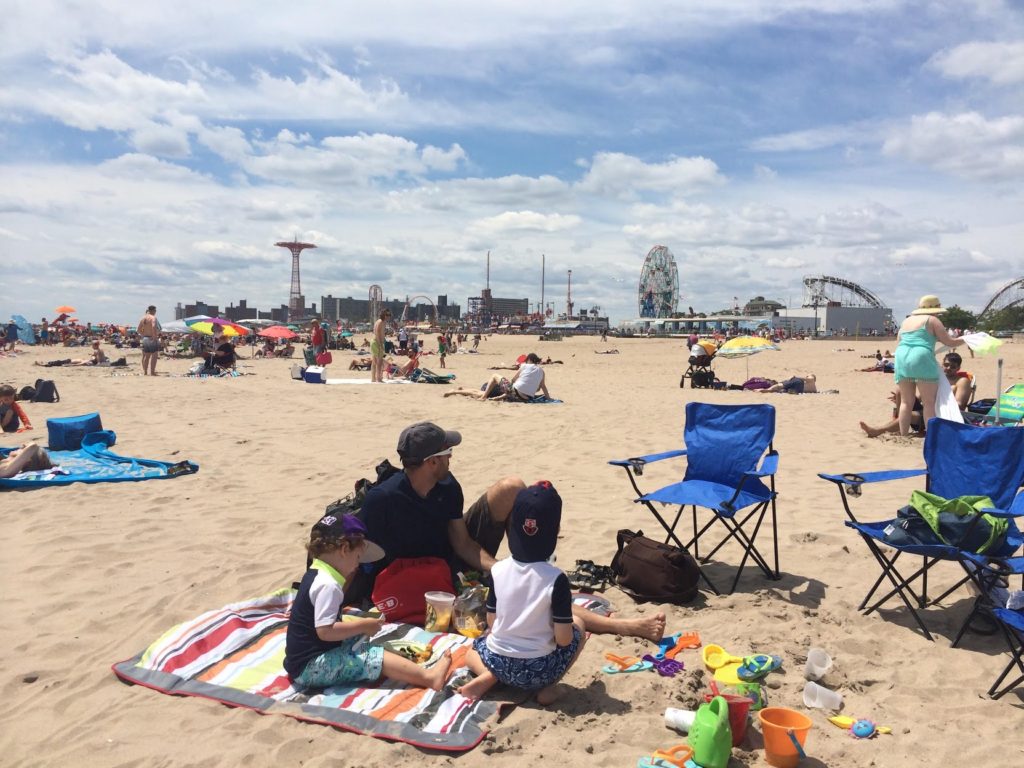 Coney Island Beach and Amusement Parks
Heading to South Brooklyn, there are more outdoor options. First and foremost, visit the most fun beaches in New York City! Coney Island has so many fun outdoor activities, you can easily spend the day here and you won't have time to do everything there is to do.
Coney Island is the ultimate beach destination for a warm and sunny day! You have a boardwalk for strolling, with several fast food options and a great carnival feel. There's a wide beach with plenty of room for laying a blanket and playing in the sand, and it's free and open to the public!
For older kids, the amusement park rides are where it's at in the summer season. Many of the attractions are ticketed separately. You can get a day pass for the Luna Park which covers several rides including the iconic Cyclone roller coaster. Note that most rides open at noon.
For younger kids, I suggest visiting the New York Aquarium, right off the boardwalk. There are so many great exhibits, including the new Ocean Wonder: Sharks! The sea lion show is always a favorite with the littles! The aquarium is great because it is can be visited year round.
More options on Coney Island, include: MCU Park where you can watch the Brooklyn Cyclones play baseball. The Coney art walls are a selection of murals perfect for the instagram loving crowd. Coney Island USA Museum and side shows is another place where you can catch an old fashioned circus sideshow!
If you're still looking to pass some more time, you can walk along the boardwalk from Coney Island to Brighton Beach. There you have access to a variety of Eastern European restaurants where you can warm up, even on a cooler day.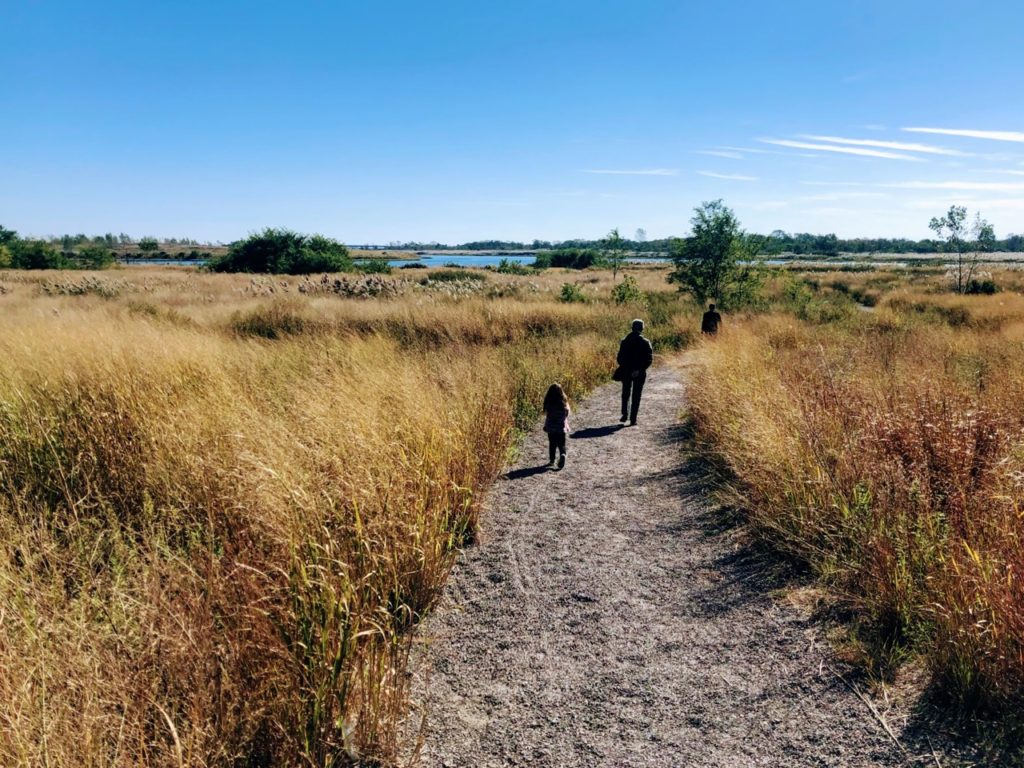 Salt Marsh and Marine Park
Staying in South Brooklyn, I have the most gorgeous hiking trail for you! The Salt Marsh Nature Center is a perfect family hike, right in Brooklyn!
Spend a couple of hours walking on the trails, while you forget that you are still in New York City. Observe the plants and birds, then head inside the nature center to talk to the friendly rangers!
After your time spent in nature, all you need to do is cross the street and you are at Marine Park! Marine Park is the second largest park in Brooklyn after Prospect Park. You can easily spend an entire day at the park.
The main section of the park, has a walking a biking loop that is 1 mile long. Inside the loop you will find fields: baseball fields, soccer fields and even cricket fields!
Outside the loop, there are tennis courts, handball courts, basketball courts, adult exercise equipment, and of course, playgrounds! In the summer, you will find a great water feature at the Playground 278, on the north-west corner of the park.
This activity is best for local Brooklyn families or those with their own transportation as the parks are best accessed by car or bus, rather than subway. Pack your lunch and your sports gear! And if you still have more energy for hiking, check out the slightly farther North Forty trail.
Brooklyn Outdoor Activities for Kids
There are so many things to do in Brooklyn outdoors with kids. It really is easy to spend the day outside without leave the borough limits. Whatever you choose to do, think about spending it outdoors with your kids. Enjoy Brooklyn's outdoor spaces for a fun day of relaxation within urban jungle that is New York City.
What are your favorite ways to spend a day outdoors in your city?
Check out more of the best things to do in NYC with kids for the best things to do in New York City. And if you're a local: check our complete NYC bucket list, to make sure you haven't missed some of the great things to do in Brooklyn and all the boroughs of NYC.