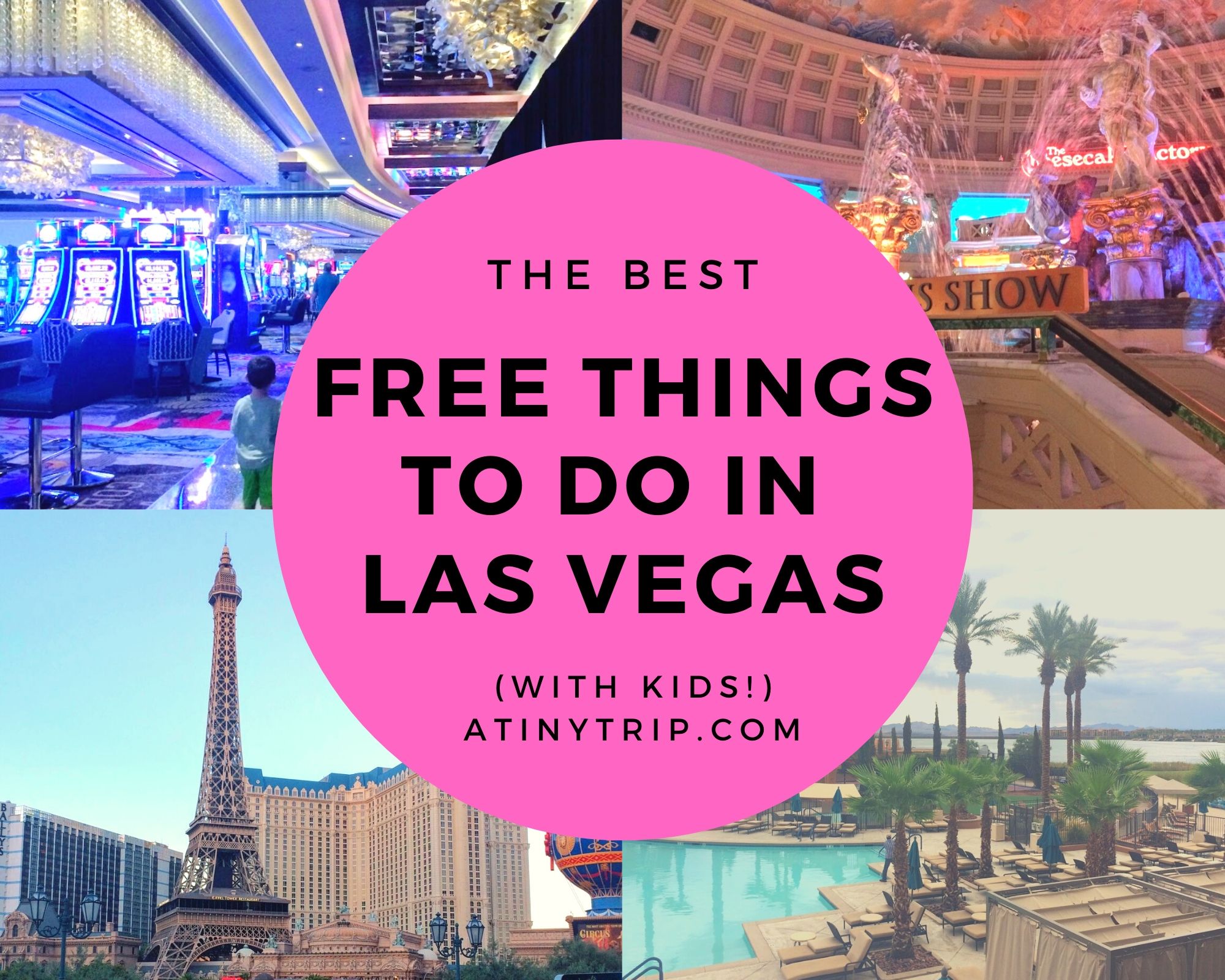 Visiting Las Vegas on a budget is kind of like visiting an amusement park on a budget: it's possible but there's a good chance you'll be missing out on some fun adventures.
Nevertheless, travelers from around the world, come to Las Vegas to enjoy this adult playground, and there are ways to keep your costs under control if you do some planning ahead and follow money saving methods.
If you're traveling with kids, read on for where to stay in Las Vegas on a budget and the best free things to do with kids in Las Vegas.
This post may contain affiliate links. Thank you for supporting our work.
Planning a Trip to Las Vegas with Kids
When we were planning our road trip to the national parks, and specifically the Grand Canyon, we knew our trip would be starting and ending in Las Vegas. We had seen enough movies to surmise that Las Vegas wasn't really our jam, but you never know and we were going to give it a go with an open mind.
Our interest was to get a taste of the Las Vegas strip, but we wanted to keep this portion of our trip as low budget as possible.
From here, I did some internet research and came up with a list of free things to do in Las Vegas with kids. This list ended up serving us well!
What I failed to realize is that while the attractions seem close to each other, the resorts and hotels are so huge, that it takes quite a bit of time to walk from one to another. So without further ado, here's a list of free things to do and see with kids in Las Vegas.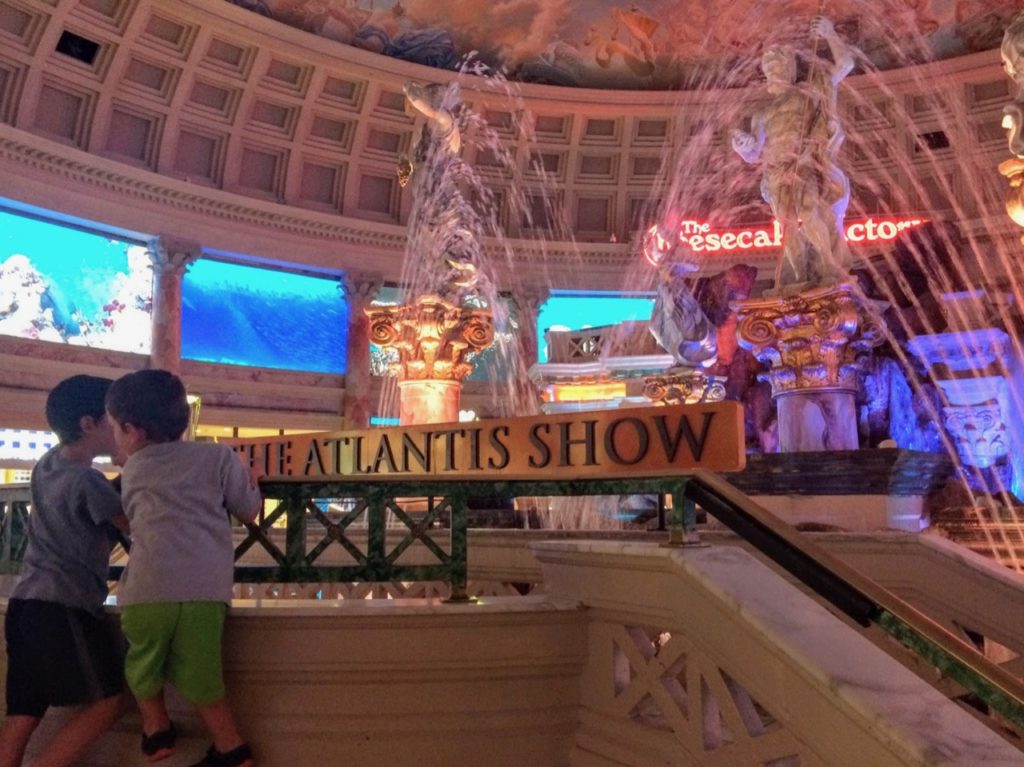 Free Things to Do on the Las Vegas Strip with Kids
There are plenty of things to do with kids in Las Vegas, in the Strip and in the downtown area. That said, many are far from free, and many of the free activities are extremely commercial. Here's a list of things to do for the family that is looking to get a taste of Las Vegas without spending a bundle.
1. Fountains at the Bellagio– The fountain show begins every 30 minutes starting at 3 p.m. From 8 p.m. to midnight it begins every 15 minutes. We walked by it a few times and it never failed to mesmerize my kids. This is such classic Las Vegas that I'd call it a must-see.
2. Botanical Gardens at the Bellagio– We walked through most of the Bellagio but did not specifically linger in the botanical gardens. Nevertheless, it's a great free indoor option.
3. Circus Circus Trapeze Show– This free circus show begins roughly every hour and seems like a lot of fun for kids.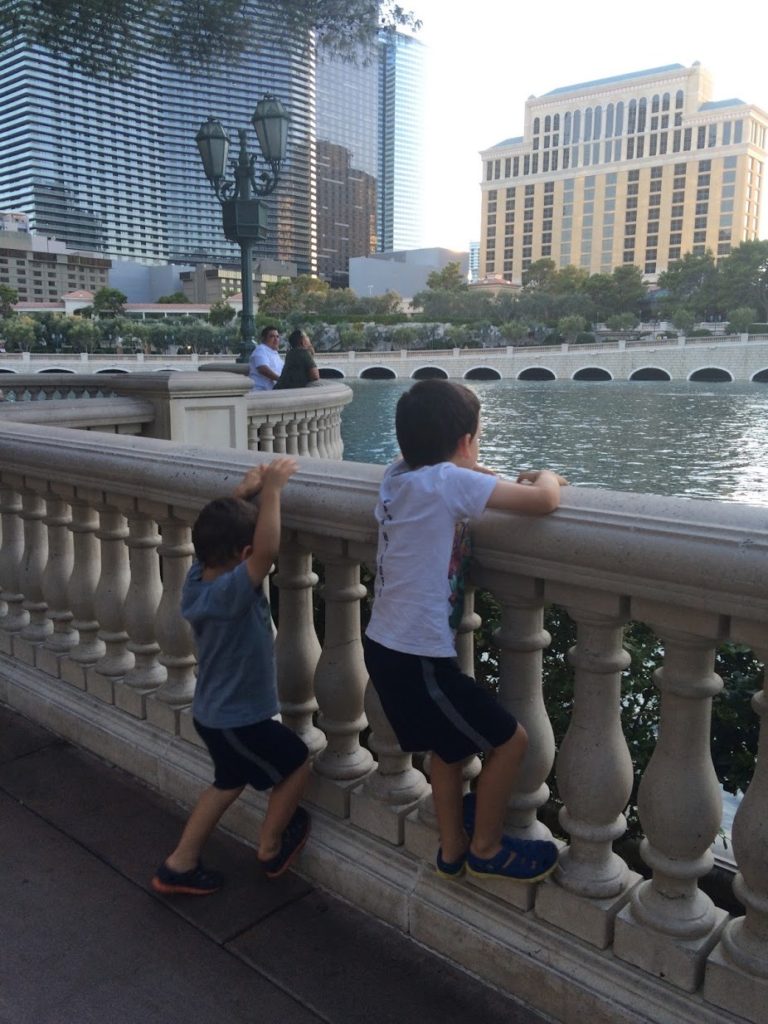 4. Fall of Atlantis show at Caesars Palace– Taking place every hour on the hour, my kids absolutely loved this show! Animatronics tell the story of Atlantis with smoke and lights and fire. The only downside was that walking through the entire Caesars Palace mall to get to the show took a long time.
5. Flamingo Wildlife Habitat– At the Flamingo and free to enter, you get to see live flamingoes, pelicans and more. Pelican feedings take place in the morning.
6. Mirage Volcano– Another attraction you can just walk by that's probably better for older kids that are up a little later. The volcano erupts starting at 8 pm, roughly every hour.
7. Welcome to Las Vegas sign– This is more for the adults, as my kids couldn't care less about taking a picture with a sign. Nevertheless, it's right at the south end of the Strip and you can stop and take a picture anytime.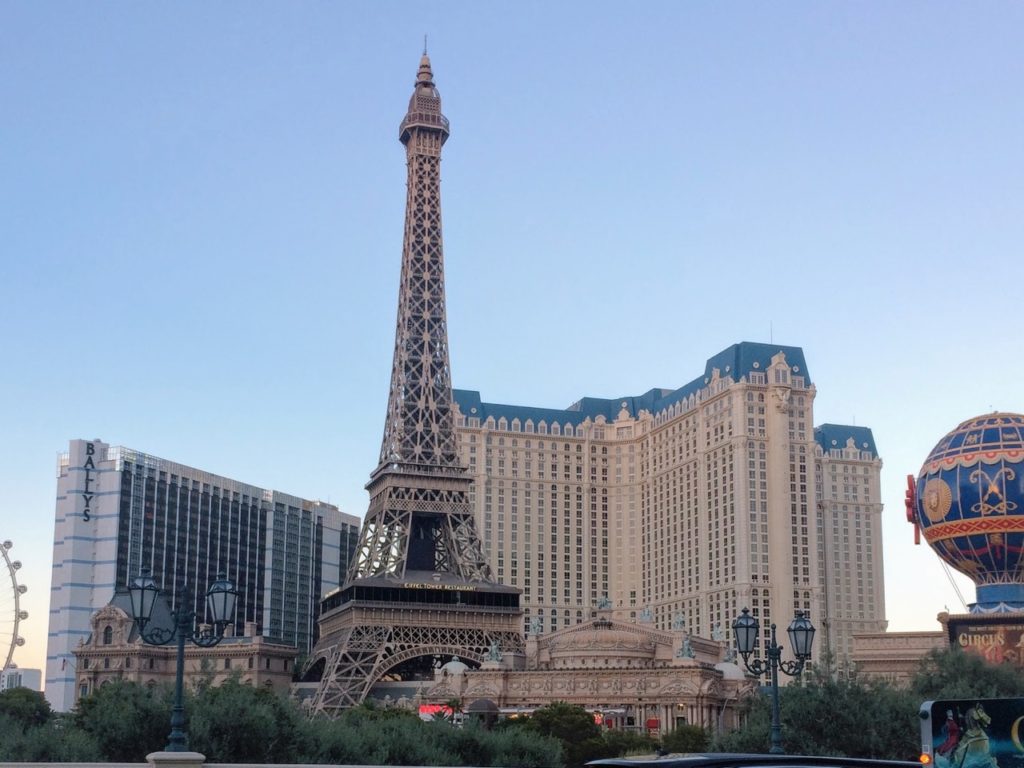 Money Saving Tips for Visiting Las Vegas on a Budget
If there's one thing Las Vegas is good at, is getting you to spend money! Haha! Here are some more general tips for saving money in Las Vegas, that are not particularly kid-geared.
1. Save money on food by grocery shopping
While lodging options in Las Vegas are relatively inexpensive by American hotel standards, restaurants are something else. Other than the typical fast food options, most restaurant are in the mid-range and up price wise.
One work around is grocery shopping for some easy snacks and simple meal options. There is a Whole Foods Market just south of the Welcome to Las Vegas sign that has a ton of prepared food options in addition to the usual selection.
If you have a car you could even make the drive to Trader Joe's or some other budget friendly grocery store. This will work best if your hotel room is conducive to meal preparation. Read on for my review of the Jockey Las Vegas for more on this!
More on How to Find Healthy Food While Traveling (the post was inspired by this trip!)
2. Save money on hotels by utilizing credit card points
I've talked about this strategy before, but utilizing points is a great option for saving costs on accommodations! Note that you may still be required to pay a resort fee. We used this strategy to book the Westin Lake Las Vegas (read on for the review).
3. Don't gamble
There isn't much more to say on this topic. It just seems like a prudent financial strategy.
4. Go to free attractions
There's lots to see in Las Vegas without spending a dime. I just wrote up the list of best things to do with kids. For adults there is even more to do in terms of walking around and just observing the crazy scenes and lights all around.
Another thing you can usually do for "free" is utilizing your hotel amenities. We spent a heavenly morning at the hotel pool and the kids were just as happy with that as with the "special" attractions!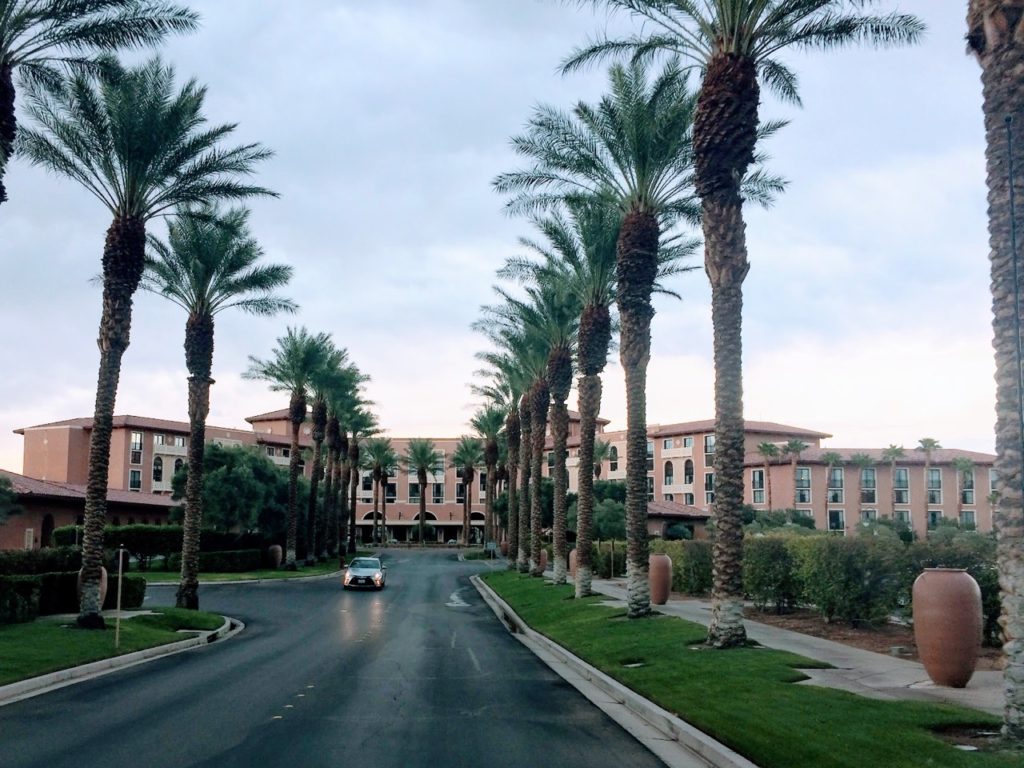 Review of the Westin Lake Las Vegas
Our first day in Las Vegas, we chose to come out to Lake Las Vegas area to decompress from the big city, before exploring another one. The Westin Lake Las Vegas, technically in Henderson, Nevada, lived up to all of our expectations.
The view out of our room was of the lake and desert! Can't get much better than that! We had a small balcony that was perfect for enjoying the view, and great as a place to hang out after the kids went to sleep in the room!
The room at the Westin Lake Las Vegas was outfitted with the usual hotel amenities: desk, armchair, television etc. Our room with two double beds was quite comfortable and plenty roomy for the five of us! And, in usual Westin form, the shower was excellent and the beds were comfortable.
As a resort, the Westin offers the usual amenities: gorgeous landscaping, pools, cafes, fitness center, spa services, etc. We all enjoyed walking around and discovering the different areas of the resort. Our kids' favorite was the water slide into the pool! Click to check current prices!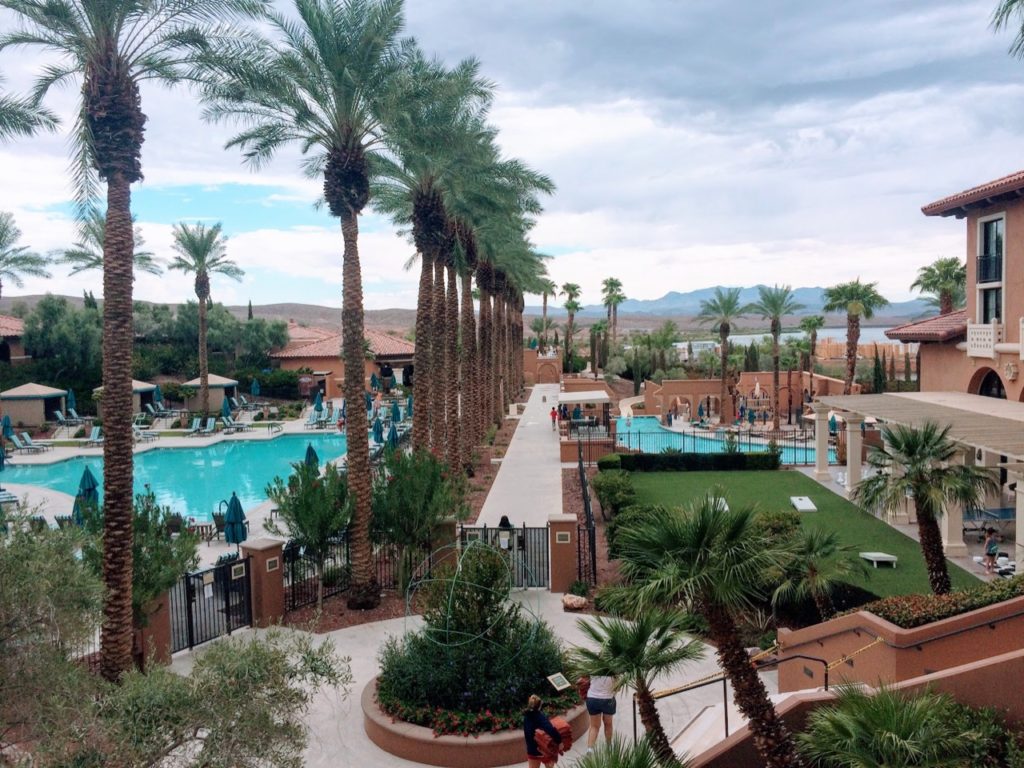 Despite some inclement weather which meant the pool had to close for safety reasons, we had the best time. If I had to return to Las Vegas with kids again, this would definitely be my choice (far away from the smoke and gambling of the strip).
Food wise, there are a couple cafes onsite (and the one we tried was great), but for more options, a car is really necessary in this part of town. That said, it is not a long drive to Whole Foods or Trader Joe's. If you want a few things to keep in your room, I would stop at one of those on the way out to the lake!
Review of the Jockey Las Vegas
The Jockey Club Las Vegas is a one of a kind accommodation. If you are looking to be right on the Strip, but want an affordable apartment-style hotel, this is the place to be.
The rooms at the Jockey are really more like extended stay suites, with a full kitchen, and small living and dining area. Depending on the size of the suite you choose, it's really like being in your own apartment right in the center of everything in Las Vegas. They are actually a combination of vacation rentals and timeshare units.
I can see this being a really useful set up, if you have very young kids or are coming for a longer stay. Jockey is also a good option if you have food restrictions and prefer to do your own cooking, or save money on eating out. Check prices now!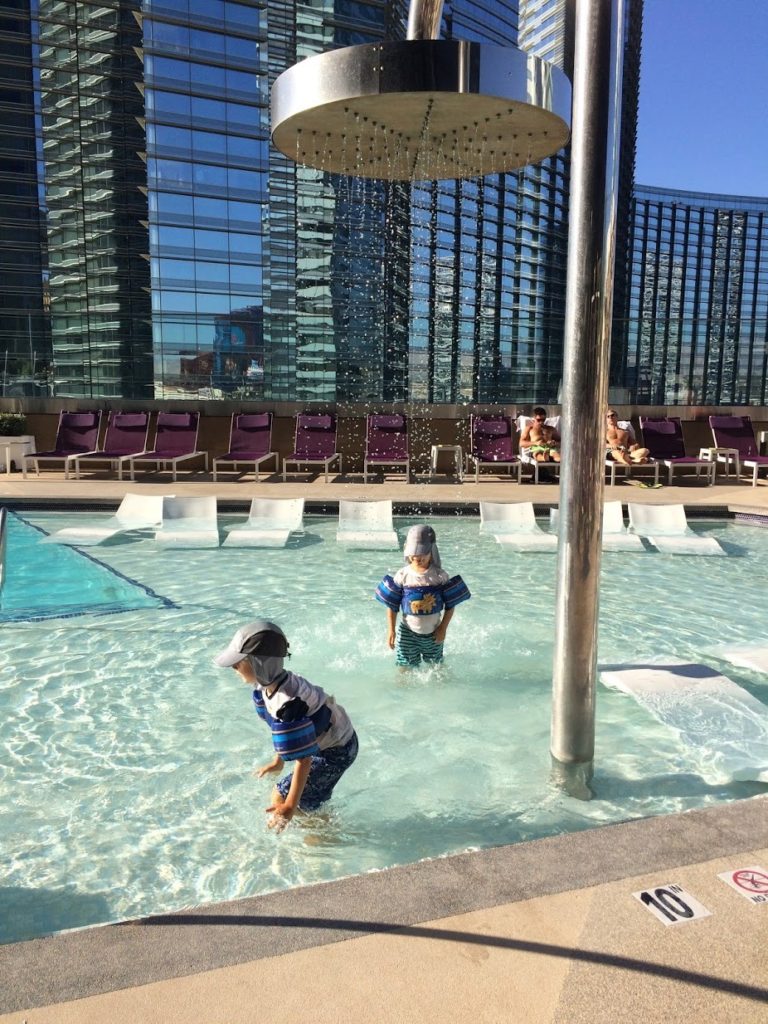 The Jockey is located pretty much under the Cosmopolitan Hotel. They are both connected through the parking lot. Guests of the Jockey have access to the Cosmopolitan pools which are actually really nice! In terms of other amenities, the Jockey is more like a motel with coffee and a DVD lending library but not much else.
A few rooms have views of the Bellagio fountain, but many are facing a wall! It's an interesting set up, you do get more space, but the suites themselves are quite dated. I didn't love it even though it was certainly convenient, and right across from the City Center mall. Your mileage may vary.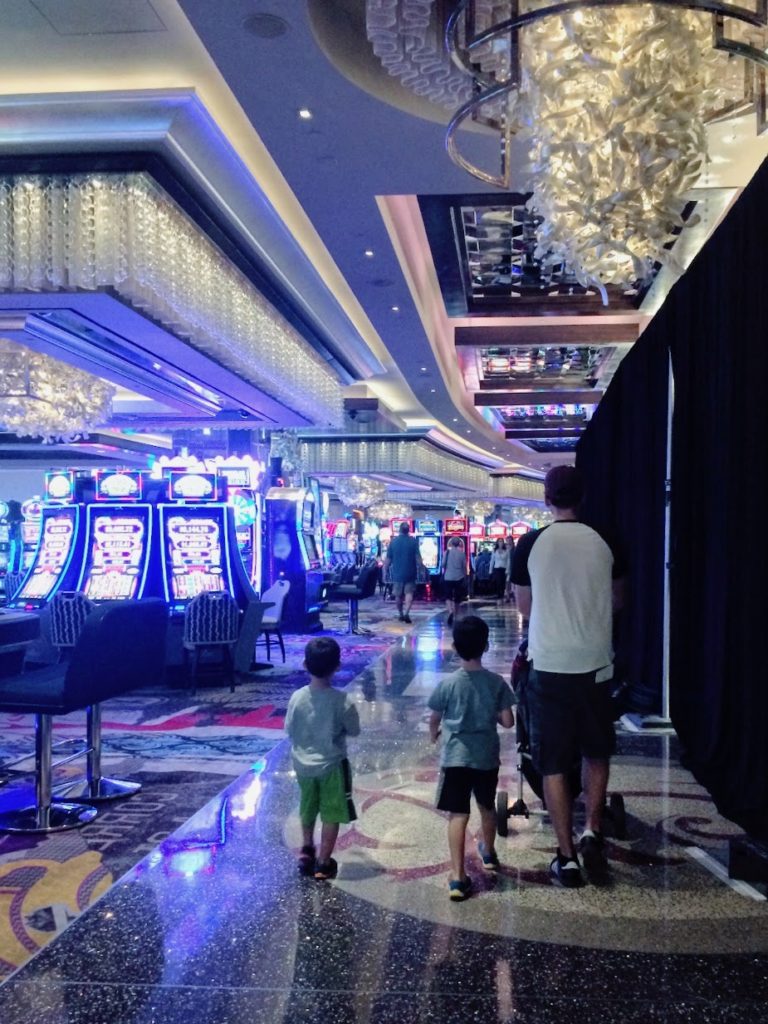 Las Vegas with Kids
All in all, I did not think Las Vegas was a great place to take kids. The casinos are loud and smokey (even in areas that are supposedly smoke free).
The allure of the buffets is lost on little ones that don't eat much, and most of the entertainment is just not for kids. Then again, it is a great starting point for heading out on the road and seeing the amazing National Parks in the area. More on that to come!
Have you or would you take kids to Las Vegas?
Dreaming about your trip to Vegas? Start checking hotel prices now!
Las Vegas Trip on the horizon? Save this post for later!