For my recent six- year old's birthday, we had a super duper easy island themed birthday. It took less than an hour to prep some decorations and activities from things we already had around the house! The main activity of the day was mini golf which required no effort on my part, so I was happy to invest time in a homemade cake and a few details.
This post may contain affiliate links. Thank you for supporting our work.
Why A Themed Birthday?
One aspect of our purposeful parenting is making sure our children feel heard. A really easy way to do this is on their birthday. We just ask if there is anything special they would like (within reason).
For these younger ages it has been simple to heed their requests. I like to theme my kids' birthdays just ever so slightly. It is a way to make the day extra special and I do my best to incorporate their wishes into the day.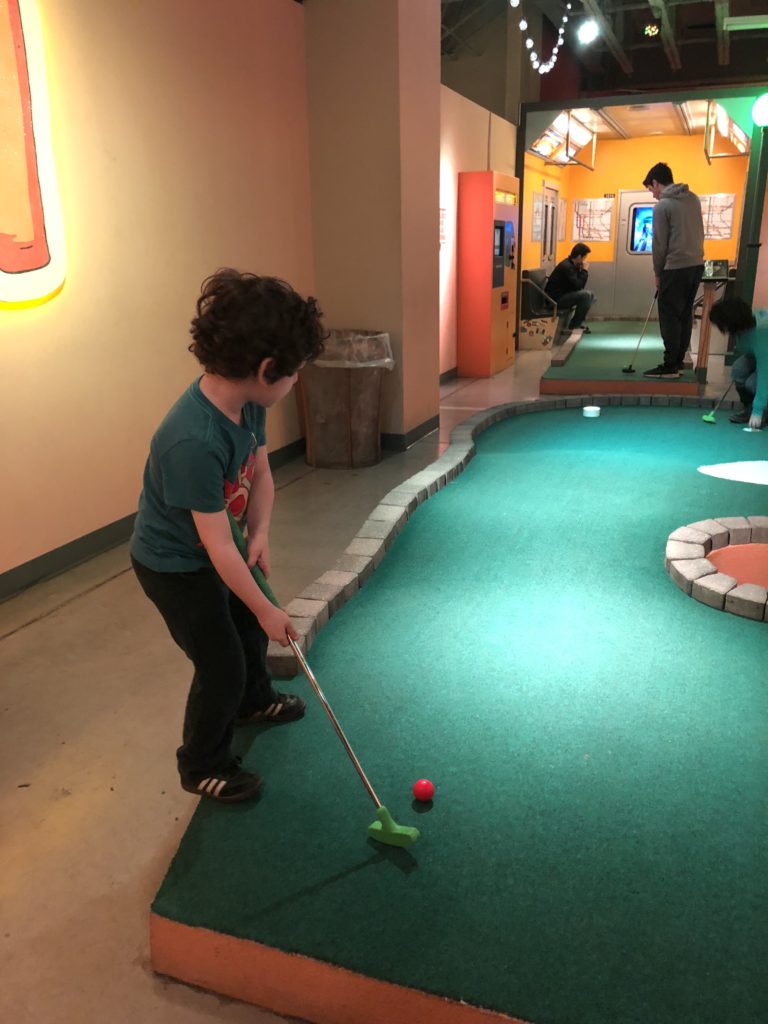 Shipwrecked Mini Golf
For this birthday, B requested to play mini golf! As February in New York is not the most conducive to outdoor activities, I thought I had my work cut out to make it happen.
It so happens that we found an indoor mini golf location in Brooklyn! The place was called Shipwrecked, and made it easy to set a theme for the day!
Creating Decorations for an Island Birthday
You can see from the picture above, all I really did was cut out some construction paper, and use some paper decorations that we already had to make a festive area. Additionally, We had lots of balloons to play with around the house.
The other thing I made was little Pirate Activity Books for our kids. I took this Jake and the Neverland Pirates coloring book, and ripped out pages and repurposed them.
Our Simple Island Themed Birthday
Our agenda for the day was:
Birthday Morning: pirate activity books (while I got some things ready for later in the day)
Main Activity: mini-golf
Food: home for lunch and cake
Treasure: the treasure at the end of the map was gifts and party bags!
B's second request was a fruit cake. I made a basic paleo cake, loaded with fruit both inside and on top, and at his insistence, we added an island of ice cream from Squirrel and the Bee.
Gifts kept the kids occupied for the rest of the day! The ukulele and rock painting kit from my gift guide for age six were a big hit! It was a fun time for the whole family!
Do you have themed birthday parties for your kids? Do you love to get inspiration from Pinterest and plan ahead of time, or are you more of a wing-it type?
P.S. Interested in other really EASY birthdays? Check out this transportation theme, balloon theme, fish theme, bee theme, and this fruit theme.