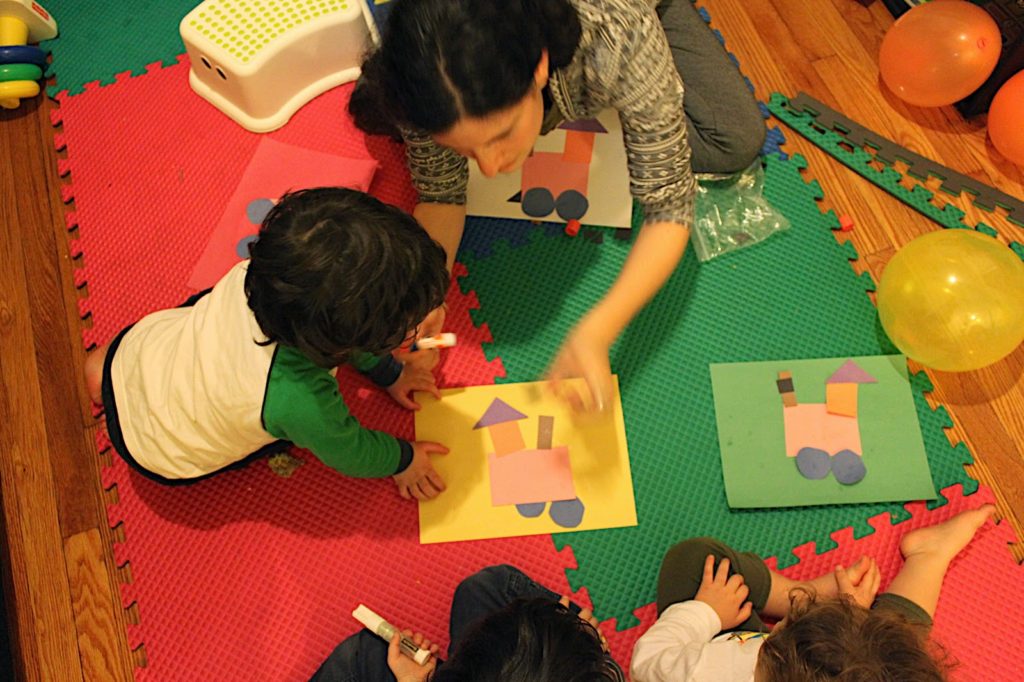 When you decide at the very last minute to throw a toddler birthday party, follow this easy guide. Alleviate the mom guilt and make it a full blown but EASY party with just a few hours of preparation after bedtime. Today, I'll give you the play by play on the easiest transportation themed birthday party. With less than 24 hours, we have activities, decoration and cake that made our car and truck obsessed kiddo super happy! Plus the easiest way to make a truck cake you have every seen.
Deciding on a Transportation Themed Birthday Party
I know my two year old won't remember his birthday party. I know. But as much as I wanted to just have cake and call it a day, I couldn't resist putting together a little party with all his favorite things. Our Birthday Boy had an amazing time and at the end of the day that's all that really matters!
Here's the play by play:
6:00 pm– M comes home from grocery shopping and brings balloons he picked up at Party City
6:30-9:00 pm– Dinner, bath, bed
9:00 pm– Make homemade jello (gelatin+juice), tidy kitchen
10:00 pm– Inflate a bunch of balloons
11:00 pm– Hop on Pinterest for some cake and activity ideas
12:00 am– Make a party plan, cut out shapes for our craft (2 circles, 1 triangle and 3 rectangles per kid– so easy!), collect supplies for party games
1:00 am– Bed!
7:00 am– Up! Kids discover balloons! Fun!
8:00 am– Breakfast/ hang some decorations as kids are eating, Skype with family members
10:00 am-1:00 pm– Getting dressed, out for usual morning activities and back
1:00 pm– Lunch/leave ingredients out for "cake"
2:00– Nap for the birthday boy. Meanwhile: throw together cake and stick in the oven. This was topped by a truck and crumbled cookies for the right look. I finish wrapping presents, cut out and paint a cardboard car, and draw a backhoe on our easel. (See picture below).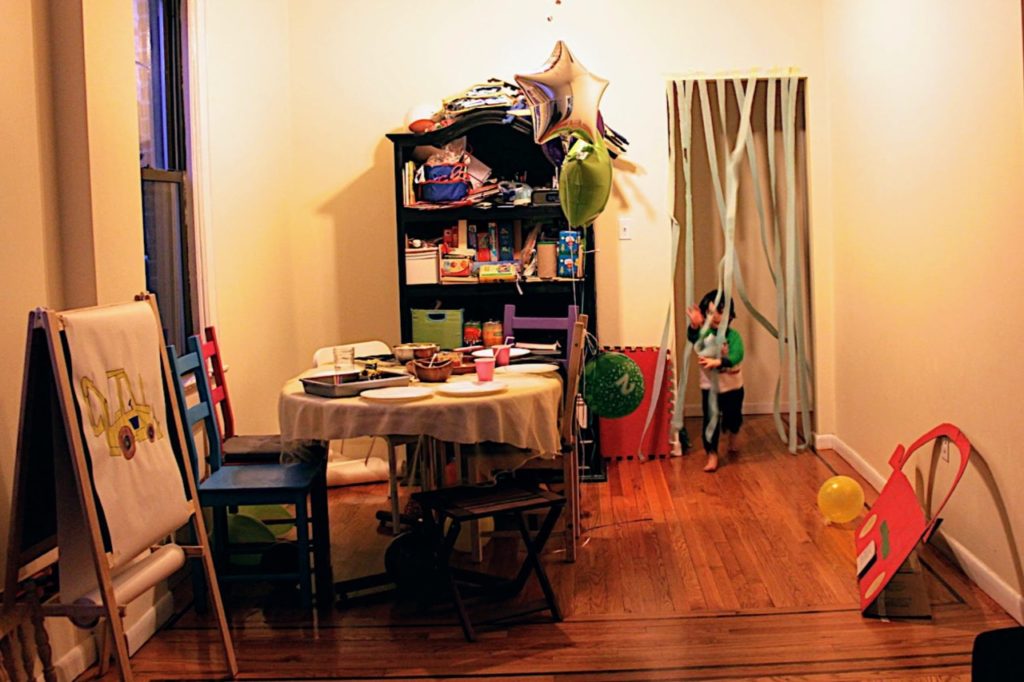 4:00– Birthday boy is up (sleeping for a half hour longer than usual!), begin tidying living room while kids play
5:00 pm– M home early! We cut veggies to serve with hummus, pop some popcorn, make guacamole for the tortilla chips, throw some chicken on the Foreman and microwave rice from the night before (all the Birthday Boy's favorite foods).
5:30 pm– Send the kids to our bedroom for a few minutes of screen time while we put up streamers, tape the cardboard car onto the floor, set up the obstacle course and decorate the cake!
5:45 pm– The "Party" commences!
Our Transportation Themed Party
The kids were incredibly excited to run through the streamers back into our living room! B's eyes just lit up when he saw the drawing of the backhoe on his easel!
We turned on some music, took some pictures in the car, and started the games right away.
Transportation Games
We did the obstacle course twice. (Take ring, crawl through Ikea tunnel, put ring on stick, walk on "balance beam" made of foam tile edges, step up and over step stool).
Then we played Pin the Person on the "Snort" (the backhoe).
We then sat down to make our paper trains and calm the excitement a bit before moving on to the ball toss, (just as it sounds, throwing soft balls into cardboard boxes).
Food and Cake
By then in was our regular dinner time, so we sat to eat and then sang happy birthday and ate cake and ice cream and jello.
The kids were elated to finally dig into the presents and though we had planned to dance with glowsticks to burn off the sugar they were delighted to just play with all their new toys so that's what we did!
Have you thrown together a last minute party? How did it go?