Want a creative getaway from New York City that your kids will love? Legoland and Philadelphia with kids is an awesome option! Less than two hours away from New York City, the Legoland Discovery Center Philadelphia, is technically located at Plymouth Meeting Mall, outside of the city. Add in some of the historical sites in Philadelphia, visit Philadelphia museums with kids and make it into a fun packed weekend of activities in Philadelphia.
Philadelphia with Kids
When we decided to go to Legoland Discovery Center Philadelphia, we knew it had to be combined with a visit to Philadelphia Center City (downtown).
We had never been to Philadelphia since having kids, and I believe the only thing we did on our last road trip through the city, was stop to have a cheesesteak! (And did so at the most touristy locations, either Geno's Steaks or Pat's King of Steaks…I don't remember).
So before we went on our trip, I researched the best things to do in Philadelphia with kids. It looks like we absolutely could have filled a weekend with activities in Philadelphia. Between the Center City historic district and all of the museums around Fairmount Park, on either side of the Schuylkill River, there is plenty to do.
Things to do in Philadelphia
We ended up make our trip short and therefore only went to the very first place on this list. However, here's the complete list of kid friendly things to do in Philadelphia.
Independence Park
It is easy to spend a half day around Independence Park in Philadelphia.
Liberty Bell/Independence Hall – If you only do one thing in Philadelphia, I believe seeing the Liberty Bell would be my number one choice. Our elementary school aged kids were excited about this! This is the book we had read that mentioned the Liberty Bell! The entrance is free but timed tickets need to be procured at the visitor's center.
Both the Liberty Bell and Independence Hall required waiting in long security lines with metal detectors. The Liberty Bell is housed in a hall you can walk through independently.
Across the street at Independence Hall, you must wait for a guided tour to see where the Declaration of Independence was signed. Unfortunately the tour was disappointingly dull. Hopefully that was just our bad luck and some of the other guides are more engaging.
Benjamin Franklin Museum– Just a couple of blocks away from Independence Hall, down Chestnut Street is a small museum about the life of Benjamin Franklin. The kids really enjoyed the outdoor area where you can see underground to where his home and printshop used to stand. The museum has a five dollar entrance fee, but the outdoor areas are free!
Also in Center City Philadelphia
Philadelphia seems like an amazing destination for history buffs! Other places you can visit:
Betsy Ross House– See where the first American flag was designed. (5/pp)
Elfreth's Alley– Walk through the oldest residential street in the country!
Museum of the American Revolution– I'm not sure how kid- friendly this museum is, as it was closed when we were there, but ours sure did like playing by the canons outside.
Franklin Square Park– A park with a fountain and activities such as mini-golf.
Reading Terminal Market– a major food hall.
Love Park– officially called the John F. Kennedy Plaza has a reproduction of the LOVE statue by Robert Indiana. We did a drive by, but there were certainly plenty of instagrammers around! (By the way, there is also an AMOR statue nearby!)
Museums in Philadelphia
Once you get to the LOVE statue, you head into the Fairmount Park area with all of the museums. We did not allocate the time to visit museums on this trip, but it seems like there are some great options for kids. I made a quick note of the price per person for adults, as I found the price of the entrance fees for museums in Philadelphia surprising.
Philadelphia Museum of Art– One of the oldest public art museums in the country, has a significant collection of impressionist paintings. See the famous steps from the movie Rocky. Includes admission to the Rodin museum. (25/pp)
The Franklin Institute– A science museum that looks great for older kids. (23/pp)
Please Touch Museum– Children's museum with lots of hands on activities is best for preschoolers. (20/pp)
Philadelphia's Magic Gardens– Funky art museum and sculpture garden. I could see some cool conversations happening here. (10/pp)
The Academy of Natural Sciences of Drexel University– A natural history museum with dinosaur exhibit, amongst others. (22/pp)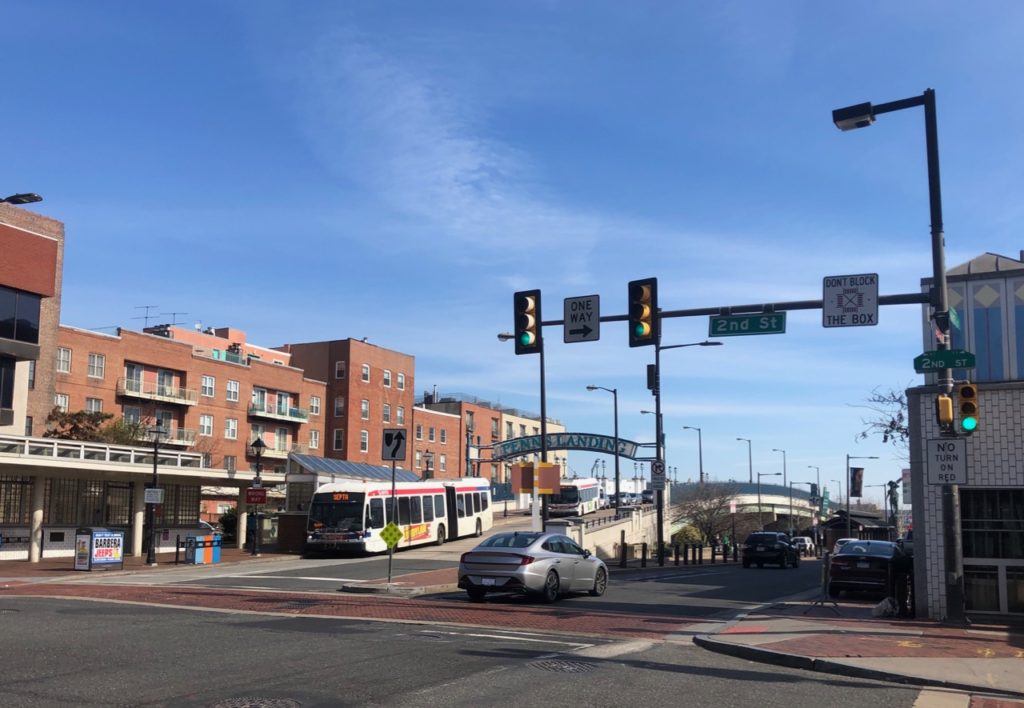 More activities in Philadelphia with kids
Schuylkill Banks– A park with outdoor activities along the Schuylkill River going right through Philadelphia.
Smith Memorial Playground– This looks like a great outdoor playground.
Philadelphia Zoo– the zoo. What more to say?
Adventure Aquarium– Technically it is across the Delaware River, in Camden, New Jersey, but it looks like a great destination for kids!
Legoland Discovery Center Philadelphia
Alright, enough about the downtown. The reason for our whole trip to Philadelphia, was to visit Legoland! This was for our newly 7 year old's birthday celebration. Since we were taking a trip an hour and a half away from New York City, we decided to really take advantage of the day, and arrive right at opening.
Note that Legoland tickets can be reserved online for a discount and for priority entrance. We got to step in right at opening at 10 a.m. and it was wonderful to be there before it started getting busier closer to noon.
The average stay is around 3 hours, and I could definitely see being done in that time. However, our kids are in a super Lego phase and really milked the day and we were there closer to 5 hours!
So what is Legoland all about?
Roughly there are a few areas with different things to do. I'll go through them quickly.
Playground
The Legoland play structure is not unlike the ones in other indoor venues, with netting all around. Our kids had a great time climbing and sliding up and down into the different areas.
Ride
There is one ride, that is like an amusement park ride with a car that glides along a route. You have wands with lasers with which to point at the screens and move from one section to the next. We all really enjoyed this, as it was not bumpy or scary in any way.
Race Track
The car themed area, has all the parts you need to build a lego car. Then there is a slide where you can slide down next to the track for your car. My boys loved tinkering with their cars and racing each other.
Train Table
This was another huge hit! There is a lego train table with a track mostly set up which you can add to. However the big attraction was building out your train car with legos and walking them around the track. Our three year old just loved it, even though it was sometimes frustrating when he train got derailed on uneven track.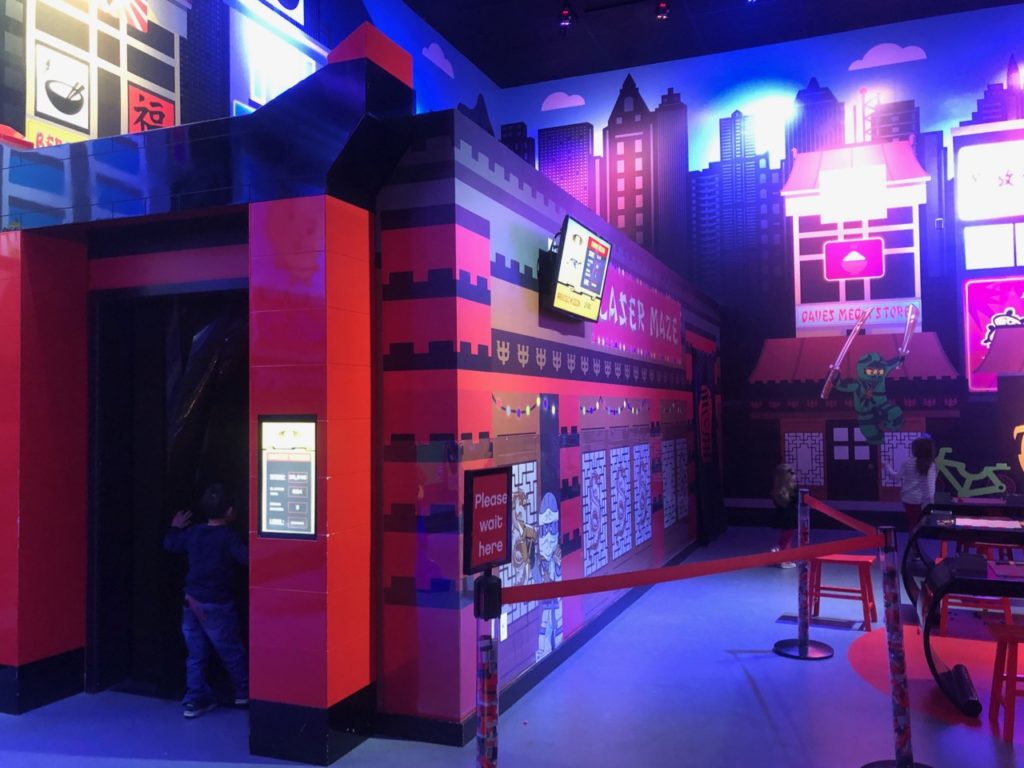 Laser maze
This was a big hit with our oldest boy! You can set up your level and have to run through a laser maze with a Ninjago theme.
4D Movie Theater
I have mixed feelings about the 4D theater. There were 3 different movies showing at Legoland Philadelphia, each about 15 minutes long. The 4D aspect was wind, mist, and soap bubbles coming at you. It was a good change of scenery from all the various lego building areas. However, the movies themselves were nothing amazing.
More building areas
There are several more areas with tables for building various things: Lego Friends which is the "girly" section, the ice section, making a movie using an ipad to take pictures as you change your creation, Lego Duplo for little kids, and more Ninjago. I probably missed something, but you get the idea!
The Creative Lab is another area where an employee will guide you through building a small lego creation step by step. Our kids liked it, however, you don't get to keep what you built unless you buy the kit in the store afterwards.
All in all we had a great time at Legoland! Our kids were in heaven and were so enamored with everything there was to do, that they didn't even ask for lunch! We really had to pry them out to leave.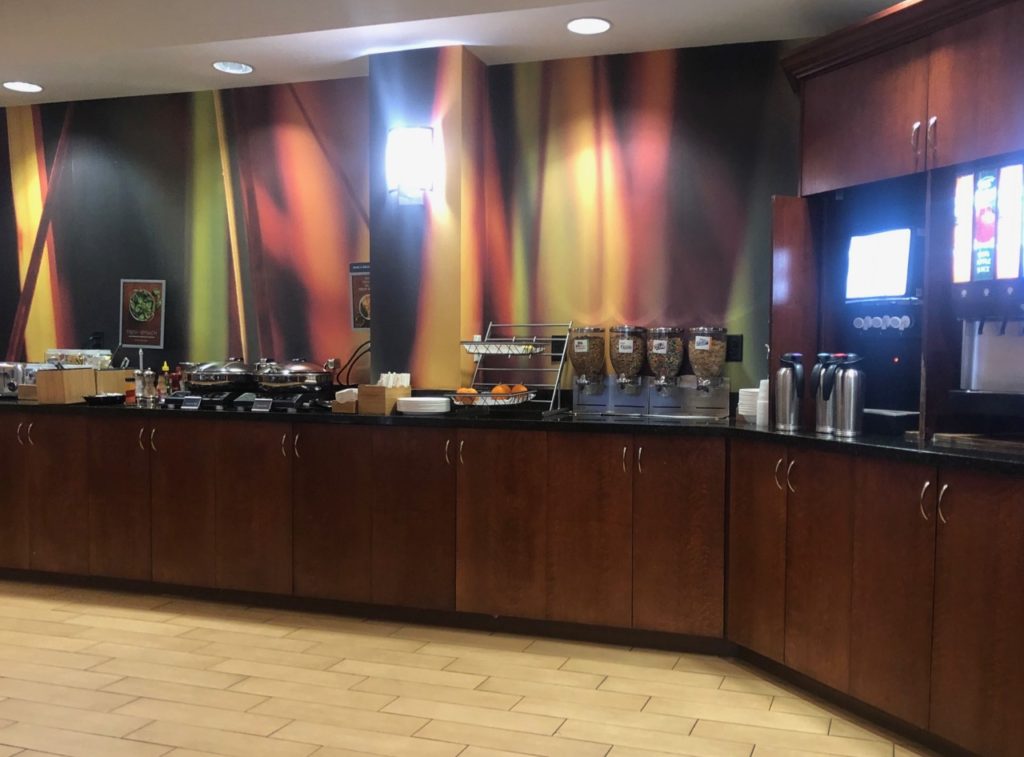 Where To Stay Near Legoland Philadelphia
There are several chain hotels located in Plymouth Meeting, Pennsylvania within minutes of Plymouth Meeting Mall. We had debated staying in a hotel in Philadelphia Center City, but ultimately decided to avoid having to drive in the morning and stay just across the street from the Mall and Legoland.
Review of Spring Hill Suites by Marriott Philadelphia
We chose to use points to book the Spring Hill Suites in Plymouth Meeting. All in all the hotel served the purpose of sleeping close to where we wanted to be with enough beds for the five of us to be comfortable.
Overall I would describe the hotel as "tired". Our room consisted of two double beds and a pull out couch. The room was pretty clean but you could tell the furniture was on the old side, in particular the pull-out couch which was pretty saggy.
Other features of the room included- a table/desk area, a microwave, a mini-fridge and a coffee machine. I was surprised that the bottled water that was provided was a paid amenity (something we expect at higher-end hotels).
The hotel did have a small gym and a small indoor pool, that we checked out. Again, it was just ok, but didn't feel very well maintained. The water was quite cold, and the window looking straight out into the lobby was a little awkward.
The best part of this particular hotel, was the included buffet breakfast. Surprisingly, there were some healthy options- like spinach and salsa that you could add to the eggs and sausage, as well as a nice selection of fresh fruit! We definitely appreciated this aspect!
Planning Your Trip to Legoland
All in all, we had a wonderful celebration and are very happy to have made the trip to the Legoland Discovery Center Philadelphia! Everyone working there was gracious and helpful.
If you're planning a trip to Legoland, I would keep an eye out for online promotions and coupons! Also, be aware, that prices are slightly higher during weekends and holidays.
In addition to visiting Philadelphia, another option would be stopping at Duke Farms or Princeton on the way to New York City or back! We ended our day with a drive back to New York from Philadelphia, and cake and presents at home!
How cute is that lego birthday cake?