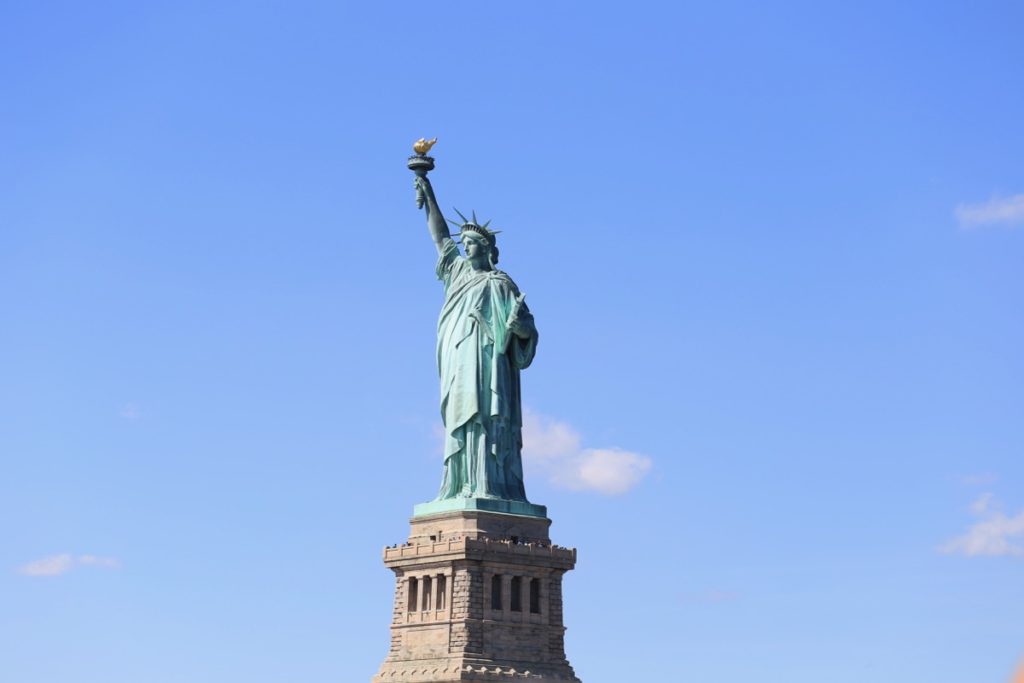 Are you visiting New York City on a budget? One tourist attraction that you can see for free is the Statue of Liberty! It is out in plain sight and there are many options other than taking the official ferry to the Statue of Liberty.
One of the best ways to get to know New York City is by hitting the water. For tourists there are plenty of options for cruises around New York City. You can take them from either the east or west side piers.
If you're on a budget, read on for all the options to hit the water for free or very cheap!
This post may contain affiliate links. Thank you for supporting our work.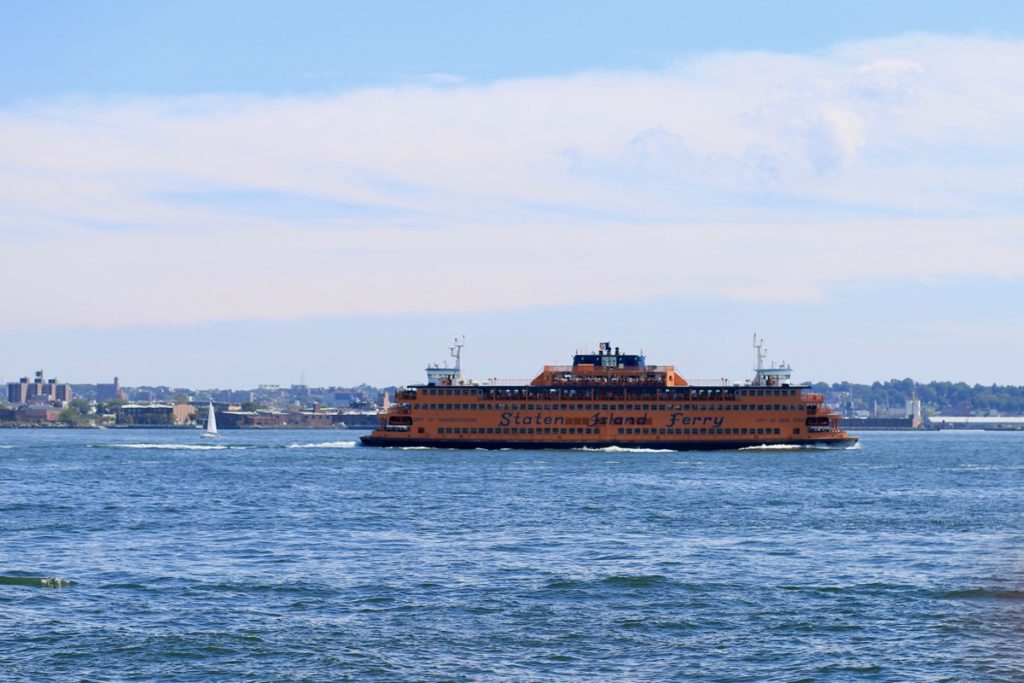 The Staten Island Ferry
A well known "secret" is that you can see the Statue of Liberty from the water by riding the Staten Island Ferry. This ferry is always free!
The ferry departs fairly often from the Whitehall Ferry Terminal in Manhattan. To get there take the subway lines N/R/W to Whitehall St.
Note that the ferry is a service for Staten Island residents to connect to the rest of the city, so I suggest avoiding rush hour times!
The ride takes about twenty five minutes. For the best views you will want to sit outdoors, or stand around the edges. However, inside the ferry are comfortable tables and benches and a concession stand.
Once you arrive to St. George in Staten Island you must disembark! You can get right back in line to return to Manhattan, or spend some time in Staten Island.
If you do decide to stay, nearby options include:
Riding the Staten Island Ferry Experience with Kids
On a warm summer day, we decided to finally ride the Staten Island Ferry! The Whitehall Ferry Terminal was quite busy on the day we visited, but once we boarded the ferry, the ride was relaxing and there were concessions to be bought on the boat.
We left later in the day than planned, so rather than staying to explore Staten Island for a bit, we returned on the first ferry back. The kids were plenty interested in the commotion of the ferry terminal!
The ride back we spent mostly on the outdoor deck with all the other tourists taking pictures! It was a good time and a good way to see the Statue of Liberty on a budget!
But, if you're not convinced that this is a great budget friendly activity in New York City, I have more cheap ways to hit the water below!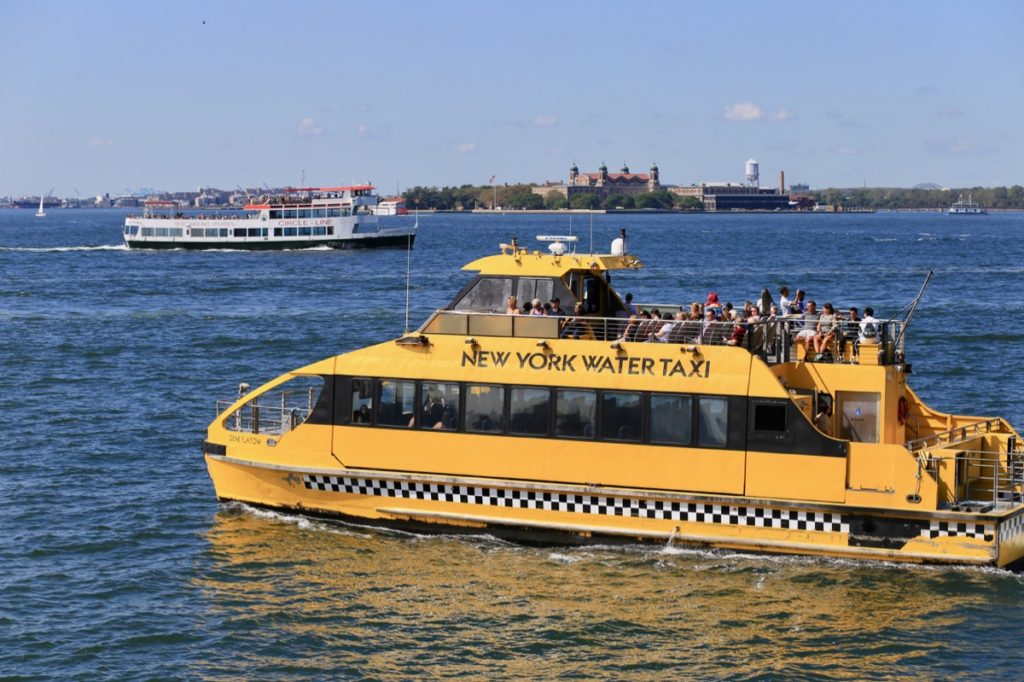 Other Non Tourist Ferry Options in New York
Before we get to the other options, let's recap: the Staten Island Ferry is FREE. This is a nice 25 minute cruise from Whitehall terminal to St George in Staten Island. You can definitely see the Statue of Liberty although you won't be that close.
NYC Ferry– the new ferry service only costs as much as a metrocard ride, making it a great deal! Ride to Queens or Brooklyn!
Ikea Ferry– The Ikea ferry is operated by New York Water Taxi and runs from Pier 11 by Wall Street to Ikea Brooklyn in Red Hook. It costs $5 but you get a credit at Ikea so it is essentially free. It runs on a limited schedule but could be a nice option!
NY Waterway (New Jersey Ferry)– If you stay in New Jersey, this could be a nice way to save some money and also ride the ferry.
The rides are short but nice. They also have an extensive bus system to get to different areas from the ferry terminal. Not sure I would recommend it for another reason though.
To Visit the Statue of Liberty:
Statue of Liberty National Monument – information on the monument and reservations if you want to climb up to the crown (do this ahead of time if it's a must-do for you!)
Statue Cruises – the official ferry that gets you to the Statue of Liberty
Treat Yourself with a Cruise
If your New York City trip is a once in a lifetime bucket list trip, then it could definitely be worthwhile to take a special cruise. If you're going this route, check out a sunset cruise!
Your other option, if you're going to be doing lots of activities, is to get the New York Pass, which includes the official cruise, but also some of the special private cruises!
Do you take your kids on the water? Have you been on a ferry service? This is one of my favorite ways to explore!
Some of my best memories with the kids are from riding a boat to see flamingos, riding the NJ ferry to Battery Park City.