Visiting the Financial District in downtown Manhattan is a must when your are coming to New York City! At the very least, you'll want to see the World Trade Center 9/11 Memorial.
Walking through the Financial district with kids is quick and easy on foot. It is easy to integrate with the other things you must see in New York with kids.
You can see several highlights in a small amount of time. It's like a choose your own adventure neighborhood, and there are no wrong answers!
When you're ready to explore the Financial District, read through some of these options so that you can plan on a neighborhood walk and build in some fun playground time at one of the many parks.
This post may contain affiliate links. Thank you for supporting our work.
Arriving in the Financial District with kids
No matter where you decide to stay on your New York City visit, it is easy to get to the Financial district! And that's definitely saying something, as the subway system has a lot of faults.
The Fulton Street Station is elevator accessible, and you can get all of these lines there: A, C, J, Z, 2, 3, 4, 5 and the R, W at Cortland Street are also connected to the station!
All of these stations, connect through the Oculus to World Trade Center where you can get the E and the PATH (like a subway) to New Jersey! Yup, even if you stay in New Jersey you can get here easily!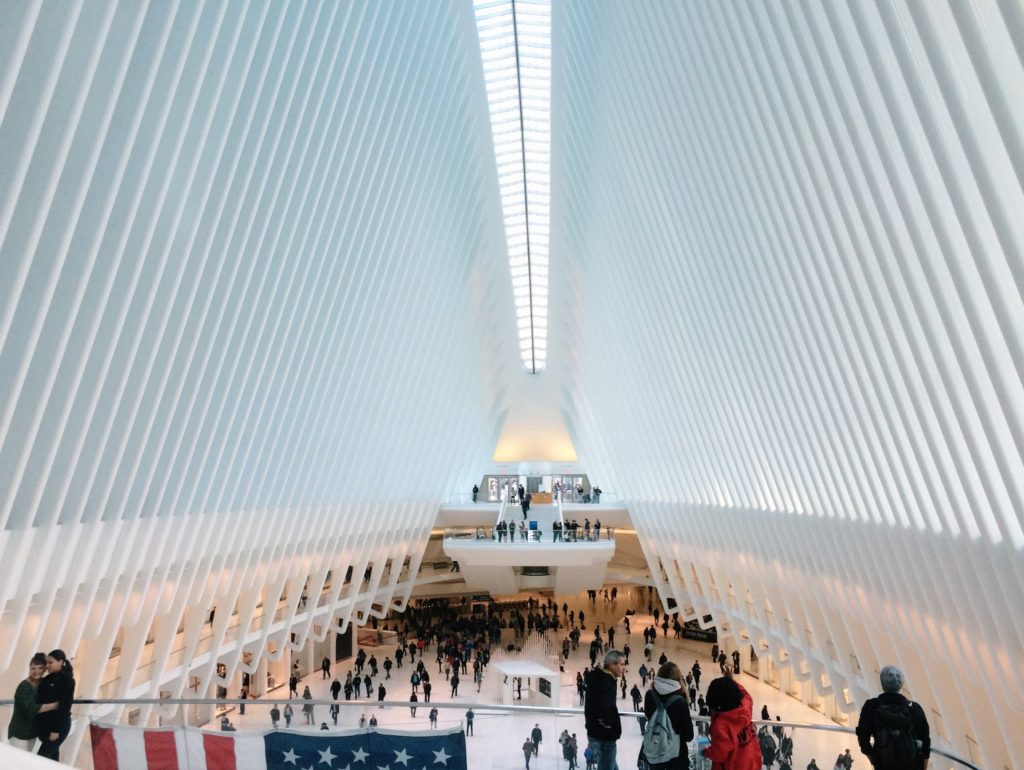 The Oculus
Speaking of the Oculus, that is that white structure you recognize at the center of World Trade Center, and it connects to numerous buildings. Inside is a mall with lots of stores and a small selection of cafes and restaurants, as well as (usually very clean) bathrooms! Always good to know with the little ones in tow.
You can walk from the Fulton Street Station, underground all the way through the Oculus to Brookfield Place. That will land you in front of the Hudson River (good for when it's scorching hot or freezing cold). Although I will suggest you walk above ground on the streets to actually see the city!
Exploring the Financial District with kids
I would suggest starting your walk, heading south from the subway to stop by however many financial institutions you are interested in seeing.
There is not much for young children to do right here, but it is a photo op. It could also definitely be interesting for your older ones or history buffs.
Places to swing by:
Working your way south you will eventually hit Bowling Green park. From there you have lots of options:
1. National Museum of the American Indian
Straight ahead, you can hit up this FREE museum. The main collections are rather small and can be seen in a short amount of time.
There's a handicap entrance over to the right side if you are entering with strollers, and there is an area for children on the lower level. Read all about the National Museum of the American Indian here.
2. Battery Park and the Statue of Liberty
Keep walking south into Battery Park to reach the southern tip of Manhattan. Enjoy the park, waterfront views or the Sea glass carousel.
From Battery Park you can go on official tours to the Statue of Liberty and Ellis Island.
Alternatively, walk over to Whitehall Terminal and take a ride on the Staten Island Ferry, to see the Statue of Liberty from the water for free. Read about how to do that here.
3. Explore the East Side
On the east side of the Financial District, there are several things to do. Although none of them are on my personal must-see list, if you have the time, there are several places to explore, including:
World Trade Center
Whether you decide to explore any, or all of the above options, the one thing you must see is the World Trade Center 9/11 Memorial.
This memorial is truly impressive, with its deep pools of running water, and names of the victims engraved all around. There are two structures, in place of where the twin towers once stood. The memorial is always open and free, and I consider this a can't miss destination when you are in New York City.
Those visiting with older children or only adults, may also want to visit the 9/11 Museum for a more in depth look.
Another option is to go to the One World Observatory at One World Trade Center (Freedom Tower) , where you can view lower Manhattan, and Brooklyn, Queens, Governors Island and New Jersey, from above.
If you decide to go to either of these attractions, or both, they are not cheap, so I would consider getting a New York Pass which you could use for a bunch of tourist attractions.
Battery Park City and beyond
For those on a budget, or traveling with younger children, I would forego these last two experiences, in favor of heading to the Hudson River waterfront.
From the memorial, right across West Street (West Side Highway) is Brookfield Place, a high end shopping mall, that has a really great food court on the second floor! The lunch time rush can get busy, but if you get there on the early side, some of the seating has great views of the river!
Beyond Brookfield Place are the many parks of Battery Park City. Head north along the river for a tranquil walk and playground time at Rockefeller Park, or you could walk through the neighborhood northward toward Tribeca and all the way to Chinatown.
The downtown area is great with kids because the distances are short and there are many little plazas to stop and play.
Have you been to the Financial District with kids? How do help your kids enjoy the urban jungle?
P.S. Here are the rest of my must-see destinations in New York City with kids.