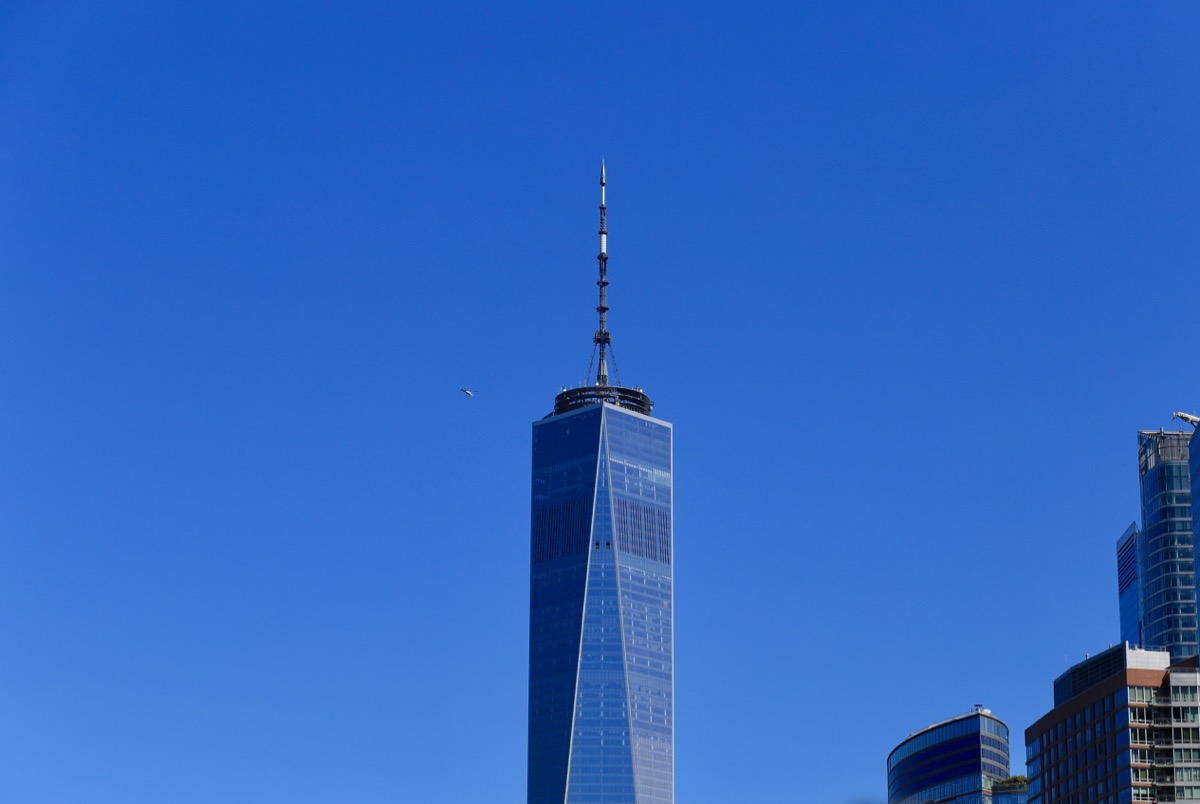 Visiting the One World Observatory with kids is an excellent splurge activity when on a trip to New York City with kids!
One World Observatory is located at One World Trade Center. It is the best choice for seeing sweeping views of New York City from above.
The One World Observatory sits at the top of the tallest building in New York City, and the whole United States, for that matter! It occupies floors 100, 101, and 102 of the Freedom Tower. Find out how to visit One World Observatory on a budget!
This post may contain affiliate links. Thank you for supporting our work.
Getting to One World Observatory
The observatory is housed in the One World Trade Center building at 117 West Street! You can enter by foot from the corner of West Street and Vesey Street. Ticket counters are located at the street level.
From there you will descend an escalator one floor to get in line for the security check before entering the observatory.
Your other options is entering though the Oculus indoor passageway. This entry will bring you directly into the security line. Show your timed tickets to the guards and be prepared to go through an airport-like security screening.
Arriving by subway on the R, W at Cortland Street or the Fulton Street Station where you can get all of these lines: A, C, J, Z, 2, 3, 4, 5, will have you exiting directly into the Oculus. You can even come easily from New Jersey on the PATH to the WTC station, which again deposits into the Oculus.
Visiting the One World Observatory with Kids
For those entering with small children, strollers are allowed! There are elevators to get between the floors of the observatory, and handicap ramps to ease your passageway.
Note that you are not supposed to bring in any outside food or drink. I suggest having minimal bags with you, and definitely no large backpacks!
Once you get past security, there is a walkway to the elevators. There is plenty to see while you are waiting in line.
The first part of the Observatory experience is the SkyPod Elevator experience, which transports you to the 102nd floor in 60 seconds! There is an awesome video while you are riding up, which transforms into a breathtaking view of New York City.
Once in the main observatory, guides will show you a short explanatory movie, and from there you can walk down to see the views of New York City.
In the main Observatory hall, are the ONE Dine Restaurant and Bar, and of course a gift shop full of souvenirs. Prices are what you would expect of a tourist attraction (high).
What to See at the Observatory
On our visit, we loved taking our time, walking around the observatory. You can see vast parts of Brooklyn, Governors Island, the Statue of Liberty on Liberty Island and Ellis Island, and Jersey City. Of course you can see all of Lower Manhattan, up to about Midtown pretty easily, and the cusp of Queens in Long Island City!
I would prepare to spend one to two hours on your visit. As adults we loved taking our time, and finding landmarks we knew, as if the city was a giant Where's Waldo. But if you're with a toddler….be prepared to move along more quickly.
You are free to stay as long as you want, and there are guides that present some information if you are keen to sit around and listen. Our children were not too into it.
Be prepared that on beautiful days, the observatory can get quite busy. Take a dose of patience with you, to get those pictures just as you want them!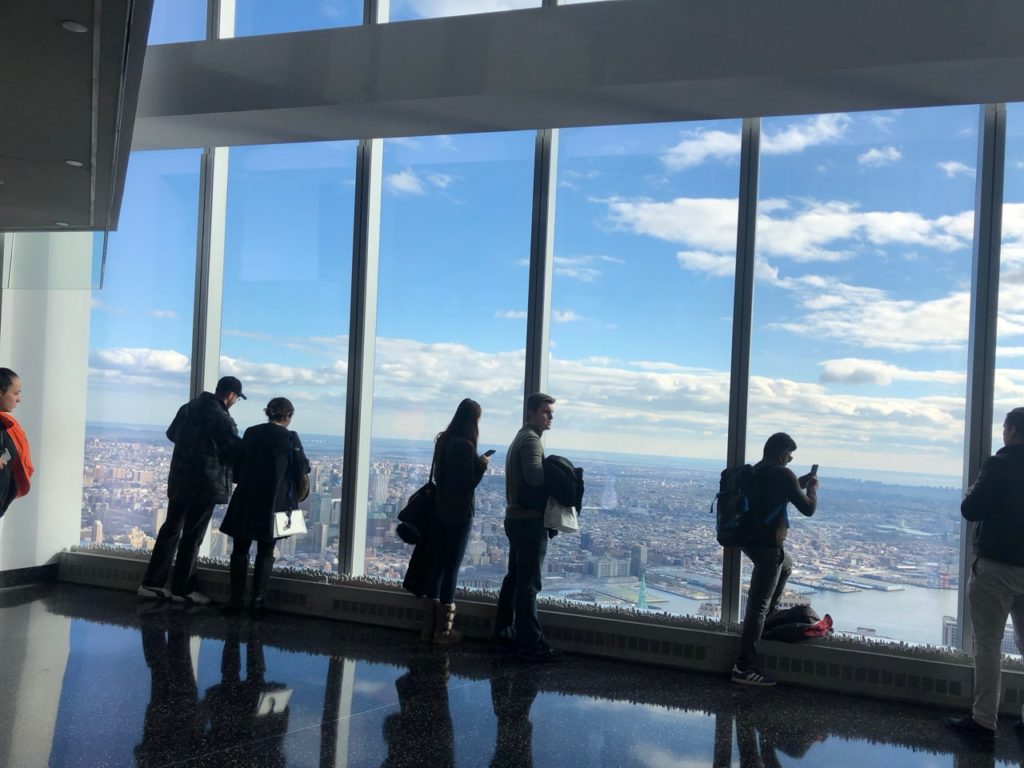 How to Visit the One World Observatory on a Budget
If you are traveling with young children, it can be quite expensive to pay for the One World Observatory, when you may not be able to spend too much time there. Here are a few options for saving some moolah on this attraction.
Choose One NYC Observatory
It is of course not the same view, but I would choose either this observatory or the Top of the Rock observatory in the Empire State Building, rather than both. A full price general admission ticket, hovers around 38 dollars per adult, and 32 dollars for a child between the ages of 6 and 12. The five and under set are free thank goodness!
Coupon Codes
Clicking through to the main website you can often get a pop-up coupon for something like 20 percent off. You can do a quick search for other online coupons at the usual websites.
New York Pass
The Observatory is also included in many multi passes, such as the New York Pass. If you will be visiting multiple pricey tourist attractions, then a New York Pass is the way to go.
Must See Week
Another option for saving money, is altering the time of year you travel. January often has some of the lowest amount of visitors to New York City. On one hand, it will be freezing. On the other hand, attractions often participate in "Must-See Week", offering amazing discounts. Another upside of visiting this time of year, is if it's not snowing, you get those extra chilly clear blue skies!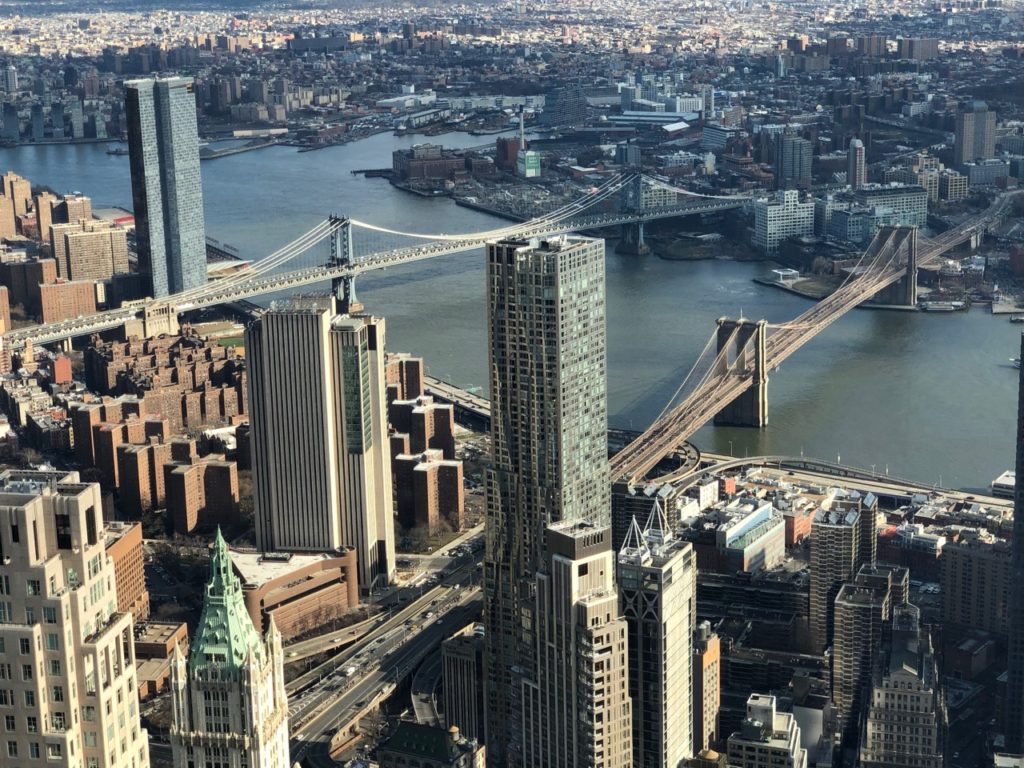 Visiting New York with Kids
And there you have it! Everything you need to know about visiting the One World Observatory. If the observatory is high on your list of places to visit in NYC, combine it with your day around the World Trade Center and Battery Park City.
You can also start or end a visit to the Financial District with a stop in the Observatory, as the World Trade Center subway stop is central for getting in and out of downtown Manhattan.
Have you been to the World Trade Center? What would you most like to see from the Observatory?