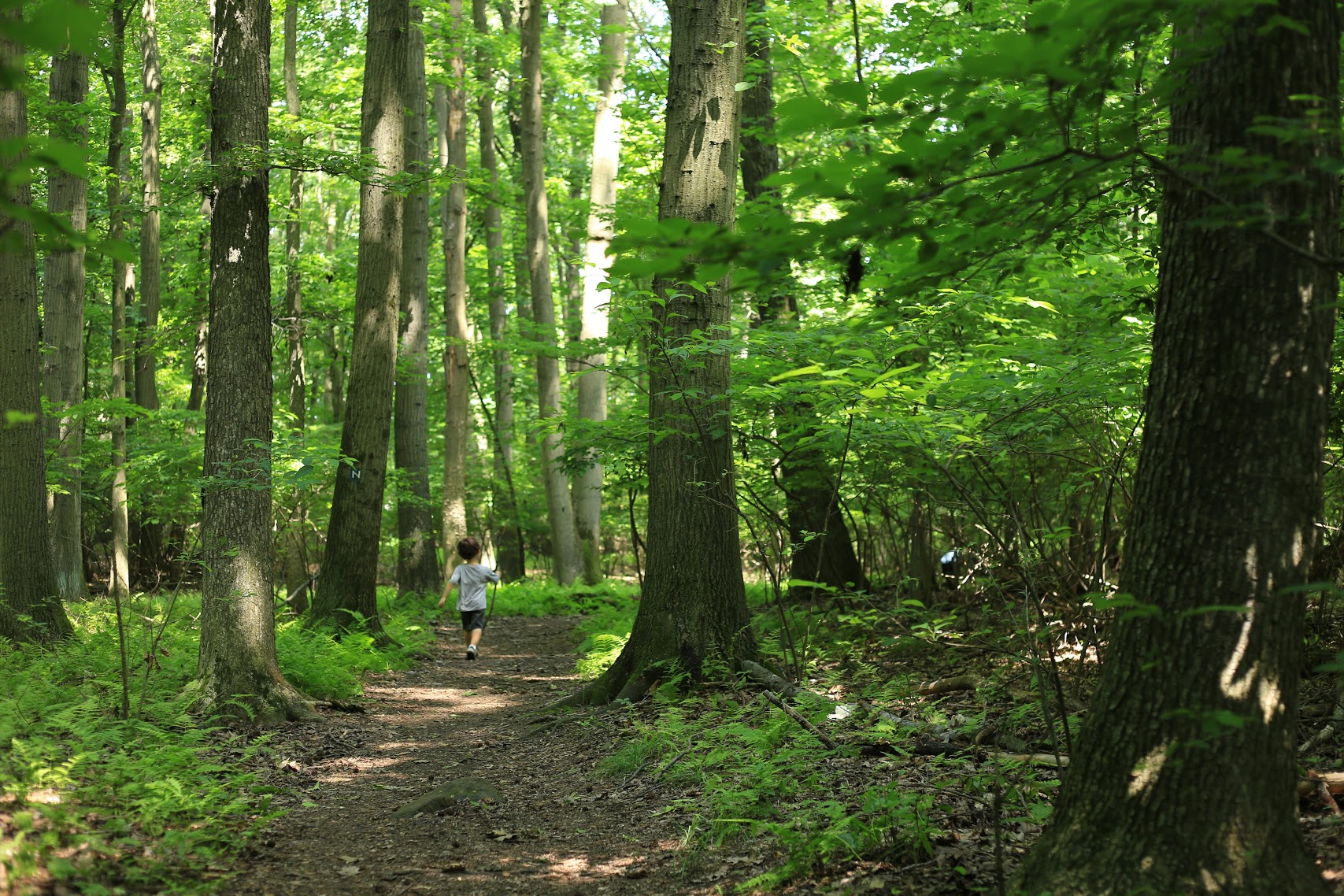 New York City parks are an escape from the hustle and bustle of the city. While we love Central Park in Manhattan and Prospect Park in Brooklyn, no city park has provided for true immersion in nature quite like the Greenbelt in Staten Island.
On an early summer day, we headed out to explore the woods on a perfect family walking trail. Read on for the details on where you can find this forest wonderland.
Staten Island Greenbelt with Kids
The easiest way to reach the Greenbelt Nature Center is by car. Unfortunately that option also involves a costly toll on the Verrazzano-Narrows Bridge.
If you need public transportation, hop of the free Staten Island Ferry. From there you can take the Staten Island Railway and another short bus or taxi. Although this may be a case where it would be worthwhile to rent a car.
Download the Greenbelt Hiking Map to your phone, so you have it accessible.
Choosing a Trail
There are several different hiking trails in the Greenbelt. At this point in our family life we were hiking with a 7 year old, a 5 year old and a 2 year old.
We did have a carrier for the toddler, but the two big kids were on their own, so it was important to choose a trail we could easily complete before anyone got too tired. That consideration made it a simple decision to do the one mile Nature Center Trail.
Nature Center Trail
We drove to the Nature Center which had good facilities and some parking spots, and headed out on the trail.
The kids were fascinated with being in the forest! It was really so nice, not to have to drive far out of the city, and to still get a really immersive forest experience.
We played with sticks and rocks and all that good stuff. Our boys especially enjoyed the freedom of being able to run unhindered (by streets, traffic, people).
Would I recommend the visit for a tourist?
Well, it depends on how many days you have. If your stay is for over a week, (and it's in the summer) I could see this as a fun addition to get out of the bustle of touring in the big city. (Although checking out some outdoor spots in Brooklyn might be a better choice).
It might be most enjoyable for those coming from a different type of scenery than that of the Northeastern USA. You could combine it with a trip on the Staten Island Ferry! Otherwise, I say, leave this one for the locals.
Coming to New York with kids? Here's you must-see list, and the complete list of kid-friendly activities.
For more hiking near New York City (within an hour of midtown) consider Jamaica Bay, Harriman State Park, and Duke Farms.
Question of the day: Have you been to Staten Island???