How to plan your day at home with kids, when you are forced to be inside, is going to be the topic of the week/month/year. Here in New York, we are on the front end of the Covid-19 pandemic in the United States. That means, that our schools have already been shut down and we are all practicing social distancing in addition to hand washing!
In reality, that means we have three kids of different ages, spending the vast majority of the day indoors in a New York City apartment. The irony is that I do not like staying indoors and what I talk about on this blog is going outside, spending time in nature and really making the best of all the world has to offer. But sometimes we need to be realistic and with the current coronavirus outbreak we do not have a choice but to fill our days with indoor activities for kids. This is how we're doing it.
This post may contain affiliate links. Thank you for supporting our work.
What Social Distancing Looks Like in New York
Before I get into the nitty gritty of how we are planning our days, here's some background on what things look like.
From a personal point of view, social distancing means that work and school, and everything really, is being done inside our two bedroom apartment. The furthest we have been able to go are on neighborhood walks around the block, doing our best to stay away from other people.
While we have been able to head to some open spaces, such as the beach, and outdoor venues in Brooklyn, we have been careful to limit our exposure to people in general.
This is not a health blog so I won't give you medical advice, and this is not a kid activity resource, there are plenty of those flooding the internet. However, between our various winter vacations where we have had to spend much of the day indoors, and a good amount of time that I have spent planning and doing activities with the kids at home, I can definitely share with you ways that we are passing the time that are appropriate for various age groups.
I do not believe it is realistic to take a homeschool model, where learning at home is the norm, but rather we need to take into consideration that this is an unusual situation. Yet, there are so many great things that we can do with kids indoors.
How to Plan Your Day Indoors
Our overall approach is to have rough time blocks which can be switched around from time to time, or skipped altogether on some days! It is really all about having ideas of things to do throughout the day in your toolbox.
Of course, we are encouraging independent play as much as possible throughout the day, and following the Montessori principles of encouraging the child's interest.
Generally speaking we have been following the schedule that our kids follow at school more or less. While we have been given the time-table that each class follows, with three kids in three different classes, we have had a more holistic view of their day.
After our usual morning routine, we head into the main part of our day. Here are the time blocks that we have implemented for our indoor days with kids:
Morning Music
First thing in the morning we turn on the music and the kids each get to choose a song to put on. They can dance or play instruments, whatever they feel like doing. It is great to get their bodies moving and helps get everyone in a good mood.
Yoga or Meditation
Following our morning music, we head into the yoga and meditation part of our day. Our oldest son who is eight years old has been leading the other two children in a yoga sequence of his choice and actually it has been wonderful!
If this is not something that your kids are used to doing what I can suggest is just putting on a YouTube video. I really like the Cosmic Kids Yoga and they are usually not too long and pretty simple. The kids enjoy the story being told.
Of course that means they're getting some screen time first thing in the morning, which may or may not be a good idea for your child, so just evaluate that.
Update: we have switched to spending time outdoors in free play in the morning while the weather is warm!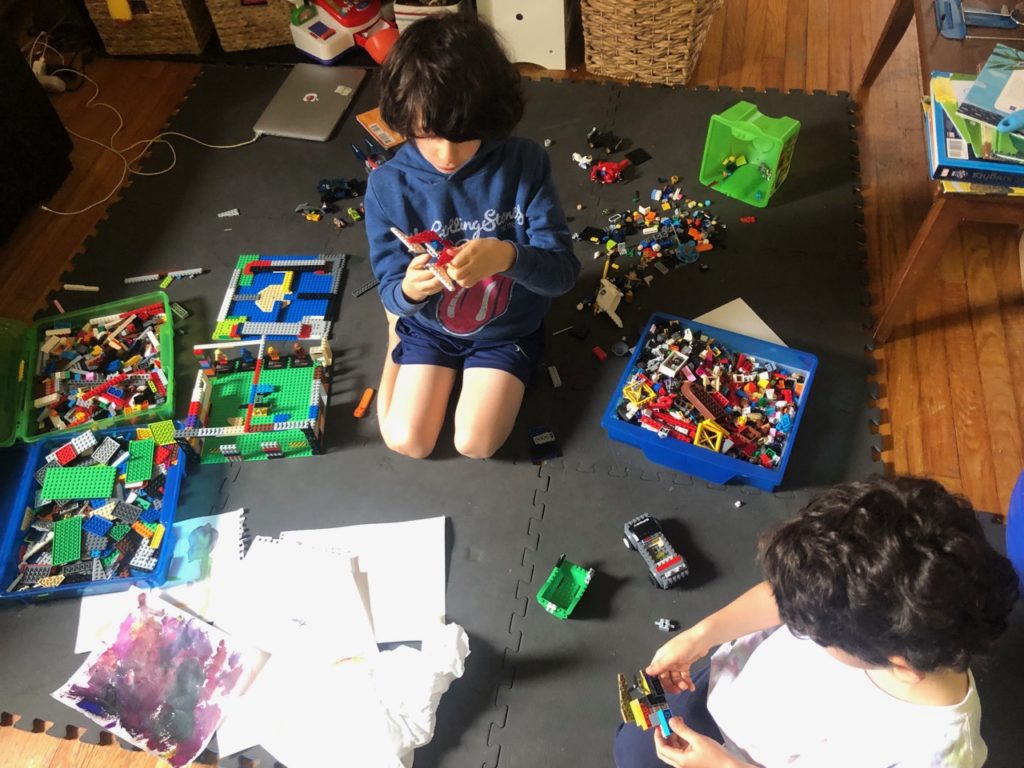 Academic School Work
The next part of our day is schoolwork. The question is- what does this actually mean for you?
For our elementary students, they have been getting work sent from school so we have not had to do too much planning. With three kids at home it has been exceedingly important that they can work independently on most of the tasks.
During this time block we will usually have them do two or three subjects a day out of the following: reading, writing, math, science, and foreign language.
For our preschooler this just means playing time. Our focus is on open-ended toys such as various building blocks, or imaginary play, such as with the play kitchen or dress up.
In addition, I will mention that we always keep a variety of workbooks and activity books for the kids for those times when we just want them to sit down with something to do. So we have been pulling out some of those from time to time as well. The three-year-old in particular enjoys placing stickers, and coloring, and that sort of activity.
Outdoor Time
The next part of our day is lunch and an outdoor activity. Sometimes lunches first and sometimes outside time is first.
Since we are "social distancing" the kids have been either riding bikes or scooters or just walking or playing with the soccer ball in our neighborhood. The idea is to make sure that they are getting sunshine and fresh air despite spending most of the day at home.
Arts
In the afternoon we have been doing a combination of arts and life skills.
My belief system when it comes to art is that kids reap the most out of process art. That means that they are not doing a specific craft but rather exploring a set of materials or a set of techniques.
We have a large selection of art materials at home because we use those year-round. We have been painting with different mediums: watercolors, acrylics etc. Other multi functional materials include popsicle sticks, pom poms, pipe cleaners, and any recycled materials and containers you have around the house.
Our three-year-old currently loves cutting and gluing and taping different papers and creating 3-D crafts. Pull out those magazines you will never re-read for collaging. If you have clay or even just Play-Doh those are also great mediums. Just change it up! If you bring out something a little different every day they will explore and make messes.
Speaking of messes, we do follow Montessori principles and make our kids do their own clean up! That doesn't mean that we don't help them, but we absolutely expect that they will wash their own brushes and put away as much as they can.
If we are having theater/drama, then what we have been doing recently is playing charades. It has been a great way for them to practice some acting skills and just have the whole family together playing a game that doesn't require too much set up and that everyone can participate in.
Other arts that you can explore, are music like I mentioned above, that we have been doing in the morning. All the kids can practice playing their instruments, and we can have dance parties or follow a drum circle video etc.
Life Skills
We generally try to follow the principles that it is our duty to teach our kids how to live in this world and take care of themselves. That means that we regularly ask them to participate with basic cooking and with laundry, as well as cleaning up the house, etc.
Being indoors for an extended period of time, we also have a lot more food to prepare and dishes to wash. So this has actually been a great opportunity to focus on honing some of those skills, and learning new ones!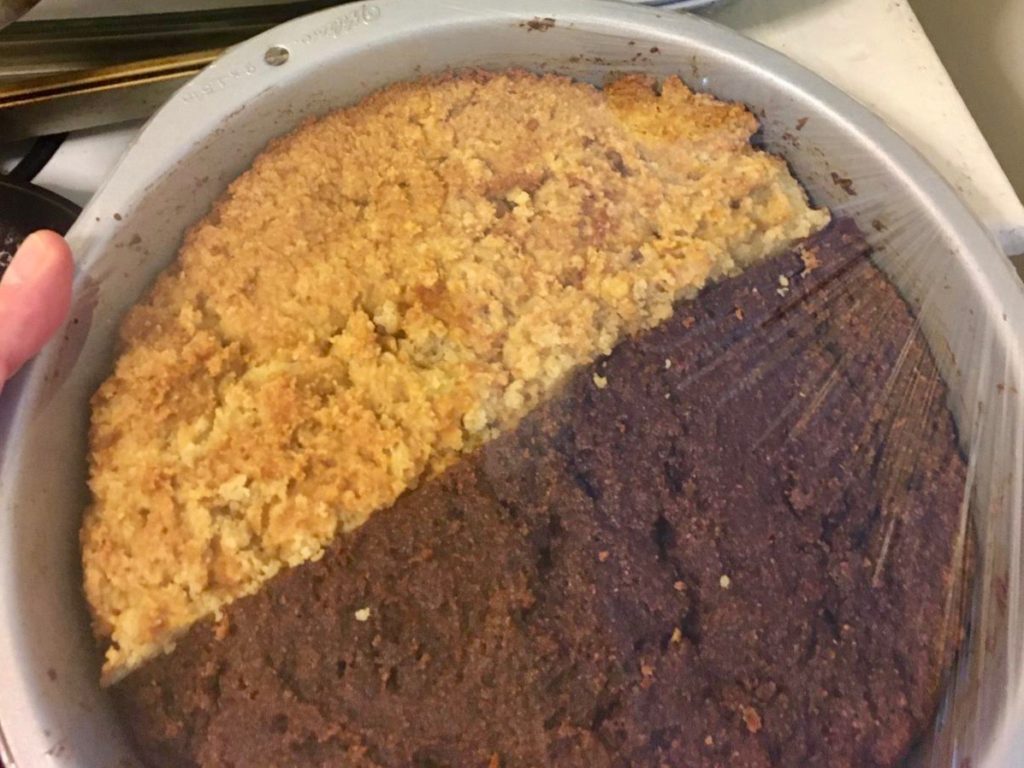 Screen time
Generally speaking we try to keep screen time very, very limited for our kids because we have realized that it negatively impacts their behavior. That means that if we are going to utilize screen time to pass some of the day, whether it be doing schoolwork via computer games or watching shows on TV, we have been trying to leave that for near the end of the day.
The end of the day is just our typical evening routine which involves independent reading or reading some books together and of course dinner, bath, etc.
Our Favorite Toys and Crafts for Indoor Days
Now I won't leave you hanging I definitely have some resources to recommend and particular things that we have especially been enjoying.
Board Games
Our current favorite board games with kids ages 8, 7, and 3:
Crafts
We've been trying out some new crafts. Here are some of our favorites:
Books
Science comics– We have been loving these books that explore scientific concepts! I would say age 7+ in terms of content, and probably at least 9 or 10+ for reading independently (lots of technical vocabulary).
Secret Agent Jack Stalwart– both big kids, have been loving this series. We are slowly accumulating more!
Treasure Hunters– My 9 year old has been loving this series! Bonus is that they are pretty long, so he can't finish them in one day!
Geronimo Stilton– A must for the 7 year old crowd!
Wayside School Books– In a throwback to my own childhood, I ordered this boxed set. Both kids have read through the books multiple times! It's so fun to hear them laughing while they are reading!
I'll add more activities, and games as we pass our days!
How have you scheduled your days indoors with kids? Is it a tv free-for-all or are you maintaining more of a school schedule?
P.S. We went from Virtual School, as in this post, to now fully Unschooling. Here's how to get started unschooling elementary school kids! While this was a great schedule built out of necessity, our new schedule for kids at home is even better. Check it out now!